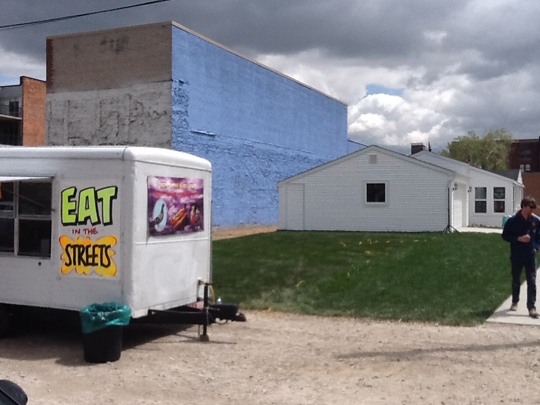 When my friend Elysia Bowery-Reeder, the recently appointed Executive Director of the Museum of Contemporary Art Detroit, asked me if I would like to haul E-Dogz out to the D for the launch of Mike Kelley's opus, how could I say no? Kelley has been a favorite artist of mine (and really guys, most of us, right?) since I picked up Sonic Youth's "Dirty" freshman year of high school (my first CD actually). You know the one I'm talking about, the cover had this cute/creepy little orange sock monkey dude with a gatefold of more plush critters. The part that really fucked with my head though– and at the time I hadn't realized that I was owner of a limited edition copy– was an image embedded in the part of the jewel case that held the CD. It contained an image of a naked man saddled up on a said stuffed animal with what appeared to be shit smothered everywhere. Oh Mike…
So yes, I had to do this. To park my project in proximity to Mike Kelley's parked project was truly an honor. The weekend was pretty bonkers (on top of the 12 hours of trailer pulling back and forth on I-94). We saw middle aged freaks in preposterously hip attire shakin their thing to Kid Rock's DJ, a dad rock band that would not give up, and most memorably members of Destroy All Monsters (Jim Shaw!) jamming in the Homestead's garage with some cosmic drummers. The Homestead itself unlocked an internal dialogue about the role of platform art in actual communities, of which I will spare you a play-by-play analysis. But how crazy that Mike Kelley, whose largely anti-social body of work, created a masterpiece of social practice?
Tom and I served up Chi-dogs and Coneys side by side. Apparently Mike loved a good Coney. I do too. The event was called a Throwdown/Showdown, but I truly love both styles of dog, my two favorites. Like the relationship of house and techno, as a Chicagoan I feel a kinship to Detroit. I may not understand it completely, but something feels right whenever I'm there. Big thanks to Elysia, Jon, Leto, and all the MOCAD staff for inviting me/ accommodating me. I truly hope that they'll have me back!
Some pics: