Some­times I won­der if I have a prob­lem, I never, I mean never, stop think­ing about food. I asked Jes­sica if she thinks about pho­tog­ra­phy non­stop and she replied "not the same way you think about food con­stantly". I know I've got a big freakin appetite. It seems as though I ate a mil­lion things this year, a mil­lion more than last year. For­tu­nately, I've found a crew of like­minded food nerds, that I've met through the inter­net. It is pretty cool that in today's vir­tual era there's a com­mu­nity that extends beyond the track­pad to break bread IRL. These are the same guys I men­tioned in last year's top 10 (plus a few new friends) who share a relent­less zeal for find­ing new eat­ing expe­ri­ences in every far-flung cor­ners of Chicagoland. We're a rag­tag crew for sure and tend to raise eye­brows when six of us belly up to a table in a ran­dom south side taque­ria, order three things to share off the menu, take like 10 min­utes to take pic­tures of the food, and then if the bite isn't worth it, we leave it behind for the sake of diges­tive real estate. It's always an edu­ca­tion hang­ing out with these guys and I owe a lot of my favorite eats of the year to their intre­pid pur­suits. I'll pay homage to one of my new friends shortly, but I've gotta give props to the other guys too. Matt "laikom" Zatkoff, who I met this year over a pot of frog hot­pot, is respon­si­ble for shar­ing two of my favorite new places to eat, Rain­bow Thai and Dan­cen, both men­tioned below (his research also led me to last year's #8, Nha Hang Viet Nam). Also shout outs to Titus "Da Beef" Rus­citti, who's never not on the beat, whether map­ping every sin­gle one of the city's best tacos on his new Chicago Taco Tour or col­or­fully recount­ing his exploits in his home kitchen, around the city, and the greater Mid­west at Smokin, Chokin, and Chowin with the King. This guy gets around and I've had the plea­sure of going along for the ride, most mem­o­rably on a day trip to Mil­wau­kee explor­ing the city's diverse eth­nic eats. Lastly, shouts to Rob "PIGMON" Lopata– this guy's got his opin­ions, but I've prob­a­bly bro­ken bread and ban­tered with him more than any­one else next to my wife this year. His part­ner in crime, the lovely and delight­ful Kris­tine "trixie-pea" Meyer rounds out a great dou­ble date for us and can be thanked for my favorite potluck of the year, for which we all cooked recipes from Naomi Duguid's "Rivers of Fla­vor" giv­ing us the oppor­tu­nity to try our hand at Burmese Cui­sine, which we rarely have the chance to sam­ple in Chicago.
What else? There was much more to my year in food than 4 hour, 3 lunch adven­tures with my friends "from the inter­net". I got mar­ried! That was a big deal! And while the energy it took to plan my life's ulti­mate party (see #6) slowed down the pace of other projects, it also pro­vided many cel­e­bra­tory eat­ing expe­ri­ences pep­pered through­out the year. In May, my best Chicago friends met my best Los Ange­les friends in the desert for my bach­e­lor party. It was a sun-drenched cos­mic week­end at Joshua Tree more focused on hijinks and land­scape. But of course we ate well, guess who did the cook­ing? Big slabs of meat were on order and I cooked my first lengua, which is a pretty intim­i­dat­ing expe­ri­ence and I'd like to thank the dudes for indulging my desire to taste the taste that tastes you back. The desert trip was book­ended by two amaz­ing Thai meals, which I will recount in more depth below. J and I hit the road to decom­press for a "soft hon­ey­moon" to the UP shortly after the fes­tiv­i­ties at the end of August and we ate our way from Mar­quette to Grand Marais and had some pleasantly-surprising bites includ­ing req­ui­site smoked lake fish, my still-favorite Cajun in the Mid­west, lovely arti­sanal baked goods, for­aged wild blue­ber­ries, and per­fectly fried Lake Supe­rior white fish. Not entirely sat­is­fied with that half rained-out camp­ing trip, we booked a real deal over­seas hon­ey­moon, which proved to be a bucketlist-worthy eat­ing tour of the Basque Coun­try (see #1). We met my fam­ily in Berlin after­wards for the hol­i­day and ate our way across the city's fab­u­lous Christ­mas Mar­kets (#7) and were blown away by the vari­ety of sen­sa­tional Turk­ish kebab sand­wiches in the city's south­east neigh­bor­hoods of Kreuzberg and Neukolln.
Project-wise, while it felt a lit­tle thin this year with all else going on, there were two strong cur­rents, the first was trib­ute menus, which I had done in the past– Gor­don Matta-Clark's Bone Din­ner last year, for instance. This year, how­ever, I paid homage to two influ­en­tial eater­ies that I actu­ally spent time din­ing at, Leo's Lunch­room and Sonny's at SAIC. I'll talk in depth about the rel­e­vance of these cafés in my list, but I'd like to address how uncom­fort­able, at times, these projects actu­ally were to con­cep­tu­al­ize. The trib­ute busi­ness is a funny one. On one hand, my intent was always to altru­is­ti­cally show respect to these folks and their food, which had inspired me in my early days as a bud­ding cook. And these two places, as evi­denced in the out­pour­ing of lov­ing tes­ti­mony (in response to Face­book out­reach in prepa­ra­tion for the projects) have lega­cies that resound with real col­lec­tive ado­ra­tion from the com­mu­ni­ties they served. The tricky part was dig­ging around in other people's pasts. For both projects, I received luke­warm responses when I reached out to their pro­pri­etors. They both closed their doors under some­what unfa­vor­able cir­cum­stances and while, I still feel like these trib­utes were pos­i­tive for the com­mu­ni­ties that loved these places so much, the face-to-face under­stand­ing of the back sto­ries of their demise was pretty disheartening.
The other com­mon thread in my projects of 2013 was cook­ing in real restau­rant kitchens for the first time since my salad days busboy-ing in fine din­ing in my late teens. First, I got a chance to don my whites in Jonathan "Z-Dog" Zaragoza's kitchen at Masa Azul, then I worked with my peeps, Bread KC! at the Riegor Hotel (lots of love for all these guys on last year's #2). And finally I threw down with Mike and Anne at Sauce & Bread Kitchen (my 2nd col­labo with Mike this year). I'll just say that all three of these expe­ri­ences were a thrill. For one thing, these real deal facil­i­ties offer the space and equip­ment to do things that just aren't pos­si­ble in my rough-around-the-edges kitchen at R&C. And its fun to feel like a real chef for the day, stand­ing at the line yelling and ban­ter­ing, then care­fully tweak­ing the pre­sen­ta­tion on a long line of primped lit­tle plates. The les­son here is that fuck, pro­fes­sional cooks work hard, real fuck­ing hard. I'm talk­ing 12 hours on your feet, no breaks to eat all this deli­cious stuff in front of your face (not that you'd want to after fuss­ing over it all day), you're up at 6 am and after a night of drink­ing back at it the next day. This shit might sound like some Anthony Bourdain-inspired machismo myth, but its real­ity. I get a taste of it 3 months a year at Ox-Bow, but that gig is rel­a­tively cush in terms of hours and pac­ing. I feel like I've got the grit to live the life, but I have to think long and hard as to whether I've got the commitment.
With­out fur­ther ado, ze list: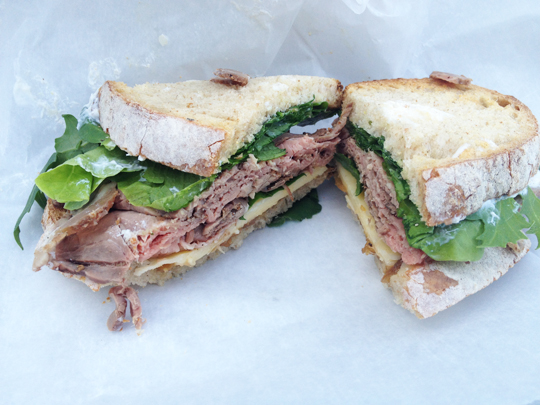 10. The improv­ing Din­ing Scene in the Saugatuck Area.
On my days off at Ox-Bow, noth­ing is worse than lin­ing up in the din­ing room with my clienetele (who some­how seem to think I'm at work even though I'm wear­ing swim­ming trunks and mak­ing myself a salad). It can also be pretty uncom­fort­able watch­ing my co-workers toil away (try­ing not to notice things I would be orches­trat­ing dif­fer­ently if I was on the clock and in gen­eral feel­ing guilty about them being at work and me being on my way to the beach). This is an occu­pa­tional haz­ard very spe­cific to the live-where-you-work aspect of Ox-Bow, you sorta always feel like you're on the clock. So, days off are pre­cious and it's real nice to get away and eat some­where else for a change. Prob­lem is, the food around there kinda sucks. There's been decent options that come and go over the years, taque­rias that pop up and dis­ap­pear the next year. (On a side note– very sad to see the pass­ing of Su Casa in Fen­nville, who I paid trib­ute to else­where on this blog. I've heard good news that they plan to reopen soon in Hol­land). Hol­land used to have a vibrant South­east Asian din­ing scene, but most spots have either closed or Amer­i­can­ized and one even turned into a sports bar. I never want to drive to Hol­land on my day off any­way. Saugatuck/Douglas is mostly pop­u­lated by over-priced Sysco product-laden bar food. There's one fine din­ing spot that is flocked to for it's sup­pos­edly local, scratch made food, but I have never loved it. Another "farm-to-table" fine din­ing place opened in Fen­nville a few years back, Salt of the Earth. After two mis­er­able expe­ri­ences with their front-of-the-house sev­eral years ago, I swore it off. That was a hasty deci­sion. I returned this sum­mer, and while ser­vice was awk­ward, it was endurable (much bet­ter on sub­se­quent vis­its), the food was so kick ass I fell in love with the place. They're known for their wood-fired hearth, which turns out lovely breads and nice piz­zas (too bready for me). For me, it's their hand with red meats, some of which are roasted in said oven. On that first return visit, we had these thick, crisp-on-the-outside, meltingly-tender-on-the-inside batons of pork belly that par­tic­u­larly tick­led. Also notable are superb steaks and a damn good burger, all paired with the same gor­geous height-of-the-season, fresh-from-market pro­duce that I source at Ox-Bow. I actu­ally ate here and at Night­wood in Chicago in the same week, and while Nightwood's dishes were more inven­tive, SotE was a clear stand­out in terms of tasty New Amer­i­can farm food.
Lunch is per­haps more impor­tant for a relax­ing day off cam­pus, par­tic­u­larly when in-town-laundry is the focus. Three new open­ings have upped the ante in the casual realm. Odie Dog's is a new food truck run by a kin­dred spirit named Eric. He does jus­tice to a Chicago dog, but offers more cre­ative options as well. I dig his lob­ster roll, the mayo-dressed vari­ety, though judi­ciously applied. Lucy's Lit­tle Kitchen in Saugatuck is another great new open­ing. Opened by Matt Balmer, of Every­day Peo­ple Café fame, it's a cute-as-a but­ton lit­tle hot­dog stand with a lovely sun dap­pled ter­race of out­door seat­ing. I've tried half the menu and it's hit or miss (yes another lob­ster roll, I guess Saugatuck kinda is the Midwest's Cape Cod). The stand­out is the black­ened catch-of-the-day sand­wich, which explodes with spice and tangy coleslaw. The end of the sum­mer saw the open­ing of cel­e­brated local caterer and my friend, Chris Fer­ris' Farm­house Deli on the Blue Star in Dou­glas. I only had the chance to eat one very tasty roast beef sand­wich and watch John Rossi moan in delight over his grilled Pas­trami (man loves his melted cheese), but this will surely be a haunt of my days off in 2014. Lastly, shouts to Farmhouse's neigh­bor and my favorite bite in the area, Tammy and co.'s Pizza Mambo, who do Chicago tav­ern style thin crust bet­ter than any on the north­side. A bot­tle of Pros­ecco and a large pie at the beach is the per­fect way to let the stresses of the job melt away and enjoy this very lovely cor­ner of the coun­try, now with bet­ter food!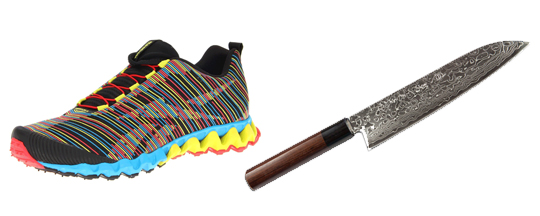 9. Tools of the Trade
Every year that passes, the job takes its toll harder on my body. There are two essen­tial prod­ucts that ease the ache in the bones: a good pair of shoes and a sharp knife. In the old days I'd gid­diliy skip around the kitchen in flip flops (that ended when a pair­ing knife went ver­ti­cal in my big toe). Aching ankles put me in high tops for years, though the soles are often pretty flat on bball sneak­ers. I know that clogs are the thing most chefs do, easy to clean and get out of in an emer­gency. Even after endur­ing a 2nd degree burn on 40% of the sur­face of my foot, I still pre­fer sneak­ers. Run­ning shoes, in par­tic­u­lar, offer a light­ness and cush­ioned sole that lighten the load. This year I found these great Reebok's Zigtecs, which I might call a cross trainer– light and airy soles and a durable, easy-to-clean syn­thetic upper that is way more water­proof than your mesh jog­ging shoe. And if you know me, I gotta look fly– these guys look futur­is­tic and bonkers. Another pair next year please. The knife thing goes with­out say­ing. I've got ten­dini­tis in my hands, so a sharp knife is cru­cial. Prized for their abil­ity to main­tain a sharp edge– I also like a bit of flare and swag­ger in my blade– I've always been daz­zled by Dam­as­cus style blades with their woodgrain/moiré pat­terned look. I was gifted a Shun year's back which has been my main steel. How­ever, after a few years, I real­ized that the han­dle was fit­ted for a lefty, hello ten­dini­tis. The next few years I wore the shit out of a Wusthoff, a thin, softer blade that I watched waste away with each sharpen. This year I decided it was time for an upgrade so I bought a 9" Kikuichi made of pre­mium Dam­as­cus style nickel and stain­less steel and unlike my Shun is feather light with a rose­wood Japan­ese style han­dle. I also finally fig­ured out how to use my Japan­ese whet stone (soak overnight, repet­i­tive back and forth motion) so I'm look­ing pretty sharp these days.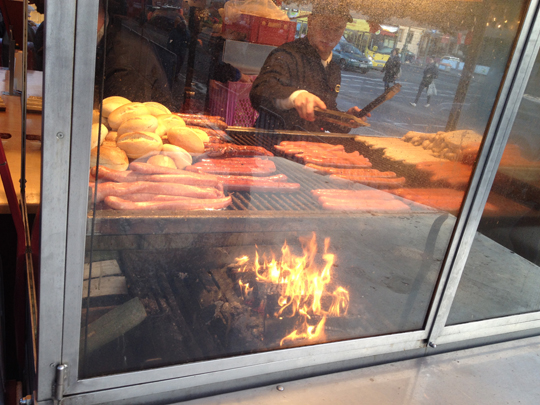 8. Ger­man Christ­mas Markets
I've long been a fan of the Christkindl­markt that occurs the day after Thanks­giv­ing through Christ­mas in Daley Plaza. The ven­dors all seem to come from Ger­many, so there is an air of authen­tic­ity. Most impor­tantly, you can drink out in the open in down­town Chicago. There's just some­thing about drink­ing beer and scarf­ing hot sausages out in the cold that tick­les a pri­mal sense of my German-ness. And Jes­sica likes the hot wine in the lit­tle col­lectible boot mug and the orna­ment shops. My past few expe­ri­ences there though– pro­gres­sively more crowded, herded through the aisles like cat­tle– have been less than cheer­ful. And $20 bucks for a beer and a just-decent sausage in a stale bun just doesn't make the whole expe­ri­ence worth­while. We just returned from Berlin where my sis­ter and brother-in-law relo­cated over the sum­mer. I've spent sev­eral Christ­mases in Europe and I have much pre­ferred their more lax, tradition-oriented approach to the hol­i­day than the fren­zied con­sumerism that bums out Char­lie Brown and many of the rest of us, state­side. The Ger­mans are mas­ters at focused hol­i­day fes­tiv­i­ties, con­dens­ing the entire expe­ri­ence into their mar­kets, which are part street food mar­ket, part one– stop hol­i­day shop­ping. We hit five in total (of maybe 50 in Berlin). Each had its own vibe, from over-the-top to local chill. I was sur­prised how I main­tained so much sta­mina and down­right enthu­si­asm in our sin­gu­lar quest to mar­ket hop. This is largely because of the vari­ety and spec­ta­cle of much of the food offer­ings. And to think I used to get excited about a dinky square of leberkase (hot­dog steak) cook­ing in its own grease in Daley Plaza. I saw piles of smoked speck, shaved rib­bon thin piled on open faced toasts, suck­ling pigs spin­ning under rotis­series, giant caul­drons filled with bub­bling stew, glis­ten­ing mush­rooms, and slow cooked kale (a Ger­man Xmas tra­di­tion it turns our, not unlike South­ern greens cooked down until deep dark green flecked with smoked meat). Open flames every­where– brats cooked over smol­der­ing logs, portable wood-fired ovens turn­ing out blis­tered whole wheat flammkuchen-like flat­bread topped with sour cream and bacon, and whole sides of salmon teepeed against cedar planks smok­ing by robust fires. A ver­i­ta­ble theme park of fire and meat, how could I not fall in love. This is Christ­mas done right.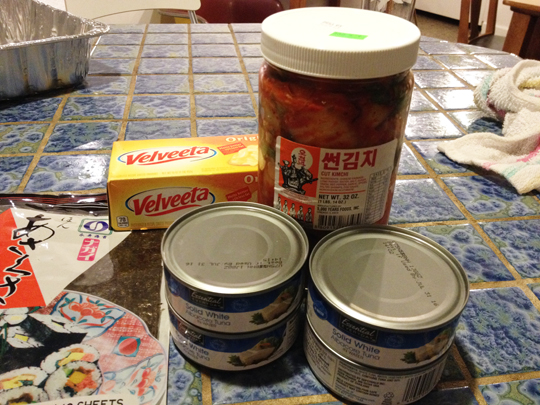 7. Learn­ing Korean
Korean cui­sine can be unap­proach­able. The ser­vice at Korean restau­rants skews unat­ten­tive to just this side of put out. I have yet to find a com­pre­hen­sive Eng­lish lan­guage Korean cook­book. A lot of the food has lit­tle to no con­text in Amer­i­can cul­ture the way Chi­nese and Mex­i­can have been well-integrated at this point. Aside from kim­chi on all the hip menus and Momo­fuku, Korean has yet to be gen­tri­fied like your ubiq­ui­tous neigh­bor­hood sushi or Thai or sushi-slash-Thai. Even banh mi and pho are becom­ing house­hold terms. You'd think that a cul­tur­ally rav­en­ous food­ster like me would know my way around a Korean menu, though until recently I've been pretty hope­less. BBQ, sure. Ban­chan, yes I love the dozens of gratis dishes that over­flow your table, scarf­ing igno­rantly away at spicy kim­chis (its all kim­chi, right?) and more exotic jig­gly bits– wait that's acorn jelly? I would not know my muchim from my jorim if it weren't for an excel­lent arti­cle writ­ten by my friend Kristina Meyer for LTHForum's new home­page arti­cle for­mat. Thanks again to Matt Zatkoff too, who, logis­ti­cally sit­u­ated on the city's north­west side, has worked through many menus in the city's Korean enclaves enlight­en­ing me to the joys of naengmyeon noo­dle soup (there's ice in my soup!) and late night bul­dak (fiery gochujang-slathered char-grilled chicken, but more on that in a sec). Last year Rob showed me the ropes with soon­dubu and other roil­ing stone pot stews. So, yup, I feel like I'm get­ting the hang of this.
The past two years I have been teach­ing fresh­man at the School of the Art Insti­tute, which has an ever grow­ing Korean stu­dent pop­u­la­tion. The class was called "You Art What You Eat" and I liked to tie in projects for which my stu­dents could share fam­ily or cul­tural recipes impor­tant to them. As soon as my Korean stu­dents heard me use the word kim­chi, they would gig­gle and whis­per to one another. But in some ways, I think it earned me street cred, because they then seemed to feel com­fort­able enough to talk at length with their fel­low stu­dents and I about their food tra­di­tions. This past spring, while not my favorite class in gen­eral, I had a group of Korean girls that enlight­ened my under­stand­ing of an aspect of Korean food in terms of the exchange of east­ern and west­ern food tra­di­tions. It was a bril­liant project that they col­lab­o­rated on for the final cri­tique. They arrived to class dressed in mil­i­tary fatigues. They set up a mise en place with a sta­tion for each of the three. The first had a rice maker filled with Korean red rice, the next a bowl of tuna salad, then finally the last had a bowl of shred­ded nori. As an assem­bly line they pre­pared these smaller-than-a-fist balls of tuna salad stuffed rice rolled in nori flakes. WTF? After we were all served they explained its his­tory. I can­not locate a trans­la­tion to this dish, but they explained the dish as rice "bombs" and that these ingre­di­ents– nori, cooked rice, canned tuna, and mayo, were a com­mon ration for sol­diers in wartime Korea. They men­tioned that Spam was also a com­mon fill­ing, which elicited an "Ewww" reac­tion from the pre­dom­i­nantly Amer­i­can rest of the class. And the result­ing debate was very eye-opening. Spam, a war era, cheap con­ve­nience food is now deemed by younger gen­er­a­tions of Amer­i­cans as totally gross, while their Korean con­tem­po­raries con­sider it deli­cious. Read­ing up, I found that in some cases Spam is con­sid­ered a del­i­cacy, in Korea it is pro­duced in a range of fla­vors and a box set is con­sid­ered a quite hon­or­able hol­i­day gift. Spam is not the only instance of appro­pri­ated mid-century Amer­i­can food­stuffs that are read­ily enjoyed in Korea–ever had a ban­chan of sus­pi­ciously grocery-store-deli-case look­ing potato salad? You've also got tuna salad, hot­dogs, and Amer­i­can cheese. That fire chicken at Dan­cen I men­tioned, it's served with an oddly com­pli­men­tary salad of shred­ded cab­bage and 1000 island dress­ing. I like the idea of fusion cui­sine that works in reverse to the typ­i­cal trained-western-chef col­o­niz­ing fla­vors of other cul­tures. These foods were adopted because times were lean dur­ing the war– neces­sity food, incor­po­rated with tra­di­tional fla­vors by savvy and resource­ful home cooks. I have yet to make this or try it, but its on the books for a project early in 2014– Budae jigae, or "army base soup" which is a spicy gochujang-based soup with instant ramen noo­dles stud­ded with tra­di­tional veg and kim­chi and add ins like Spam, hot­dogs, and Amer­i­can cheese.
6. The Food at my Wedding
I think I deserve some brag­ging rights here. Of course, my wed­ding was going to have the best food ever. I've dreamed of this day. Let's start with the rehearsal din­ner; I com­mis­sioned my two favorite restau­rants in Chicago to repeat a col­lab­o­ra­tion– Bir­ri­eria Zaragoza's roasted goat encased in pas­try by Pleas­an­t­house Bak­ery. Oh yes. The only regret I have of the week­end is that for the sake of fru­gal­ity, I chose to cook the rest of the meal, which was sim­ple enough, but just a lot of extra work on a day I was sup­posed to enjoy myself. Big thanks to Noah Singer, who stepped in and relieved me of my sta­tion so I could min­gle. The rest of the meal was sim­ple enough, a funny Mexi-anglo mash up of salsa, gua­camole, mashed pota­toes with mole gravy, and peas. Oh, and in some crazy cos­mic gift from the land, a few days before the wed­ding, the Ox-Bow woods decided to flush in thou­sands of honey mush­room clus­ters, which I had never even seen there before. I for­aged about ten pounds and even found a cou­ple of size­able hen-of-the-woods clus­ters to throw in. I sliced 'em all up and we sautéed them sim­ply as a side. The main event was months in the mak­ing. The Saugatuck area is blessed to have one of the most bril­liant cater­ers in the land in Chris Fer­ris. She catered my best bud Ben's wed­ding at Ox-Bow in '08 and it was the best wed­ding food I've ever had. She does the Ox-Bow ben­e­fit for 400 every sum­mer and nails that. Chris and I did a stint one fall in the Ox kitchen and work­ing with her was a pure joy. So I knew we were in great hands! I wanted a roast pig. She asked if I'd ever heard of Gun­thorp Farms. Hell yeah, only on the finest menus in Chicago, I see their truck pull up next door to the Butcher & Larder on the reg­u­lar! After a very casual back and forth with those guys, a real nice fel­low named Greg pulls in the night before the wed­ding with his rig. We're in the mid­dle of our "Wood­land Spir­its" themed cos­tume dance party and I'm in a loin­cloth and deer antlers and direct him where he should set up. "I'll just put out a sleep­ing bag next to the pig tonight". Alright, this guy seems cool. "You're wel­come to join us for a beer" "I just might". Dude is way cool. He hung out, seemed to be groov­ing through­out the next day and into the wed­ding. Dur­ing din­ner, he per­son­ally served me "the best part", the cheek meat. Love this guy. I hadn't real­ized at the time but he is Farmer Gun­thorp. What a plea­sure. Back to Chris and her crew. We went with a South­ern theme, here's the rest of the menu: THE BEST local cheese­board, spicy dev­illed eggs, mini muf­fale­tas (deli­cious for break­fast the next day), tomato bacon tartlets (a fave all around), fried chicken drumettes (saved my ass that night, really amaz­ing fried chicken), a vari­ety of sauces for the meats, pick­les, three or four sal­ads, mac and cheese, bis­cuits, an insane feast. I was too busy min­gling to try every­thing (includ­ing the pies from Crane's Pie Pantry) but it was the best wed­ding food of all time, I am cer­tain. And Chris' crew even man­aged to switch up buf­fet ser­vice to fam­ily style as a down­pour ush­ered in dinner.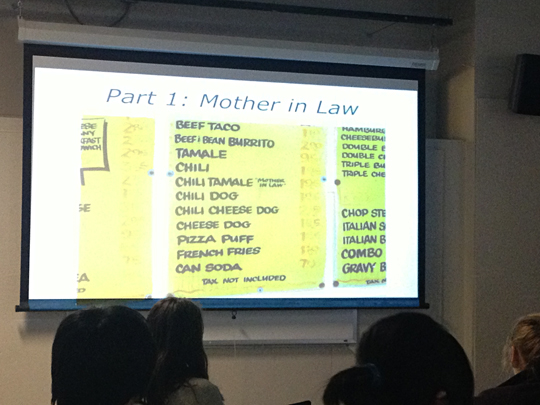 5. Peter Engler
This man needs no intro­duc­tion in some cir­cles, but I think he deserves a big col­lec­tive thank you from the Chicago food scene. Ever heard of a mother-in-law– a Chicago style "corn roll' tamale in a bun topped with chili and dressed like a Chicago dog? You may have seen Bour­dain wolf one of these down at Fat Johnnie's in his No Reser­va­tions Chicago episode, that's Peter sit­ting across from him at the pic­nic table. How about a Big Baby– a dou­ble cheese­burger with grilled onions and one expertly melted slice of Amer­i­can cheese in between the pat­ties? You may have seen these recon­structed on menus at a hip Logan Square cock­tail bar or a hotel bistro in the Gold Coast. Maybe you read about this Jim Shoe sand­wich this fall, a con­coc­tion of chopped gyros and deli meat grid­dled up with gia­r­diniera and served on a roll with let­tuce, tomato, and gyro (pro­nounced guy– ro) sauce. Odds are strong that we have Peter to thank for intro­duc­ing us to these south side fast food anom­alies. In today's era of the lis­ti­cle, user friendly enter­tain­ment web­sites serve up lazy retweeted jour­nal­ism. Its guys like Peter that are out there putting in the real work, pound­ing the pave­ment, tire­lessly research­ing sto­ries about food that a lot of peo­ple have never heard of. It can take him a decade to put together pieces like his LTH home­page story about the Jim Shoe. That's because he is thor­ough, he gets the story. It's been a plea­sure and an honor to have the oppor­tu­nity to trek around the city and eat with Peter. He's an incred­i­bly gen­er­ous guy that I have counted on him to help me research a story about old fash­ioned cheese­burg­ers or call up to find the best place to buy good frozen egg rolls. Peter came and lec­tured to my "You Art What You Eat" class in the spring and it was really a joy hear­ing the sto­ries of these foods in one sit­ting. He is one of my favorite Chicagoans. Here's to you, Peter.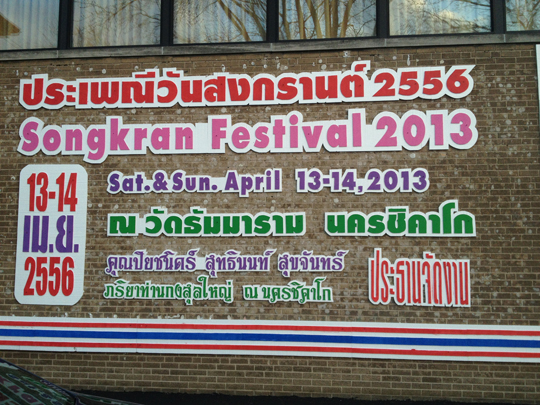 4. Thai Food
Thai has long been one of my favorite cuisines. It has it all– chile heat, pro­nounced cit­ric acid­ity, fresh herbs, grilled and fried meats, fer­mented fish funk. This was a ban­ner year for me and Thai food. We have a great scene here in Chicago with sev­eral fan­tas­tic North­ern Thai places where, thanks to the work of a guy called Erik M who trans­lated Thai lan­guage "secret" menus, pro­pri­etors of these restau­rants began to offer up the real goods like fer­mented sausages, blood thick­ened soups, and minced organ meat larb along­side the more stan­dard Pad Thai and green curry menu offer­ings. The land­scape has changed over the years and my old favorites are not any longer, due to chef's leav­ing for new restau­rants or places becom­ing too pop­u­lar. But thank­fully, I have new favorites and one of them is a match­box of an unas­sum­ing store­front on West­ern Ave. just north of Lawrence, Rain­bow Thai. The menu here is helmed by a for­mer cook at Spoon and a few of their for­merly best dishes are now the clas­sics at Rain­bow, par­tic­u­larly the lit­tle sour, greasy nuggets of house­made Isaan sausage, Nam Tod, the best fried chicken in town, and their sig­na­ture Naem Khao Tod, which is lit­tle clus­ters of deep fried rice treated like a salad with raw onion, herbs, and a cit­rusy dress­ing aug­mented with funky cubes of fer­mented Thai ham. I recently had the oppor­tu­nity to join a pri­vate party to sam­ple new sea­sonal win­ter menu items and was impressed by new-to-me dishes like fried "larb" fish cakes redo­lent of kaf­fir lime leaves and a rich tripe soup. LA has a broader Thai food scene that eas­ily rivals Chicago's. While I've never been entirely impressed with the fabled Jit­lada and its East­ern Thai, on my bach­e­lor party week­end we had some North­ern Thai and Isaan style at Spicy BBQ and Isaan Sta­tion, respec­tively. Although famil­iar with North­ern Thai in Chicago, the cook­ing at Spicy BBQ was more homey and rus­tic. A jack­fruit curry had a Bolog­nese qual­ity cooked down with ground pork. Isaan Sta­tion put out super bright, pop­ping food, includ­ing one of my favorite eats of the year, a cock­les salad with plump pre­his­toric look­ing gas­tropods in a spicy, cit­rusy dress­ing and a super funki­fied fer­mented bam­boo shoot salad. Lastly, I should men­tion the Songkran Fes­ti­val I attended at a Thai com­mu­nity cen­ter in south­west sub­ur­ban Bridgeview. The cafe­te­ria there became a cacoph­o­nous mar­ket­place of dozens of food ven­dors and hap­haz­ard lines. The ven­dors ranged from city restau­rants to home cooks (I sought out the lat­ter). We tried at least a half a dozen things, salty noo­dle soup with a sweet spiced Chi­nese fla­vor pro­file, a gag­gle of fried stuff, and three dif­fer­ent som tums, each with totally unique ele­ments– raw crab, braised pork chops, and fried fish. And we were maybe two miles from my High School.
3. Lucky Peach
I love this mag­a­zine from the brain trust of Momofuku's David Chang, his buddy/editor of the Momo­fuku cook­book Peter Mee­han, and McSweeney's edi­tor, Chris Ying. I'd seen it on the rack at Whole Foods a few years back. I have always liked Chang, like their cook­book, but never thought to actu­ally pick up the mag­a­zine. Serendip­i­tously, I was gifted two at the same time and the China town issue, in par­tic­u­lar, sucked me right in. This is all I want from a food pub­li­ca­tion– it's the meta– food mag­a­zine. It's not about food porn or easy week­night recipes– there's no fluff. There's impor­tant stuff like Michael Pollan's call-to-arms for cook­ing at home. There's fun, but con­tem­po­ra­ne­ously per­ti­nent eval­u­a­tions of gen­der and cook­ing via a decon­struc­tion of Three's Com­pany. There's an inter­view with a gin­seng for­ager. There's all my favorite food per­son­al­i­ties– Alice Waters, Fuschia Dun­lop, Roy Choi! Recipes, yes– thank god I now know about bunny chow! There's Kevin Pang inter­view­ing "Poochie" from Wiener's Cir­cle and Mar­tin Yan "Can Cook"! There's even Edie Fake draw­ings!!! Basi­cally, if I could make a food mag, this would be it.
2. Community-based Eateries
Par­don me for invent­ing a term. Its kind of a vague one at that, I mean this could mean many things: a school cafe­te­ria, a cof­fee shop (suc­ceed­ing the diner in con­tem­po­rary Amer­ica), a neigh­bor­hood tav­ern with pub grub, a Somali cab­bie joint, a gro­cery store taque­ria. Chi­na­town… If we accept the def­i­n­i­tion of com­mu­nity as a group of peo­ple with a par­tic­u­lar inter­est in com­mon, we could argue that someone's inter­est in the same restau­rant as some­one else makes them a com­mu­nity. My inter­est is in places that aim to serve com­mu­ni­ties– have a role greater than just feed­ing their clien­tele, becom­ing con­vivial nexuses of their neigh­bor­hoods, that encour­age peo­ple to hang out. I have two exam­ples that I wit­nessed recently at two pretty old restau­rants that exem­plify this kind of hos­pi­tal­ity: Pod­ha­lanka is one of my favorite places to have a leisurely lunch in my neigh­bor­hood. On any given day you can wit­ness a cross sec­tion of the neighborhood's demo­graphic din­ing there: an amal­gam of old timers, cops, Pol­ish speak­ers, young fam­i­lies, and the young, hip, and upwardly mobile. As gen­tri­fied as most of the sur­round­ing area may seem though, the "tri­an­gle" at Ash­land, Divi­sion, and Mil­wau­kee remains a gath­er­ing place for the day­time drink­ing crowd. Pod­ha­lanka remains mostly unchanged to how it felt when I first dined there in the late 90s and has a frozen-in-amber vibe that harkens back to the bygone hey­day of old "Pol­ish Down­town". In the past, the room was always lov­ingly presided over by owner Helena, who would offer com­pli­men­tary com­pote juice as you took to your table. In the past few years a younger mem­ber of the fam­ily has relieved Helena of the lion's share of the front of the house duties. I, and other long­time patrons I know, have had a rough tran­si­tion deal­ing with the new server. He treats much of the clien­tele like noobs who have never heard of a pierogi before, upselling you mul­ti­ple plates of food before you have a chance to crack open the menu. I was wor­ried this favorite place of mine was los­ing its hos­pitable charms. But the new guy got to know me, picked up on my typ­i­cal order and now things feel cozy as always. A few months ago I wit­nessed just how impor­tant this place is to its com­mu­nity, though, when a down-and-out denizen of the tri­an­gle plopped down at the bar for cof­fee. He was in a bad way. The server guy emerged from the back with two packed to-go bags and gave them to the home­less man. He insisted that the food was free and reminded the man that they'd be closed on Sun­day, so he packed him enough food for two days. This moment made me care a lot less about that time I felt like I was treated like just another naïve walk in hip­ster. My other exam­ple is not in my neigh­bor­hood and I've only been once, but based on the col­lec­tive love from guys I know who grew up eat­ing there in the 70s and 80s as well as younger Roger's Park natives, Noon Hour Grill holds a warm and fuzzy place in a lot of Chicagoan's hearts. This cozy diner, for­merly known as Pusan House is owned and run by Susie Lee, a one woman force who cooks up mighty fine bibim­bap and while we're talk­ing Korean fusion, crazy omelet con­coc­tions like bulgogi/kimchi/American cheese. When we walked through the front door I imme­di­ately ran into a for­mer stu­dent of mine who lives in the neigh­bor­hood. I asked him what his go-to order is and he said "bibim­bap, Susie knows". Appar­ently she remem­bers every face that walks though her door. This place is a real gem.
My trib­ute projects got me think­ing about how eater­ies func­tion in artist's com­mu­ni­ties– start­ing with FOOD in the early 70s, a restau­rant run by artists serv­ing other artists, cre­at­ing a social hub. These places seem to come and go with the move­ment of artists in cities. Leo's Lunch­room, for instance, existed in a golden time and place: an on-the-cusp-of– gen­tri­fy­ing part of town that attracted a lot of cre­ative tal­ent in a moment when Chicago was attract­ing and export­ing much of this tal­ent. The place reflected the neigh­bor­hood and its cus­tomers: a cheap, slightly dingy hole in the wall of a cof­fee shop turn­ing out scratch made, cre­ative food. Lit­er­ally nour­ish­ing the vibrancy of the scene. But the neigh­bor­hood changed and as artists and musi­cians were priced out the need for Leo's waned. Sonny's may have had a cap­tive audi­ence of being the only eatery sit­u­ated within an insti­tu­tion, but again, he offered cheap, home­made food to a cus­tomer base that he took the time to inter­act with and get to know. I sup­pose I long for my own cozy hole in the wall serv­ing hon­est, from scratch grub by a friendly face where I can feel com­fort­able to hang up my hat and hang for awhile. For now, I've got Pod­ha­lanka and Susie's, hope­fully they'll stick around for awhile…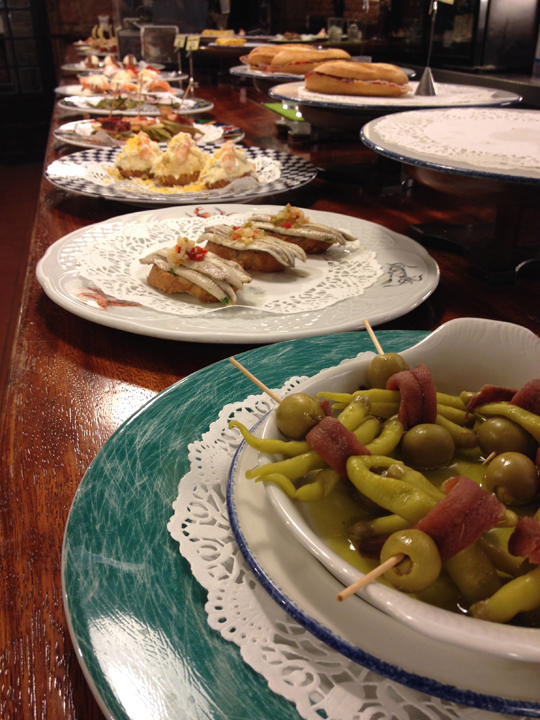 1. Basque Country
Jes­sica and I were com­pletely enchanted by the Basque Coun­try on our recent hon­ey­moon. The land is gor­geous: dra­matic moun­tains with a ragged arid land­scape on their south­ern face yield­ing to lush pine forests and fer­tile pas­tures fac­ing the Bay of Bis­cay. Our online research on accom­mo­da­tions– the area hosts hun­dreds of centuries-old guest­houses called casas rurales– proved to be much luck­ier than we could have imag­ined. We were perched on a moun­tain­side over look­ing San Sebastián just 6 km to the south in a cider-producing town called Asti­gar­raga. The house and fam­ily that owned the place were as charm­ing as could be– we were very com­fort­able. San Sebastián, or Donos­tia in the native Basque or Euskadi lan­guage, is very well known as a culi­nary des­ti­na­tion both for its den­sity of Miche­lin starred pil­lars of mod­ernist cui­sine, but also for its tapas, or pinx­tos, which are the most esteemed in Spain. The lat­ter would make up the bulk of our itin­er­ary– I tend to favor the uniquely local over the lofty inven­tive. It took us a few days to accli­mate to the Span­ish sched­ule, quickly learn­ing that our happy hour was smack in the mid­dle of their siesta. The pinx­tos bars would be closed from two in the after­noon through eight in the evening and often­times, punc­tu­al­ity was not a com­mon virtue. So we'd load up at lunch, have a few drinks, then take a walk before head­ing home for a late after­noon siesta. That's the life.
So what did we eat? We hit about a dozen or so of the most rec­om­mended pinx­tos spots. In the old sec­tion of Donos­tia with its charm­ing, nar­row cob­bled streets and just-enough sou­venir shops to remind you that you are on vaca­tion, just about every other store­front is a bar with piles of pin­txos for the tak­ing. You can see the rela­tion­ship between the pre­sen­ta­tion of this food and mod­ernist cui­sine, and I'm not sure which is the chicken or the egg, but many of these small bites are fan­ci­fully gar­nished, stacked high and driz­zled and tweezed, even in the more homely estab­lish­ments. Despite the frilly looks, there is a pretty sim­ple for­mula to your aver­age pinto, a basic palette of ingre­di­ents: lots of egg, hard­boiled or grated finely like cheese (I thought there was grated cojack on every­thing at first, lol) or also made into salad (in par­tic­u­lar ensal­ada rusa or Russ­ian salad, for­ti­fied with ham and pota­toes), then jamón of course, which is usu­ally the good Iberico stuff, anchovies, shrimp, and guindilla chile pep­pers, all assem­bled into whim­si­cal lit­tle sculp­tures atop slices of very nice baguette. Good bread abounds, per­haps due to the prox­im­ity to France. Although I grew tired of the eggy stuff, I found a few of these more tra­di­tional pinx­tos that I fell in love with. Par­tic­u­larly at the sleek, down­town (not in the old town) Bar Anto­nio, which seems to spe­cial­ize in cured fish evi­denced by the ros­ter of gor­geous fru­tas de mer sus­pended in oil in ceramic dishes on their bar. Their igueldo pinxto was a fore­run­ner for favorite of all– roasted tomato rubbed into baguette topped with oil-cured tuna and draped with gor­geous anchovies and piquant guindilla chiles. Decep­tively sim­ple fla­vors with an ele­gant pre­sen­ta­tion, a reoc­cur­ring theme of the pinxto. A les­son we learned early is that many of the best pinx­tos aren't out on the bar at all. One bite we ate almost every­day was a dead sim­ple nugget of per­fectly seared sir­loin draped with roasted pep­per called solomillo at Bar Gonadarias. On the lat­ter half of our stay we honed in on bars helmed by young chefs, some trained in the mod­ernist kitchens. These bars offered no pinx­tos on the bar, all ordered from a menu. A few spots seemed to try too hard to fool the palate with ironic twists on clas­sic dishes, but we landed at two cel­e­brated spots turn­ing out refined, yet sim­ple plates with a rev­er­ence for pre­mium ingre­di­ents. La Cucaracha de San Telmo, which frus­trat­ingly opens and closes on their own whims, served us my favorite pinxto, a suc­cu­lent braised rab­bit loin with porcini mush­rooms. Decadant and remark­ably in the same price range as just about every other pinxto, about 3 Euro. Around the cor­ner we had some great bites at Borda Berri, which was always packed to the rafters. A few things were overly gar­nished and fussed over, but their braised veal cheek was rich, salty, and real good.
Drink is also quite dis­tinc­tive in the Basque Coun­try– I fell in love with my first white wine, the ubiq­ui­tous Txakoli, which is a per­fect train­ing wheels white– very dry and semi-sparkling– for this lover of bub­bly. The wine is served in a dra­matic high pour to aer­ate and max­i­mize its fizzi­ness. This tech­nique is also employed for the leg­endary Basque cider, which is flat­ter than other ciders I've had. Its also intensely sour and has a pro­nounced yeast­i­ness, lovers of sour Bel­gian beers would love the stuff. I had my fill in the course of our five days. Par­tic­u­larly in one epic evening at the local sidreria or sagar­dote­gia (cider mill). We fig­ured we were stay­ing in a cider town, so we might as well soak up the local fla­vor. This proved to be the apex of our time in Basque Coun­try. Petritegi Sagar­dote­gia was rec­om­mended by the adorable grandma of the fam­ily we were stay­ing with. The place is mas­sive, appar­ently seat­ing up to 700 at long wood com­mu­nal tables. The cel­lars are wide open and the din­ers are encour­aged to wan­der amongst the 10 foot tall oak bar­rels. We were seated next to a pair of old cou­ples who at first did not pay much atten­tion to us. We were served a few deli­cious courses of cooked chorizo and a bacalao omelet. I noticed that the men next to us were leav­ing the table to get their cider from the cel­lars. Orig­i­nally, we'd had a bot­tle brought to our table. I decided to inves­ti­gate and real­ized that many of the bar­rels were tapped and folks were help­ing them­selves to the tapped cider. A friendly Eng­lish speaker taught me the ropes, you open the tap and as far from the spigot as pos­si­ble you catch the stream­ing cider on the inner side of your glass, cre­at­ing a cas­cade of bub­bles. I ran into our table­mates on the way back to the table and now I was ini­ti­ated. The guys spoke only Euskadi and French, so our com­mu­ni­ca­tion was lim­ited to ges­tures, but we got on the same page fast, run­ning back and forth form the bar­rels, pound­ing the cider. Too much fun. Back to the food: my favorite bite of the trip was prob­a­bly the third course– fried mer­luza (a com­mon catch in the Bay) topped with a tan­gle of fried pep­pers and onions. So fresh, so sim­ple, per­fect. The main course was a giant t-bone for two, which had that real fat taste of grass fed beef. Jes­sica, the steak lover in the fam­ily declared it the best steak she'd ever had. Dessert was cheese, quince paste, and wal­nuts in the shell. More unfussy, pris­tine ingre­di­ents. The tab: 28 Euros apiece. A once-in-a-lifetime meal and one of my favorites.