Sometimes I wonder if I have a problem, I never, I mean never, stop thinking about food. I asked Jessica if she thinks about photography nonstop and she replied "not the same way you think about food constantly". I know I've got a big freakin appetite. It seems as though I ate a million things this year, a million more than last year. Fortunately, I've found a crew of likeminded food nerds, that I've met through the internet. It is pretty cool that in today's virtual era there's a community that extends beyond the trackpad to break bread IRL. These are the same guys I mentioned in last year's top 10 (plus a few new friends) who share a relentless zeal for finding new eating experiences in every far-flung corners of Chicagoland. We're a ragtag crew for sure and tend to raise eyebrows when six of us belly up to a table in a random south side taqueria, order three things to share off the menu, take like 10 minutes to take pictures of the food, and then if the bite isn't worth it, we leave it behind for the sake of digestive real estate. It's always an education hanging out with these guys and I owe a lot of my favorite eats of the year to their intrepid pursuits. I'll pay homage to one of my new friends shortly, but I've gotta give props to the other guys too. Matt "laikom" Zatkoff, who I met this year over a pot of frog hotpot, is responsible for sharing two of my favorite new places to eat, Rainbow Thai and Dancen, both mentioned below (his research also led me to last year's #8, Nha Hang Viet Nam). Also shout outs to Titus "Da Beef" Ruscitti, who's never not on the beat, whether mapping every single one of the city's best tacos on his new Chicago Taco Tour or colorfully recounting his exploits in his home kitchen, around the city, and the greater Midwest at Smokin, Chokin, and Chowin with the King. This guy gets around and I've had the pleasure of going along for the ride, most memorably on a day trip to Milwaukee exploring the city's diverse ethnic eats. Lastly, shouts to Rob "PIGMON" Lopata– this guy's got his opinions, but I've probably broken bread and bantered with him more than anyone else next to my wife this year. His partner in crime, the lovely and delightful Kristine "trixie-pea" Meyer rounds out a great double date for us and can be thanked for my favorite potluck of the year, for which we all cooked recipes from Naomi Duguid's "Rivers of Flavor" giving us the opportunity to try our hand at Burmese Cuisine, which we rarely have the chance to sample in Chicago.
What else? There was much more to my year in food than 4 hour, 3 lunch adventures with my friends "from the internet". I got married! That was a big deal! And while the energy it took to plan my life's ultimate party (see #6) slowed down the pace of other projects, it also provided many celebratory eating experiences peppered throughout the year. In May, my best Chicago friends met my best Los Angeles friends in the desert for my bachelor party. It was a sun-drenched cosmic weekend at Joshua Tree more focused on hijinks and landscape. But of course we ate well, guess who did the cooking? Big slabs of meat were on order and I cooked my first lengua, which is a pretty intimidating experience and I'd like to thank the dudes for indulging my desire to taste the taste that tastes you back. The desert trip was bookended by two amazing Thai meals, which I will recount in more depth below. J and I hit the road to decompress for a "soft honeymoon" to the UP shortly after the festivities at the end of August and we ate our way from Marquette to Grand Marais and had some pleasantly-surprising bites including requisite smoked lake fish, my still-favorite Cajun in the Midwest, lovely artisanal baked goods, foraged wild blueberries, and perfectly fried Lake Superior white fish. Not entirely satisfied with that half rained-out camping trip, we booked a real deal overseas honeymoon, which proved to be a bucketlist-worthy eating tour of the Basque Country (see #1). We met my family in Berlin afterwards for the holiday and ate our way across the city's fabulous Christmas Markets (#7) and were blown away by the variety of sensational Turkish kebab sandwiches in the city's southeast neighborhoods of Kreuzberg and Neukolln.
Project-wise, while it felt a little thin this year with all else going on, there were two strong currents, the first was tribute menus, which I had done in the past– Gordon Matta-Clark's Bone Dinner last year, for instance. This year, however, I paid homage to two influential eateries that I actually spent time dining at, Leo's Lunchroom and Sonny's at SAIC. I'll talk in depth about the relevance of these cafés in my list, but I'd like to address how uncomfortable, at times, these projects actually were to conceptualize. The tribute business is a funny one. On one hand, my intent was always to altruistically show respect to these folks and their food, which had inspired me in my early days as a budding cook. And these two places, as evidenced in the outpouring of loving testimony (in response to Facebook outreach in preparation for the projects) have legacies that resound with real collective adoration from the communities they served. The tricky part was digging around in other people's pasts. For both projects, I received lukewarm responses when I reached out to their proprietors. They both closed their doors under somewhat unfavorable circumstances and while, I still feel like these tributes were positive for the communities that loved these places so much, the face-to-face understanding of the back stories of their demise was pretty disheartening.
The other common thread in my projects of 2013 was cooking in real restaurant kitchens for the first time since my salad days busboy-ing in fine dining in my late teens. First, I got a chance to don my whites in Jonathan "Z-Dog" Zaragoza's kitchen at Masa Azul, then I worked with my peeps, Bread KC! at the Riegor Hotel (lots of love for all these guys on last year's #2). And finally I threw down with Mike and Anne at Sauce & Bread Kitchen (my 2nd collabo with Mike this year). I'll just say that all three of these experiences were a thrill. For one thing, these real deal facilities offer the space and equipment to do things that just aren't possible in my rough-around-the-edges kitchen at R&C. And its fun to feel like a real chef for the day, standing at the line yelling and bantering, then carefully tweaking the presentation on a long line of primped little plates. The lesson here is that fuck, professional cooks work hard, real fucking hard. I'm talking 12 hours on your feet, no breaks to eat all this delicious stuff in front of your face (not that you'd want to after fussing over it all day), you're up at 6 am and after a night of drinking back at it the next day. This shit might sound like some Anthony Bourdain-inspired machismo myth, but its reality. I get a taste of it 3 months a year at Ox-Bow, but that gig is relatively cush in terms of hours and pacing. I feel like I've got the grit to live the life, but I have to think long and hard as to whether I've got the commitment.
Without further ado, ze list: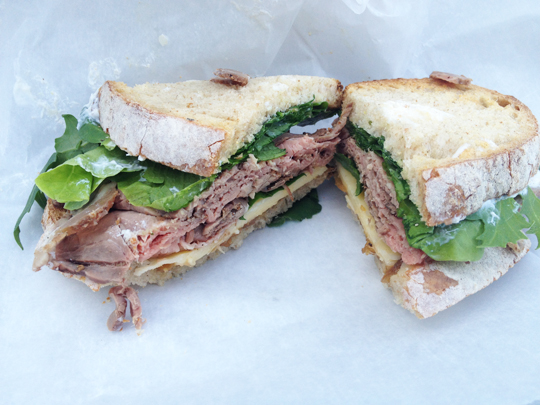 10. The improving Dining Scene in the Saugatuck Area.
On my days off at Ox-Bow, nothing is worse than lining up in the dining room with my clienetele (who somehow seem to think I'm at work even though I'm wearing swimming trunks and making myself a salad). It can also be pretty uncomfortable watching my co-workers toil away (trying not to notice things I would be orchestrating differently if I was on the clock and in general feeling guilty about them being at work and me being on my way to the beach). This is an occupational hazard very specific to the live-where-you-work aspect of Ox-Bow, you sorta always feel like you're on the clock. So, days off are precious and it's real nice to get away and eat somewhere else for a change. Problem is, the food around there kinda sucks. There's been decent options that come and go over the years, taquerias that pop up and disappear the next year. (On a side note- very sad to see the passing of Su Casa in Fennville, who I paid tribute to elsewhere on this blog. I've heard good news that they plan to reopen soon in Holland). Holland used to have a vibrant Southeast Asian dining scene, but most spots have either closed or Americanized and one even turned into a sports bar. I never want to drive to Holland on my day off anyway. Saugatuck/Douglas is mostly populated by over-priced Sysco product-laden bar food. There's one fine dining spot that is flocked to for it's supposedly local, scratch made food, but I have never loved it. Another "farm-to-table" fine dining place opened in Fennville a few years back, Salt of the Earth. After two miserable experiences with their front-of-the-house several years ago, I swore it off. That was a hasty decision. I returned this summer, and while service was awkward, it was endurable (much better on subsequent visits), the food was so kick ass I fell in love with the place. They're known for their wood-fired hearth, which turns out lovely breads and nice pizzas (too bready for me). For me, it's their hand with red meats, some of which are roasted in said oven. On that first return visit, we had these thick, crisp-on-the-outside, meltingly-tender-on-the-inside batons of pork belly that particularly tickled. Also notable are superb steaks and a damn good burger, all paired with the same gorgeous height-of-the-season, fresh-from-market produce that I source at Ox-Bow. I actually ate here and at Nightwood in Chicago in the same week, and while Nightwood's dishes were more inventive, SotE was a clear standout in terms of tasty New American farm food.
Lunch is perhaps more important for a relaxing day off campus, particularly when in-town-laundry is the focus. Three new openings have upped the ante in the casual realm. Odie Dog's is a new food truck run by a kindred spirit named Eric. He does justice to a Chicago dog, but offers more creative options as well. I dig his lobster roll, the mayo-dressed variety, though judiciously applied. Lucy's Little Kitchen in Saugatuck is another great new opening. Opened by Matt Balmer, of Everyday People Café fame, it's a cute-as-a button little hotdog stand with a lovely sun dappled terrace of outdoor seating. I've tried half the menu and it's hit or miss (yes another lobster roll, I guess Saugatuck kinda is the Midwest's Cape Cod). The standout is the blackened catch-of-the-day sandwich, which explodes with spice and tangy coleslaw. The end of the summer saw the opening of celebrated local caterer and my friend, Chris Ferris' Farmhouse Deli on the Blue Star in Douglas. I only had the chance to eat one very tasty roast beef sandwich and watch John Rossi moan in delight over his grilled Pastrami (man loves his melted cheese), but this will surely be a haunt of my days off in 2014. Lastly, shouts to Farmhouse's neighbor and my favorite bite in the area, Tammy and co.'s Pizza Mambo, who do Chicago tavern style thin crust better than any on the northside. A bottle of Prosecco and a large pie at the beach is the perfect way to let the stresses of the job melt away and enjoy this very lovely corner of the country, now with better food!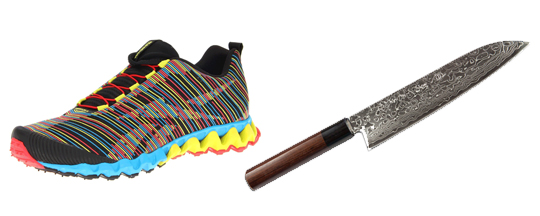 9. Tools of the Trade
Every year that passes, the job takes its toll harder on my body. There are two essential products that ease the ache in the bones: a good pair of shoes and a sharp knife. In the old days I'd giddiliy skip around the kitchen in flip flops (that ended when a pairing knife went vertical in my big toe). Aching ankles put me in high tops for years, though the soles are often pretty flat on bball sneakers. I know that clogs are the thing most chefs do, easy to clean and get out of in an emergency. Even after enduring a 2nd degree burn on 40% of the surface of my foot, I still prefer sneakers. Running shoes, in particular, offer a lightness and cushioned sole that lighten the load. This year I found these great Reebok's Zigtecs, which I might call a cross trainer– light and airy soles and a durable, easy-to-clean synthetic upper that is way more waterproof than your mesh jogging shoe. And if you know me, I gotta look fly- these guys look futuristic and bonkers. Another pair next year please. The knife thing goes without saying. I've got tendinitis in my hands, so a sharp knife is crucial. Prized for their ability to maintain a sharp edge– I also like a bit of flare and swagger in my blade– I've always been dazzled by Damascus style blades with their woodgrain/moiré patterned look. I was gifted a Shun year's back which has been my main steel. However, after a few years, I realized that the handle was fitted for a lefty, hello tendinitis. The next few years I wore the shit out of a Wusthoff, a thin, softer blade that I watched waste away with each sharpen. This year I decided it was time for an upgrade so I bought a 9" Kikuichi made of premium Damascus style nickel and stainless steel and unlike my Shun is feather light with a rosewood Japanese style handle. I also finally figured out how to use my Japanese whet stone (soak overnight, repetitive back and forth motion) so I'm looking pretty sharp these days.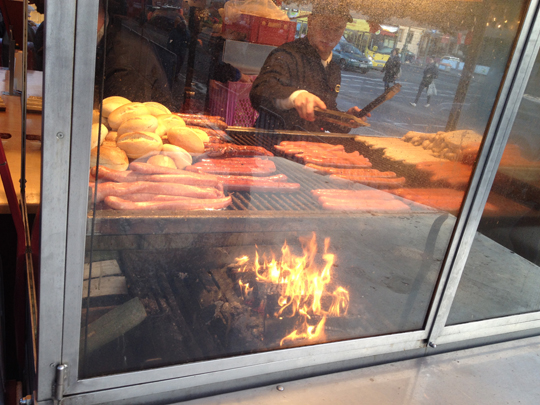 8. German Christmas Markets
I've long been a fan of the Christkindlmarkt that occurs the day after Thanksgiving through Christmas in Daley Plaza. The vendors all seem to come from Germany, so there is an air of authenticity. Most importantly, you can drink out in the open in downtown Chicago. There's just something about drinking beer and scarfing hot sausages out in the cold that tickles a primal sense of my German-ness. And Jessica likes the hot wine in the little collectible boot mug and the ornament shops. My past few experiences there though– progressively more crowded, herded through the aisles like cattle– have been less than cheerful. And $20 bucks for a beer and a just-decent sausage in a stale bun just doesn't make the whole experience worthwhile. We just returned from Berlin where my sister and brother-in-law relocated over the summer. I've spent several Christmases in Europe and I have much preferred their more lax, tradition-oriented approach to the holiday than the frenzied consumerism that bums out Charlie Brown and many of the rest of us, stateside. The Germans are masters at focused holiday festivities, condensing the entire experience into their markets, which are part street food market, part one- stop holiday shopping. We hit five in total (of maybe 50 in Berlin). Each had its own vibe, from over-the-top to local chill. I was surprised how I maintained so much stamina and downright enthusiasm in our singular quest to market hop. This is largely because of the variety and spectacle of much of the food offerings. And to think I used to get excited about a dinky square of leberkase (hotdog steak) cooking in its own grease in Daley Plaza. I saw piles of smoked speck, shaved ribbon thin piled on open faced toasts, suckling pigs spinning under rotisseries, giant cauldrons filled with bubbling stew, glistening mushrooms, and slow cooked kale (a German Xmas tradition it turns our, not unlike Southern greens cooked down until deep dark green flecked with smoked meat). Open flames everywhere– brats cooked over smoldering logs, portable wood-fired ovens turning out blistered whole wheat flammkuchen-like flatbread topped with sour cream and bacon, and whole sides of salmon teepeed against cedar planks smoking by robust fires. A veritable theme park of fire and meat, how could I not fall in love. This is Christmas done right.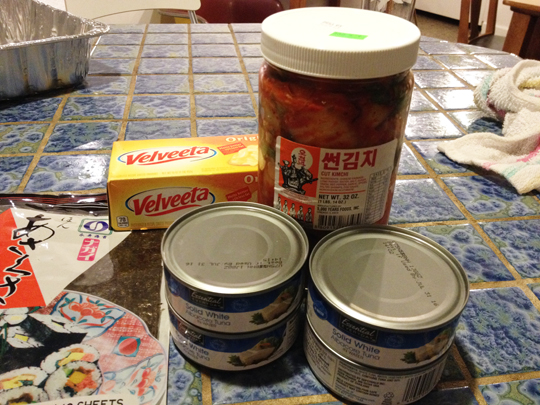 7. Learning Korean
Korean cuisine can be unapproachable. The service at Korean restaurants skews unattentive to just this side of put out. I have yet to find a comprehensive English language Korean cookbook. A lot of the food has little to no context in American culture the way Chinese and Mexican have been well-integrated at this point. Aside from kimchi on all the hip menus and Momofuku, Korean has yet to be gentrified like your ubiquitous neighborhood sushi or Thai or sushi-slash-Thai. Even banh mi and pho are becoming household terms. You'd think that a culturally ravenous foodster like me would know my way around a Korean menu, though until recently I've been pretty hopeless. BBQ, sure. Banchan, yes I love the dozens of gratis dishes that overflow your table, scarfing ignorantly away at spicy kimchis (its all kimchi, right?) and more exotic jiggly bits– wait that's acorn jelly? I would not know my muchim from my jorim if it weren't for an excellent article written by my friend Kristina Meyer for LTHForum's new homepage article format. Thanks again to Matt Zatkoff too, who, logistically situated on the city's northwest side, has worked through many menus in the city's Korean enclaves enlightening me to the joys of naengmyeon noodle soup (there's ice in my soup!) and late night buldak (fiery gochujang-slathered char-grilled chicken, but more on that in a sec). Last year Rob showed me the ropes with soondubu and other roiling stone pot stews. So, yup, I feel like I'm getting the hang of this.
The past two years I have been teaching freshman at the School of the Art Institute, which has an ever growing Korean student population. The class was called "You Art What You Eat" and I liked to tie in projects for which my students could share family or cultural recipes important to them. As soon as my Korean students heard me use the word kimchi, they would giggle and whisper to one another. But in some ways, I think it earned me street cred, because they then seemed to feel comfortable enough to talk at length with their fellow students and I about their food traditions. This past spring, while not my favorite class in general, I had a group of Korean girls that enlightened my understanding of an aspect of Korean food in terms of the exchange of eastern and western food traditions. It was a brilliant project that they collaborated on for the final critique. They arrived to class dressed in military fatigues. They set up a mise en place with a station for each of the three. The first had a rice maker filled with Korean red rice, the next a bowl of tuna salad, then finally the last had a bowl of shredded nori. As an assembly line they prepared these smaller-than-a-fist balls of tuna salad stuffed rice rolled in nori flakes. WTF? After we were all served they explained its history. I cannot locate a translation to this dish, but they explained the dish as rice "bombs" and that these ingredients– nori, cooked rice, canned tuna, and mayo, were a common ration for soldiers in wartime Korea. They mentioned that Spam was also a common filling, which elicited an "Ewww" reaction from the predominantly American rest of the class. And the resulting debate was very eye-opening. Spam, a war era, cheap convenience food is now deemed by younger generations of Americans as totally gross, while their Korean contemporaries consider it delicious. Reading up, I found that in some cases Spam is considered a delicacy, in Korea it is produced in a range of flavors and a box set is considered a quite honorable holiday gift. Spam is not the only instance of appropriated mid-century American foodstuffs that are readily enjoyed in Korea–ever had a banchan of suspiciously grocery-store-deli-case looking potato salad? You've also got tuna salad, hotdogs, and American cheese. That fire chicken at Dancen I mentioned, it's served with an oddly complimentary salad of shredded cabbage and 1000 island dressing. I like the idea of fusion cuisine that works in reverse to the typical trained-western-chef colonizing flavors of other cultures. These foods were adopted because times were lean during the war– necessity food, incorporated with traditional flavors by savvy and resourceful home cooks. I have yet to make this or try it, but its on the books for a project early in 2014– Budae jigae, or "army base soup" which is a spicy gochujang-based soup with instant ramen noodles studded with traditional veg and kimchi and add ins like Spam, hotdogs, and American cheese.
6. The Food at my Wedding
I think I deserve some bragging rights here. Of course, my wedding was going to have the best food ever. I've dreamed of this day. Let's start with the rehearsal dinner; I commissioned my two favorite restaurants in Chicago to repeat a collaboration– Birrieria Zaragoza's roasted goat encased in pastry by Pleasanthouse Bakery. Oh yes. The only regret I have of the weekend is that for the sake of frugality, I chose to cook the rest of the meal, which was simple enough, but just a lot of extra work on a day I was supposed to enjoy myself. Big thanks to Noah Singer, who stepped in and relieved me of my station so I could mingle. The rest of the meal was simple enough, a funny Mexi-anglo mash up of salsa, guacamole, mashed potatoes with mole gravy, and peas. Oh, and in some crazy cosmic gift from the land, a few days before the wedding, the Ox-Bow woods decided to flush in thousands of honey mushroom clusters, which I had never even seen there before. I foraged about ten pounds and even found a couple of sizeable hen-of-the-woods clusters to throw in. I sliced 'em all up and we sautéed them simply as a side. The main event was months in the making. The Saugatuck area is blessed to have one of the most brilliant caterers in the land in Chris Ferris. She catered my best bud Ben's wedding at Ox-Bow in '08 and it was the best wedding food I've ever had. She does the Ox-Bow benefit for 400 every summer and nails that. Chris and I did a stint one fall in the Ox kitchen and working with her was a pure joy. So I knew we were in great hands! I wanted a roast pig. She asked if I'd ever heard of Gunthorp Farms. Hell yeah, only on the finest menus in Chicago, I see their truck pull up next door to the Butcher & Larder on the regular! After a very casual back and forth with those guys, a real nice fellow named Greg pulls in the night before the wedding with his rig. We're in the middle of our "Woodland Spirits" themed costume dance party and I'm in a loincloth and deer antlers and direct him where he should set up. "I'll just put out a sleeping bag next to the pig tonight". Alright, this guy seems cool. "You're welcome to join us for a beer" "I just might". Dude is way cool. He hung out, seemed to be grooving throughout the next day and into the wedding. During dinner, he personally served me "the best part", the cheek meat. Love this guy. I hadn't realized at the time but he is Farmer Gunthorp. What a pleasure. Back to Chris and her crew. We went with a Southern theme, here's the rest of the menu: THE BEST local cheeseboard, spicy devilled eggs, mini muffaletas (delicious for breakfast the next day), tomato bacon tartlets (a fave all around), fried chicken drumettes (saved my ass that night, really amazing fried chicken), a variety of sauces for the meats, pickles, three or four salads, mac and cheese, biscuits, an insane feast. I was too busy mingling to try everything (including the pies from Crane's Pie Pantry) but it was the best wedding food of all time, I am certain. And Chris' crew even managed to switch up buffet service to family style as a downpour ushered in dinner.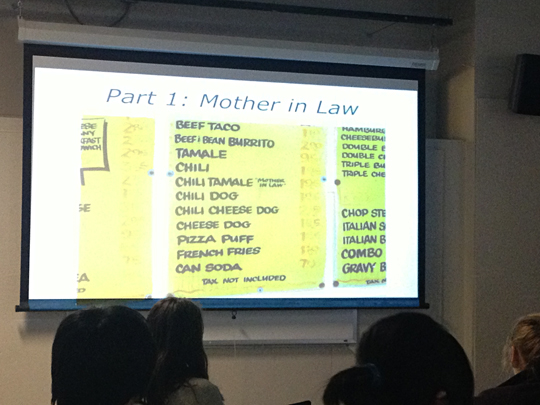 5. Peter Engler
This man needs no introduction in some circles, but I think he deserves a big collective thank you from the Chicago food scene. Ever heard of a mother-in-law– a Chicago style "corn roll' tamale in a bun topped with chili and dressed like a Chicago dog? You may have seen Bourdain wolf one of these down at Fat Johnnie's in his No Reservations Chicago episode, that's Peter sitting across from him at the picnic table. How about a Big Baby– a double cheeseburger with grilled onions and one expertly melted slice of American cheese in between the patties? You may have seen these reconstructed on menus at a hip Logan Square cocktail bar or a hotel bistro in the Gold Coast. Maybe you read about this Jim Shoe sandwich this fall, a concoction of chopped gyros and deli meat griddled up with giardiniera and served on a roll with lettuce, tomato, and gyro (pronounced guy- ro) sauce. Odds are strong that we have Peter to thank for introducing us to these south side fast food anomalies. In today's era of the listicle, user friendly entertainment websites serve up lazy retweeted journalism. Its guys like Peter that are out there putting in the real work, pounding the pavement, tirelessly researching stories about food that a lot of people have never heard of. It can take him a decade to put together pieces like his LTH homepage story about the Jim Shoe. That's because he is thorough, he gets the story. It's been a pleasure and an honor to have the opportunity to trek around the city and eat with Peter. He's an incredibly generous guy that I have counted on him to help me research a story about old fashioned cheeseburgers or call up to find the best place to buy good frozen egg rolls. Peter came and lectured to my "You Art What You Eat" class in the spring and it was really a joy hearing the stories of these foods in one sitting. He is one of my favorite Chicagoans. Here's to you, Peter.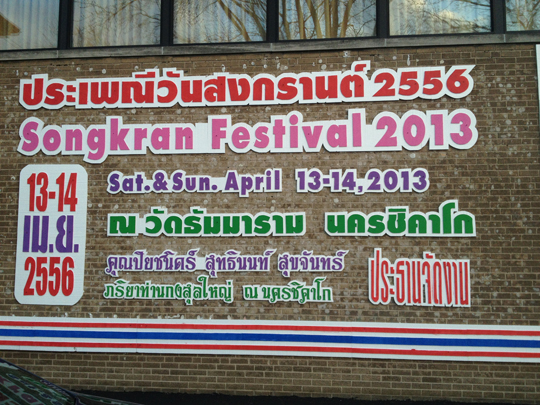 4. Thai Food
Thai has long been one of my favorite cuisines. It has it all– chile heat, pronounced citric acidity, fresh herbs, grilled and fried meats, fermented fish funk. This was a banner year for me and Thai food. We have a great scene here in Chicago with several fantastic Northern Thai places where, thanks to the work of a guy called Erik M who translated Thai language "secret" menus, proprietors of these restaurants began to offer up the real goods like fermented sausages, blood thickened soups, and minced organ meat larb alongside the more standard Pad Thai and green curry menu offerings. The landscape has changed over the years and my old favorites are not any longer, due to chef's leaving for new restaurants or places becoming too popular. But thankfully, I have new favorites and one of them is a matchbox of an unassuming storefront on Western Ave. just north of Lawrence, Rainbow Thai. The menu here is helmed by a former cook at Spoon and a few of their formerly best dishes are now the classics at Rainbow, particularly the little sour, greasy nuggets of housemade Isaan sausage, Nam Tod, the best fried chicken in town, and their signature Naem Khao Tod, which is little clusters of deep fried rice treated like a salad with raw onion, herbs, and a citrusy dressing augmented with funky cubes of fermented Thai ham. I recently had the opportunity to join a private party to sample new seasonal winter menu items and was impressed by new-to-me dishes like fried "larb" fish cakes redolent of kaffir lime leaves and a rich tripe soup. LA has a broader Thai food scene that easily rivals Chicago's. While I've never been entirely impressed with the fabled Jitlada and its Eastern Thai, on my bachelor party weekend we had some Northern Thai and Isaan style at Spicy BBQ and Isaan Station, respectively. Although familiar with Northern Thai in Chicago, the cooking at Spicy BBQ was more homey and rustic. A jackfruit curry had a Bolognese quality cooked down with ground pork. Isaan Station put out super bright, popping food, including one of my favorite eats of the year, a cockles salad with plump prehistoric looking gastropods in a spicy, citrusy dressing and a super funkified fermented bamboo shoot salad. Lastly, I should mention the Songkran Festival I attended at a Thai community center in southwest suburban Bridgeview. The cafeteria there became a cacophonous marketplace of dozens of food vendors and haphazard lines. The vendors ranged from city restaurants to home cooks (I sought out the latter). We tried at least a half a dozen things, salty noodle soup with a sweet spiced Chinese flavor profile, a gaggle of fried stuff, and three different som tums, each with totally unique elements– raw crab, braised pork chops, and fried fish. And we were maybe two miles from my High School.
3. Lucky Peach
I love this magazine from the brain trust of Momofuku's David Chang, his buddy/editor of the Momofuku cookbook Peter Meehan, and McSweeney's editor, Chris Ying. I'd seen it on the rack at Whole Foods a few years back. I have always liked Chang, like their cookbook, but never thought to actually pick up the magazine. Serendipitously, I was gifted two at the same time and the China town issue, in particular, sucked me right in. This is all I want from a food publication- it's the meta- food magazine. It's not about food porn or easy weeknight recipes– there's no fluff. There's important stuff like Michael Pollan's call-to-arms for cooking at home. There's fun, but contemporaneously pertinent evaluations of gender and cooking via a deconstruction of Three's Company. There's an interview with a ginseng forager. There's all my favorite food personalities– Alice Waters, Fuschia Dunlop, Roy Choi! Recipes, yes– thank god I now know about bunny chow! There's Kevin Pang interviewing "Poochie" from Wiener's Circle and Martin Yan "Can Cook"! There's even Edie Fake drawings!!! Basically, if I could make a food mag, this would be it.
2. Community-based Eateries
Pardon me for inventing a term. Its kind of a vague one at that, I mean this could mean many things: a school cafeteria, a coffee shop (succeeding the diner in contemporary America), a neighborhood tavern with pub grub, a Somali cabbie joint, a grocery store taqueria. Chinatown… If we accept the definition of community as a group of people with a particular interest in common, we could argue that someone's interest in the same restaurant as someone else makes them a community. My interest is in places that aim to serve communities– have a role greater than just feeding their clientele, becoming convivial nexuses of their neighborhoods, that encourage people to hang out. I have two examples that I witnessed recently at two pretty old restaurants that exemplify this kind of hospitality: Podhalanka is one of my favorite places to have a leisurely lunch in my neighborhood. On any given day you can witness a cross section of the neighborhood's demographic dining there: an amalgam of old timers, cops, Polish speakers, young families, and the young, hip, and upwardly mobile. As gentrified as most of the surrounding area may seem though, the "triangle" at Ashland, Division, and Milwaukee remains a gathering place for the daytime drinking crowd. Podhalanka remains mostly unchanged to how it felt when I first dined there in the late 90s and has a frozen-in-amber vibe that harkens back to the bygone heyday of old "Polish Downtown". In the past, the room was always lovingly presided over by owner Helena, who would offer complimentary compote juice as you took to your table. In the past few years a younger member of the family has relieved Helena of the lion's share of the front of the house duties. I, and other longtime patrons I know, have had a rough transition dealing with the new server. He treats much of the clientele like noobs who have never heard of a pierogi before, upselling you multiple plates of food before you have a chance to crack open the menu. I was worried this favorite place of mine was losing its hospitable charms. But the new guy got to know me, picked up on my typical order and now things feel cozy as always. A few months ago I witnessed just how important this place is to its community, though, when a down-and-out denizen of the triangle plopped down at the bar for coffee. He was in a bad way. The server guy emerged from the back with two packed to-go bags and gave them to the homeless man. He insisted that the food was free and reminded the man that they'd be closed on Sunday, so he packed him enough food for two days. This moment made me care a lot less about that time I felt like I was treated like just another naïve walk in hipster. My other example is not in my neighborhood and I've only been once, but based on the collective love from guys I know who grew up eating there in the 70s and 80s as well as younger Roger's Park natives, Noon Hour Grill holds a warm and fuzzy place in a lot of Chicagoan's hearts. This cozy diner, formerly known as Pusan House is owned and run by Susie Lee, a one woman force who cooks up mighty fine bibimbap and while we're talking Korean fusion, crazy omelet concoctions like bulgogi/kimchi/American cheese. When we walked through the front door I immediately ran into a former student of mine who lives in the neighborhood. I asked him what his go-to order is and he said "bibimbap, Susie knows". Apparently she remembers every face that walks though her door. This place is a real gem.
My tribute projects got me thinking about how eateries function in artist's communities– starting with FOOD in the early 70s, a restaurant run by artists serving other artists, creating a social hub. These places seem to come and go with the movement of artists in cities. Leo's Lunchroom, for instance, existed in a golden time and place: an on-the-cusp-of- gentrifying part of town that attracted a lot of creative talent in a moment when Chicago was attracting and exporting much of this talent. The place reflected the neighborhood and its customers: a cheap, slightly dingy hole in the wall of a coffee shop turning out scratch made, creative food. Literally nourishing the vibrancy of the scene. But the neighborhood changed and as artists and musicians were priced out the need for Leo's waned. Sonny's may have had a captive audience of being the only eatery situated within an institution, but again, he offered cheap, homemade food to a customer base that he took the time to interact with and get to know. I suppose I long for my own cozy hole in the wall serving honest, from scratch grub by a friendly face where I can feel comfortable to hang up my hat and hang for awhile. For now, I've got Podhalanka and Susie's, hopefully they'll stick around for awhile…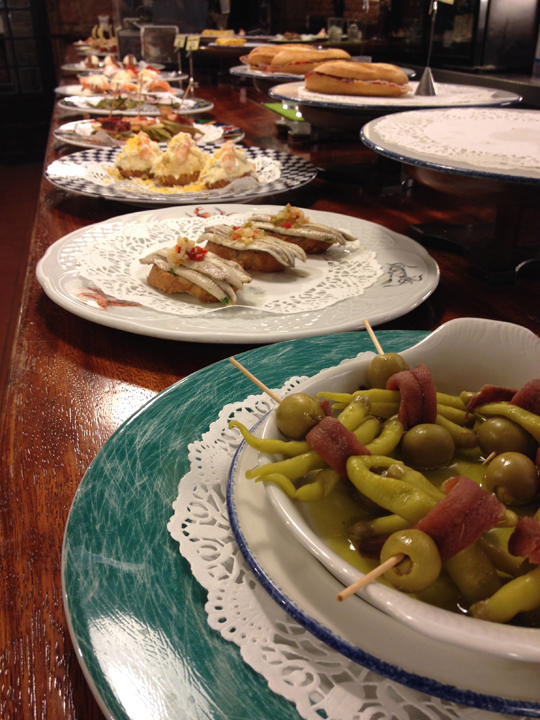 1. Basque Country
Jessica and I were completely enchanted by the Basque Country on our recent honeymoon. The land is gorgeous: dramatic mountains with a ragged arid landscape on their southern face yielding to lush pine forests and fertile pastures facing the Bay of Biscay. Our online research on accommodations– the area hosts hundreds of centuries-old guesthouses called casas rurales– proved to be much luckier than we could have imagined. We were perched on a mountainside over looking San Sebastián just 6 km to the south in a cider-producing town called Astigarraga. The house and family that owned the place were as charming as could be– we were very comfortable. San Sebastián, or Donostia in the native Basque or Euskadi language, is very well known as a culinary destination both for its density of Michelin starred pillars of modernist cuisine, but also for its tapas, or pinxtos, which are the most esteemed in Spain. The latter would make up the bulk of our itinerary– I tend to favor the uniquely local over the lofty inventive. It took us a few days to acclimate to the Spanish schedule, quickly learning that our happy hour was smack in the middle of their siesta. The pinxtos bars would be closed from two in the afternoon through eight in the evening and oftentimes, punctuality was not a common virtue. So we'd load up at lunch, have a few drinks, then take a walk before heading home for a late afternoon siesta. That's the life.
So what did we eat? We hit about a dozen or so of the most recommended pinxtos spots. In the old section of Donostia with its charming, narrow cobbled streets and just-enough souvenir shops to remind you that you are on vacation, just about every other storefront is a bar with piles of pintxos for the taking. You can see the relationship between the presentation of this food and modernist cuisine, and I'm not sure which is the chicken or the egg, but many of these small bites are fancifully garnished, stacked high and drizzled and tweezed, even in the more homely establishments. Despite the frilly looks, there is a pretty simple formula to your average pinto, a basic palette of ingredients: lots of egg, hardboiled or grated finely like cheese (I thought there was grated cojack on everything at first, lol) or also made into salad (in particular ensalada rusa or Russian salad, fortified with ham and potatoes), then jamón of course, which is usually the good Iberico stuff, anchovies, shrimp, and guindilla chile peppers, all assembled into whimsical little sculptures atop slices of very nice baguette. Good bread abounds, perhaps due to the proximity to France. Although I grew tired of the eggy stuff, I found a few of these more traditional pinxtos that I fell in love with. Particularly at the sleek, downtown (not in the old town) Bar Antonio, which seems to specialize in cured fish evidenced by the roster of gorgeous frutas de mer suspended in oil in ceramic dishes on their bar. Their igueldo pinxto was a forerunner for favorite of all– roasted tomato rubbed into baguette topped with oil-cured tuna and draped with gorgeous anchovies and piquant guindilla chiles. Deceptively simple flavors with an elegant presentation, a reoccurring theme of the pinxto. A lesson we learned early is that many of the best pinxtos aren't out on the bar at all. One bite we ate almost everyday was a dead simple nugget of perfectly seared sirloin draped with roasted pepper called solomillo at Bar Gonadarias. On the latter half of our stay we honed in on bars helmed by young chefs, some trained in the modernist kitchens. These bars offered no pinxtos on the bar, all ordered from a menu. A few spots seemed to try too hard to fool the palate with ironic twists on classic dishes, but we landed at two celebrated spots turning out refined, yet simple plates with a reverence for premium ingredients. La Cucaracha de San Telmo, which frustratingly opens and closes on their own whims, served us my favorite pinxto, a succulent braised rabbit loin with porcini mushrooms. Decadant and remarkably in the same price range as just about every other pinxto, about 3 Euro. Around the corner we had some great bites at Borda Berri, which was always packed to the rafters. A few things were overly garnished and fussed over, but their braised veal cheek was rich, salty, and real good.
Drink is also quite distinctive in the Basque Country- I fell in love with my first white wine, the ubiquitous Txakoli, which is a perfect training wheels white– very dry and semi-sparkling– for this lover of bubbly. The wine is served in a dramatic high pour to aerate and maximize its fizziness. This technique is also employed for the legendary Basque cider, which is flatter than other ciders I've had. Its also intensely sour and has a pronounced yeastiness, lovers of sour Belgian beers would love the stuff. I had my fill in the course of our five days. Particularly in one epic evening at the local sidreria or sagardotegia (cider mill). We figured we were staying in a cider town, so we might as well soak up the local flavor. This proved to be the apex of our time in Basque Country. Petritegi Sagardotegia was recommended by the adorable grandma of the family we were staying with. The place is massive, apparently seating up to 700 at long wood communal tables. The cellars are wide open and the diners are encouraged to wander amongst the 10 foot tall oak barrels. We were seated next to a pair of old couples who at first did not pay much attention to us. We were served a few delicious courses of cooked chorizo and a bacalao omelet. I noticed that the men next to us were leaving the table to get their cider from the cellars. Originally, we'd had a bottle brought to our table. I decided to investigate and realized that many of the barrels were tapped and folks were helping themselves to the tapped cider. A friendly English speaker taught me the ropes, you open the tap and as far from the spigot as possible you catch the streaming cider on the inner side of your glass, creating a cascade of bubbles. I ran into our tablemates on the way back to the table and now I was initiated. The guys spoke only Euskadi and French, so our communication was limited to gestures, but we got on the same page fast, running back and forth form the barrels, pounding the cider. Too much fun. Back to the food: my favorite bite of the trip was probably the third course– fried merluza (a common catch in the Bay) topped with a tangle of fried peppers and onions. So fresh, so simple, perfect. The main course was a giant t-bone for two, which had that real fat taste of grass fed beef. Jessica, the steak lover in the family declared it the best steak she'd ever had. Dessert was cheese, quince paste, and walnuts in the shell. More unfussy, pristine ingredients. The tab: 28 Euros apiece. A once-in-a-lifetime meal and one of my favorites.