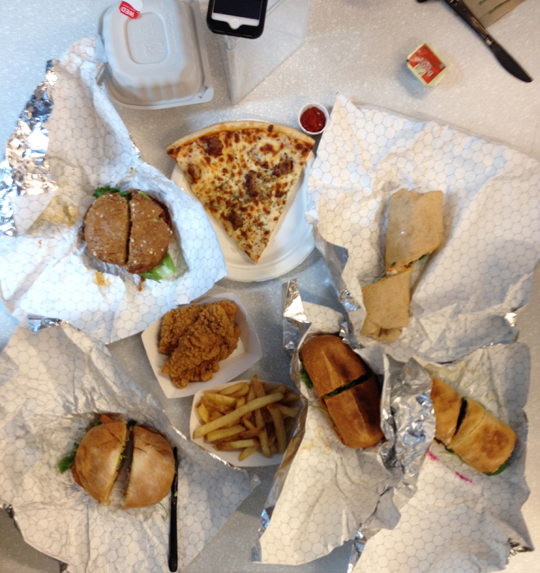 For our "No Thought For Food" project, Alberto Aguilar and I set out to review every menu item on Food For Thought's menu at their School of the Art Insti­tute Sharp Build­ing food ser­vice facil­ity. I'd say we got through a good 3/4 of the menu. These are the results of our taste test­ing, tran­scribed from record­ing. The objec­tive was to taste each item and write an imme­di­ate reac­tion in as few words as pos­si­ble. At the end of each ses­sion, we would com­bine our reviews into 2–4 word phrases, which are used here to describe each menu item. Bon appetit….
Day 1: 12/5/13
A: Here we go.
E: Right now I'm cut­ting in half the black and blue chicken…This is the sweet potato tem­pura sandwich…some of these have some pretty good ingre­di­ents. I saw a list that says that they source from local farms.
A: Oh yeah?
E: Yea…Some of which I rec­og­nized some of which I didn't… You know, it was pretty cheap I spent like 23 bucks. How bout you?
A: Mine was even cheaper– it was like $16, but I got a dis­count on the curry sandwich
E: Why is that?
A: Cause they didn't have the crispy potato crisps that are sup­posed to go on the sandwich.
E: Yeah, they changed the bread on the sweet potato sand­wich. It was sup­posed to be on a baguette this looks like a…I don't know a cia­batta maybe… Kids are look­ing at us, talk­ing about us.
A: That's good
E: What do you want to start with? How bout a fry?
A: Fry? Yeah what ever you want. It not usu­ally my…
E: You don't like fries?
A: It's not that I don't like them. I just don't nor­mally eat them…but…well…I'll try two just to make sure.
E: Pizza?
A: You want to start with the junk food?
E: You don't?
A: No cause then I'm just gonna destroy my mouth…I'm very curi­ous about this curry thing…
"Hol­low MSG" (sorry no pic)
E: I thought they (the fries) tasted like arti­fi­cial fla­vor­ings. Like that fake sea­soned fry stuff…I hate that. It's totally out of a frozen bag.
A: Yeah they were kind of hol­low, I think that when they are hol­low like that, its that they were frozen.
E: Yeah it is for sure.
A: We maybe wrong. What if we write this and we find out that these are super fresh fries.
E: No they're not. I know they're not. It's nice they have the skin on, but they're def­i­nitely a frozen prod­uct and they made me really thirsty. I would not order these. This is junk food. But I mean back at Sonny's I used to order his waf­fle fries and they were maybe a lit­tle bet­ter. But they were still frozen junk food. So I think the fact that I don't want to eat this any­more has to do with me being a grown up but I can see being like 19 or 20 and broke and this being the cheap­est thing on the menu.
A: Why how much was it?
E: I don't remem­ber, a dol­lar fifty or something.
A: I took the first bite and I thought it was hol­low but I thought maybe it was just because it was an end fry, a smaller fry but then the sec­ond one was just as hollow…so if you don't mind I'm gonna put these aside.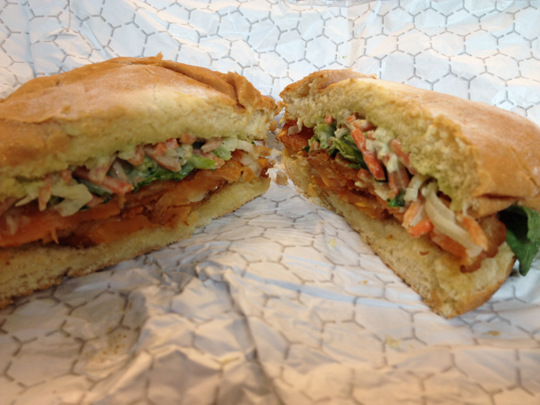 "Fresh Faux Exotic"
E: Let's try the sweet potato tem­pura sandwich…let's eat the warm sand­wiches first so we get the bet­ter effect. Are yours warm?
A: They're all warm.
E: Oh ok…. Let's try this one…I'm just gonna take a bite. If I like it I'll take it home for Jessica.
A: It's hard to come up with a word for this one.
E: It is.
A: What is it?
E: This is a sweet potato tem­pura sand­wich. I think its got pea shoots, and wasabi…this is just from what I can taste, and pick­led carrots.
E: I'm gonna have another bite… This one isn't so bad. What do you think?
A: Yeah, yeah it wasn't too bad. It actu­ally seemed a lit­tle exotic.
E: Yeah. I mean you get a lot of wasabi right away.
A: Yeah and that's an easy way to make some­thing taste exotic…and then it seemed to have nice, not herbs, but lettuces.
E: I think it's a pea shoot and I'm kind of impressed that they would stock that cause the thing about these big busi­ness sort of assem­bly line food ser­vices… if you have one spe­cialty ingre­di­ent that only goes on one sand­wich it has more of an oppor­tu­nity to go bad. I'm curi­ous to see if this green pops up on another sandwich.
A: I'm sure it will.
E: Pea shoots are pretty good. So is the wasabi mayo, the tem­pura stayed pretty crunchy. It's kind of under salted. The main sea­son­ing is the wasabi.
A: And it has a lot of sauce so that was prob­a­bly what made it taste a lit­tle excit­ing. I usu­ally don't take so much sauce in a sand­wich but that saved this one.
E: If I was a veg­e­tar­ian, I'd be happy with this. I think a lit­tle salt on it for my taste would enhance it. But I opened it up and the ingre­di­ents look fairly fresh.
A: You want to move on?
E: Yeah, not too bad. I'm done with that.
"Blasted Sweet Basil"
A: Let's do this tofu thing.
E: Ok. So what is it?
A: This is red curry tofu.
E: So you got a spe­cial on this one because it's miss­ing something?
A: Yeah it's miss­ing the crispy pota­toes. Do you want to add a French fry to yours?
E: Um, no I didn't like the fries.
A: I got 50 cents off
E: Ok cool, let's do it.
A: That was a great blast of basil.
E: Oh yeah I didn't get basil on my first bite.
A: You didn't? You see the basil is all clumped up in the cen­ter there.
E: It doesn't look really fresh either but it tastes ok.
A: Oh its basil and cilantro.
E: It def­i­nitely has a strong curry fla­vor but I imag­ine its from a can. Canned curry prod­ucts, if they're imported from Thai­land, are a pretty good prod­uct. I mean, talk­ing with Sonny he said he used can curry. I make it fresh at home but…
A: So you think this is canned.
E: Yeah but that's not uncom­mon… It is really sweet.
A: What's in red curry?
E: A lot of things. The basis of a Thai curry are actu­ally aro­matic rather than dry spices like Indian and so like galan­gal is a root like gin­ger and then lemon grass. You know lemon grass? And then usu­ally lime leaves. And then there will be like gar­lic and shal­lots and then a just lit­tle bit of dry spice like maybe cumin. You could taste it in this but it's very sweet though. When you but the canned curry it doesn't have added sugar.
A: Well then what takes the place of sugar.
E: It's sugar, they're just dump­ing sugar into the paste. I think it is too sweet for my taste.
A: I pre­fer this one over the first one.
E: Do you?
A: Yeah.
E: It's a lit­tle more flavorful.
A: Maybe that's why, I got the fla­vor right away.
E: It has less going on though. On that pre­vi­ous sand­wich they had to, like, make those pick­les, the car­rots and stuff. It had more fresh ingre­di­ents. And then this is like a fried tofu prod­uct. I don't know if they fry it here or not but you can buy fried tofu. I just don't really like tofu. I was sur­prised that…like tofu on a sand­wich sounds bad, I would never order that but this is a lit­tle bet­ter than I might have antic­i­pated. But I'm not gonna save the rest. I wouldn't order this. Would you order this?
A: Prob­a­bly not. I don't like these kind of exotic food sand­wiches. I'm not into that.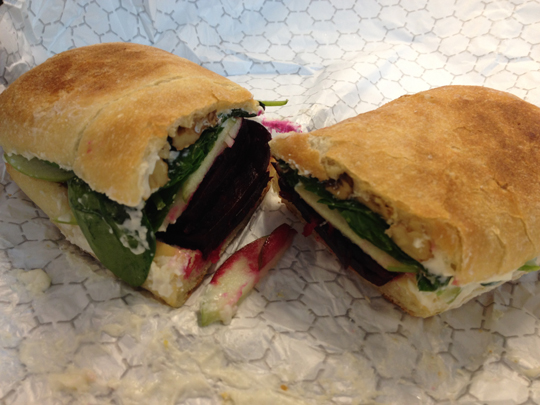 "Dying Oat­meal Surprise"
E: So you want to try the turkey sandwich?
A: No, I guess I'm not too much of a sand­wich guy. But to me this beet sand­wich seems to make more sense but I may be wrong about that though.
E: Do you want to try that?
A: Yeah
A: I'll tell you one I thing, let me just start by say­ing that I tasted an oat­meal cookie when I took a bite.
E: (Laughs) yeah, weird.
A: Did you have a sim­i­lar experience?
E: My imme­di­ate response was like this taste like a dying salad bar. This is fuck­ing terrible.
A: It's pretty bad. I per­son­ally don't like the beet and goat cheese mixture.
E: I do. I do think that these beets are old as shit though. You can see it they're like brown­ing around the edges and wilted. I don't think peo­ple order this one very often.
A: But I am guess­ing for me it was the wal­nuts that took it into oatmeal…
E: Cookie ter­ri­tory. Yeah I don't eat wal­nuts on a sand­wich but it a kind of clas­sic combo (with the beets and cheese) it think.
A: It was a combo that was pop­u­lar in the food world but it seems not as fash­ion­able now.
E: Yeah why would col­lege stu­dents want to eat this for lunch? They're prob­a­bly try­ing to appeal to the fac­ulty on this one.
A: Yeah. Or the higher-class students.
E: (Laughter)…um I opened it up the spinach looks ter­ri­ble, the apples look decently fresh, though, but they're totally…well the beets dye every­thing. Like that's not a happy beet. It doesn't look like it's from a can at least.
A: But I think dyed bread with a beet or soggy beet bread is a very bad idea. So I think this is a bad idea of a sand­wich overall.
E: It's a bad idea. I'm not eat­ing any­more of that.
A: So you are throw­ing almost every­thing away. I still have every­thing here just in case I decide to keep it.
E: How about the chicken sandwich?
A: Yeah lets do that and then I have a hum­mus sandwich.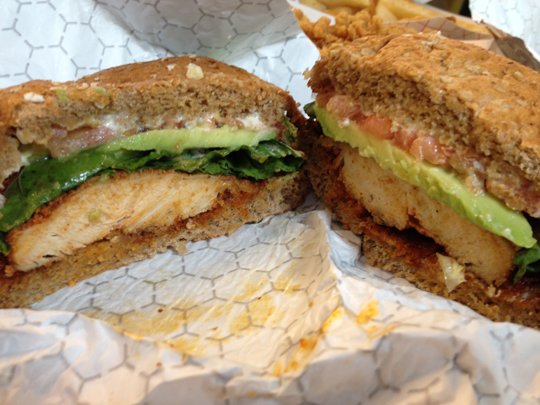 "Unsalted Black­ened Vomit"
E: They call this a black and blue chicken.
A: Black and blue chicken sounds bad already. It has blue cheese I am assuming?
E: There is some avo­cado on there.
A: It's miss­ing salt
E: Miss­ing salt. It does taste like a real black­en­ing seasoning.
A: Yeah but that could mean just…
E: From a shaker yeah. I don't taste any blue cheese.
A: Naw, I didn't either. There was some­thing creamy which was the avocado.
E: Avo­cado can make every­thing better.
A: Oh yeah I taste the blue cheese it like a sauce.
E: Blue cheese dress­ing. I don't hate this one; I mean I can get some salt.
A: It needs salt. I don't think we should put salt on it though.
E: No I don't think so. This is my sec­ond favorite.
A: Oh, ok were rating.
E: No, I don't know we don't have to.
A: Yeah for me so far it was the first two sand­wiches that were the bet­ter ones. This is not on my favorite list and part of it is the fact that it is so bland. Then when you put those creamy things in with this bland taste…
E: It does have some heat though. I know you and I like some heat in our food. You like spicy food right?
A: Yeah
E: I do too. This might be too spicy for some peo­ple. There is some cayenne in it. That's what I appre­ci­ate in it. Hummus?
A: Yeah its right here.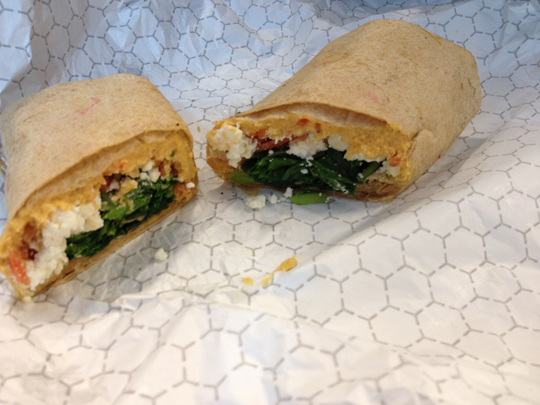 "Sub­ur­ban 90's Hummus"
A: There are those good greens. Were those the same let­tuces that were used on that first sandwich?
E: Yup.
A: Yeah those are good.
E: I mostly got a mouth full of hum­mus on my first bite. Feta cheese. It def­i­nitely tastes like store bought hummus.
A: I taste peanuts. Peanuty.
E: That could be tahini, which is made of sesame.
A: And it was sour too. Some­thing was sour about this sand­wich. The feta cheese?
E: Maybe the feta. It taste like some­thing my mom would have made in the 90's.
A: Your mom was mak­ing hum­mus in the 90's?
E: Oh yeah, we were eat­ing veg­e­tar­ian after my grand­mother died of can­cer. Um so, yeah, when I was in col­lege I was into the Grate­ful Dead and Phish and you would go to the big con­certs and you would buy this kind of stuff. But this kind of food hasn't gone away really…I mean everybody…
A: It's like healthy sub­ur­ban veg­e­tar­ian food.
E: Yeah I mean there is like a whole hum­mus isle at Jewel now, you know.
A: Right, right. But back then you got it from where?
E: I'm not sure, my mom prob­a­bly got it form a health food store. But this is like …I bet it's popular.
A: I'm not too big on it I didn't like it.
E: It's mushy. Like I make my own hum­mus and Amer­i­can­ized hum­mus is pretty dif­fer­ent from real hummus.
A: You know I don't like any­thing in a wrap. I don't like the word wrap.
E: Yeah that's also kind of 90's… The breads not ter­ri­ble. Did you try it on its own?
A: Um, I'm not a wrap kind of guy. You know at the same time I'm not even a flour tor­tilla type of guy. Which is what this is right?
E: Yup. It's prob­a­bly mar­keted as a lavash bread but…yeah there is no way in hell I would order that. Should we move on to the special?
A: Yeah I'm try­ing to avoid the pizza and the uh…
E: Yeah you don't like junk food huh?
A: Not really.
E: I do
A: I mean not when it looks like this. You see how this pizza looks? It looks like plas­tic food.
E: Does your fam­ily eat pizza ever?
A: Yeah we do.
E: Where do you get it?
A: Dif­fer­ent places. We make it.
E: You ever been to Vito and Nick's
A: Vito and Nick's? Yes! South­side. Yeah there and there is a place in Cicero called Al's. You ever been there?
E: Sim­i­lar?
A: Yeah I guess it's that old style Chicago pizza.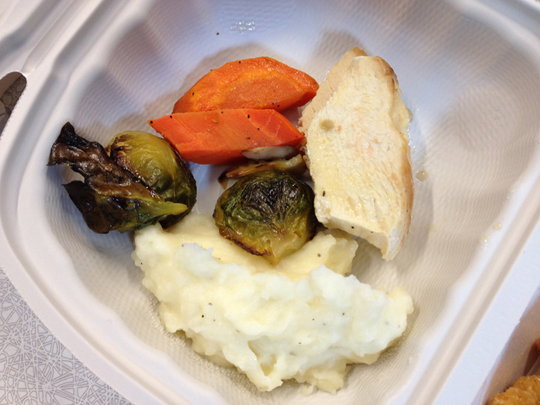 "Bit­ter Prison Xmas"
A: What is this, first off?
E: They call it chicken breast chas­seur, mashed pota­toes, Roasted brus­sel sprouts glazed car­rots. This was prob­a­bly the worst thing yet for me. I mean I guess it's just basic ingredients.
A: Sorry I got stuck in what to say there. That the first time I had to spit stuff out. But I started with the brus­sel sprout.
E: Do you like brus­sel sprouts?
A: I love them.
E: The most offen­sive thing to me was the chicken. It had zero sea­son­ing. I can taste like… prob­a­bly pre… it was prob­a­bly frozen. Its prob­a­bly an indus­trial prod­uct. Bad! The mashed pota­toes taste like there from pow­der a box.
A: Yeah, every­thing had a same­ness to it.
E: I called it a "Prison Thanksgiving"
A: Oh that's good. I couldn't think of a good one for the one. But yeah every­thing was like bland and bor­ing. But you know this is a stan­dard hos­pi­tal jail insti­tu­tion cafe­te­ria fare. But you know, this is too good for prison food. A lit­tle too good for prison but its more like hos­pi­tal food.
E: I'm gonna keep prison though.
A: No, no that's good. Some­time you have to exag­ger­ate to get the point across. But def­i­nitely hos­pi­tal food.
E: Indus­trial grade. Although the car­rots do look prepped fresh like you can see like… chop marks maybe. Maybe. This is get­ting rough.
A: Well we're almost done.
E: Good! Junk food time. Where's the BBQ sauce. Wait we know what the chicken ten­ders will taste like let's start with the pizza.
"Penny Store Oregano Gum" (sorry no pic)
A: Yeah this thing looks like a plas­tic pizza. It looks like a kids toy.
E: You know the say­ing pizza is like sex. Even bad pizza is pretty good.
A: No I never heard that and I'm not behind that state­ment. I mean for me bad pizza is bad pizza.
A: When I was in grade school there was a store across the street from the school that sold like ah one cent can­dies and they also sold pizza with lit­tle dots of cheese. That's what this taste like.
E: This is a lit­tle bet­ter that what I ate in high school.
A: Def­i­nitely bet­ter that high school, but not good.
E: I like bad pizza. My wife loves all pizza.
A: The pizza sauce tastes pretend.
E: I can't even taste the sauce. So for me I think just the blan­ket of cheese equals some sort of plea­sure recep­tor for me but real pizza is about the crust and this is about the most generic, phony… that might have been pre baked, pre formed frozen disc of flour. Although I don't know what it is but I can kind of palate bad junk food most of the times.
A: I mean I can eat it and my kids would prob­a­bly like this but it's not some­thing I would inten­tion­ally throw myself into.
E: I think it is one of the cheaper things on the menu.
A: But it has dried herbs on top.
E: Yeah that was one of my adjectives.
A: Oh you added it.
E: No. No that was one of the adjec­tives I used. I called it "Gummy Oregano". The crust was gummy. The pizza was three bucks and 25 cents.
A: Did you taste the sausage on the pizza?
E: Yeah it's terrible
A: I didn't taste it.
E: Bet­ter that high school lunch qual­ity though.
A: Oh yeah that's just like… ughh… that's like the sausage they put on the Tony's frozen pizza. You like those?
E: No. I mean I used to eat them when I was in college.
A: That taste like dead dog meat.
"Infi­nite Crouton-y Crunch" (sorry no pic)
E: Alright, last but not least.
A: You are excited about this?
E: I am. This seems like the one thing you can't fuck up though.
A: I mean unless what if there frozen?
E: They prob­a­bly are.
A: That doesn't bother you though? Were talk­ing about the chicken ten­ders. Some­thing I never eat.
E: Me nei­ther but, again, my wife loves them.
A: Oh my kids loves these. Every time we go to a wed­ding and they have the option to get these and I have to talk them out of it.
E: Well here we go. I mean I like fried chicken… This is pretty bad. As I go in for a third bite. I am impressed by how crunchy it is even though it has been sit­ting there for a long time.
A: Yeah but there is something…
E: Fake about the crunch.
A: Fake about that crunch. How do you make a fake crunch?
E: I am won­der­ing that myself.
A: I mean because if you notice… you hear it, like lis­ten every bite you take even until its done it con­tin­ues to crunch.
E: It's the crunchi­est chicken ten­der I have ever had.
A: Yeah how do you make a fake crunch?
E: Chem­i­cals.
A: That's a good thing to look into.
E: Chem­i­cals. It reminded me of these like bad crou­tons. You know like a real crispy arti­fi­cial crou­ton. I'm gonna fin­ish it though…So what did you like the best today?
A: I think it was the first two sand­wiches the tofu and the sweet potato tem­pura. Yeah there was some­thing fresh about it. Even the fried…in fact I'm gonna take another bite of it. It's prob­a­bly not good it been sit­ting there forever.
E: You can tell that the way that that is breaded has a fresh home­made qual­ity ver­sus this that an indus­trial prod­uct. I mean I never tasted a chicken ten­der that is that crunchy.
A: Crunchy until the end. Crunchy til the last bite.
E: Do you want to share our responses?
A: Yeah let do that.
E: So or the fries I said "MSG Fake Frozen"
A: I said "Stan­dard Hol­low Fries"
E: On the sweet potato tem­pura I said "Horseradish-y Fresh Enough"
A: I said "Faux Exotic"
E: Red curry tofu I said "Sweet Curry"
A: I said "Basil Blast"
E: The beet one I said "Dying Salad Bar"
A: I said "Oat­meal Cookie Surprise"
E: Black and blue chicken I said "Under Salted"
A: I said "Bland Cajun Vomit"
E: Hum­mus I said "90's"
A: "Sour Sub­ur­ban Peanuts"
E: Spe­cial I said "Prison Thanksgiving"
A: I tried to be cre­ative here but I just came up with "Bit­ter and Bland"
E: "Pizza Gummy Oregano"
A: "Penny Store Pizza"
E: Chicken ten­der I said "Crouton-y"
A: And I said "Fake Crunch Until the End"
Day 2: 1/9/14
Note: we shared our 2–4 word responses through­out this sit­ting, rather than recount them all at the end.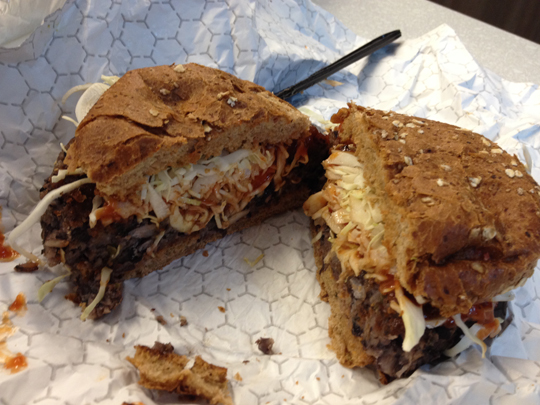 "Open Pit Beanblock"
E: So what do you think about veg­gie burg­ers in general?
A: Veg­gie burg­ers? I don't eat them too much to be hon­est. This is prob­a­bly my sec­ond or third one ever. So I don't think much of them. They're not on my radar.
E: We talked about the 90's and for me this falls into that. Because my par­ents were veg­e­tar­ian in the 90's so this is the type of foods we would eat on the week­ends. There's two styles of veg­gie burg­ers, ones that try to be like meat that are made of really processed soy and the other ones are made with beans and whole grains.
A: And this would be one of those, you can see some beans.
E: We've been men­tion­ing today that this is the win­ter interim and only the hot grill sta­tion is open so we're lim­ited to that menu. But inter­est­ingly, there's a very eager sous chef who's been prepar­ing our food and he seems to have caught on that we might be review­ing the food.
A: And he added some per­sonal touches to the food…
E: He added some flair.
A: I'm going to take a bite, I'm super hungry.
E: This isn't that bad, what do you think?
A: Its good. Maybe I'm super hun­gry, but it was satisfying.
E: I love cab­bage. And it has a spice to it.
A: Is that ketchup?
E: I think it's more of a BBQ sauce. Actu­ally my response addressed it as BBQ sauce. The bun is toasted which is kinda nice. Veg­gie burg­ers like this that are made out of beans can be mushy.
A: It never had a burger con­sis­tency, that's for sure. Its not in the burger cat­e­gory for me, it just seems like a big patty of mashed beans, refried beans.
E: But it's a tasty enough sand­wich that I would prob­a­bly eat, a sort of healthy lunch option.
A: And it was a cheaper one, wasn't it, it was $5.
E: How­ever, my reac­tion was "Open Pit Squish".
A: Alright that's good. I wrote "BBQ Bean Road­block". That's one thing, its really hearty.
E: Why roadblock?
A: It blocks some­thing, I don't know, it seems pretty heavy.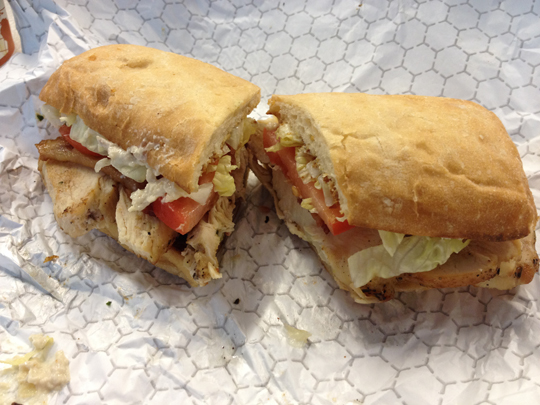 "Pre­fab Cali Gorda"
E: I don't know what we've got here. It's cut in half already. It's a chicken sand­wich. Looks like its on cia­batta. Is this the thanks­giv­ing thing? Oh, there's bacon on there. This is the Cali chicken club, I think. Or is it the cran­berry turkey melt? No it's the club, it's sup­posed to have white ched­dar, caramelized onions, and avocado.
A: Does it?
E: That's what it says. I see avocado.
A: I might have been a lit­tle cruel on this one.
E: Yeah me too. I called it pre­fab sea­soned bar food. This is the kind of thing peo­ple order at a bar that prob­a­bly spe­cial­izes in burg­ers. They want to eat some­thing healthy, but it's really not health­ier. It's on shitty bread and there's bacon and may­on­naise all over it.
A: Its really heavy, even the amount of chicken that's on it.
E: The chicken has that sort of fake mari­nade fla­vor that tastes mainly of oregano. And its weirdly not salty enough. Did you find that?
A: I did, not spiced enough and not salty.
E: There was a piece of chicken that fell off my sand­wich and I ate it on its own and it was so dis­gust­ing that I spit it into a nap­kin. It tasted water­logged– frozen and de-frosted.
A: And you know, in my view, any­time you put Cal­i­for­nia in front of some­thing its sup­posed to be health­ier. It should have a fresh, healthy flavor.
E: So what did you say?
A: As I was say­ing I was cruel, I said "Fat Cali Girl".
E: (Laughs out loud) How about some soup for a palate cleanser… By the way, the chef looked over here.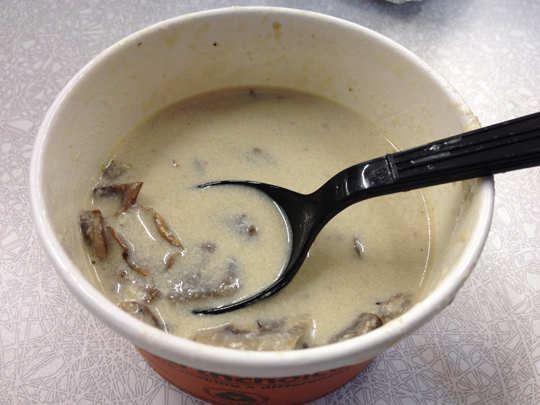 "Fool­proof Shroomness"
A: This looks decent, you can see the fresh mushrooms.
E: They look like cri­m­ini mush­rooms… I gotta say that's good, what do you think? It's got a good amount of cream in it, the mush­rooms are very flavorful.
A: Wow, you're really going at that.
E: It's the best thing we've had.
A: Yeah, but how could you go wrong though, a lit­tle bit of cream, some mush­rooms, some cheese.
E: You think there's cheese in there?
A: Yeah, some parmesan.
E: You can taste the broth, the stock in there too. I won­der if its vegetarian?
A: Prob­a­bly not.
E: Well, mush­rooms do have a lot of savory qual­i­ties. This tastes like real food, for the first time.
A: Yeah, espe­cially the mush­rooms were good, they weren't over cooked.
E: So I called it "Home­made Shroomy Richness"
A: I said "Fool Proof Mushroom"
E: We might actu­ally fin­ish that one.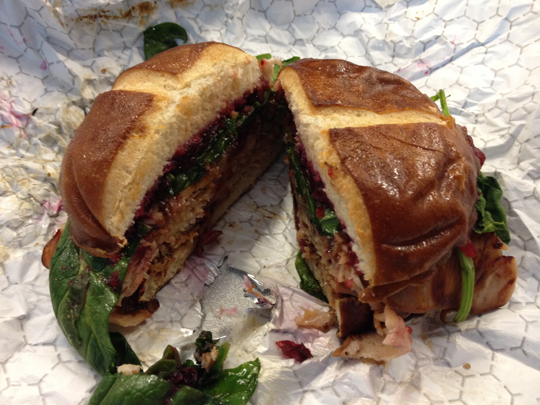 "Acid Break­fast Melt"
E: Oh boy, what the hell is this? I think this is the smoke­house burger.
A: Its greasy.
E: It is.
E: Its got the trendy pret­zel roll.
A : It's a real burger?
E: No this isn't a burger.
A: What is it?
E: This must be the hol­i­day thanks­giv­ing sur­prise sandwich.
A: Ooh it looks like a mess.
E: It does. This is the turkey melt.
A: Alright, I got something.
E: So, I never eat the cran­berry sauce, even when it's homemade.
A: Never, why? You don't like it?
E: I just don't, I don't really like sug­ary stuff. I don't eat a lot of sweets. I'm usu­ally opposed to putting a lot of sweet ingre­di­ents with savory food. I mean, I get it, it can be bal­anced… And this didn't taste like it came from a can. Some­thing in between canned and real.
A: What would that be?
E: Prob­a­bly a pre-made prod­uct, but there were actual pieces of cran­berry. I just don't like it though… So that was the first blast. And the sec­ond blast was that fake turkey fla­vor. I don't really like lunch­meat, do you? It didn't taste like roast turkey, it tasted like lunch­meat. So I called it "Cloy­ing Acid Deli Melt". The cran­ber­ries are also really sour. And was there bacon in there? I didn't taste much cheese. How did you feel about it? Do you like cranberries?
A: I do, I don't mind them. But for some rea­son it didn't feel like cran­ber­ries, it tasted like jam.
E: It did. I know that some­times places make a sand­wich that has all the Thanks­giv­ing stuff on it with stuff­ing and all that, like real roast turkey. I could see the cran­berry going well on a sand­wich like that. It wasn't like that though, it didn't have that effect here.
A: I thought of a break­fast sand­wich… I don't eat break­fast sand­wiches but that's what it was like for me, because of the jelly and the bacon.
E: I see what you mean, right.
A: I wrote "Blended Break­fast Sand­wich" because it was a mess.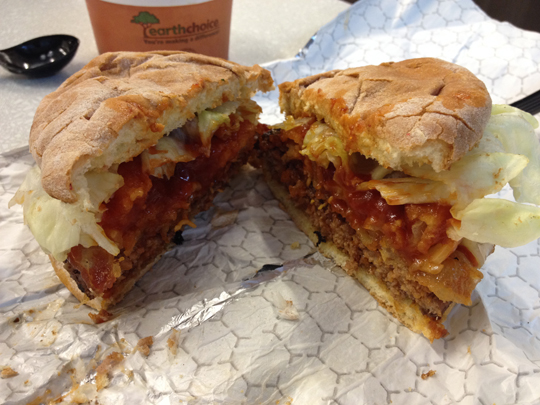 "Out­back Ketchup Blast"
E: Do you want to do the grilled cheese or the burger? Let's fin­ish on the grilled cheese because he was proud of that.
A: This is prob­a­bly gonna taste just like the one we just ate. What's spe­cial about it?
E: I wish this was on the pret­zel roll. They're trendy, but I like a burger on them. So this thing can't even main­tain its own struc­ture. It looks sloppy. Okay so the menu descrip­tion here is: smoke­house burger: 1/3 pound angus burger with home­made BBQ, smoked bacon, white ched­dar, crispy onion straws, let­tuce, on a rus­tic bun.
A: It does look like a rus­tic bun. (laughs)
E: Oh boy it's big. It's slip­pery… Also, a lot of bacon today.
A: Go ahead, what did you think? It was just a burger. I can tell you thought there was some­thing wrong with it.
E: There was way too much sauce.
A: Yeah, it was too sweet.
E: They're call­ing it BBQ sauce, but to me it was ketchup.
A: And you talked about that sauce ear­lier. You referred to it as ketchup.
E: I liked the last one bet­ter though.
A: Oh you think this one was different?
E: I do, the black burger had a spicy kick to it and I thought it was in the sauce. But this one just tasted like way too much ketchup. I'm a snob about burg­ers. If I was order­ing this for myself I would have skipped the tomato and let­tuce. I don't like the way that stuff sort of cooks in a burger and it always gets slip­pery. I wanted to men­tion how slip­pery it was with that piece of let­tuce. So I always pre­ferred McDonald's to Burger King as a kid, I like the top­pings at McDonald's and I liked how it didn't have the fake flame-grilled taste. To me this was a Burger King burger, like a Whop­per that has all that let­tuce and tomato that's wilt­ing. Its floppy.
A: Yeah it did taste like that, a fast food burger. But maybe a nicer fast food place like Sonic or something.
E: Well, Burger King always had onion rings too which McDonald's didn't. In my review I called it the "BK Ketchup Blast".
A: The funny thing about that descrip­tion is that they tried to give onion rings another name. What did they call it?
E: Yeah they were called onion straws. Maybe it's an irreg­u­lar onion ring.
A: Yeah, I think it was an onion ring. I called it "Rus­tic Bloom­ing Onion"
E: But you liked it okay, huh?
A: I mean it was just stan­dard. It wasn't any­thing spec­tac­u­lar. I wouldn't prob­a­bly eat some­thing like that.
E: Do you eat burg­ers much?
A: Yeah, I'll eat them.
E: I really like burg­ers, I don't eat them a lot, they're really unhealthy. I ate a lot of them in the last month because I was traveling.
A: Yeah, I don't eat them a lot.
E: So that's the thing, when I eat one its gotta be good because I don't wanna waste my burger points on crap. And I've had a lot of wasted burger points lately.
A: It was noth­ing spe­cial. It was more of a stan­dard fast food burger. I ate a cou­ple of bites of it because its some­thing I don't really give to myself, this kind of junky food.
E: I'll pass on that one. My favorite is the soup and then maybe the veg­gie burger.
A: Well, we're not done yet.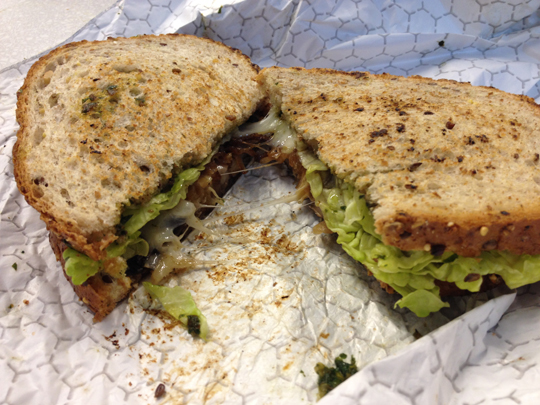 "Nuked Bread Mush"
E: Wait there's two more, did he give us two of some­thing? Oh, the porta­bella melt.
A: This is the mush­room one, lets see if these mush­rooms com­pare to the mush­room soup. The bread doesn't look too good.
E: I usu­ally like this kind of bread.
A: I don't know if it's a good idea for a mush­room sand­wich. But let's see. Yeah, it's soft.
E: (laughs)
A: My stom­ach hurts.
E: That sucked.
A: I don't know if it was just that one bite that made my stom­ach hurt.
E: That was the worst one I've had I think.
A: Yeah, I mean I was com­par­ing it to the soup in the begin­ning, won­der­ing if it would stand up to it. It didn't. It was more like a piece of bread that was water­logged in soup or some­thing. And for that rea­son I actu­ally called it "Lost Bread in Shroom Soup"
E: I called it "Nuked Salad Smoosh" because again, it reminded me of that thing I was just talk­ing about with the Burger King. I don't know what was in there but all these ingre­di­ents that should have been fresh were like cooked and stringy. And it was totally under­salted and the bread was just mush.
A: Mush, mush is a good word.
E: You like mush or smoosh?
A: Well I think "mush" room sand­wich is good.
E: Okay I'll call it "Nuked Salad Mush" then. I could taste mush­room, but that was about the only rec­og­niz­able fla­vor other than bread. The rest was just this stringy, gross mass.
A: Yeah, I didn't like it. It was not a good experience.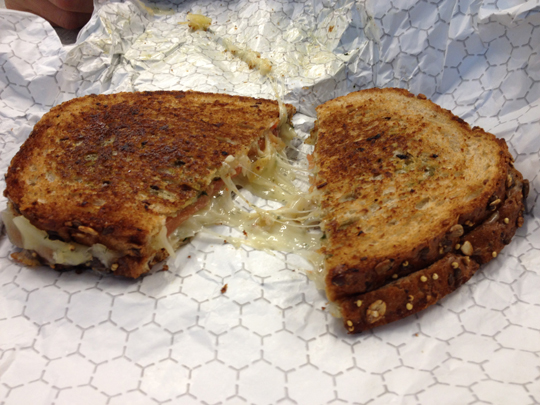 "Old Oil Cheese Lake"
E: So hope­fully we end on a high note with the chef's spe­cial here. This is the grilled cheese… And its cheesy.
A: I think I've already had an over­load of cheese here, I think that's what's hurt­ing my stomach.
E: Are you lac­tose intolerant?
A: I must be. I don't like so much cheese. And mostly I don't like melted cheese so much. I like cheese that isn't cooked, I pre­fer that. Is that weird?
E: I love cheese.
A: Is that a weird thing, to not like cooked cheese?
E: I love cheese… (groan) Another rough one for me.
A: "Cheese Lake Pizza Sandwich"
E: Is that what you called it?
A: Yeah.
E: I called it "Soggy Old Oil Cheese Paste" You know on a good grilled cheese, you taste the but­ter and its crispy. This, this tasted like they took oil out of the deep fryer and put it on the grill, it had a weird acrid burned fla­vor. To their credit, we ate this last and it prob­a­bly would have been bet­ter if we'd ate it right away because the tomato just totally sogged it out.
A: Yeah and also I think the wrap­ping of these things make them more soggy also, it takes away their crisp.
E: I'm amazed how bad it was though. It seems like some­thing that should be easy to pull off. You hated it?
A: Yeah, I can't eat that kind of thing. It was just soggy. I called it a cheese lake.
E: I like that.
A: For me that's just too much cheese. Like any­where you put it.
E: So you're not going to save that?
A: It might get bet­ter as it gets harder. Not for me, but for my kids or some­thing. You're gonna throw it out?
E: Yeah. I'm throw­ing all this shit out.
A: I guess I shouldn't take it because I'm going to make every­one in my house­hold sick and I'm going to ruin dinner.