This is an article I wrote for Proximity Magazine in 2013 for their Food & Art issue. Its never been published online and I feel like its an important moment to look back at Sonny's. I learned this morning that Sonny just retired from working at SAIC.
Sonny's was a cafeteria owned and run by Rangsan "Sonny" Rattanavichit, which he opened on the second floor of the Columbus Drive building at the School of the Art Institute in 1989. Sonny's prepared from-scratch, affordable, and diverse food– including on-the-go American grub like burgers, breakfast sandwiches, and cheap coffee as well as fresh and healthier options like vegetarian sandwiches. What set Sonny's apart from your average college cafeteria, however, was his menu of made-to-order Thai food, which could be quite excellent on a good day. For the most part, Sonny's maintained an endearing relationship with the community of SAIC. Sonny had a sort of paternal role around the Columbus Drive building, apt at remembering faces, names, and orders, though sometimes he had a reputation for being curt or stingy (but from personal experience, I can attest to the oftentimes impatient and finicky nature of art student clientele). In 2012, the School of the Art Institute expanded its dining facilities to include a higher volume cafeteria in the newly constructed Leroy Neiman student center and also revamped facilities in the Sonny's space and the 12th floor of the MacLean Center. The School streamlined the operation of these facilities by contracting Food for Thought, a Chicago-based, high volume catering service. While the details remain elusive (Sonny and I spoke briefly, but out of respect, I did not press to get the whole story) Sonny inevitably closed his namesake café and donned the Food For Thought uniform.
My own relationship with Sonny's could be described as formative. As a teenager from the suburbs in the mid-90's I had yet to experience Thai cuisine. At Sonny's I first ravenously scarfed down plates of pad thai and beef basil on bleary-eyed Saturdays as an Early College Program student. It was like the suburban Chinese food I grew up eating, but in Technicolor– greasy and starchy, yet more assertively spiced, salty and fishy and garnished with fresh and crunchy elements. An important breakthrough was that Sonny's introduced me to Sriracha, that now ubiquitous ketchup-esque sweet, garlicky hot sauce that quickly became one of my favorite condiments. Back then, outside of Argyle Street, Sonny's was the only place you could find "cock sauce". I am ashamed to confess this, but when I lived in the dorms at SAIC, I once stole a bottle from Sonny's and I started using it on everything. I still count the adulteration of a box of mac and cheese with the hot red stuff as a formative experiment in preparing my own food. On my shoestring budget, Thai food at Sonny's became an occasional treat after an all nighter spent painting and/or partying. Sonny did provide thrifty staples as well: the two-dollars-and-some-change egg bagel before the tortuous 9 am class or an egg roll in the afternoon for a break in a heavy studio day.
After those early mac and cheese experiments, I delved deeper into my interest in cooking and by my senior year I was a budding foodie. I paid keener attention to Sonny's Thai specials. The pad thai and fried rice seemed pedestrian to me at this point, having received a Thai cookbook for Christmas that year, I was more interested in the curries and more complex dishes. One particular dish on Sonny's specials board was completely revelatory for me– a taste memory that I can always recall was his tom kha gai, hot and sour chicken soup with coconut milk. It enlivened every taste receptor at once– with its salty broth, sweet coconut milk, lime-y sourness, richly savory notes from chicken and mushrooms, and finally a pronounced funk from fish sauce. It had fiery scud chili peppers bobbing to the surface and a whole riotous tangle of not-quite-edible ingredients that I soon learned were in there for their aromatic perfumes that made this milky soup in a Styrofoam cup so extraordinary. This first experience of lemongrass, galangal, and kaffir lime– the trinity of Thai curries and soups– opened the door much wider to the complexity of Thai cooking for me and blazed a path to a rigorous pursuit of one of my very favorite cuisines.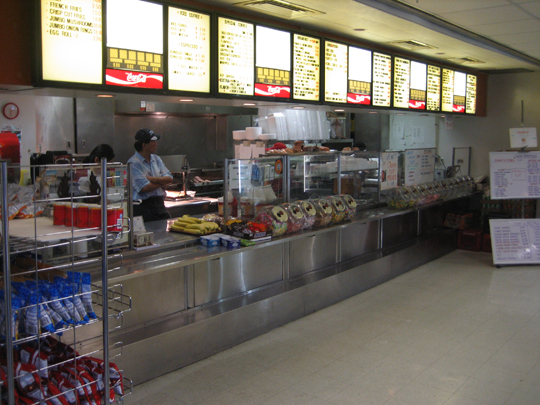 Aside from the occasional nostalgic tuck into a plate of red curry, my stops at Sonny's dwindled after I completed my undergraduate studies. My most noteworthy experience at Sonny's, however, would happen years later in 2008, when I was fortunate enough to work with one of my favorite artists, Rirkrit Tiravanija, who was in town for a visiting artist gig. SAIC Director of Exhibitions and Exhibition Studies, Mary Jane Jacob invited me to participate in the event, which was in part a workshop to optimize the social function of the Sonny's space (hopefully this was not an omen of the eventual transformation that came four years later) and also a feel good, social practice-y free lunch. Serendipitously, SAIC had an in house Thai chef, Sonny, to assist in preparing Rirkrit's menu of pad thai, red curry, green curry chicken, and basil shrimp.
When I was contacted to spend the day assisting Rirkrit, I imagined that I would be chopping veggies or even better, prepping a curry paste. This was not the case– Sonny and his crew had the cooking dutifully under control behind the scenes in the kitchen. Apparently, Sonny and Rirkrit had worked together closely prior to the event, strategizing and planning the menu. I can only hope that Sonny understood that his cooking would become part of an artwork itself, the focal point of a social experiment framed within a famous artist's practice. Projects such as these seem to succeed best when collaborators outside of artistic discipline, such as Sonny, are engaged in their expertise and transparently participant in the work. This is what I took away from the project– the actual point of contact with everyday life and art was the dialogue between Rirkrit and Sonny (rather than the corralling of expectant MFA students into a blurry conversation about how to better socialize.) This very fond memory would be my last at Sonny's.
Sonny's is dearly missed by the SAIC community. When I posted a lament about the closing of Sonny's on Facebook last year, I received an outpouring of over fifty comments from SAIC-related friends wistfully reminiscing about their $2 plate of white rice with an eggroll drowned in Sriracha, those egg bagels in the morning, avocado sandwiches, crisp cut fries, and the Thai specials… I teach a course to freshman at SAIC entitled "You Art What You Eat" and naturally we discuss issues about how the students eat around their downtown campus, which is devoid of basic grocery services and populated mostly by fast food joints with inconvenient daytime hours. A perennial conversation that arises is that of their attitudes towards the School's food service. Since introducing the Neiman Center and Food for Thought, the School made mandatory a meal plan for students living on campus, so these kids are mandated to eat this corporate caterer's food. Reports are mixed but mostly lean towards dissatisfied. From what I've witnessed the food is pre-prepared and pre-packaged with true fast food efficiency– fresh-made items wilting away in their sealed plastic clamshells and greyed out burgers looking more lifeless than those from Mickey D's on the corner. I imagine that Sonny's was just not scalable to serve the ever-growing campus of SAIC, but that is probably why it was so wonderful. It was human scaled– tasty food made from scratch by a face with a name, who, in turn, always remembered your name.
Thanks to Mary Jane Jacob, Bill Padnos, Tom Buechele, and Felice Dublon for their input on the facts in this article.
ALSO, check out a tribute Piranha Club we threw down in 2013 HERE