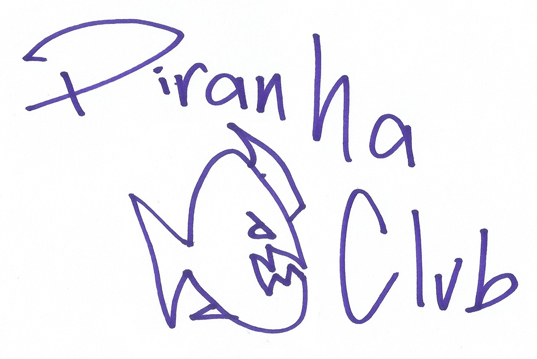 Piranha Club #2: The Last Last Meal
Sat­ur­day March 10th, 7pm.
Roots

&

Cul­ture 1034 N Mil­wau­kee Ave.
In Sep­tem­ber of last year, the state of Texas (which coin­ci­den­tally is the state that puts the most pris­on­ers to death) banned the mil­len­nia– old prac­tice of serv­ing a last meal to an inmate await­ing their exe­cu­tion. The last last meal was served to Lawrence Rus­sell Brewer who, in protest, refused to eat the exces­sive spread of favorite foods that he requested.
For Piranha Club #2 we will share Brewer's last meal order:
Big bowl of fried okra with ketchup
Two chicken fried steaks smoth­ered in gravy and onions
Cheese omelet stuffed with ground beef, toma­toes, onions, bell pep­pers, and jalapeños
Triple meat bacon cheeseburger
Three faji­tas
Half a loaf of white bread
Pizza meat lover's special
One pint vanilla ice cream
One slab of peanut but­ter fudge with crushed peanuts
Root beer
Sorry veg­e­tar­i­ans. Spring is com­ing and so are the greens!