Yesterday I experienced a culinary milestone, I successfully cooked bugs, grasshoppers to be exact. It was a true pleasure to collaborate with Andy Yang and his Insectology class at Ox-Bow, who collected about 60 grasshoppers over the course of their two week class with hopes that we might prepare something tasty.
I've had experience eating these bugs- about seven years ago in a dimly lit cantina in Oaxaca I was scarfing down little piles of various salty snack foods as part of a botana plate. I eagerly devoured a mysterious little tangle of some shredded salty stuff which I only realized was insects after inquiring of my server- chapulines it was! I hadn't quite yet mustered the courage at that time to sample the fried critters which were ubiquitous at the markets of Oaxaca city. The shredded variety, eaten in low lighting proved to be the perfect gateway. At the market they offer several sizes of chapulines starting with the shreds and working up in size. By the end of the week I was giddily scarfing down the biggest hoppers I could get my hands on. And I always hoped that one day I might prepare them myself. But where to get so many grasshoppers? Employ a team of amateur entomologists working on 115 acres of pristine wilderness, obvi.
I did a little research and read certain info regarding cleaning the grasshoppers, and most sources mentioned removing the wings and legs. I clearly remember eating chapulines with legs intact, so that step seemed unnecessary. After inspecting the product though, the wing coverings and wings seemed tough and fibrous, so I put the class to task of picking off the wings.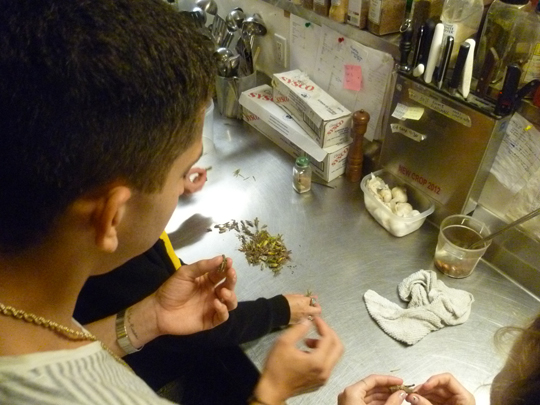 I infused a few cups of olive oil with garlic which I used to deep fry the hoppers. It was rather remarkable how quickly they turned to the toasty brown color I remembered from Oaxaca, almost as soon as the hit the hot oil. It seemed as though they should cook through a bit, so I gave them a few minutes. I removed them from the oil with a slotted spoon and blotted off excess oil. Seasoning was as simple as a dusting of my buddy Dave's habanero salt and a squeeze of lime.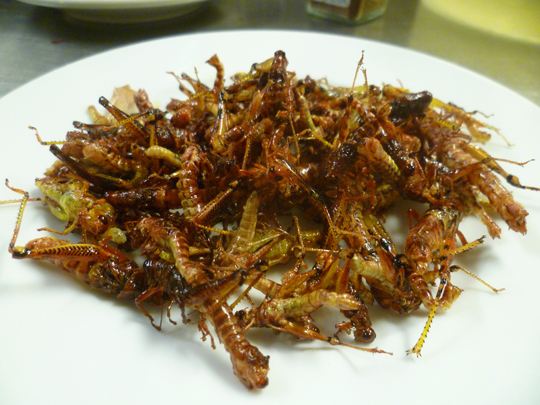 The results were delicious! They fried up very crisp and had a toasty richness and savory note reminiscent of eating shell on crustaceans (which makes perfect sense, right? arthropods they're all). You may notice the variety of sizes. The larger specimens had more flavor diversity with a slightly bitter aftertaste and some had just a hint of grit, not unlike a shrimp with "mud vain" intact. These bigger guys proved more challenging for some of the kids in the class that were new to eating bugs. I was impressed by the almost 100% willingness and participation by the class in entomphogy (the practice of consuming insects, a term taught to me by Andy). Being very interested in foraged foods, eating grasshoppers seems like an obvious and delicious ingredient and protein source. In this pedagogical context, there was an eagerness amongst the group to eat bugs, but I also can't help but wonder if culturally we are ready to overcome our prejudices over creepy crawly things. The hardest moment is looking the critters in their little beady eyes, but if they are prepared well, the moment their savory crunch hits our pleasure receptors, we can realize that hey, this is more than just a novelty, this is actually food that is enjoyable to eat. Now only if I had a crew of 12 art students armed with bug nets scouring the woods for me day in, day out. Again, big thanks to Andy Yang and his Insectology class for helping me realize one of my life's cooking goals!