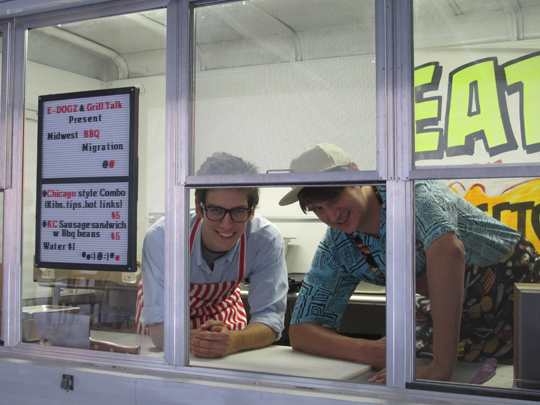 I'm keep­ing this one under 5000 words, I promise. Food con­tin­ues to be a pri­mary focus– this year most of my prac­tices, pro­fes­sional and artis­tic, have folded into this sin­gu­lar pur­suit. Between my pro­fes­sional gig at Ox-Bow, run­ning E-Dogz and the Piranha Club, launch­ing other projects in art con­texts, writ­ing about food, and teach­ing a class called "You Art What You Eat" it was all food all the time in 2012. I will dis­cuss how the lines between these prac­tices are blur­ring fur­ther down the list (see #2). The nature of the list itself is chang­ing as well. As with last year I will dis­cuss not just what I ate and what I cooked, but where and with whom I ate and cooked. There will be more than a lit­tle art and some film sprin­kled in there too. And in the past I tried to focus the list pri­mar­ily on expe­ri­ences out­side of my work in order not to repeat con­tent from other parts of this blog, how­ever, this year was so pro­duc­tive in terms of my own prac­tices, to omit these most sig­nif­i­cant expe­ri­ences would be remiss.
My year started off with a bang, first cook­ing for my first ever win­ter ses­sion at Ox-Bow, which was super great because Mikey was chef and I only had to focus on cook­ing. High­lights included slow smok­ing BBQ with Kirk Faber and being pleas­antly sur­prised by the deli­cious­ness of Jamie Oliver's "Will & Kate's Wed­ding Pie" despite its hokey sen­ti­men­tal­ity. Shortly after, I flew out to LA for the most epic food crawl yet. The weather was sub­lime which set a slower pace, some itin­er­ary was checked off (see #5), but mostly we just cruised around and hit up street food spots (see #9). In Feb­ru­ary I kicked off the Piranha Club (#4), which in many ways was an answer to clos­ing up E-Dogz for the win­ter, keep­ing the col­lab­o­ra­tive cook­ing going. And Piranha is a fluid prac­tice– a space for exper­i­men­ta­tion and risk tak­ing with­out being beholden to absolute state­ments about the con­tent of the meal. Food's great like that– I can call it a din­ner party, peo­ple come, drink, enjoy them­selves, and take or leave the mes­sage (that slip­pery moment I got so much shit for in grad­u­ate school). I rel­ish the free­dom to explore the mean­ing of food on my terms.
What else? The sum­mer was too hot– 117 in the kitchen on the 4th of July, didn't stop us from putting out a 7 item Hawai­ian luau though! Ox-Bow tends to feel like autopi­lot for me these days. I ate at a bunch of new places in the city, many of which are actu­ally quite old– but in far flung cor­ners of the city I hadn't got to yet– like Vito & Nick's, a clas­sic south side pizza tav­ern serv­ing up super unique crispy thin crust pizza with caramelized cheese around the edges. I was also reunited with the Ital­ian Beef at Pop's, a sand­wich I ate count­less times in my youth. It's all about their "hot mix" a fresh shaven, dead sim­ple take on gia­r­diniera. I fig­ured out their recipe, which we fea­tured on our house made Ital­ian beef that we sold on E-Dogz this fall. I also took the name, Hot Mix for my fall– long project that was (mostly) based at the Hyde Park Art Cen­ter. Tom and I served up some pretty damn fine sand­wiches dur­ing our stay there, some obscure Chicago tra­di­tions like the Fred­die– a sausage patty sand­wich cov­ered in red sauce, melted mozz, and grilled pep­pers and oth­ers mon­gre­lized mash ups like the spicy Ital­ian banh mi.
I say this every year– most of my favorite food expe­ri­ences remain con­stant and I have already cov­ered them in pre­vi­ous top 10s. Last year's #1: col­lab­o­ra­tive cook­ing– def­i­nitely got that cov­ered in 2012, the cast of char­ac­ters expand­ing to include Fereshteh Toosi of Gar­lic & Greens, Mike Ban­croft of Coop, KC's Grill Talk, Ox-Bow's Insec­tol­ogy class, and Ple­san­t­house. You bet­ter believe JZ was there and Sean Starowitz and the Bread KC! crew too, and last but not least, my right hand dude, Tom Har­ring­ton rep­re­sent­ing. Favorite restau­rants? Yup, Pleas­an­t­house and Zaragoza reign supreme. Worth not­ing though is lit­tle Johnny's rise as the exec­u­tive chef at Masa Azul where in like 4 months he's revamped their menu to crit­i­cal acclaim– adding the family's sig­na­ture bir­ria and some sur­prises like a Baja shrimp taco (which I have never been a fan of until his). And mush­room for­ag­ing– dur­ing July's drought I came up empty handed and had lit­tle hope for the sea­son. The usual cast of char­ac­ters– oys­ters and chicken were a bit thin and new species weren't pre­sent­ing them­selves to me, but the hen was off the charts at the end of the sum­mer and I scored the pret­ti­est mush­room I ever have on a camp­ing trip in Wis­con­sin, a 7 lb. hen! Check out the pic­ture down blog in my 2012 in pic­tures post. So hey, let's get on with it…
10. Shopsin's
Jes­sica asked me if I'd ever seen the doc­u­men­tary about this crazy diner cook in New York. I hadn't, nor even heard of it. We were on a bit of a doc­u­men­tary kick this year. It seemed, in par­tic­u­lar, that we were watch­ing films about eccen­tric old school New York­ers like "Herb & Dorothy" and "Bill Cun­ning­ham: New York". I grew up fan­ta­siz­ing about the leg­ends of down­town New York– The Cedar Tav­ern, The Beats, Warhol and the Vel­vets– so win­dows into the worlds of these hip old timers really tick­led me. Unfor­tu­nately, I have lost my romance with (present day) New York– from the but­toned up pre­ten­sions of the art scene to the ironic throw­backy hip­ster trends. So it's refresh­ing to be reminded of authen­tic weird old New York in films like "I Like Killing Flies". Despite being gen­tri­fied out of his orig­i­nal shop, Kenny endures– for love of his cus­tomers, his fam­ily, and his city. In the third iter­a­tion of Shopsin's, filthy mouthed Kenny and his rag­tag clan have set­tled their greasy, clat­ter­ing piles of tchotchkes and equip­ment into the cute and tidy Essex Street mar­ket. The restau­rant spills out of a space sand­wiched between an arti­sanal cheese ven­dor and an exper­i­men­tal art project space (both things I like, hip­ster or not). So on this year's trip to New York, Jes­sica had the patience to stand in line for an hour with me to eat at Shopsin's. I was stoked that we were seated right next to the kitchen. I had a pretty good view of Kenny and was mes­mer­ized watch­ing him work his flat top seem­ingly with­out uten­sils– every­thing seemed to be turned and flipped by his black rub­ber– gloved hand. And the ban­ter between he and his sons was loud and clear– Kenny teas­ing one of them about how "his girl had done so much DMT that she couldn't even drink a beer with­out flip­ping out now". The infa­mous menu was nearly impos­si­ble to nav­i­gate– how to zero in on one item out of the 900– but I'd been study­ing it online all day, so I'd nar­rowed my choices down to a hand­ful. The food was excel­lent– with a flight later I didn't want to go full– on– gut– bomb, so I chose some­thing on the "lighter" side– a hero style sand­wich over­flow­ing with crisp fried shrimp and even crispier shoe­string pota­toes dressed in a hit-you-in-the-back–of-the-head hot wasabi mayo. I can't seem to recall the name of the sand­wich and in my Googling it appears that this already neb­u­lous menu actu­ally switches up pretty fre­quently, so no luck on specifics. Any­how, this lunch made my trip– it was nice to have a lit­tle taste of old weird New York.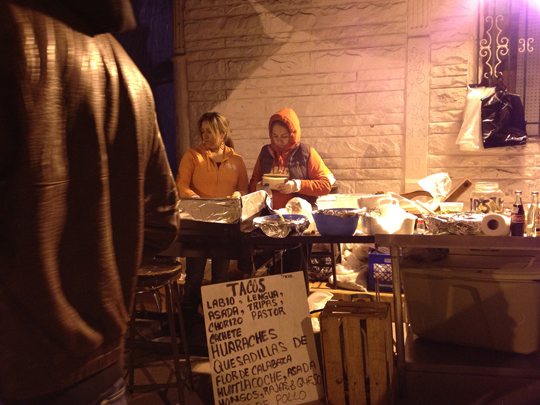 9. Street Food in Pilsen
I was in LA in Jan­u­ary and I am always blown away by the abun­dance of street food in my friend's East LA neigh­bor­hoods– and I'm not talk­ing food trucks– I'm talk­ing food being served and pre­pared on the street– from jury rigged grills to cool­ers full of tamales. In these neigh­bor­hoods it's typ­i­cally Mex­i­can fare– on my last trip I ate some of the best al pas­tor I've had in the States from a dude with a char­coal pow­ered trompo set up in a gas sta­tion park­ing lot.
I'll spare you another rant about Chicago's pro­hib­i­tive health codes in regards to street food, which make our city's al fresco cook­ing scene totally suck. There's Maxwell Street, the excep­tion to the rule, where out– in– the– open ven­dors make que­sadil­las and huaraches by hand in the DF style. From what I under­stand their licens­ing is grand­fa­thered into the rules of the mar­ket. So, I was sur­prised to learn from my friends that have been mov­ing en masse to West Pilsen that there is a whole scene of (usu­ally late night) taque­ros that set up their grills on res­i­den­tial cor­ners of their neigh­bor­hood. I've still got a lot of work to do– I've only hit up two– both around Cer­mak and Damen. These set ups are very much like Maxwell St.- typ­i­cally shel­tered by a tarp, with a gas pow­ered grill/ grid­dle and some hotel pans for hold­ing. Their sig­nage is always up my alley– the more advanced places have fab­u­lously bad pho­to­shopped menus, but usu­ally you'll find noth­ing more than hand scrawled signs on card­board. One place even had pre-made exam­ples of what they were serv­ing on dis­play. The food I've sam­pled ranges from pretty good to pretty great. Que­sadil­las made by hand at one spot were incred­i­ble, espe­cially topped with spoon­fulls from tubs of ultra– fiery sal­sas verde and de arbol. Tacos are hit or miss with this for­mat– pre-cooked meats like lengua get a quick reheat on the grill. The afore­men­tioned que­sadilla place gets points for serv­ing dif­fer­ent cuts of head meats– cachete (cheek) and labio (lips). It seems to me like asada and pas­tor just can't be cooked prop­erly in this spar­tan con­text, though per­haps there's some­one out there with a pas­tor cone… It warms my heart to know that the good stuff is out there, lurk­ing under a tarp on unex­plored corners…
8. Nha Hang Viet Nam
I first ate Viet­namese cui­sine in Paris on a trip with my grand­mother when I was 11. I mostly remem­ber the fresh spring rolls– I loved how, well, fresh they tasted– packed with fresh herbs. That com­bined with crunchy shrimp and tangy sweet sauce led me on my way to under­stand­ing the virtue of bal­ance in Asian cui­sine. This was long before I ever ate Thai food or real deal Chi­nese (rather than the sweet, gloppy Ameri-Chinese I grew up with). Over the years I have learned to crave a restora­tive bowl of pho, but until say the past five years, my knowl­edge of Viet­namese food kind of dead-ended with pho and spring rolls (throw banh mi in there some­where too). I blame a lot of this on a lack of great Viet­namese cui­sine in Chicago. There's Tank Noo­dle, the gate­way to Argyle St. And cer­tainly I acquainted myself with a few other great Viet clas­sics there– banh xeo and their (still my favorite) raw beef salad. I also enjoy their star anise redo­lent pho broth more than most oth­ers in town. You have to admit though, the place is a zoo and can be incon­sis­tent. A brief love affair with Pho Xua was cut short by a change in man­age­ment and I lament the loss of their bo la lot. But oth­er­wise, I've had much bet­ter pho and other dishes in cities abroad such as Lon­don, San Fran­cisco, and even Hol­land Michi­gan (where I ate my first banh mi, come to think of it). In gen­eral, Viet­namese, with its oft-times nuanced, sub­tle man­ner, is not a cui­sine that I would rank among my top favorites. Usu­ally when I crave the com­bi­na­tion of sour, hot, funky, sweet, and herbal I turn to the more assertive fla­vor­ing of Thai cuisine.
So sur­pris­ingly, my favorite restau­rant dis­cov­ery of the year is a Viet­namese place. I was tipped on to Nha Hang Viet Nam by LTH­Fo­rum– like count­less other out of the way mom and pop places that the site is known for cham­pi­oning. Last win­ter, a crew of LTHers hit the pave­ment on Argyle and vicin­ity to stake out the best bowl of pho in the neigh­bor­hood. They found that while Nha Hang Viet Nam per­haps did not serve the best bowl of pho on the strip, it ranked as one of the best based on other dishes and the place itself. It is exactly my kind of spot– fam­ily owned and run, who are as sweet as can be. I just love the décor, its all day glo Bud­dhist kitsch. The crown mold­ing is designed to look like the exte­rior eaves of a roof, giv­ing the room that indoor/ out­door court­yard vibe. And this is food that I crave, so much so that I won't hes­i­tate to make a solo trek to Uptown. Tellingly, I haven't even tried the pho, but their other soups shine– the bun mam and bun bo hue in par­tic­u­lar– with deeply funky broths for­ti­fied by fer­mented shrimp paste. The bun refers to the noo­dle– a round, about spaghetti thick­ness rice noo­dle. The bun mam has shrimp, cat­fish, pork belly, and egg­plant, while the more boldly spiced (with lemon­grass and chilies) bun bo hue has sliced beef, pork on the bone, and pork cake. I've had a few other bowls of bun bo hue over the years, but none stand up to the potency of this one. The gar­nishes are exquis­itely fresh and beau­ti­ful. Their sal­ads are note­wor­thy for their over-sized shrimp crack­ers for spoon­ing up bites of cit­rusy, herba­ceous duck or rare beef. Clay-pot kho dishes with bit­ter caramel sauce are unique to Viet cui­sine and done right here. Ask about the red crab, which proudly adorns the menu jacket, though is not on the menu itself. These come in addic­tive piles of spicy, sweet, greasy blue crabs that inspire elbows-on-the-table full on orgias­tic nomming.
Nha Hang Viet Nam 1032 W Argyle (773) 878‑8895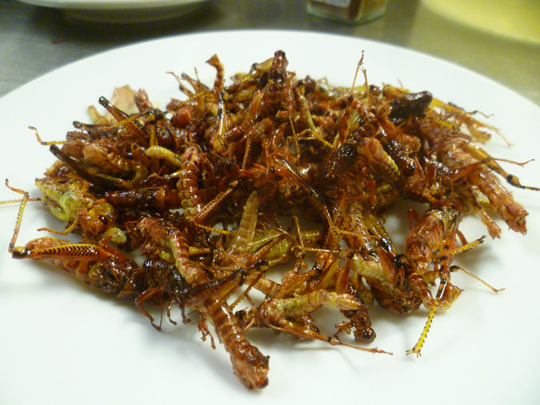 7. Cook­ing Chapulines
I don't have much to add here that I haven't said on this blog already. As a kid I had a creepy crawly things fix­a­tion– I was born to eat bugs. So what bet­ter than to catch grasshop­pers our­selves in the field and fry em up? And they tasted incred­i­ble, like I could seri­ously eat them on the reg­u­lar. Shouts to Andy Yang and his Insec­tol­ogy class at Ox-Bow for spark­ing this col­lab­o­ra­tion in ento­moph­ogy! Sci­ence + art + food= tasty good times!
6. All Day Food Tours with Rob, Peter, et al
There's a bit of a sitting-at-the-cool-kids-table fac­tor with this one. What can I say, it's quite an honor to be invited to cruise around to obscure food spots all over gods cre­ation with a crew of my favorite food writers/ thinkers in Chicago. There's a gonzo spirit to these mis­sions– fly­ing around in Rob's road worn Prius– he's chain smok­ing cig­ars– a sense of dan­ger awaits– wait, I'm going to have to eat a Freddy, then a mother-in-law, and then a big baby?! These day trips are not all goof­ing though, they are research mis­sions that yield results for writ­ing pieces like my Hot Mix zine and Julia's South­side Food Tour (also see #5 below). Mostly, its just nice to have new friends that go this full– on about food– debat­ing the dif­fer­ences of sesame and per­illa, dis­cov­er­ing imi­ta­tion mare's milk at a Russ­ian deli in Mundelein, get­ting schooled on the true ori­gins of the Tom-Tom Tamale. My apolo­gies to Jes­sica for not being hun­gry for din­ner after I hang out with the boys…
5. The 'Burbs
So, I'm bit­ing Mike Sula on this one, who pub­lished a dandy guide to eat­ing in the sub­urbs for the Reader back in the spring. (I was lucky enough to join one of the research trips men­tioned above in #6). I don't argue with the man and he is really on to some­thing by reveal­ing the culi­nary abun­dance wait­ing to be dis­cov­ered in regions that we city dwellers typ­i­cally save for dis­missal and ridicule.
I grew up in the 'burbs, sur­rounded mostly by other white kids like me. I had access to other cul­tures though– our nextdoor neigh­bors were Greek and wel­comed my fam­ily to many of their cel­e­bra­tions. My best friend was from Poland and his mother was a tremen­dous cook. My sis­ter and I had Korean, Fil­ipino, and Indian friends and occa­sion­ally we'd be lucky enough to join their hol­i­day par­ties to sam­ple new treats like lumpia or samosas.
A life in the sub­urbs still rep­re­sents the ideal of the Amer­i­can dream to many, regard­less if folks like my par­ents are too hip to live there nowa­days (they moved to the city six years ago). New pop­u­la­tions are always tak­ing root and bring­ing their cul­tural tra­di­tions with them. The area I grew up in, the South­west sub­urbs, is now home to the largest Ara­bic speak­ing pop­u­la­tion in Met­ro­pol­i­tan Chicago and if you take a ride down Harlem through Bridgeview, Worth, and Palos Heights you'll see plenty of sig­nage for Ara­bic owned busi­nesses. The diner for­merly know as the Sand­piper– where we used to smoke cig­a­rettes and drink cof­fee in high school– now houses, in my esti­ma­tion, the area's finest Mid­dle East­ern restau­rant, Al Mawal. One bite of their muthawama, an aioli like spread related to toum, and you'll under­stand what I'm say­ing, pure ambrosia. Every­thing I've eaten there is per­fec­tion, from light and crisp kibbeh to deeply spiced and caramelized chicken shaw­erma. Look­ing to the west sub­urbs you find strip malls filled with Indian and Chi­nese gro­cers and restau­rants, a long time foodie favorite is Katy's Dumpling House in West­mont for their hand pulled noo­dles in fiery broths and hand­made dumplings. Hop off the Kennedy on Demp­ster and you'll find a plethora of Korean eater­ies spe­cial­iz­ing in par­tic­u­lar dishes, like jeuk suk yum so bokkeum– goat hot­pot– at Chun Ju in Mor­ton Grove or my favorite Cho Jung in Glen­view for pajeon– scal­lion pan­cake and var­i­ous Korean stews like soon dubu– tofu and seafood stew. On my trip to LA this year, most of our food adven­tures took us out to the burbs, areas such as the San Gabriel Val­ley for its North­ern Chi­nese cuisines. Most notable was a spot called Shen Yang, rec­om­mended to me by LTHer TonyC where we attacked piles of chicken bone with cumin, which were lit­er­ally piles of deep fried bones, which you gnawed at to get at bits of hid­den gems of remain­ing meat. I also ate one of the more chal­leng­ing meals of my life at Japan­ese iza­kaya restau­rant, Tori­hei in Tor­rance where I met my match in a bowl of fer­mented squid guts. For­tu­nately, the chicken skin yak­i­tori was a great palette cleanser. In Tor­rance I also spot­ted an out­post of Mit­suwa Mar­ket­place, which along with our local Arling­ton Heights loca­tion is a one– stop shop for all things Japan­ese. Mit­suwa is also the home to Chicago's best (only good?) bowl of ramen at the San­touka fran­chise in their food court, the best rea­son I can think of for brav­ing 294 to shop at nearby IKEA! Bomb the sub­urbs? Nah, wouldn't want to live there again, but will­ing to drive there for the food!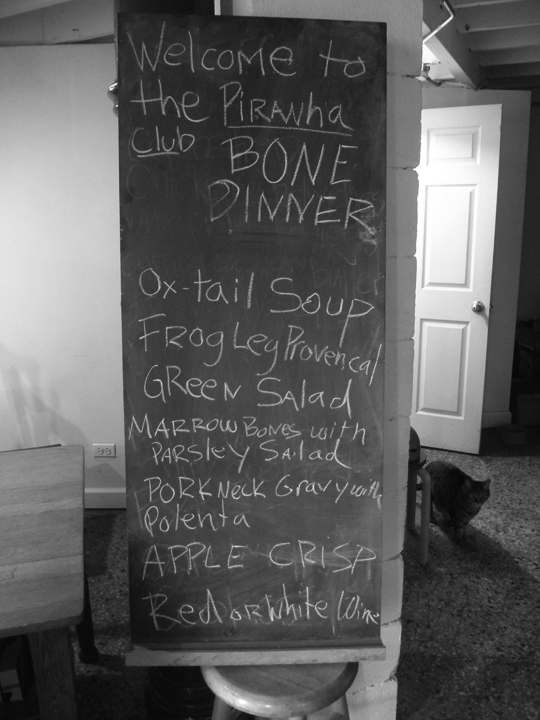 4. The Bone Dinner
There was this big food art show this year at the Smart Museum at U of C, Feast: Rad­i­cal Hos­pi­tal­ity in Con­tem­po­rary Art. Unfor­tu­nately, I did not find it to be so rad­i­cal– it fell pretty short of my expec­ta­tions. The first half of the show was more or less an aca­d­e­mic sur­vey of ephemera from a few key projects of the avant garde cen­tered around food, which I actu­ally thought was pretty cool. What was unsuc­cess­ful about the show was the flat­ten­ing of, in the museum con­text, liv­ing, breath­ing con­tem­po­rary projects that are meant to exist in the world and engage audi­ences in par­tic­i­pa­tory activ­i­ties. So, for one rea­son or another my work was not on the curator's radar (I a'int mad). But I did feel like I should take the oppor­tu­nity to engage with the show in one way or another. E-Dogz was invited in May to vend food for their sym­po­sium and it was nice of them to throw a bone my way. I also spent a lovely after­noon giv­ing a guided tour of the show to friends from LTH­Fo­rum. The project that I am most proud of, though, is re-doing Gor­don Matta-Clark's famous Bone Din­ner, the most well doc­u­mented hap­pen­ing at his and Car­ole Gooden's restau­rant FOOD of the early 70's. Most of us food art dorks wor­ship this project. I do– I love that it was never framed as art– open­ing the space came out of the neces­sity to help nour­ish and employ a com­mu­nity of friends in Soho, which at the time was a dreary ghetto devoid of ser­vices. So it was a project about com­mu­nity and pos­si­bil­i­ties and to this day feels very uncon­t­a­m­i­nated by the­ory and academia.
The din­ner was sched­uled dur­ing the open­ing week­end of Feast and was the inau­gural event of my col­lab­o­ra­tive sup­per club project, the Piranha Club. You can find the full report of the evening, for which I col­lab­o­rated with my homies from Bread KC, else­where on this blog. It was a real plea­sure to redo this menu and pay homage to this project that has so influ­enced many of us– the design of R & C, with our open kitchen, was in no small part designed with FOOD in mind. It was an honor that my dear friend Lori Wax­man was in the house that night, her­self a scholar on Matta-Clark and FOOD in par­tic­u­lar. And we were all stunned when Sean real­ized that we were, in fact, re-enacting the bone din­ner 40 years later just a few days short on the exact anniver­sary, reviv­ing its legacy. Here's to you, Gordon!
3. When an Art Project Starts to Feel Like a Real Job
When I talk about my work, I often address the dif­fer­ence between art and every­day life. I usu­ally try to get myself off the hook by say­ing "in real life there is a greater respon­si­bil­ity– if I ran a restau­rant peo­ple would depend on me keep­ing reg­u­lar hours and a reg­u­lar menu. By call­ing it art I can nav­i­gate things on my own terms." Dilettante-ish, yes– I love to cook, hell even love to serve peo­ple, but I don't have the salt to put in the sweat and hours to work in the indus­try. On the other hand, could I day in day out sell pigeon pies and Flamin Hot Chee­tos mac and cheese squares? The every­day sale-to-sale econ­omy just isn't flex­i­ble like the big check art econ­omy. How­ever, this fall I found myself in a pre­car­i­ous (and excuse me, some­what duplic­i­tous) sit­u­a­tion. Firstly, I was out of work– with no class to teach in the fall. And I was accepted into a three-month long group show at the Hyde Park Art Cen­ter with E-Dogz as the cen­tral piece of my inclu­sion in the exhi­bi­tion. I orig­i­nally planned to host monthly, likely free, events at the Art Cen­ter, but saw the oppor­tu­nity to test out run­ning E-Dogz as a reg­u­lar busi­ness model. So Tom and I worked the trailer three days a week and while sales were mod­est to sparse, it kept our wal­lets rea­son­ably full. How­ever, there was so much more about the expe­ri­ence of run­ning a day to day busi­ness that was valu­able– we formed rela­tion­ships with a cus­tomer base. I had never spent much time in Hyde Park and it was a plea­sure to develop rap­port with the local folks– from the always– hun­gry door­man at the nearby apart­ment com­plex to the Swedish pro­fes­sor who we served his first (and sev­eral sub­se­quent) Chicago dogs, and the Ital­ian beef lov­ing mom with her kids with big appetites for dogs and sur­pris­ingly meet­ing and serv­ing my buddy Dan Wang's sis­ter, and last but cer­tainly not least, my buddy Chris Hammes, the prepara­tor at the Art Cen­ter who eagerly tried every sin­gle one of our spe­cials. We've run a few profit– focused events since, like MDW Fair, where we hap­pily lined our pock­ets sell­ing 100's of dogs. But there's more to every­day life than cash flow, it's about inter­ac­tion, feed­ing friendly faces.
2. Kansas City
Kansas City def­i­nitely holds a place in the col­lec­tive heart of foodie cul­ture– BBQ of course, Stroud's fried chicken, Town Topic-unfussy, work­ing peo­ple chow that reflects the South with its feet planted firmly in the Mid­west. I took an epic trip down there with E-Dogz in April to launch my Mid­west­ern BBQ Migra­tion Project. I didn't exactly have time to dine out much– sure, we had some suc­cu­lent burnt ends at LC's and stand­out tacos al pas­tor at Camino Real, but I was there to work. And the resound­ing part of that expe­ri­ence was that I imme­di­ately found myself in the cen­ter of the food uni­verse down there. And I have Sean Starowitz, Andy Erdrich, and Erin Olm-Shipman to thank for intro­duc­ing me into this wel­com­ing, cross dis­ci­pli­nary scene. Sean and I have col­lab­o­rated many times on my home turf at this point, so it was a real plea­sure to be invited to par­tic­i­pate in the Speakeasy project curated by Bread KC! These guys run a very ambi­tious and suc­cess­ful Sun­day Soup pro­gram, which raises micro-grants for var­i­ous cul­tural projects. They come from art back­grounds and like myself, nav­i­gate the econ­omy of the art world to plat­form their projects, such as Speakeasy, which strad­dle dis­ci­plines. Even before I met Sean I was aware that the var­i­ous scenes of Kansas City seem really to be open to this kind of activ­ity. I've long been a fan of glam art band the Ssion and public-access-gone-wild per­for­mance group Whoop De Doo– projects which I think very suc­cess­fully engage pub­lic audi­ences with broader art prac­tices. Sean and Co., sim­i­larly, mag­ne­tize audi­ences and col­lab­o­ra­tors, though in their case, engag­ing the culi­nary realm. For my project I was hop­ing to cook with some folks that knew a thing or two about Kansas City BBQ– Sean knew pre­cisely the guys– Grill Talk. These dudes were just seri­ous enough about their craft– they are reg­u­lar com­peti­tors in KC BBQ Soci­ety smoke offs– but are in it for the fun of it and over after­noon beers I found them to be kin­dred spir­its. Turns out Sean met Grill Talk major domo, Billy Emer­son, at a bar and they have since worked together fre­quently on events. Bread KC! Intro­duced me to other friends of their project as well. Sean worked for awhile on Port Fonda, a for­ward think­ing, Mex­i­can– food– serv­ing Airstream trailer with an aspir­ing chef, Max Wat­son. It was a good thing Max was in the house dur­ing our event, because when I was in the weeds on the trailer, he jumped right in and saved my ass. Through­out the trip, we checked in at the Rieger Hotel, a newish, hip and laid back fine din­ing spot set in a 1915 hotel with an ambi­tious menu helmed by chef Howard Hanna. They host and help cook for Bread events and what struck me the most about the place was the con­vivi­al­ity of the staff, watch­ing the cooks do the dance from the chef's counter was a joy. So it was a true honor when Howard showed up at Speakeasy after his shift to try our BBQ. I dream of an inte­grated art and food scene like this for Chicago.
1. My Farmers
Firstly, I'd like to say that my farm­ers are folks that I have always had the utmost respect for. They are cus­to­di­ans of the earth, providers to all, and work harder than any­one. The Visser fam­ily– who I buy 80% of our pro­duce from at the Hol­land Farmer's Mar­ket– wake up at 2 am! to pack up to head to mar­ket. My lazy­bones gets cranky if I have to wake up before 8 am. Have you ever shaken a farmer's hand? Not only are they rough­hewn from toil­ing the fields but, man, are they big! Even my friend Travis from Eater's Guild farms, who's got to be at least five years younger than I am, has these mas­sive gnarled paws. What I respect the most though, is the farmer's keen inter­con­nec­tion with nature– a deep, intu­itive under­stand­ing of their plants, their ani­mals, the soil, the sun, and the weather…
This year was really weird. At first, I loved the balmy sum­mery days in March. And then, rid­ing around the city on my bike one day, it hit me when I saw cherry trees in full bloom– like two months too early, uh oh. And while these orna­men­tal cherry trees are not relied upon for their fruit, it occurred to me that pro­duc­tive fruit bear­ing cherry trees in Michi­gan might be bloom­ing too. And then the frosts came back and I knew we were fucked. There were no flow­ers left on the trees by my birth­day on May 8th, which is when flow­ers should be get­ting pol­li­nated to bear sum­mer fruits. West­ern Michi­gan is an abun­dant pro­ducer of tree fruit, which is one very lovely rea­son why it's a plea­sure to cook in the area. The mod­er­at­ing effects of Lake Michi­gan pro­vide tem­per­ate cli­mates for these crops and Michi­gan is sec­ond only to Cal­i­for­nia in agri­cul­tural pro­duc­tion. The Luet­zinger fam­ily, who sup­ply us with cher­ries and peaches– and that's what they grow, tree fruit– had a dev­as­tat­ing year. A 20% cherry yield and a 40% peach yield. That is a ter­ri­bly rough bot­tom line. Despite it all, the ever cheery and delight­ful Mag­gie, the matri­arch of the fam­ily, duti­fully showed up to mar­ket with their dimin­ished offer­ings every week. I was more than happy to pay Mag­gie $8/ lb. for cher­ries. But the smaller, newer pro­duc­ers were nowhere to be seen. Two ven­dors that have made these top 10 lists did not show up to mar­ket at all this year, both spe­cial­ists in heir­loom vari­etals– Blue Sky Farms and Cos­grove Orchards. The out of whack spring was only the first prob­lem my farm­ers faced– the heat and the drought of the sum­mer bru­tal­ized crops. It did not rain in July and we had record break­ing days upon end in the 100s. Eater's Guild, an organic farm/ coop run by kin­dred spir­its, Lee and Lori Arbo­real, spe­cial­ize in leafy greens– del­i­cate crops– were unable to fill my orders. Their chicken busi­ness run by big pawed Travis for­tu­nately kept my busi­ness going with them. Even the big guys like the Vis­sers had a tough go of things. Phil recounted to me how his reser­voirs had dried up and a life long neigh­bor who had always been more than happy to give them access to their pond in dry times asked him to "name his price". Corn was stunted and tasted like card­board, but I bought it. It was really hard to see my friends fall under such hard times. I was happy to sup­port them through these strange days of chang­ing cli­mates. I really hope not, but this seems to be the direc­tion the weather is tak­ing. Its affect­ing every­thing– the price and the qual­ity of prod­uct for the con­sumer and the well­be­ing and liveli­hood of the farm­ers, the work­ers of the land, who nour­ish us all.