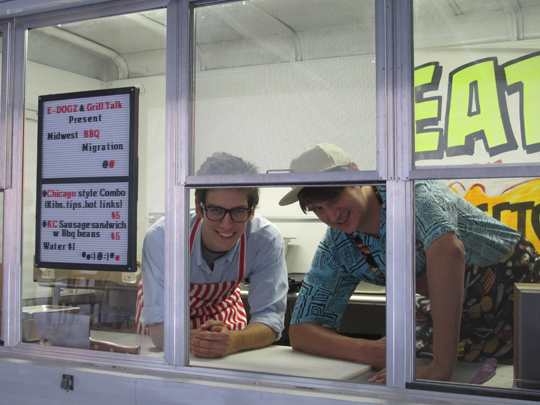 I'm keeping this one under 5000 words, I promise. Food continues to be a primary focus- this year most of my practices, professional and artistic, have folded into this singular pursuit. Between my professional gig at Ox-Bow, running E-Dogz and the Piranha Club, launching other projects in art contexts, writing about food, and teaching a class called "You Art What You Eat" it was all food all the time in 2012. I will discuss how the lines between these practices are blurring further down the list (see #2). The nature of the list itself is changing as well. As with last year I will discuss not just what I ate and what I cooked, but where and with whom I ate and cooked. There will be more than a little art and some film sprinkled in there too. And in the past I tried to focus the list primarily on experiences outside of my work in order not to repeat content from other parts of this blog, however, this year was so productive in terms of my own practices, to omit these most significant experiences would be remiss.
My year started off with a bang, first cooking for my first ever winter session at Ox-Bow, which was super great because Mikey was chef and I only had to focus on cooking. Highlights included slow smoking BBQ with Kirk Faber and being pleasantly surprised by the deliciousness of Jamie Oliver's "Will & Kate's Wedding Pie" despite its hokey sentimentality. Shortly after, I flew out to LA for the most epic food crawl yet. The weather was sublime which set a slower pace, some itinerary was checked off (see #5), but mostly we just cruised around and hit up street food spots (see #9). In February I kicked off the Piranha Club (#4), which in many ways was an answer to closing up E-Dogz for the winter, keeping the collaborative cooking going. And Piranha is a fluid practice- a space for experimentation and risk taking without being beholden to absolute statements about the content of the meal. Food's great like that- I can call it a dinner party, people come, drink, enjoy themselves, and take or leave the message (that slippery moment I got so much shit for in graduate school). I relish the freedom to explore the meaning of food on my terms.
What else? The summer was too hot- 117 in the kitchen on the 4th of July, didn't stop us from putting out a 7 item Hawaiian luau though! Ox-Bow tends to feel like autopilot for me these days. I ate at a bunch of new places in the city, many of which are actually quite old- but in far flung corners of the city I hadn't got to yet- like Vito & Nick's, a classic south side pizza tavern serving up super unique crispy thin crust pizza with caramelized cheese around the edges. I was also reunited with the Italian Beef at Pop's, a sandwich I ate countless times in my youth. It's all about their "hot mix" a fresh shaven, dead simple take on giardiniera. I figured out their recipe, which we featured on our house made Italian beef that we sold on E-Dogz this fall. I also took the name, Hot Mix for my fall- long project that was (mostly) based at the Hyde Park Art Center. Tom and I served up some pretty damn fine sandwiches during our stay there, some obscure Chicago traditions like the Freddie- a sausage patty sandwich covered in red sauce, melted mozz, and grilled peppers and others mongrelized mash ups like the spicy Italian banh mi.
I say this every year- most of my favorite food experiences remain constant and I have already covered them in previous top 10s. Last year's #1: collaborative cooking- definitely got that covered in 2012, the cast of characters expanding to include Fereshteh Toosi of Garlic & Greens, Mike Bancroft of Coop, KC's Grill Talk, Ox-Bow's Insectology class, and Plesanthouse. You better believe JZ was there and Sean Starowitz and the Bread KC! crew too, and last but not least, my right hand dude, Tom Harrington representing. Favorite restaurants? Yup, Pleasanthouse and Zaragoza reign supreme. Worth noting though is little Johnny's rise as the executive chef at Masa Azul where in like 4 months he's revamped their menu to critical acclaim- adding the family's signature birria and some surprises like a Baja shrimp taco (which I have never been a fan of until his). And mushroom foraging- during July's drought I came up empty handed and had little hope for the season. The usual cast of characters- oysters and chicken were a bit thin and new species weren't presenting themselves to me, but the hen was off the charts at the end of the summer and I scored the prettiest mushroom I ever have on a camping trip in Wisconsin, a 7 lb. hen! Check out the picture down blog in my 2012 in pictures post. So hey, let's get on with it…
10. Shopsin's
Jessica asked me if I'd ever seen the documentary about this crazy diner cook in New York. I hadn't, nor even heard of it. We were on a bit of a documentary kick this year. It seemed, in particular, that we were watching films about eccentric old school New Yorkers like "Herb & Dorothy" and "Bill Cunningham: New York". I grew up fantasizing about the legends of downtown New York- The Cedar Tavern, The Beats, Warhol and the Velvets- so windows into the worlds of these hip old timers really tickled me. Unfortunately, I have lost my romance with (present day) New York- from the buttoned up pretensions of the art scene to the ironic throwbacky hipster trends. So it's refreshing to be reminded of authentic weird old New York in films like "I Like Killing Flies". Despite being gentrified out of his original shop, Kenny endures- for love of his customers, his family, and his city. In the third iteration of Shopsin's, filthy mouthed Kenny and his ragtag clan have settled their greasy, clattering piles of tchotchkes and equipment into the cute and tidy Essex Street market. The restaurant spills out of a space sandwiched between an artisanal cheese vendor and an experimental art project space (both things I like, hipster or not). So on this year's trip to New York, Jessica had the patience to stand in line for an hour with me to eat at Shopsin's. I was stoked that we were seated right next to the kitchen. I had a pretty good view of Kenny and was mesmerized watching him work his flat top seemingly without utensils- everything seemed to be turned and flipped by his black rubber- gloved hand. And the banter between he and his sons was loud and clear- Kenny teasing one of them about how "his girl had done so much DMT that she couldn't even drink a beer without flipping out now". The infamous menu was nearly impossible to navigate- how to zero in on one item out of the 900- but I'd been studying it online all day, so I'd narrowed my choices down to a handful. The food was excellent- with a flight later I didn't want to go full- on- gut- bomb, so I chose something on the "lighter" side- a hero style sandwich overflowing with crisp fried shrimp and even crispier shoestring potatoes dressed in a hit-you-in-the-back–of-the-head hot wasabi mayo. I can't seem to recall the name of the sandwich and in my Googling it appears that this already nebulous menu actually switches up pretty frequently, so no luck on specifics. Anyhow, this lunch made my trip- it was nice to have a little taste of old weird New York.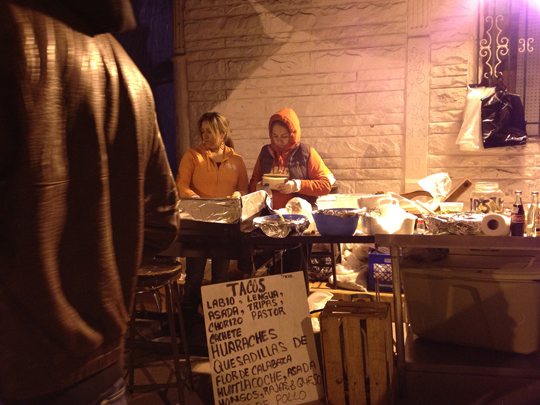 9. Street Food in Pilsen
I was in LA in January and I am always blown away by the abundance of street food in my friend's East LA neighborhoods- and I'm not talking food trucks- I'm talking food being served and prepared on the street- from jury rigged grills to coolers full of tamales. In these neighborhoods it's typically Mexican fare- on my last trip I ate some of the best al pastor I've had in the States from a dude with a charcoal powered trompo set up in a gas station parking lot.
I'll spare you another rant about Chicago's prohibitive health codes in regards to street food, which make our city's al fresco cooking scene totally suck. There's Maxwell Street, the exception to the rule, where out- in- the- open vendors make quesadillas and huaraches by hand in the DF style. From what I understand their licensing is grandfathered into the rules of the market. So, I was surprised to learn from my friends that have been moving en masse to West Pilsen that there is a whole scene of (usually late night) taqueros that set up their grills on residential corners of their neighborhood. I've still got a lot of work to do- I've only hit up two- both around Cermak and Damen. These set ups are very much like Maxwell St.- typically sheltered by a tarp, with a gas powered grill/ griddle and some hotel pans for holding. Their signage is always up my alley- the more advanced places have fabulously bad photoshopped menus, but usually you'll find nothing more than hand scrawled signs on cardboard. One place even had pre-made examples of what they were serving on display. The food I've sampled ranges from pretty good to pretty great. Quesadillas made by hand at one spot were incredible, especially topped with spoonfulls from tubs of ultra- fiery salsas verde and de arbol. Tacos are hit or miss with this format- pre-cooked meats like lengua get a quick reheat on the grill. The aforementioned quesadilla place gets points for serving different cuts of head meats- cachete (cheek) and labio (lips). It seems to me like asada and pastor just can't be cooked properly in this spartan context, though perhaps there's someone out there with a pastor cone… It warms my heart to know that the good stuff is out there, lurking under a tarp on unexplored corners…
8. Nha Hang Viet Nam
I first ate Vietnamese cuisine in Paris on a trip with my grandmother when I was 11. I mostly remember the fresh spring rolls- I loved how, well, fresh they tasted- packed with fresh herbs. That combined with crunchy shrimp and tangy sweet sauce led me on my way to understanding the virtue of balance in Asian cuisine. This was long before I ever ate Thai food or real deal Chinese (rather than the sweet, gloppy Ameri-Chinese I grew up with). Over the years I have learned to crave a restorative bowl of pho, but until say the past five years, my knowledge of Vietnamese food kind of dead-ended with pho and spring rolls (throw banh mi in there somewhere too). I blame a lot of this on a lack of great Vietnamese cuisine in Chicago. There's Tank Noodle, the gateway to Argyle St. And certainly I acquainted myself with a few other great Viet classics there- banh xeo and their (still my favorite) raw beef salad. I also enjoy their star anise redolent pho broth more than most others in town. You have to admit though, the place is a zoo and can be inconsistent. A brief love affair with Pho Xua was cut short by a change in management and I lament the loss of their bo la lot. But otherwise, I've had much better pho and other dishes in cities abroad such as London, San Francisco, and even Holland Michigan (where I ate my first banh mi, come to think of it). In general, Vietnamese, with its oft-times nuanced, subtle manner, is not a cuisine that I would rank among my top favorites. Usually when I crave the combination of sour, hot, funky, sweet, and herbal I turn to the more assertive flavoring of Thai cuisine.
So surprisingly, my favorite restaurant discovery of the year is a Vietnamese place. I was tipped on to Nha Hang Viet Nam by LTHForum- like countless other out of the way mom and pop places that the site is known for championing. Last winter, a crew of LTHers hit the pavement on Argyle and vicinity to stake out the best bowl of pho in the neighborhood. They found that while Nha Hang Viet Nam perhaps did not serve the best bowl of pho on the strip, it ranked as one of the best based on other dishes and the place itself. It is exactly my kind of spot- family owned and run, who are as sweet as can be. I just love the décor, its all day glo Buddhist kitsch. The crown molding is designed to look like the exterior eaves of a roof, giving the room that indoor/ outdoor courtyard vibe. And this is food that I crave, so much so that I won't hesitate to make a solo trek to Uptown. Tellingly, I haven't even tried the pho, but their other soups shine- the bun mam and bun bo hue in particular- with deeply funky broths fortified by fermented shrimp paste. The bun refers to the noodle- a round, about spaghetti thickness rice noodle. The bun mam has shrimp, catfish, pork belly, and eggplant, while the more boldly spiced (with lemongrass and chilies) bun bo hue has sliced beef, pork on the bone, and pork cake. I've had a few other bowls of bun bo hue over the years, but none stand up to the potency of this one. The garnishes are exquisitely fresh and beautiful. Their salads are noteworthy for their over-sized shrimp crackers for spooning up bites of citrusy, herbaceous duck or rare beef. Clay-pot kho dishes with bitter caramel sauce are unique to Viet cuisine and done right here. Ask about the red crab, which proudly adorns the menu jacket, though is not on the menu itself. These come in addictive piles of spicy, sweet, greasy blue crabs that inspire elbows-on-the-table full on orgiastic nomming.
Nha Hang Viet Nam 1032 W Argyle (773) 878-8895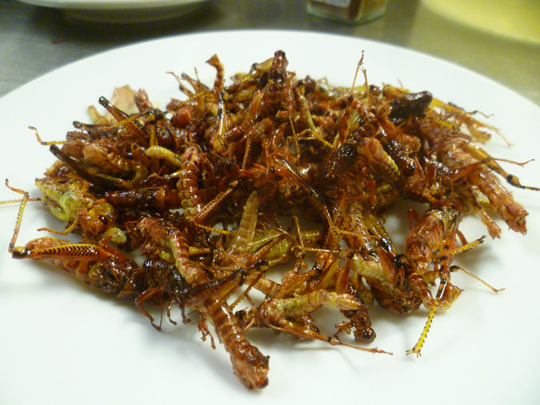 7. Cooking Chapulines
I don't have much to add here that I haven't said on this blog already. As a kid I had a creepy crawly things fixation- I was born to eat bugs. So what better than to catch grasshoppers ourselves in the field and fry em up? And they tasted incredible, like I could seriously eat them on the regular. Shouts to Andy Yang and his Insectology class at Ox-Bow for sparking this collaboration in entomophogy! Science + art + food= tasty good times!
6. All Day Food Tours with Rob, Peter, et al
There's a bit of a sitting-at-the-cool-kids-table factor with this one. What can I say, it's quite an honor to be invited to cruise around to obscure food spots all over gods creation with a crew of my favorite food writers/ thinkers in Chicago. There's a gonzo spirit to these missions- flying around in Rob's road worn Prius- he's chain smoking cigars- a sense of danger awaits- wait, I'm going to have to eat a Freddy, then a mother-in-law, and then a big baby?! These day trips are not all goofing though, they are research missions that yield results for writing pieces like my Hot Mix zine and Julia's Southside Food Tour (also see #5 below). Mostly, its just nice to have new friends that go this full- on about food- debating the differences of sesame and perilla, discovering imitation mare's milk at a Russian deli in Mundelein, getting schooled on the true origins of the Tom-Tom Tamale. My apologies to Jessica for not being hungry for dinner after I hang out with the boys…
5. The 'Burbs
So, I'm biting Mike Sula on this one, who published a dandy guide to eating in the suburbs for the Reader back in the spring. (I was lucky enough to join one of the research trips mentioned above in #6). I don't argue with the man and he is really on to something by revealing the culinary abundance waiting to be discovered in regions that we city dwellers typically save for dismissal and ridicule.
I grew up in the 'burbs, surrounded mostly by other white kids like me. I had access to other cultures though- our nextdoor neighbors were Greek and welcomed my family to many of their celebrations. My best friend was from Poland and his mother was a tremendous cook. My sister and I had Korean, Filipino, and Indian friends and occasionally we'd be lucky enough to join their holiday parties to sample new treats like lumpia or samosas.
A life in the suburbs still represents the ideal of the American dream to many, regardless if folks like my parents are too hip to live there nowadays (they moved to the city six years ago). New populations are always taking root and bringing their cultural traditions with them. The area I grew up in, the Southwest suburbs, is now home to the largest Arabic speaking population in Metropolitan Chicago and if you take a ride down Harlem through Bridgeview, Worth, and Palos Heights you'll see plenty of signage for Arabic owned businesses. The diner formerly know as the Sandpiper- where we used to smoke cigarettes and drink coffee in high school- now houses, in my estimation, the area's finest Middle Eastern restaurant, Al Mawal. One bite of their muthawama, an aioli like spread related to toum, and you'll understand what I'm saying, pure ambrosia. Everything I've eaten there is perfection, from light and crisp kibbeh to deeply spiced and caramelized chicken shawerma. Looking to the west suburbs you find strip malls filled with Indian and Chinese grocers and restaurants, a long time foodie favorite is Katy's Dumpling House in Westmont for their hand pulled noodles in fiery broths and handmade dumplings. Hop off the Kennedy on Dempster and you'll find a plethora of Korean eateries specializing in particular dishes, like jeuk suk yum so bokkeum- goat hotpot- at Chun Ju in Morton Grove or my favorite Cho Jung in Glenview for pajeon- scallion pancake and various Korean stews like soon dubu- tofu and seafood stew. On my trip to LA this year, most of our food adventures took us out to the burbs, areas such as the San Gabriel Valley for its Northern Chinese cuisines. Most notable was a spot called Shen Yang, recommended to me by LTHer TonyC where we attacked piles of chicken bone with cumin, which were literally piles of deep fried bones, which you gnawed at to get at bits of hidden gems of remaining meat. I also ate one of the more challenging meals of my life at Japanese izakaya restaurant, Torihei in Torrance where I met my match in a bowl of fermented squid guts. Fortunately, the chicken skin yakitori was a great palette cleanser. In Torrance I also spotted an outpost of Mitsuwa Marketplace, which along with our local Arlington Heights location is a one- stop shop for all things Japanese. Mitsuwa is also the home to Chicago's best (only good?) bowl of ramen at the Santouka franchise in their food court, the best reason I can think of for braving 294 to shop at nearby IKEA! Bomb the suburbs? Nah, wouldn't want to live there again, but willing to drive there for the food!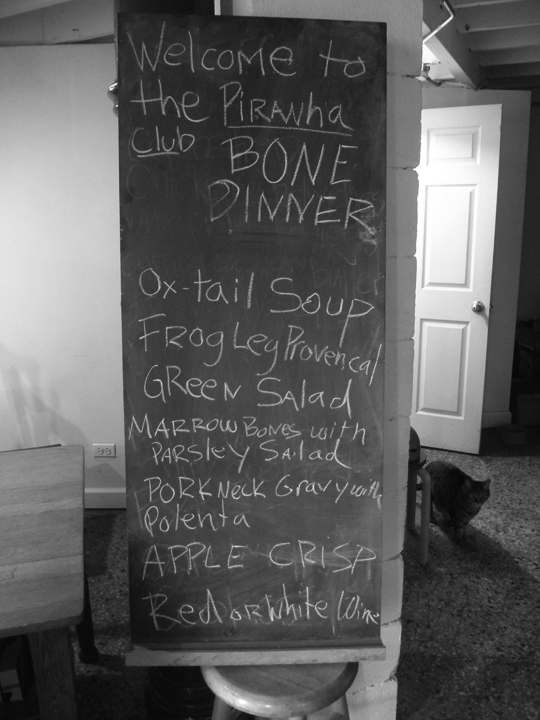 4. The Bone Dinner
There was this big food art show this year at the Smart Museum at U of C, Feast: Radical Hospitality in Contemporary Art. Unfortunately, I did not find it to be so radical- it fell pretty short of my expectations. The first half of the show was more or less an academic survey of ephemera from a few key projects of the avant garde centered around food, which I actually thought was pretty cool. What was unsuccessful about the show was the flattening of, in the museum context, living, breathing contemporary projects that are meant to exist in the world and engage audiences in participatory activities. So, for one reason or another my work was not on the curator's radar (I a'int mad). But I did feel like I should take the opportunity to engage with the show in one way or another. E-Dogz was invited in May to vend food for their symposium and it was nice of them to throw a bone my way. I also spent a lovely afternoon giving a guided tour of the show to friends from LTHForum. The project that I am most proud of, though, is re-doing Gordon Matta-Clark's famous Bone Dinner, the most well documented happening at his and Carole Gooden's restaurant FOOD of the early 70's. Most of us food art dorks worship this project. I do- I love that it was never framed as art- opening the space came out of the necessity to help nourish and employ a community of friends in Soho, which at the time was a dreary ghetto devoid of services. So it was a project about community and possibilities and to this day feels very uncontaminated by theory and academia.
The dinner was scheduled during the opening weekend of Feast and was the inaugural event of my collaborative supper club project, the Piranha Club. You can find the full report of the evening, for which I collaborated with my homies from Bread KC, elsewhere on this blog. It was a real pleasure to redo this menu and pay homage to this project that has so influenced many of us- the design of R & C, with our open kitchen, was in no small part designed with FOOD in mind. It was an honor that my dear friend Lori Waxman was in the house that night, herself a scholar on Matta-Clark and FOOD in particular. And we were all stunned when Sean realized that we were, in fact, re-enacting the bone dinner 40 years later just a few days short on the exact anniversary, reviving its legacy. Here's to you, Gordon!
3. When an Art Project Starts to Feel Like a Real Job
When I talk about my work, I often address the difference between art and everyday life. I usually try to get myself off the hook by saying "in real life there is a greater responsibility- if I ran a restaurant people would depend on me keeping regular hours and a regular menu. By calling it art I can navigate things on my own terms." Dilettante-ish, yes- I love to cook, hell even love to serve people, but I don't have the salt to put in the sweat and hours to work in the industry. On the other hand, could I day in day out sell pigeon pies and Flamin Hot Cheetos mac and cheese squares? The everyday sale-to-sale economy just isn't flexible like the big check art economy. However, this fall I found myself in a precarious (and excuse me, somewhat duplicitous) situation. Firstly, I was out of work- with no class to teach in the fall. And I was accepted into a three-month long group show at the Hyde Park Art Center with E-Dogz as the central piece of my inclusion in the exhibition. I originally planned to host monthly, likely free, events at the Art Center, but saw the opportunity to test out running E-Dogz as a regular business model. So Tom and I worked the trailer three days a week and while sales were modest to sparse, it kept our wallets reasonably full. However, there was so much more about the experience of running a day to day business that was valuable- we formed relationships with a customer base. I had never spent much time in Hyde Park and it was a pleasure to develop rapport with the local folks- from the always- hungry doorman at the nearby apartment complex to the Swedish professor who we served his first (and several subsequent) Chicago dogs, and the Italian beef loving mom with her kids with big appetites for dogs and surprisingly meeting and serving my buddy Dan Wang's sister, and last but certainly not least, my buddy Chris Hammes, the preparator at the Art Center who eagerly tried every single one of our specials. We've run a few profit- focused events since, like MDW Fair, where we happily lined our pockets selling 100's of dogs. But there's more to everyday life than cash flow, it's about interaction, feeding friendly faces.
2. Kansas City
Kansas City definitely holds a place in the collective heart of foodie culture- BBQ of course, Stroud's fried chicken, Town Topic-unfussy, working people chow that reflects the South with its feet planted firmly in the Midwest. I took an epic trip down there with E-Dogz in April to launch my Midwestern BBQ Migration Project. I didn't exactly have time to dine out much- sure, we had some succulent burnt ends at LC's and standout tacos al pastor at Camino Real, but I was there to work. And the resounding part of that experience was that I immediately found myself in the center of the food universe down there. And I have Sean Starowitz, Andy Erdrich, and Erin Olm-Shipman to thank for introducing me into this welcoming, cross disciplinary scene. Sean and I have collaborated many times on my home turf at this point, so it was a real pleasure to be invited to participate in the Speakeasy project curated by Bread KC! These guys run a very ambitious and successful Sunday Soup program, which raises micro-grants for various cultural projects. They come from art backgrounds and like myself, navigate the economy of the art world to platform their projects, such as Speakeasy, which straddle disciplines. Even before I met Sean I was aware that the various scenes of Kansas City seem really to be open to this kind of activity. I've long been a fan of glam art band the Ssion and public-access-gone-wild performance group Whoop De Doo- projects which I think very successfully engage public audiences with broader art practices. Sean and Co., similarly, magnetize audiences and collaborators, though in their case, engaging the culinary realm. For my project I was hoping to cook with some folks that knew a thing or two about Kansas City BBQ- Sean knew precisely the guys- Grill Talk. These dudes were just serious enough about their craft- they are regular competitors in KC BBQ Society smoke offs- but are in it for the fun of it and over afternoon beers I found them to be kindred spirits. Turns out Sean met Grill Talk major domo, Billy Emerson, at a bar and they have since worked together frequently on events. Bread KC! Introduced me to other friends of their project as well. Sean worked for awhile on Port Fonda, a forward thinking, Mexican- food- serving Airstream trailer with an aspiring chef, Max Watson. It was a good thing Max was in the house during our event, because when I was in the weeds on the trailer, he jumped right in and saved my ass. Throughout the trip, we checked in at the Rieger Hotel, a newish, hip and laid back fine dining spot set in a 1915 hotel with an ambitious menu helmed by chef Howard Hanna. They host and help cook for Bread events and what struck me the most about the place was the conviviality of the staff, watching the cooks do the dance from the chef's counter was a joy. So it was a true honor when Howard showed up at Speakeasy after his shift to try our BBQ. I dream of an integrated art and food scene like this for Chicago.
1. My Farmers
Firstly, I'd like to say that my farmers are folks that I have always had the utmost respect for. They are custodians of the earth, providers to all, and work harder than anyone. The Visser family- who I buy 80% of our produce from at the Holland Farmer's Market- wake up at 2 am! to pack up to head to market. My lazybones gets cranky if I have to wake up before 8 am. Have you ever shaken a farmer's hand? Not only are they roughhewn from toiling the fields but, man, are they big! Even my friend Travis from Eater's Guild farms, who's got to be at least five years younger than I am, has these massive gnarled paws. What I respect the most though, is the farmer's keen interconnection with nature- a deep, intuitive understanding of their plants, their animals, the soil, the sun, and the weather…
This year was really weird. At first, I loved the balmy summery days in March. And then, riding around the city on my bike one day, it hit me when I saw cherry trees in full bloom- like two months too early, uh oh. And while these ornamental cherry trees are not relied upon for their fruit, it occurred to me that productive fruit bearing cherry trees in Michigan might be blooming too. And then the frosts came back and I knew we were fucked. There were no flowers left on the trees by my birthday on May 8th, which is when flowers should be getting pollinated to bear summer fruits. Western Michigan is an abundant producer of tree fruit, which is one very lovely reason why it's a pleasure to cook in the area. The moderating effects of Lake Michigan provide temperate climates for these crops and Michigan is second only to California in agricultural production. The Luetzinger family, who supply us with cherries and peaches- and that's what they grow, tree fruit- had a devastating year. A 20% cherry yield and a 40% peach yield. That is a terribly rough bottom line. Despite it all, the ever cheery and delightful Maggie, the matriarch of the family, dutifully showed up to market with their diminished offerings every week. I was more than happy to pay Maggie $8/ lb. for cherries. But the smaller, newer producers were nowhere to be seen. Two vendors that have made these top 10 lists did not show up to market at all this year, both specialists in heirloom varietals- Blue Sky Farms and Cosgrove Orchards. The out of whack spring was only the first problem my farmers faced- the heat and the drought of the summer brutalized crops. It did not rain in July and we had record breaking days upon end in the 100s. Eater's Guild, an organic farm/ coop run by kindred spirits, Lee and Lori Arboreal, specialize in leafy greens- delicate crops- were unable to fill my orders. Their chicken business run by big pawed Travis fortunately kept my business going with them. Even the big guys like the Vissers had a tough go of things. Phil recounted to me how his reservoirs had dried up and a life long neighbor who had always been more than happy to give them access to their pond in dry times asked him to "name his price". Corn was stunted and tasted like cardboard, but I bought it. It was really hard to see my friends fall under such hard times. I was happy to support them through these strange days of changing climates. I really hope not, but this seems to be the direction the weather is taking. Its affecting everything- the price and the quality of product for the consumer and the wellbeing and livelihood of the farmers, the workers of the land, who nourish us all.