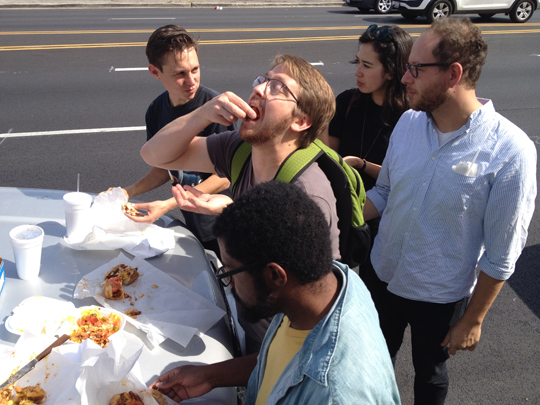 Truth be told, I eat a lot of chicken salads. How else do you think I keep my girlish figure after those all day food tours of far flung neighborhoods eating Jim Shoe after Jim Shoe? That's the thing about year end lists, they tend to focus on the thrills rather than the day-to-day. I like to see these lists as a way to look back at my year and see what I've learned, overall patterns in taste and culture. Of course, I'll cover a few indulgences– great things I ate at a new restaurant or two and fun new drinks I got into. But hopefully you'll get a snapshot of how I view the world through a food lens.
10. Session IPAs
Not to get on an aging rant, but I just can't deal anymore with the wallop hangover dealt by a six pack of Bell's Two Hearted Ale (my favorite IPA). A few years ago I would have scoffed at the thought of an IPA with an ABV lower than 6 percent– I'd actually had one out in Salt Lake City where the state's arcane liquor laws prohibit beers over 3.2 percent in most establishments. Needless to say, that beer was thin and one dimensional. A lot of my brewer buds have been singing the merits of "session beers" that are easy to drink in bulk, but most of those guys were talking about sour ales, a style that is often low in alcohol to begin with. Call me behind-the-times, but I still like the hops, so with some skepticism I approached these new lower alcohol brews like Lagunitas Day Time and Founder's All Day IPA. Fortunately these beers were much more flavorful than my experience in Utah. My favorite is probably Stone Brewing's Go To IPA, which employs a technique called "hop-bursting" bulks up on the finishing hops which results in a citrusy character with a piney finish, great stuff. I definitely most frequently drink the Founder's All Day, which at about $17 for a 15 pack of cans is easy on the wallet, as well as the waistline and the next day. This is the light beer for the craft beer generation– 70 less calories per 12 oz. serving than my 2 Hearted. Even though these beers are designed to drink more of, I actually don't. They're flavorful enough to sustain my interest without chugging.
9. The Gene & Jude's, Johnnie's 1-2 Punch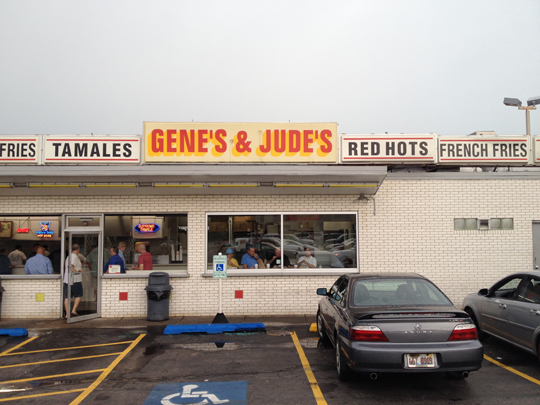 There is no greater Chicago street food twofer than hitting up these two old-school-as-all-get-out stands in the near west burbs. Oddly it took me until this year to get to the celebrated Gene & Judes. And, the one time I hit up Johnnies a few years back, I'd not quite ordered to the best of their strengths. Leave it to the august Rob "PIGMON" Lopata to point me in the direction of this little jaunt up Grand. Of course, coming with the territory of classic proletariat eats, allegiances and preferences are fierce for both Chicago dogs and Italian beefs. I grew up on the southwest side and for dogs, my archetype was set by my old man and his favorite red hots at Snyder's in Beverley, who adhered to the dragged-through-the-garden/ Vienna Beef/ Fluky's/ depression sandwich format that is more widely observed. The history of this stuff gets murky as do definitions, as there is another rendition of the Chi dog, a minimalist version if you will, that I have actually come to prefer: regular hot dog bun, natural casing beef frank, mustard, neon relish (not for me), onion, sport pepper, period. This is the style that Gene & Jude's serves, though I would argue that the superb hand cut fries become another topping on the sandwich as they are tightly packed with the dog and compulsory with every hotdog ordered. A few stray fries seem to always nestle into the hotdog (the pros will add a few fries regardless) and I also love how the fries pick up the perfume of the mustard and onions. It's a sum of its parts and G&J's nails it. What gets me about the place is that no matter when, 24-7, you will receive a perfect dog. At other spots, even previous favorites, if you hit them at the wrong time of day you might get a graying, waterlogged, or mushy dog. But G&J's is so popular, nothing sits around, ever. Dating back to 1950 (they started at Polk & Western 4 years earlier), the place is bare bones, I love the old school signage and the no nonsense service. It's in and out here, folks.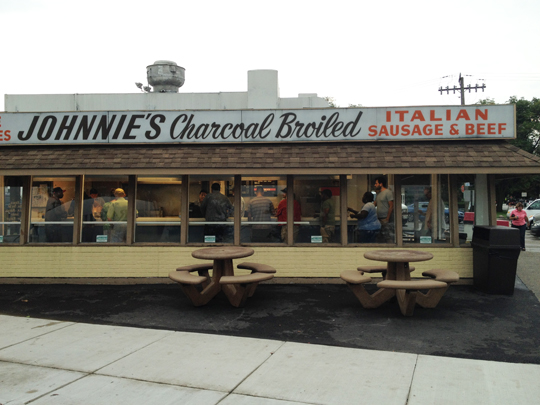 Then on down River Road to our next stop: Johnnie's, which is similarly always crowded, free of frills, and preserved in amber. Their Italian beef is very good, but I don't love their giardiniera and with such few components to this elemental sandwich, it can be a make or break deal for a beef. But you don't eat at Johnnie's for the giardiniera. (As an aside, they probably serve the tastiest sweet peppers in town, which are chopped and seasoned.) You eat at Johnnie's for their Italian sausage, which they grill over live charcoal. It comes out smoky, garlicky, and very juicy. Might as well throw that in the middle of an Italian beef sandwich, for a combo, and you've got one of the best, essential sandwiches in Chicagoland. You've just treated yourself to Chicago's finest and should probably take your lipitor.
8. Cortez Mullet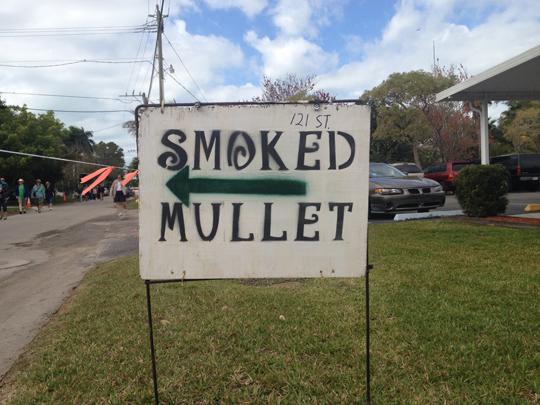 The oceans seem to be dying. There are many environmental factors, but irresponsible fishing practices are a major issue for many fish species. Imperatively, we must look at sustainable alternatives to overfishing, which will require us to make sacrifices and look at other types of fish ~if any at all~ to help turn this impending crisis around. You know I'm a champion of finding the nutritious and delicious in undesirable sources. Ever eat mullet before? They're a bit lean and a bit bony, but abundant, fished sustainably (in the gulf of Mexico), and enjoyed since Roman times. I hadn't thought too much about mullet until I read last year's top ten list by John T. Edge, the director of the Southern Foodways Alliance and one of my favorite food writers. What caught my eye was not mullet as an ingredient specifically, but the location where he discovered it. A pizza shop in Cortez, Florida was serving a grilled Caesar salad with mullet roe. My parents winter in Anna Maria Island Florida, a sundrenched place of infinite oceanic views with a fairly redundant food scene. I like a grouper reuben as much as the next guy, but after night five, you crave stuff like, well, pizza.
The story doesn't stop with Village Idiot Pizza. After a bit of Googling, I discovered a piece in the New York Times about a cool dude named Seth Cripe, who supplies Village Idiot Pizza with their mullet roe. Mr. Cripe salts and sun dries the roe sacs, producing a product called bottarga, which you might know as an Italian delicacy, typically used sparingly as a garnish due to its intense flavor and high price tag. Mullet is the primary catch in the fishing town of Cortez, which is just east of my parents place, where we frequent fish shacks for not-so-local grouper and cheap beers. I got to try that salad at Village Idiot and it was fantastic, the bottarga subbing not only the brininess of traditional anchovy, but also the cheesiness of the parmesan.
Little did I know my mullet quest had just begun? We also happened to be in town the weekend of the Cortez Mullet Festival. This event looked like a typical flea market/ country fair type of event, with cheap crafts for sale, expensive shitty drinks, and a fairly decent variety of food vendors both local and from the big city, Sarasota. We had a few bites of decent food, but I needed to know where the mullet was at, finding it strange that the namesake fish was sorta underrepresented. Not wiling to throw in the towel, my unstoppable appetite led me to the mullet culture. Fairly central to the fest, I had misinterpreted a couple of extra wide smoker rigs for a BBQ set up. These old dudes were stoking the wood fire and dutifully manning their smoker. Once I started poking around with my camera phone they waved me over to check out the rows of small golden, butterflied fish enveloped in the caress of smoke. Awesome. I ordered a whole one. It was smoky, oily, and assertive, drizzled with a mild BBQ type sauce. Hell, why can't fish be BBQ, because that's exactly what was going down. Next, I strolled over to the pier and found a group of mullet fishermen engaging with the crowd about their work and hawking what was called a "Cortez hotdog", a corn meal encrusted, perfectly fried skinny filet of mullet on a cheap bun with tartar sauce and a scattering of diced onion. A delicious lesson in making due with what you've got.
7. – American Cuisine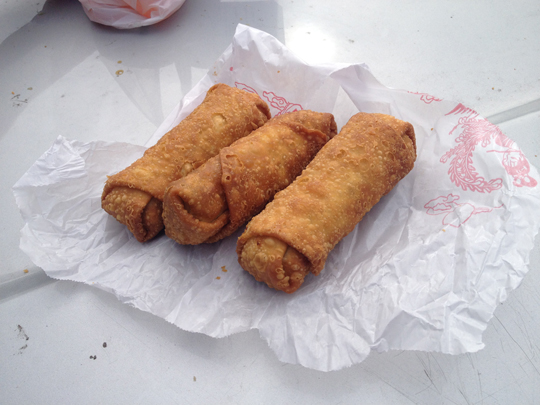 I'm an advocate for a culinary reconsideration of the low brow, hyphenated American cuisines: ethnic cooking traditions catered towards American palates and ingredients that began to proliferate in the second half of the 20th century. Mexican-American, Chinese-American, and Italian-American. A few years back I wrote a treatise on my love for the Mexican-American fare of my childhood and then joined forces with Chef Jonathan Zaragoza to re-imagine classics like queso, burritos suizos, and crispy tacos. This year I reacquainted myself with red sauce Italian as night after night of binge-watching the Soprano's, I craved baked ziti (or mostaccioli, pronounced musk-a-cho-lee where I come from). These types of recipes and the restaurants that serve them have been abuzz in the food underground this year. My bud Rob Lopata dragged us around for a tour of old school Cantonese egg rolls in his native northwest suburbs this fall and the concept took off in an exponential way on LTHForum. The ever intrepid, Titus Ruscitti, has been archiving the best deep fried tacos (and all other sorts of tacos at that) around the Midwest on his blog, Chicago Taco Tour. While it might take some time for egg foo young, chimichangas, and lasagna to capture the restaurant world's imagination, it seems like a logical extension of the American/ comfort/ fast food trend of the past decade. You can't deny that this food scratches a nostalgic itch and is deeply satisfying in a rib-sticking, big calorie American eating type of way. And screw the authenticity hang up, this is legitimate cuisine born of cultural cross pollination. Its big, bold, and, beautiful, blanketed in bubbling cheese.
6. Beef Noodle Soup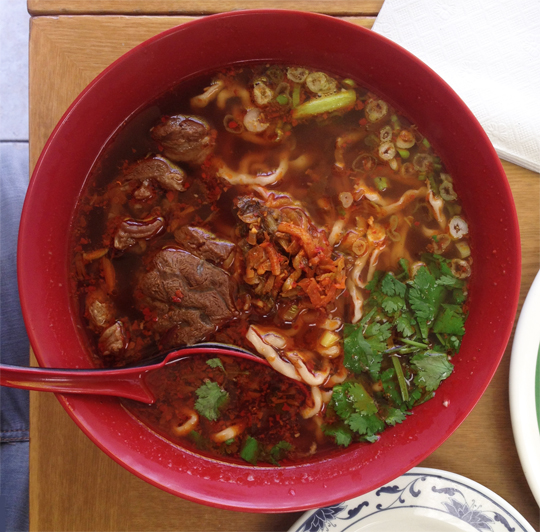 I'm sick of ramen. Not just the hype, but the soup itself. Sure, it is an intricate art form, broths simmered at a tedious pace, noodles perfectly cut into uniform ribbons. I like the stuff, but I get exhausted by its fatty broth and doubly heavy additions of pork belly and egg. Pho, while not quite as dorked over, has a pretty cultish following too. I prefer its nuanced, lightly spice broth and super bright and fresh herbal garnishes to ramen, but the damned rice noodles get all soggy and seem to be a pretty low rent ingredient to begin with. Enter my new favorite one meal Asian noodle soup– Chinese beef noodle soup, or niu rou mian. Created by the Muslim Hui people in the Tang Dynasty, its modern recipe was perfected in Taiwan where it remains the national dish. The basic formula is a deep beef broth seasoned with spices such as star anise and ginger; tender braised cuts of beef, either shank or brisket; greens such as bok choy or spinach; and requisitely hand pulled wheat noodles. Some versions are topped with piquant pickled cabbage and most versions I've sampled are finished with chile paste, common to Northern China. If you're reading this from Chicago, a good reason why you've probably never had (or enjoyed) this soup is because there isn't a good version in the city proper. The short-lived Sing's Noodles in Chinatown delivered on the chewy, pulled fresh noodles, but fell short on a thin broth. You've gotta head west to the burbs to Katy's Dumpling House– the original dingy storefront in Westmont is your best bet, but there's another outpost in off-the-Green-line Oak Park. They are masters at all things dough– sturdy noodles, chewy pancakes, and tensile dumpling skins. I can't veer from the beef noodle soup, though, my favorite one meal soup in the metropolitan area with its fragrant and fiery broth, tart pickle, and supple beef slices. I know there are superior versions– I've had better at a hole in the wall noodle-and-dumpling spot in Manhattan's Lower East Side Chinatown called Super Taste. Recently I struck out making a pilgrimage to a highly recommended bowl in suburban Toronto, showing up on their closed Tuesday. We had an unremarkable, yet satisfying bowl next door at another shop. Until I get to Taiwan or niu rou mian fever catches on, I'm enjoying whatever bowl I can get my hands on!
5. Analogue
Analogue is a spot that seems to be about three dudes doing them. Its not high concept, hell on paper the formula might seem incongruous: fancy cocktails + New Orleans cuisine + DJs. These guys kinda fearlessly opened a place where they and their friends would like to hang every night. And that's the immediate charm of Analogue, its low key. The room is, for sure, urban cool, but not overly designed, the space recedes into an ambient chill. Friends from all walks of life feel comfy there– foodies, artists, and industry folks alike. And you can always get out of there stuffed, with a buzz on for around $50 per person. But, okay okay, I'm not getting to my main point. The food here was some of the best things I ate all year and we have Chef Alfredo Noguiera to thank for this. I know Fredo through my good buddy Danny Z and we've developed good rapport over the years– I'd count him a kindred spirit in terms of ideas about good eating. I'd always felt like a heel for not checking out Fredo's previous spot at the seasonal bakery cum café, Flipside that operated in the winter months in a Humboldt Park Italian Ice shack. I did not make the same mistake with Analogue. At this point, I just have to have Fredo's stuff if I let a month or two slide by. There's no pretense to his cooking, its unrestrained, bold, and full of soul. I have loved every single bite I've eaten there: silky smoked whitefish dip served with Zesta saltines (did I mention unpretentious) with piquant house hot sauce; biscuits to beat the finest pastry; luscious charcuterie; 2X crunchy chicken sandwich; all-pigs-go-to-heaven cochon au lait po boy; tender smoky greens; juicy, juicy BBQ shrimp; the best fried chicken outside my own kitchen (Tuesdays only, get there early).
Hold up, hold my phone! I a'int done with the hyperbole. One of my very favorite things I ate all year was Fredo's gumbo, dark as delta mud, yet light on the lips. This shit is educational– turns out that the starches in flour break down as you toast them, so a roux the color of dark chocolate does not have the same thickening abilities as a light roux. I always likened the gumbo experience to eating a big bowl of gravy. Well I don't look at it like this no more and when I make gumbo at home now I go dark. Fredo's roux gives the stuff a pleasant tobacco-like toasty depth. Built from the broth up, it starts with a very rich canvas to which you might find sensational proteins like duck and house made andouille sausage. Danny Z had been swearing to me for years that the potato salad Fredo scoops into his gumbo beats the more orthodox rice. He was right for a change, the creamy cool– but yes, bacon studded– salad makes the perfect foil to the deep savory soul of the bowl. My #1 favorite dish of the year is Fredo's dirty rice, which I believe is described on the menu as "seriously filthy". A'int no lie– chock full of the nasty chicken bitsand ground pork, this stuff is funky, rich, and salty, Get some hot sauce up in there and we're talking cash money. I didn't think my favorite restaurant of the year would be a cocktail bar in Logan Square, but the laid back cool and unapologetic stuntin in the kitchen at Analogue would fit right in New Orleans.
4. Virtue Cider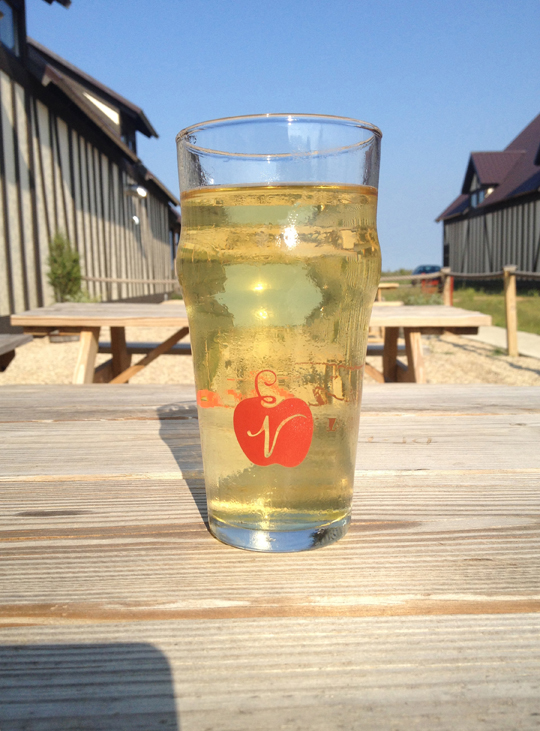 I got hip to dry cider in Basque Country a year ago and a whole world of flavor opened up to me. Conveniently, there is a cider producer about 10 miles away from Ox-Bow, in picturesque Fennville, Michigan called Virtue, which opened up a few years ago by former Goose Island head brewer, Greg Hall. This past year they opened up a tasting room at their farm and bottle shop. On a lark I stopped in on a rainy day off as I happened to be driving around the area. And so began the love affair. The place has a great vibe– the tap room is small, but cozy and the boys at the counter and their gregarious kitty, Pippin make great company for an afternoon of imbibing. I love whiling away the afternoon on their picnic tables with unobstructed sunshine and breezy views of the orchards as a back drop. With a cold, crisp pint of cider, this is my happy place.
I've tried all their varietals, at least the ones available through the end of the summer. Its seasonal stuff, obviously dictated by the apple harvest, so new vintages hit the shelves late fall. Summer is quiet time for them as the fruit matures on the tree and the last year's offerings alchemically mature in the bottle. They're not all to my taste, I find the flagship Red Streak a bit one dimensional, the Basque style Sidra de Nava lands on the vinegary end of kombucha, and their top selling "The Mitten" is too sweet for me (though barely sweet compared to the crap I drank in college, I've been trained well). First, I loved Cidre Nouveau, which drinks like champagne. This makes sense, since it is a French style and like Beaujolais nouveau, employs the youngest mature fruit early in the season. I then graduated to Ledbury, which still might be my favorite– a medium English style, which is a bit less dry with a rounded juiciness and a pleasant light funkiness from the wild yeast they use to ferment it. This cider is super apple-y as is my other fave, Lapinette, a Norman style cider aged in oak barrels. This one is a bit on the assertive side with a pronounced unfiltered funk. Virtue sources local apples, which is part of the huge appeal. The Western coast of Michigan is known as a fruit belt and one of the country's top producers of tree fruit. It makes perfect sense that this region should host the best cider making in the country. Virtue elevates the best of the region by applying hand crafted, old school techniques to the local bounty.
3. Asian Street Food Comes to Chicago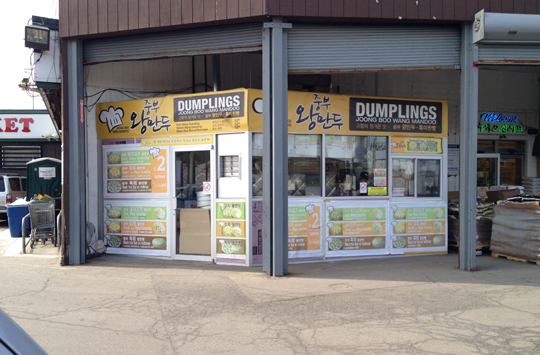 A few years ago I wrote about the emerging (and dubiously legal) Mexican street food scene in the West Pilsen & Little Village neighborhoods. You can still find tacos de cabeza or huaraches hecho a mano if you poke around at the right times of day on the right street corners, but these spots are (understandably) illusive. ~Insert rant about Chicago's convoluted, systemically inaccessible, and expensive rules and regs about street food licensing here~ The battle for a legitimate street food scene in Chicago, in my eyes, is lost. So it was with great surprise and delight that I started to discover East Asian street foods in unexpected places around town this year. I've been following the somewhat marginal, half empty food court in the Richland Center on the far east side of Chinatown for a few years now. The sprawling menu at stalwart, Snack Planet is pretty hit or miss, though reliable for plastic-clam-shelled cold Northern Chinese appetizers. Fast forward to early 2014 and some very promising developments have been popping up down there and with them, an invigorated customer base. The first, and my favorite opening down there this year was Lao Pi, which I was tipped off to by a tweet of a pic of a translated menu by the Trib's Kevin Pang. They specialize in skewers grilled-to-order over live charcoal, a Muslim Northern Chinese tradition. Heavy on proteins, they offer lamb, beef short rib, chicken wings, whole pomfret fish, and a smattering of offal. Veggie friendly options include pizza-dough-like mantou, tofu skin, and long mild chiles. It seems as though the seasoning sprinkled on the skewers is consistent for each type of skewer– an aggressively aromatic mix of cumin, chile, and sesame. The lamb are my favorite and highly addictive, I find reason to pop down there for one or two whenever I'm nearby. A recently opened stall right next door to them seems to be stealing much of their opening buzz with hand-rolled to order dumplings. In my one- off experience, the boiled dumplings were somewhat bland, but comfortingly satisfying.
So clearly, the indoor food mall concept fits within the city's codes. I was tipped off in March about the "pork burgers" served at a food stall in the similarly named Richwell Market. This place is owned and staffed by a very sweet woman who explained to me that there's been a recent wave of Northern Chinese businessmen moving to Chicago and that many of them are unmarried and look for food from back home that they can carry out or eat at a restaurant. Considering the recent openings of two Dongbei restaurants in Bridgeport, the Northern-leaning offerings at Richland, her stall, and the opening of Xi'an Cuisine in Chinatown, this all makes sense. Her pork burger, a five spice-y shredded pulled-pork-like affair served in a split crunchy-on-the-outside flatbread scattered with sesame seeds, very much resembles the burgers from the famed Xi'an Famous Foods in New York. She also offers cold to-go appetizers such as my favorite, chile-oil dressed, pliant slices of pig ear, five spiced peanuts and tofu, cold noodles, all sorts of guts, and great big old joints, knuckles, and trotters of red braised pork. While we're talking Northern Chinese burgers, although the place is a proper brick and mortar sit down, Xi'an Cuisine in Chinatown, with its limited menu, offers many of these dishes at similarly rock bottom prices. Fantastic lamb and cumin flatbreads cost $3, coupled with a refreshingly tart salad-like dish of thinly sliced celery and springy tofu skins for $2 makes my new favorite $5 lunch in the city.
A bigger surprise was the appearance of an open air food stand in the parking lot of Joong Boo Market, which needs little introduction to many as the city's premier Korean grocery store (which also has a small food stall in the back). This stand specializes in one thing, wang mandoo– pillow-y, yeasty steamed dumplings not unlike Chinese pork buns. I have eaten probably a dozen of these things by now, making special trips up the Kennedy (and subsequently cooking a lot more Korean lunches at home these days). They offer three fillings– sweet black bean, pork, and kimchi pork, the last of which I have not yet deviated from. So satisfyingly peppery, textural from cellophane noodles, and savory, this is my favorite, filling breakfast in town for $2. Cheap food, on the go, just the way it should be.
2. Midwest Melting Pot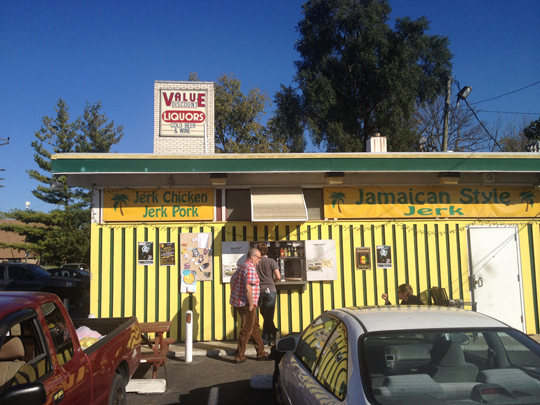 I did not travel very far this year besides a few trips to visit friends and family. I filled in the gaps with a couple of day and overnight trips to nearby cities with some of my buds. Clearly, Chicago has one of the best food scenes in the world. But as I get around the cities of the greater Midwest, I am increasingly stoked to eat amazingly across the board no matter where I am. I mean, you can get a decent bowl of bun cha in tiny Holland Michigan at a pool hall attached to a grocer that sells durian and frozen giant water bugs. I know that dining-wise, fancy chefs are opening up spots in flyovers across the country, but you know me, I'm looking for the homespun traditions and the cuisines of recently transplanted cultures, the down home and the cheap. I've done Detroit a few times in the past few years. You've got the classic, working class chow of the Coney's, sliders, and Mike's ham place. Travel into the burbs to Dearborn and you'll find the country's largest Middle Eastern population with the bakeries and kebab shops to prove it. The little hamlet of Hamtramck, nestled inside the city's borders is a patchwork of immigrant populations as disparate as Polish and Bangladeshi.
Milwaukee, just an hour and a half north up the lake has a killer food scene. Of course there's the brats, tavern style thin crust pizzas, and butter burgers, but also old school Jewish deli. Jake's on North Division is almost sixty years old and has remained a stalwart of the neighborhood offering stacked hand cut corned beef sandwiches to the shifting populations of the neighborhood. Just up the street at another corned beef spot, House of Corned Beef you can taste the old world cohabitating with the new in a Jim Shoe sandwich, overflowing with hand cut corned beef, Italian beef, and gyros. Did you know Milwaukee has a Southeast Asian Hmong population? There's a grocery store called Phongsavan to prove it where you can buy frozen beef bile, dragonfruit, black chickens, and locally produced Hmong bacon. After shopping, take a load off at their food court and enjoy freshly pounded papaya salad in your choice of styles: Lao, Hmong, or Thai with a side of salty Hmong sausage. My favorite spot in the Milwaukee area has got to be Ono Kine Grinz in Wauwatosa, which is proudly gay owned and serves the native Hawaiian cuisine of one of the owners. His mom does the cooking in the back of this very charming (if not somewhat cluttered with tchotchkes) converted house turning out soul and belly filling plate lunches piled with kahlua pork, mango chicken, yes more corned beef, and poke with sides of macaroni salad, purple rice, and kimchi.
I had the pleasure of joining Matt Zatkoff for a tour of his hometown of Indianapolis, which also, very surprisingly offered an incredible range of grub. There's stuff you'd expect to find in the Midwest, like southern style barbecue at Hank's Smoked Briskets, deli, you bet, at Shapiro's, old school German at the Rathskeller. But there are also spots in outlying neighborhoods serving more recent immigrant communities like a Pakistani owned grocery called Bombay Bazaar with an attached catering business and like 3 greasy tables squeezed in amongst stacks of Bollywood DVDs in the back. Here we were treated to luscious goat biryani, sizzling lamb chops, and deeply aromatic spinach and goat curry. Matt's buds recently discovered a Northern Thai spot masquerading as an average Ameri-Thai restaurant in a converted Sizzler, where I sampled many new-to-me flavors like fermented chicken wings, stuffed bitter melon soup, and a coconut rice dessert sprinkled with shaved, salty, dried shrimp. My favorite Midwest bites this year were served to me from a take out window in the parking lot behind a liquor store– the best jerk I've ever had at Jamaican Jerk. Around the picnic table, we didn't talk much, grunting our way with greasy hands through Styrofoam trays of smoky, aggressively spicy jerk chicken and ribs served atop the best peas and rice and deep, deeply savory stewed oxtail or curry goat. On a sunny day with some Mavado testing the limits of a set of computer speakers, you'll forget you're in Indiana. Next stop, St. Louis.
1. I See You Chicago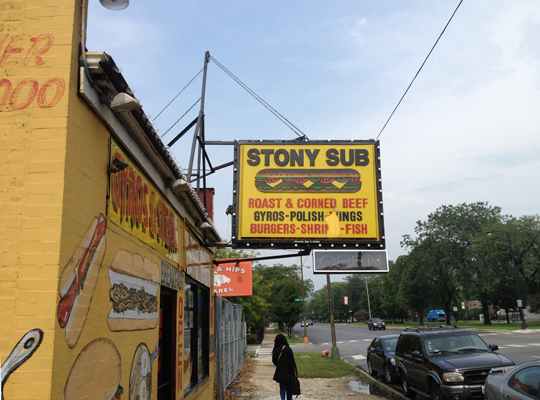 White people like me generally don't venture to the Westside or the Southside. Sure, we're all used to taking over Pilsen by now. But for real, giant, I mean giant swaths of the West and South sides of the city are inaccessible to the imaginations of those confined to the comfy conveniences of their Northside neighborhoods. Over 90% of these neighborhoods are black. I'm not the best person to give you a history lesson here, but a century ago realtors set horribly racist, restrictive policies to not rent or sell to black people in white neighborhoods, not to mention the straight up violence met by blacks moving into white neighborhoods. Then midcentury came strategically placed, oppressive housing projects. Overpopulation, unemployment, poverty, race riots, "shoot to kill" orders, a vicious cycle ensued. Unfortunately these conditions have not changed much, concentrated poverty plus economic decline plus the systemic lock up of black men plus a steady supply of guns plus plus plus has put Chicago back in the news the past few years with spiking murder rates.
These conditions are abstract to most well off white folks.
I believe that by visiting these neighborhoods and actually getting out of the car and looking people in the eye, this is the first step to understanding segregation and where racism lies within yourself.
I found the kernel of racism in myself this year. I found myself in Austin, one of the most fabled bad neighborhoods on the Westside. I knew kids in high school that used to cop their heroin there. You can see the corner boys, the junkies, the undercover cops, they are there. I was there to try this jerk chicken taco that I'd heard my friends rave about. We pulled up on a fairly busy stretch of Cicero, the place was jumping. I was nervous to go in, my innermost racist fears were quaking. I caught myself about to tell Jessica– who was waiting in the car while we were double parked– to lock the doors. But I refrained. There it was. The classic "lock your doors, this is a bad neighborhood" hang up. The customers inside were really nice people. One guy advised me to order an extra shell, since the tacos were so overstuffed with chicken. Another dude, rubbing his hands in anticipation, exclaimed that I was in for a treat. Sure, as I ordered, I was too soft spoken and got hollered at by the counter lady about what I wanted on my taco and my wrist got slammed in the revolving door of the bullet proof glass as I picked up my order. But I survived. But you know what? Fuck that, ordering tacos is not even something I should have to feel proud of surviving. Survival? Please. I ordered tacos. I had pleasant encounters with other folks ordering tacos. End of story.
I don't care if you want to call my approach touristic. You are not going to see the world if you do not get out there. You are not going to firsthand confront your subjective judgments and prejudices if you do not get face to face with real people. And I could go on and on about how the experience of food connects people culturally, which I believe it does. This is simpler than that– its about seeing, looking fellow human beings in the eye.
Hit me up, I know where the good hand formed burger spot is in the South Shore; the real deal Belizean Garifuna cuisine in Marquette Park (and yes a Jim Shoe too); best jerk chicken in the city in Chatham; don't even tell me you haven't tried the apple fritter at Old Fashioned Donuts in Roseland; real Chicago BBQ? gotta get to Greater Grand Crossing! You'll eat well and see what Chicago really looks like. And you'll meet some real nice people while you're there.