I considered skipping the old Top 10 post this year, in its 8th edition. Year end lists seem to be cliché, passé, blasé, blasé at this point– folks are sick of em! There's a lot to be sick of on the internet these days. I don't know what your Facebook feed has looked like in 2015, but I saw a lot of soapboxing, grandstanding, mansplaining, bristle, bile, panic, hysteria, and general cultural malaise. They say that people turn to entertainment in times of tribulation, so here we are.
Food is much more than a diversion for me. It's a language, a means of understanding culture. We were in Detroit the weekend of the Paris shootings. A highlight of the trip was a feast at Al Ameer restaurant in neighboring Dearborn, a city that ranks with one of the top 5 Muslim populations in America. The clientele in the restaurant that day reflected the melting pot of the area and I felt comfortable as can be, downright at home, breaking bread next to my brothers and sisters of all race, class, and creed– seriously all sorts of folks were in there. I felt no side eyed- suspicion in that restaurant, no hate. Everybody enjoying warm, soft bread straight from the hearth and succulent, perfectly spiced kabobs grilled over live charcoal. I've said it before, but food connects us, people!
I wasn't going to entirely forgo a reflection on my year in food, just maybe change up the format. (You might notice that I ditched the annual food porn dump that I've done in years past, if you want it, it's all on Instagram @mrezlivin) I just wasn't sure I had ten things to write about. I made huge changes to my lifestyle this year, major moves to settle down. We bought a house in the suburbs! Out here there are fewer options to try that new $15 designer Italian beef or discover the Serbian banh mi. Though as you'll read below, the cultural diversity of the outer regions has proven to be a welcome surprise. And dang, owning a house is expensive! More budgeting, more grocery shopping, more cooking at home. Less carry out, less splurgy weekend dining, less travel. But all of this has proved to be a heck of a lot healthier and I find the pace and setting more conducive to spending time in the kitchen. I will blab about it all shortly! As we settle, as our family grows, the thrill seeking, the indulgences, the list checking might all quiet down. So, in the end, I found 10 good things to talk about from 2015, next year it might be nothing but baby food recipes!
10. Gỏi Gà & Cháo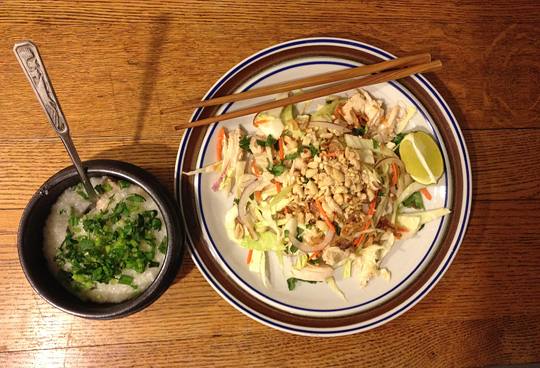 So yeah, it's been a year heavy in home cooking and this is my new favorite weeknight meal. Jessica and I eat a lot of salad during the week, a food group that can leave something to be desired, namely stomach-filling carbs. This one-two punch of a meal resolves that issue. Gỏi gà is a texturally complex and brightly flavored Vietnamese chicken salad built with crunchy cabbage, tarted up with a spicy, fishy, sour dressing, and gilded with aromatic and crunchy garnishes ~the bold and complex salads of Southeast Asian cuisines are entirely necessary to sustain my interest in the salad diet. Next to your plate of gỏi gà, you've got your filler, a bowl of cháo, a comforting rice porridge made with chicken broth and studded with bursts of ginger, Cháo is a member of the congee family, dishes with comforting, restorative properties, ideal for bitter winter days. And herein lies the genius of aligning these two dishes, they're appealing for all seasons. The refreshing gỏi gà tempers the hot porridge in the warm months and in the cold season, the warming power of cháo is brightened up with alternating bites of the salad.
Prior to discovering Andrea Nguyen's very approachable cookbook "Into the Vietnamese Kitchen", I had no idea that cháo and gỏi gà were not only traditionally served together, but integrally sequential in their preparation. I poach chicken for Asian dishes all the time and in the past would always have a freezer stacked with quart containers of light chicken stock perfumed by scallion and ginger. This simple broth is the base for cháo. Poach the chicken for the salad, remove the meat, then simmer rice in the broth, smart, economical, and satisfying. Below is my adapted recipe.
Gỏi Gà
Makes 2-3 servings (double recipe if using a whole chicken)
For poaching the chicken/ stock:
2 bone in, skin on chicken breasts (or two leg quarters, though I actually prefer the cleaner taste of the white meat for this)
3 scallions, rough chopped
½" coin of ginger
A tsp. or so, salt
For the cháo:
7 cups reserved chicken stock
½ cup jasmine rice
1 tbsp. diced ginger (call it a rough mince)
1 tbsp. scallion for garnish
1 tbsp. cilantro for garnish
1 tbsp. crispy shallots for garnish (optional)
Lemon or lime wedges for serving
For the salad:
2 cups cabbage, cut like a thick-ish slaw into ribbons about ¼" wide
½ cup finely sliced red onion
1 carrot peeled and finely shredded
¼ cup of Vietnamese cilantro (aka culantro, regular cilantro is also totally acceptable)
¼ cup crushed roasted peanuts
2 tbsp. crispy shallots (optional, available at SE Asian markets)
For the dressing:
1 bird's eye chile (or half a serrano, or less if you're a spice wuss), minced
1 clove of garlic, minced
A pinch of sugar
2 tbsp. fish sauce
3 tbsp. rice vinegar
1 tbsp. lemon or lime juice
Add 2 quarts of cold water, chicken, ginger and scallions to a medium saucepan. Bring to a simmer, skimming any foam or particulate off the surface. Simmer low for 20 minutes. Remove chicken and let cool. Strain the stock, rinse the saucepan clean. Bring the stock to a boil, adding the rice. Vigorously simmer the rice for 5 minutes, then reduce to a low simmer and add the ginger. Stir the rice, making sure it is not sticking to the bottom of the pot. Simmer for 40 minutes, up to an hour, stirring gently every 10 minutes or so. The rice will break down and thicken the stock. It should have the consistency of runny cream of wheat, with the rice suspended in the thick liquid.
Meanwhile, shred the chicken off the bone once cooled. If there are little bits stuck to the bones, you can pick them and throw them in the cháo for texture. Make the dressing: if you've got one, use a mortar and pestle to pound the garlic, chile, and sugar into a paste, if not macerate by vigorously stirring with a spoon in a shallow bowl. Add fish sauce, citrus juice, and vinegar, combine. Toss the chicken, cabbage, carrot, onion, and herbs with the dressing. Garnish with peanuts and crispy shallots. Garnish the cháo with scallions, cilantro, and crispy shallots with lime or lemon wedges on the side.
9. Beyond Devon
Devon Avenue in Chicago, the main artery of the area's Desi community, provides an intoxicating world of sights, smells, and tastes. However, I have always lamented that I can't find good versions of the first Indian food I fell in love with as a foreign exchange student in the UK: Anglicized Northern Indian food, vindaloo, rogan josh, saag. The kitschy buffet temples on Devon are the closest you'll find to that stuff, but I've always found them to be dumbed down, even by British standards. The Southern Indian vegetarian food at mainstays like Udupi Palace is pretty good, though there's a focus on fried things and pancake-y stuff that is not usually what I am craving. Pakistani is what I make the trip up to Devon for, particularly the tandoor charred goodies at Khan BBQ. Its fun to grocery shop up there too, though easy enough to skip a congested ride up Western by doing without the curry leaves or use French instead of black lentils.
In both my new suburban 'hood and back in Wicker Park, I discovered some new Desi and Desi-ish options. One of my favorite new city restaurants of 2015 is Pub Royale, which has a concept pretty close to my early love of that Anglo- Indian persuasion. It's easy to dismiss at first– a hipster gastro-pub with questionably colonialistic décor, that gets overly crowded, and is in the heart Douche-vision. The menu is fantastic though, offering full-flavored drinking food from a variety of colonial cuisines, where else can you enjoy samosas with a great burger and a side of coconut curry mussels? Their Indian stuff is the best I've had south of Devon and certain dishes are even better, particularly the saag paneer, an old favorite. House made paneer manages to be both rich and texturally light. The curry is developed and complex, dosed with house made garam masala that has a coarse texture allowing you to taste its individual spices.
Huge swaths of the Western and Northwestern suburbs are home to Desi communities, I knew this. Discovering an entire Indian aisle at my on-the-regular grocery store brought this into my reality. Caputo's in Carol Stream always conveniently has fresh curry leaves, not to mention bitter melon and eggplant varieties and weird beans and a bunch of other exotic produce I have yet to acquaint myself with. With this one-stop-shop (they also have a great Italian deli and Mexican, Arabic, and Eastern European aisles!) I haven't even had to check out the Patel Brothers just up County Farm Road from us. There's restaurants too: I've jotted down lists on cruises back and forth on North, Roosevelt, and Ogden with Yelp research to back them up. I've been on a few recon missions and unfortunately there have been quite a few duds–cheap Pakistani junk food and cold and empty dining rooms with incongruously expensive menus. The best spot so far happens to be right down the street from us. Masala in Warrenville is another one that does not quite add up on paper; it's right off the highway surrounded by the mono-cultural sprawl of strip malls and mega-chains. Another eyebrow raiser is their pan-Desi menu with everything from thali to biryani to dosai to curries to Pakistani kebabs. Despite this wildly sprawling menu, we've never had a bad dish. Hyderabadi biryani is served with appropriate condiments including the richly layered spice of peanut-based sauce, mirch ka salan. Kebabs are charred fresh from the tandoor. My favorite dish, which I'd never had before, is gongura mutton masala, a potently complex curry rich with lamb meat served on marrow-filled bones made slightly sour by gongura leaves. Next stops: Pakistani in Downer's Grove at Food Street and Hyderabadi in Naperville at Deccan Spice.
8. Burmese
Burmese food is somewhat hard to come by in the states with a handful of popular restaurants in San Francisco (where I was first blown away by it eight or so years ago) and small concentrations of Burmese refugee communities in far flung hamlets, like Fort Wayne, Indiana. This summer some buddies and I finally took the three hour drive east. We were only able to find one restaurant open on that Tuesday afternoon, Au Kang Zarr, a Thai-owned place with a modest selection of Burmese dishes. Fortunately, they turned out some lovely plates– crisp, curried samusas (related in more than name to their cousins samosas); lahpet thoke, the famous fermented tea leaf salad with a sour funk and a scattering of crunchy fried bean-y things; the fishy, creamy, and aromatic noodle soup, mohinga; and finally khauk swe thoke, a refreshing, tangy rice noodle salad dressed with a sauce made creamy by the addition of gram, chick pea flour. Fortunately, we found many more Burmese grocery options that were open that day. I scored the fixins for laphet thoke and an amazing homemade balachaung– super fiery fried garlic & shallot and dried shrimp paste– from a pile of unrefrigerated packaged goods on the counter at one market. It wasn't until I brought these ingredients home that I unlocked a secret of this humble cuisine: the intensely flavored, preserved accoutrements are meant to dress up modest, on-hand ingredients like raw veggies ~preferably grown in your garden. This healthful, yet eye-opening approach to eating became the centerpiece of both summertime entertaining and afternoon snacking.
7. Wisconsin Hospitality
Wisconsin is exotic land for this summertime-Michigan kid. Until the past few years, I had not ventured up that way as an adult, largely because I've always been pulled to the other side of the lake. This summer I broke my 30 odd year summertime migration to Michigan, which opened up the calendar for trips to our northern neighboring state. What is it about the culture up there? There's a statewide consistency– the quaint Germanic vibes, the cheese, the sausage, the beer. And there seems to be an economy of independently owned bars and restaurants that still do things right by making stuff in house like salad dressings and soups and hand battered cheese curds. But there's something more essential than that, it's the welcoming hospitality that you'll find in any little dive bar in every town from Milwaukee to Steuben (pop. 129). Unlike certain establishments in Chicago or small town Michigan or Indiana, you don't get stared down when you enter unfamiliar turf. That's not to say you might not get a good-natured ribbing for your choice of whiskey "you want Jim Beam? Here you go Sally!". Not to be simplistic or stereotype, I'm sure there are plenty of pricks in Wisconsin, but I've had a lot of great experiences with warm, friendly service in places like the Hobnob, a stuck-in-the Sinatra era supper club in Racine, to Baumgartner's in Monroe a cheese shop with one of my favorite bars in the back, to The Silver Lake Inn, a backwoods hunting lodge in Prairie du Chien, to Majerle's Black River Grill, another, yup, backwoods hunting lodge in Sheboygan.
6. The Year in Dumplings
It was a good year for dumplings! Now that we live within striking distance to Chicagoland's Mecca for handmade dumplings and handpulled noodles, Katy's Dumpling House in Westmont, I've been able to work my way through their menu. They still make my favorite pot stickers in the land, but their most elegant works of art are their boiled fish and chive dumplings. Satisfyingly just-chewy skins yield to a pleasant gush of juicy broth followed by a mouthful of silky, luscious fish in a perfect stasis with abundant, aromatic chives. No need to sully these nuanced dumplings with the typical aggressive accoutrements of black vinegar and chile oil, they are perfect on their own. Favorite dumpling number two can be found at a spot that was mentioned back in post number 9, Pub Royale in Wicker Park. I might describe these as Himalayan in their flavor profile, a cousin of Nepalese momo– delicately thin, yet tensile skins enrobe a little nugget of rich, slightly gamy lamb. The riot of garnishes really propels this dish– lip coating hot chile oil, a little vinegar tang, plenty of cilantro, and perfectly fried golden coins of garlic as crispy as potato chips. And finally dumpling number 3, as seen above, a favorite of my dumpling-loving pal, Titus Ruscitti, is found on the collegiate streets of Madison, Wisconsin in a tiny storefront specializing in one item only, pel'meni. My hunch is that Paul's take on these diminutive Russian dumplings is spiced up and mongrelized, while still firmly planted within the spectrum of Silk Road flavors. Pillow-y potato and/or beef nuggets are dressed up with curry powder, a thinner vinegar-y cousin of Sriracha, cilantro and sour cream. Eminently scarfable with a haunting crave that might just lead to an impulsive 3 hour drive…
5. West of the (county) border
On a sunny, late summer day last year, I finally stopped at Bien Trucha, the modern Mexican dining spot in Geneva, Illinois. I was cruising around trying to get a feel for the area. Jessica was starting her full time position at NIU in Dekalb that fall and we were contemplating the idea of moving out of the city and further west, closer to work. Having grown up in the burbs, I never imagined that I would end up back there, but on my drive that day I found that Geneva had a bit more of a laid back, small town feel with its cute tree lined streets set on the majestic Fox River. Probably more of an exurb, the area felt miles away from the strip malls and McMansions bemoaned by a now-city boy like myself. Those tacos though: high end ingredients employed by a kitchen with a clearly finessed hand, not shying away from traditional spice levels. Beyond the top notch food, the sunny space offered great drinks, polished service, and just-loud-enough contemporary electronic Mexican music. It felt like a hip cantina in Mexico City, more so than anywhere I'd been in Chicago. Small town feel with cosmopolitan cuisine, I could live like that and I would.
We inevitably landed 9 miles east in Winfield, a sleepy village with no Mexican food, though pretty close to Geneva with a whole world of Mexican food in between, in the Latino majority town of West Chicago. The first joint I tried, recommended by and enjoyed with my native bud, Ryan Hammer, was El Ñero, a hole in the wall storefront in downtown West Chicago. There is one clear choice on the menu, corundas, which are unfilled pyramid-shaped tamales that are rendered ethereally light and fluffy with an appropriately masa-forward flavor and just a slight herbaceous note from the banana leaves they're steamed in. And they're served with a rich guisado de puerco in a fiery salsa de chile de árbol. I have never seen this dish on a menu in Chicago or even in my travels in its native Michoacán.
I haven't tackled every taqueria and supermercado café in the area, but much of what I've sampled has not been particularly noteworthy, ranging from standard issue cheap stuff to clumsy Bien Trucha wanna be's. Then I discovered a real gem hiding in plain sight: a cute, though demure storefront just off Main Street around the corner from downtown West Chicago, La Cocina de Maria. The food here is at the Bien Trucha level, though in a spiffy mom-and-pop atmosphere with only four tables. I always say that you have to judge any Mexican restaurant worth its salt on the quality of their salsa– like Bien Trucha they serve a trio of excellent sauces: smoky morita, roasty tomatilla, and creamy, peanut fortified salsa de cacahuete. The chef has chops that seem rooted in pretty serious technique, with a flare for presentation that is built on huge flavors. He serves up pan-Mexican street food made in their native DF style: pambazo sandwiches decadently stuffed with potato and chorizo, soaked in a piquant hot salsa, then griddled crisp; dinner plate sized huaraches served decoratively drizzled in both a red and a green salsa, divorciada style; and gargantuan empanada-like quesadillas, which are pinched shut and deep fried oozing with Chihuahua cheese and meaty and tender beef birria. Not a single one of these gut busters costs over $7. Come west, amigos.
4. Tavern Thin Pizza
Is any one else sick of all the deep dish pizza banter? For the record, I like the thick stuff and I grew up eating it. My family's regular pizza place, Louisa's in Crestwood, turns out what I believe to be the best pan pizza in Chicagoland. The ironic thing is that as a kid, I didn't really like it all that much and in fact had the same knee jerk reaction that east coasters like Jon Stewart and J. Kenji Lopez Alt of Serious Eats constantly remind us of– its not pizza. Louisa's was actually too sophisticated for my immature palate, with its chunky tomato sauce on top of a light layer of cheese and that pastry-like flaky thick crust.
Steve Dolinsky, the Hungry Hound set to a herculean task this year to rank some 70+ pizza establishments in Chicago, really splitting hairs and subdividing styles into like half a dozen categories ~for the record he ranked Louisa's #2 in the top five Chicago deep dish (suburbs). One category that I think is useful to designate is tavern-style pizza, which my mates over at LTHForum.com have been heralding for years. The thinnest crust possible, sometimes rolled out by a dough sheeting machine; cooked ideally to a crispy, cracker-like finish; cut into squares; a bright flavored sauce usually with a pronounced sweetness; often a pretty liberal layer of cheese; and if you know how to order, these pies are best topped with home made (or locally made) sausage popping with garlic, black pepper, and/ or fennel, the best damn sausage you can get on a pizza anywhere in the world. It's not a style exclusive to Chicago, but perhaps the upper Midwest. I've had good versions in places as far afield as Grand Haven, Michigan at Fricano's (though not square cut). The Milwaukee area is famous for old school joints like Zafiro's (the thinnest I've had) and Maria's. And perhaps the best of all is found in Racine Wisconsin at Well's Brothers, with its super crisp crust scattered in pleasantly burnt cornmeal, one of the best pizzas I ate this year.
But for many Chicago-land natives, this was the style of pizza we grew up with, every bit as Chicago-style as the lamented casserole for tourists. It's actually pretty hard to find a good one centrally located in the city, which is why this style is off the radar for many transplants. But listen up Chicago pizza haters– Pat's in Lincoln Park makes a text book tavern thin and has a pretty good delivery radius. But to not sample these pies in their native environments would miss the whole "tavern" aspect of of the experience. The old school watering hole ambiance of these spots, many dating back to the 50's and 60's is part of the charm, where pronouns are pronounced "dese, dem, and dose" and baseball allegiances are a fighting matter. My favorite on the far south side of the city is the legendary Vito & Nick's on Kedzie, where the Old Style is cheap and the pizza has an outer rim of cheese that forms a caramelized corona around its perimeter. Most of these spots are dotted around the city's outskirts and suburbs, the likes of Barnaby's, Villa Nova, Q's, Chesdan's, and Fox's. Before "pizza pizza" became the utility go-to for thrifty moms hosting adolescent sleepovers, Pizza Pete's on LaGrange was the one I remember from my youth as well as the cheese-bombs from Beggar's across the street from my high school.
Fortunately Jessica and I found a platonic example of the form in our new neck of the woods– Al's in Warrenville. It plays its part well, opened in 1959– a split business with a more family oriented pizza parlor on the left where you order at the counter. On the right side of the building you've got the quintessential dive bar warmth of Towne Tap, where you can get your pizza delivered by one of the no bullshit pizza cooks who seem to take their craft very seriously. I would call it a cleaner style, which I imagine results from a fastidious cleanliness of their hearth, no cornmeal or burnt cheese rims, but rather a uniformly browned undercarriage of crust with a yeasty cracker flavor. The rest is exactly what you're looking for– peppery sausage, check, tangy sauce and judicious cheese, check. The best Chicago style pizza, check!
3. Return to New Orleans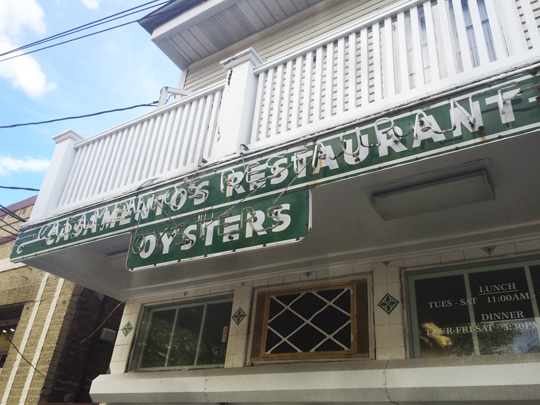 I had not been back to New Orleans since the spring of 2005. And I'm not here to construct a before-and-after the storm think piece. Although I had a handful of friends living down there, I mostly agonizingly experienced the narrative through the media. On this trip, we did not visit the 9th Ward, though an artist friend recently bought a house there, which must mean something. There was a whole lot of building happening all over the place. It was a little weird seeing a giant shiny condo development in the Bywater, though much of that neighborhood had the same funky, slightly festering, but colorfully vibrant vibe as it did when I used to stay there last decade. Mostly the city felt bustling, tourist money greasing the wheels of one of the most service-based economies I've encountered anywhere.
New Orleans is part of my food DNA and this recent trip was a great reminder of that. Although we didn't partake, we found ourselves strolling past the Victorian turquoise of Commander's Palace and I reflected that the chef who trained me worked there, so it's likely that some of my technique is indebted to that famous kitchen. Chef and another co-worker native to New Orleans, were early mentors to me at Ox-Bow and however complicated those relationships have played out in my life, I am indebted to their influence, whether that be the way I make a roux, my love of reggae music (more on the New Orleans/ Jamaica connection another time), or a sense of waste-not in my cooking practice.
New Orleans cooking for me is one of the truest expressions of an American cuisine, one of my very favorites. And we did it right on this three day jaunt. Armed with a recommendation list from my NO native bud, Fredo Noguiera, chef at Chicago's Analogue, we made no haste on our ravenous path. The new school spots provided some good bites– grilled oysters and fried boudin at Cochon and an Asian leaning spicy catfish dish at Peche, but the sweetest eats were found at the down home neighborhood spots. Within an hour of landing we found our way to Fredo's favorite, Lil' Dizzy's in the Treme. A perfect intro– they were hosting a packed-to-the-rafters graduation party, so we had to take an al fresco seat on the sidewalk, on a 75 degree, sunny day in December, poor us. We giddily dispatched of plates of crispy fried chicken and bowls of deep creole gumbo, rich with filé and a seafood-based stock, chock full of all sorts of meaty bits like shrimp, tasso ham, andouille, and was that a second type of sausage? Lunch was digested over an eye-opening trip to the homespun, psychedelic temple to the Mardi Gras Indians at the Backstreet Cultural museum. It was everything, New Orleans culture in a two block radius. A sandwich 1-2 the next day found us across town on Magazine street. A roast beef po boy at Guy's was a kissing cousin to the Italian beef, subbing peppers for the "dressed" style of lettuce, tomato, mayo, as unmannered of a messy of a sandwich as I've met. Gut buster sandwich #2 arrived at Casamento's, a beautifully tiled, 98 year old canteen, specializing in local seafood, particularly oysters. The banter is as thick as the lines are long, but it's worth it. The signature oyster loaf is a two handed beast of a sandwich seemingly built on half a loaf of bread stuffed with brittly corn-breaded oysters that are sweet as can be.
I've gotta say though, my other favorite meal was back in the Treme at the institution that is Dooky Chase. I knew about its famous guests, its importance to the neighborhood, the Chase family's philanthropy, and their commitment to local art. I was not prepared for how damn good the food was. Chicken creole with jambalaya was even more complex than that gumbo down the street– its like the best sauces down there just sit on the stove for weeks on end, with new bits and seasonings thrown in the pot each morning. As good as that was I couldn't keep my hands off of Jessica's perfectly fried chicken that was surely brined, so juicy with a hit of garlic. And you have to talk about hospitality in New Orleans. We had a couple of snags in our service at Dooky Chase, which the floor manager, making rounds of the dining room, was quick to realize. To make it up to us, she invited us back into the kitchen to meet head chef and matriarch, Leah Chase, who well into her 90's, was still donning an apron. Like Ms. Chase in her kitchen, New Orleans perseveres, as does my love for the place.
2. Piranha Club: Xaymaca/ Queens
2015 was an awesome year for the Piranha Club, I might say our best season ever. Surely I worked with some of my most kindred collaborators– most recently reviving the irreverent sense of humor and thick chops of my 5 year relationship with Chef Jonathan Zaragoza and before that a months-in-the-making epic foraging project with artist and Nature High Priestess, Jenny Kendler. Not to play favorites though, but Xaymaca/Queens back in March was tops; perhaps it had something to do with leaving my comfort zone, but it also had a lot to do with the chemistry I found working with Paul Anthony Smith.
I'm kinda over New York, definitely it's perceived status as the cultural center of the universe. Cool shit happens everywhere, bro. Beyond that, it's just too fast paced for me, I always joke that I need a shower by lunchtime. The romance of an older, funkier, New York seems to be fading as diverse culture is priced out from central areas of the city. Chicago is certainly also gentrifying, but when you're off your home turf, sometimes you're more perceptive to your surroundings. All my friends have lived in Bushwick for the past decade and while you still have to dodge literal piles of shit on the side walk and can still find dubiously scrumptious cuchifritos spots open at all hours, there's a recent plague of Portlandia-esque, taxidermied, reclaimed wooded, vested, waxed mustachioed, man-bunned rubbish invading the neighborhood.
So I jumped at the chance to do a project in next door-to-Bushwick Maspeth Queens. And maybe the dinner should have been force-feeding hipsters $2 morcilla, but it had to get more complicated than that. The pivot of the concept was to examine the etymology of the word Jamaica, a significant name in the borough of Queens. In that neck of the woods, the name was a bastardization of a Lenape Indian word for beaver, so I felt compelled to pay respect the Native peoples of the area (speaking of gen- trification/ocide). I asked Paul to school me about island cooking and throw Caribbean spice into the pot. I'm a bit of a Jamaican fanboy, but spending the weekend with Paul brought new insight into the cultural politics of a place that is so easily romanticized by northern tourists, complicating my own connection to a culture I really only understood through its exported textures. For me, the real content of these meals arrives through the dialogue during the preparation of the meal. Kendrick Lamar's "To Pimp a Butterfly" was on repeat that day, providing the perfect soundtrack to ruminate over the problematic ways people relate in America. And I gotta say, Paul was a true joy to cook with, although he's never been a professional cook, he's got the dance and flow around the kitchen of a veteran with an innate sense of how to cook a whole bunch of food for a whole bunch of people. And we cooked a beaver (shot outs to Baron Ambrosia, again, for the game connect) and we made a fucked up, delicious, mongrel cuisine dinner.
1. Country Life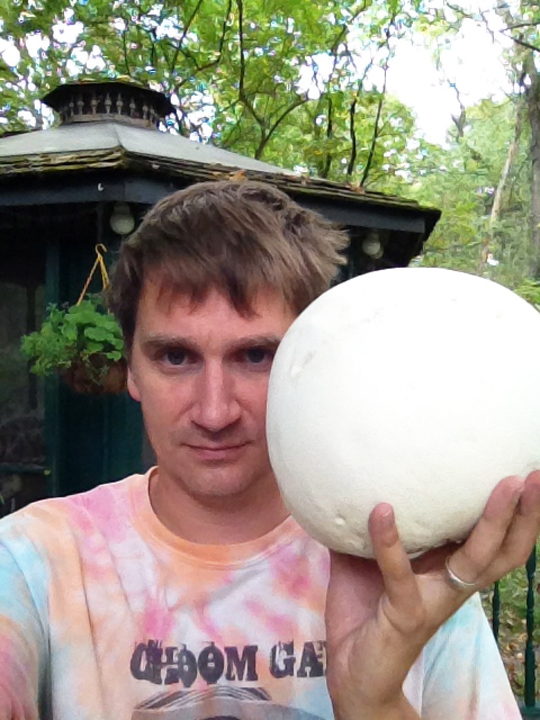 Well I like to call it the country, anyway. It sounds a bit less tame than the suburbs. Heck, there's horses out here! One of the big selling points of the move was an exponential gain in green space. Living at Noble and Milwaukee in the city provided zero contact with outdoor flora, though I had my summers in the woods of Southwest Michigan to temper my concrete winters.
Much like where I grew up in the southwest suburbs, we live in the heart of the county forest preserves. Just two blocks from the house we've got gorgeous woods that I run through every morning, prairies erupting in a brilliant display of wildflower color which yield to dramatic wooded terrain sloping its way down to the lazy, meandering DuPage River. In the fall, the woods were chock full of wild mushrooms– this year I found just about every edible species that I've ever gathered in our corner of the Midwest: morels, chicken-of-the-woods, oysters, hen-of-the-woods, honeys, giant puffballs. Even our brambly back property, about an acre, full of old oak and black walnut trees, turned up one lonely morel, gem-like blewits, and huge flushes of honey mushrooms.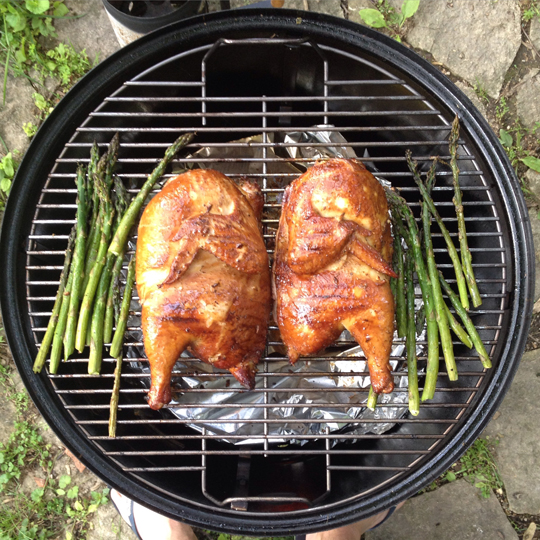 Speaking of black walnuts, we've got three more towering trees that August through October rain down their armored shells filled with hard-to-get, but perfume-y sweet nutmeats. We don't have a huge chunk of land, but it is ours, and it has potential. I get to compost now! I've got room to BBQ– I've got a grill collection going! And I am finally the proud owner of a Weber Smokey Mountain smoker, which has dispatched rounds of whole smoked chickens, mojo pork shoulder, and brisket, amongst other goodies. My gardening game still needs some work. Next year we'll put that compost to use to enrich the rocky clay soil and with all the damn shade, I've had to learn to sacrifice a sapling here or there. And damnit, those squirrels and chipmunks! That plump brandy wine tomato that we'd been eyeballing for three weeks somehow had a little chomp taken out of it the morning that it was perfectly ripe to pick. At least I was able to keep our kitchen self sufficient with kale and bird's eye chiles all season.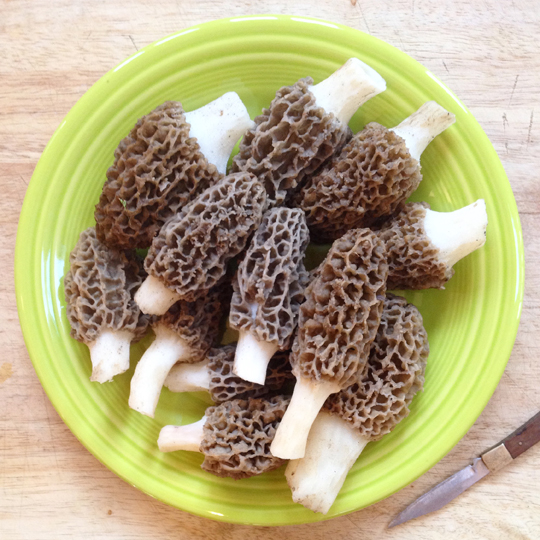 The greatest increase to the quality of life is being more in tune with the seasons. In the city it's mostly the change in temperature and precipitation that denotes the cycles of the year. In my previous migratory lifestyle I only got to witness summer in full bloom during my three month sojourns. Now I get to see it all. Even winter is a lot more tolerable out here, its much more pleasant to wake up to the gorgeous white lace of snow clinging to the branches rather than grey frozen slush piles studded with doggie do. Spring comes a lot earlier than I remembered when the first jewels of crocuses pop out of the ground in early March. May is the mad hunt for morels and the azalea bushes doing their hot pink strut. Cut flowers? Who needs them when you've got a whole front lawn full of zinnias and dahlias. And then come the edibles– what our dinky garden can't cough up, I've got three farmer's markets to hit within a ten minute drive. Not a market day? There's an awesome farm stand just south of us that every day of the week come August has candy sweet corn and risqué peaches and tomatoes. And fall, oh fall, you really exist. ~We already talked about those shrooms.~ Every day the seasons' mini dramas unfold and we're able to watch every minute of it, right out our window.