Wow, where to begin? The NY debut of the Piranha Club was fittingly, the most intense dinner we've ever done.
Our trip up the Hudson to procure beaver meat is most likely the best entry point into this story…
I'm a big fan of of Baron Ambrosia, the self-styled "Quaffer of Culinary Consciousness" and "Culinary Ambassador to the Bronx". I first stumbled across the fine Baron in this 2012 Serious Eats piece about his legendary Bronx Pipe Smoking Society's Annual Small Game Dinner for which (in its 2nd iteration of the annual event) he assembled a crack team of local chefs to tackle a range of wild game meats for an invite only secret society-like masquerade ball. I've followed his exploits ever since from his Cooking Channel show, The Culinary Adventures of Baron Ambrosia, to his productions and collaborations with Hip-hop royalty like Grandmaster Melle Melle and the Ultramagnetic MCs to his recent spot on Anthony Bourdain's Parts Unknown Bronx episode. Weird meats, rap lore, and neighborhood repping– you can see how I find this guy to be a kindred spirit. So how excited was I when I received an e-mail from the man himself after I tweeted to him about sourcing beaver meat in NY for our Queens/Xaymaca dinner with Paul Anthony Smith~ I guess social media can actually lead to meaningful IRL experiences. And even better a personal invitation to his home to pick up our loins of largest-rodent-in-America…
My respect for this guy was validated emphatically when we visited his home. While his schtick may seem pretty thick on camera, the line between his art and life is all but invisible. Intense and excited, but dripping with an almost formal social grace and genuine charm, the Baron was the finest of hosts, opening the doors of his world to us. His Victorian mansion was stunning– gothic, surreal, with New Orleans-y vibe– every surface treated with fanciful adornment. He escorted us into the parlor and on a table adjacent to a crushed velvet couch, ominously sat three empty wine glasses. In our correspondence before the trip, I'd been aware of his experiments with beaver gland vodka and nervously anticipated the fact that he might serve us one of his potions. As he pulled a specimen jar from behind his bar, he proclaimed that he'd start us off with the beginner stuff. I could see two ominous furry shapes rolling about in the jar filled up with about three inches of liquid. Bear paws. Baron ran to the kitchen to grab a turkey baster and his adorable ginger-haired daughter in an entirely casual tone after peeping at the scary-to-us business proclaimed "oh, its grown up stuff" and cheerfully skipped away into another room with her stuffed bunny.
Paul, Jessica (thanks for being such a trooper, baby), and I were all game. The just slightly cloudy liquid, inspired by a tonic Baron had witnessed in Vietnam, had an aroma and aftertaste of nutty Jamón Ibérico, a little sweet up front and less musty than you might think. We survived the first round. I knew what was coming next. The Baron produced a bell jar with a snotty looking node bobbling around. The beaver gland vodka. This one had a medicinal, though quite aromatic, vibe. If you peruse the linked article above, you'll learn that the extractions from beaver castor gland– used by the animal to mark its turf– is FDA approved and has been used in artificial flavorings and perfumes for a real long time. I thought it had a menthol-y aftertaste. So then we were ready to sample the real "grown up stuff" but unfortunately I cannot recount the experience here, since this last tincture features as the grand finalé of this year's Small Game Dinner to be held in a few weeks. Let's just say, other than the Baron, none of us tried this one…
We then took care of business in Baron's office, which was even denser full of visual eccentricities– equal parts the Wizard's chamber, shrine to Kali, and film noir detective's desk. We got to sample delicious birch sap wine, made with nothing but the floral, early spring nectar of the birch tree. I wasn't shocked when the Baron spontaneously presented us with a frozen porcupine. And by the time he fetched a crucible filled to the brim with beaver hams, the exotic meat looked downright scrumptious. Its important to note that Baron shared the story of how his practice of championing wild meats came to be. He met a trapper named Bill Guiles, a back-to-the-lander who traps animals for pelts in the old school way in the deep woods of the Adirondacks. Baron met him at a party and invited himself along for a hunt. He saw an opportunity in the meat often-times discarded in the process of skinning these animals. Baron reminded us that we also had Trapper Bill to thank for our six beautiful crimson beaver hams. Baron sent us off with a parting gift of a beaver's tail and a pint of castoreum vodka for the party and we were on our way. The whole thing still feels like a dream.
I was respectful of the Baron not to shoot pictures of his home with my iPhone, but Jessica snuck in one of the beaver meat in his office: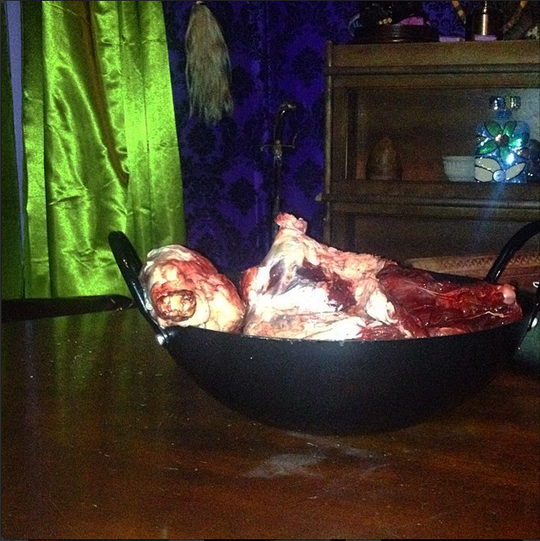 And down to Queens: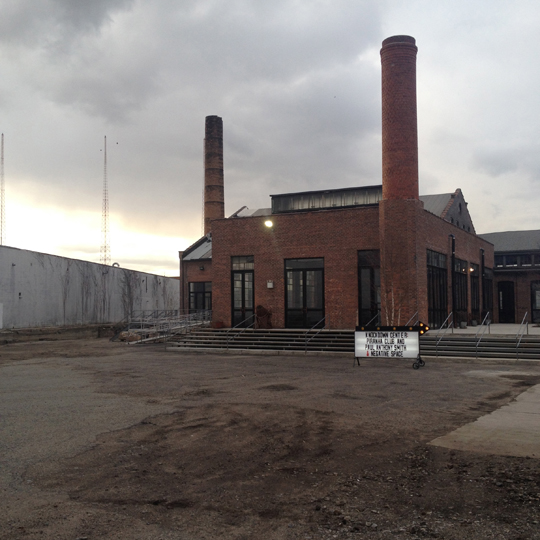 The Knockdown Center. This place is a former decorative glass, turned door factory. 50,000 square feet in Maspeth, Queens, though basically right across the street from rapidly-gentrifying Bushwick, Brooklyn . It was renovated and opened as a multi-purpose event space about two years ago. It is owned by a jovial, but no-bullshit, New York answer to "The Dude" and his family. And it is managed by my best bud from grad school, Tyler Myers. Tyler's wife, Stacie Johnson with Gabrielle Garland– who I should note have both worked with me at Roots & Culture– invited me to be a part of their curatorial project, Negative Space, which explores art that references aspects of domesticity. I guess we can call my project domestic, since at least now we know that beaver is regularly on the menu at someone's house.
Knockdown Center is badass, a gorgeous windowed post-industrial cathedral with surprises around every corner, like a seriously well equipped kitchen with an adjacent spacious, but cozy dining space. It had a nicely lived in vibe and quite reminded me of the Piranha Club's home base at R&C.
My partner in crime for this Piranha Club was Paul Anthony Smith, who I met at a bar in Kansas City in 2012 while I was down there for my Midwestern BBQ Migration project at Charlotte St. Foundation. I'd already known about this guy, though, from mutual friends in both KC and Chicago. Our paths had not really crossed that often since. He'd done a killer show of paintings in Chicago called "Mangos and Crabs", but mostly we've communicated from afar as mutual fans of each other's food obsessed Instagram feeds. There's that social media connecting people in real ways again.
You probably know that I'm a Jamaica-phile, or perhaps a recovering one. The stony one-two of reggae music has long been at the heart of my record collection and I have a deep reverence for its ancestry to my other favorite rhythm of hip hop. I also love the slow cooked, deeply spiced flavors of the English-colonized, African-cultured Caribbean. Chicago is not the spot for that food though. And I've never been to Jamaica. I have come to realize that the American romanticization of tropical paradises in colonial places + the college escapism of Bob Marley "Legend" sing-a-longs and the reality of life on the island is not something that I can reconcile.
Paul was a great traveling companion for West Indian Brooklyn. He pointed out Jamaican ladies with their faces bleached. I knew about Mannish waters but not much about ackee. Jamaicans cook with a lot of ketchup. We cured our hangovers with sublime roti at Rama's Roti House and I wondered about their Hindu shrine. As we cruised up Flatbush Ave. we watched the demographics quickly go hipster. Brooklyn is a little more integrated than Chicago at least.
The premise of the menu riffed on the etymology of the word Jamaica. To quote the press release "Just down Queens Blvd from the Knock­down Cen­ter (which at one point was actu­ally named "Jamaica Estates"), there hap­pens to be a neigh­bor­hood called Jamaica, which many Jamaican peo­ple call home. The name how­ever, is not derived from the native-to-Caribbean-Jamaica Arawak peo­ple, who named their land Xay­maca, "land of wood and water", but from the native-to-Jamaica-Queens Lenape peo­ple who called their land Yameco, which trans­lates to "beaver". Join us for a Caribbean– inflected feast fea­tur­ing Arawak and Lenape tech­niques and ingredients."
Cooking with Paul was profound. Kendrick Lamar's "To Pimp a Butterfly" was our soundtrack, which not only underlined the urban realities that are in such sharp focus in gentrifying Brooklyn, but brought up the idea of flow, which we determined was a praxis of wisdom and knowledge. Paul's got flow in the kitchen. I hope maybe I do too. But its a grace of movements and an intuition of knowing how to transform raw material into something aesthetically transcendent. That whole thing of curry powder? That much allspice? Dude, Paul's sauces were off the hook.
But of course the big deal was the crazy meat no one had eaten before. Sometimes I do wonder why I choose to cook things I've never cooked let alone eaten for these relatively high profile public meals. Perhaps its a humility, a need to feel as vulnerable as the diners about to put something in their mouths maybe they never even considered could be food. The beaver meat was pretty easy going actually. The fat had a waxy flavor to it, but the flesh was kinda beefy, kinda gamy (whatever that means, can we really define the flavor of gamy? Iron-rich blood tasting like venison or duck? Musky like goat?). At any rate, it wasn't challenging by my standards. It cooked really well, braising in Paul's "brown stew" style of gravy for about five hours. Even though we worked with 1″ cubed venison for the curry, that leanest of meats actually took a few more hours to become fork tender than the comparatively fatty beaver.
Regardless of the shock/ courage factor of our ingredients, what this is about is dialogue about food, around food, and a coming together of different folks. Thanks to all the beautiful people that made this happen.