This may have been the most elaborate Piranha Club yet, I mean we did gather 75% of the ingredients ourselves! Jenny Kendler and I had been mutual admirers of each other's work, but it was pics of her foraging adventures on Instagram ~that social media thing once again~ that led me to finally approach her about working together. The collaborative foraging began in early August at ACRE residency in Western Wisconsin where Jenny and I both served as visiting artists (she is also a board member). I joined her for a group foraging walk around ACRE's campus and I was pretty damned impressed by her knowledge of nearly every plant we encountered, latin names and all! I am no expert, I would call myself an enthusiast– with a covetous drive to collect exotic ingredients, primarily mushrooms. My approach begins from a culinary perspective– I've learned how to identify mushrooms that I like to eat first and foremost and then I brush up on the taxonomy of different species. Jenny takes a more empirical approach, though is also more pragmatic in what she collects. She sees the value in weeds, stuff like lamb's quarters or oxalis that grow in "disturbed" areas (developed land), but equally knows her way around the deep dank corners of the woods where I usually like to hang out. So she's helped me pay a little bit more attention to little humble side-of-the-road stuff that I might otherwise just trample right over in pursuit of the big score.
Nature can be unpredictable, of course. And also fickle in terms of timing. So it was good we got an early start to find a breadth of ingredients as they made their appearances throughout the season. And this meant that we had to find creative ways to preserve certain ingredients. The remarkably spicy watercress above was pureed with olive oil and a bit of oxalis for acidity, yielding a chimichurri of sorts, that maintained its emerald glow for two months. This worked its way into an aioli for dipping puffball mushroom fries and a drizzle garnishing the bisque. Delicate oyster mushrooms gathered in mid-August were both pickled and sautéed, then frozen and employed in a crostini appetizer. The gorgeous young chicken-of-the-woods below were also frozen, which altered the texture of the flesh making it more tender, ideal for the bisque they produced. In one instance preserving methods failed– an attempt at lacto-fermenting grape leaves destined for dolma came out just slightly alcoholic and prickly on the tongue. Later consulting edible plants guidebooks, we realized that the leaves were too old on the vine to be suitably edible at that point in the season. We should have known by how tough they were.
The bulk of the mushrooms for the dinner were found in the woods around my home in western DuPage county, where I am enjoying my first foraging season (we moved here in Feb). The area is remarkably bountiful– we came across almost all of the major suspects in terms of late summer/ autumn edible mushrooms. Even the wooded back end of our property turned up honey mushrooms and a few succulent wood blewits (both of these mushrooms did not make it to the dining table that evening, I cooked them up with pasta them up for our "staff meal").
Three towering black walnut trees have been thunderously bombarding the house with their lime-looking fruit since late August. Despite their abundance, they're a huge pain in the ass to harvest– after torturing my hands first with their tobacco-colored staining pigment, then their arthritis-inducing armor-like shells, 80 fruits only yielded about a cup and a half of fragments of nut meat. Heavily perfumed, gorgeously rich nut meat. This made its way into a decadent paté and as a lily-gilding garnish for the dessert.
Speaking of trees and dessert, we stumbled across a feral apple orchard in the middle of the woods. For a few weeks, I'd been trying to scale this tall gnarly old tree just off the main road to pluck its apples. After a few aborted climbing attempts with scraped up forearms and a head full of falling fears, I resorted to gleaning around on the ground with the chipmunks, sorting out fruit not too badly ridden with worms. On our second walk through those woods Jenny spotted, hiding in plain sight (from me), three more manageable trees chock full of apples, the fruit from each tasting differently than the next from bright and crisp to deeply sweet. We found plenty of untouched fruit in the soft grass and shook some pristine specimens from the trees. We stuffed our tote with over 40 apples and left behind so many more. I see a cider project in the cards for fall '16.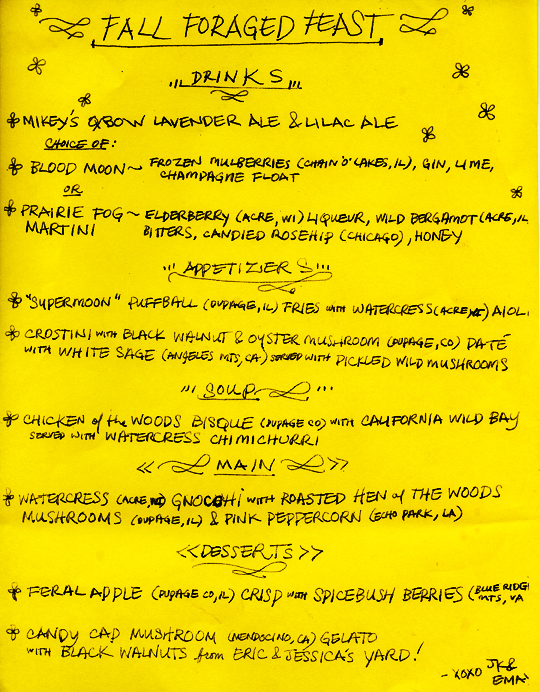 This was the first Piranha Club for which the procuring of the ingredients, both timewise and experientially, eclipsed the cooking and the meal itself. It was freaking delicious, of course, but by the time we got to the day of, it felt like the bulk of the labor was behind us. Some of the ingredients had been gathered way before the dinner was even planned– Jenny was generous enough to open up her larder of wild goodies collected throughout her travels, which provided the aromatic flavors for her wildly delicious cocktails. I pinched a bit of wild white sage (the stuff you typically smudge with) for the crostini and pleasantly astringent spicebush berries added a new world sweet spice note to the crisp.
The eye-opening show stopper of the meal was the candy cap mushroom gelato that Jenny made for the dessert. I knew these shrooms supposedly tasted of maple syrup, but even I couldn't believe that their serious French toast-y whallop was fungal in origin. The interplay of the sweet and sour from the wild apple varietals married with the rich maple-y sumptuousness of the gelato made for a quintessentially comforting fall dessert.
In many ways this could have been the essential Piranha Club. Foraged ingredients have crept their way into past meals– this was the third time I've served that chicken-of-the-woods bisque. My very first grad school project was an all foraged mushroom dinner (tasty was the food, definitely not was the critique). Jenny and I talked at length about our relationships to foraging and we both agreed that while the activity informs the parts of our art that speak to relationships with the land and its ecologies, this really is more of an everyday practice for us. After two months of this, I thought I'd need a break, but I'm still finding myself collecting those laborious walnuts and can't help myself but peer around the stumps of old oak trees on my morning jog hoping to score another hen-of-the-woods. This is certainly about connecting to that basic hunter-gatherer instinct of understanding how to fend for oneself off the land, though it doesn't have to be that romantic nor zealous. Notice we used convenient pantry staples like flour, butter, and sugar for this meal. We mean to suggest a common sense approach to learning about and incorporating wild foods into one's life. We hope that by serving delicious, unfussy dishes prepared with foraged ingredients that it might demystify the idea that there is delicious food to be found all around us. Just remember kids, get the book, read it, and don't go sticking random berries and toadstools into your mouth!