In my Top 10 food list last year I warned that the 2016 edition might consist of nothing more than baby food recipes. The little guy just started eating in November, and I can sum up the past month of infant cookery for you real quick: I puree cooked vegetables, so far he likes sweet potatoes, peas, peas mixed with spinach, and carrots. And he loves it– he gets super excited, waving his arms up and down, jumping in place a little, grunting and laughing.
So what's become of the top 10? Well, priorities have obviously shifted. I'm eating out less, traveling less, thinking about food less. My relationship to the internet is changing too. Again, less time, but also the election season just wore me the fuck out, 720 degrees of opinions, bogus or otherwise, social media has especially become a toxic waste dump, I'm over it (except you Instagram :)) It's hard to filter good chat out of all that noise and I have reached a saturation point for commentary about much of anything. And I've been at a loss to indulge in writing about pleasure as I've grappled with more urgent feelings.
Well, we did have to eat though, so here's a slightly-shorter-than-usual, not ranked recap of things I ate that made me happy this year.
What I've been cooking (other than baby food)
I eat breakfast now! Yeah its a having-a-kid thing. I'm up by 7. Only two years ago I was more of a 9 o'clock guy, at that time of day it usually took my metabolism a few hours to get warmed up and by then it was time for lunch. Breakfast food is one of my least favorite food groups (except big egg-y plates, but to me thats lunch by a different name)– I can't stand bananas, fruity yogurt, milk, coffee and generally don't prefer sweet foods, so no brown sugar in my oats, I'll pass on granola, even most fruit doesn't have a place in my diet. So I have to get creative and go savory– I treat my oats like congee or risotto: stirring in sesame oil and scallions or grated parm, topped with a fried egg. When I need big protein, its black beans and an egg. I also love that thin German pumpernickel packed with seeds with a schmear of cream cheese. Now I get hungry again by 10:30 and sometimes need a second breakfast.
I have a pretty locked down rotation during the week– low carb, veggie packed soups and salads. More often than not these dishes feature that much-maligned basic bitch of the protein world, boneless, skinless chicken breasts. Jessica wisely sears them like a steak, locking in the juices. I've come around and here's a couple things I do with chicken: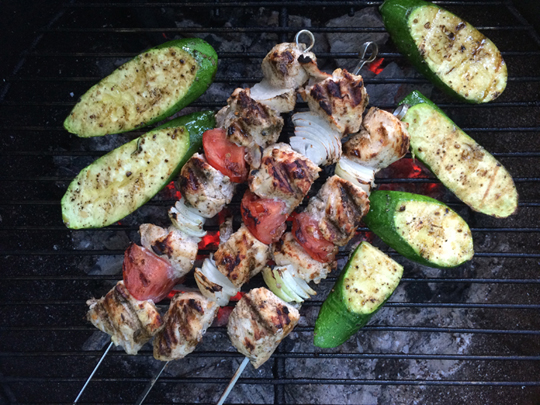 Marinades are your friend when cooking boneless chicken. I've come up with a pretty mean shish tawook (chicken kebab) marinade for boneless skinless chicken:
1 lb. boneless, skinless chicken (breast or thigh) cut into 1.5" cubes
Combine:
The juice of one lemon
½ cup plain yogurt (with some fat in it, go Greek, at least 2 percent)
2 tbsp. tomato puree (optional)
1 tbsp. minced garlic
1 tsp. salt
1 tsp. black pepper
1 tsp. ground cumin
1 tsp. oregano
1 tsp. ground allspice
½ tsp. ground cinnamon
Marinate chicken cubes 6 hours to overnight. Thread onto skewers and chargrill (preferred) or broil, then serve with grilled veggies, rice, and hot sauce (preferably homemade shatta or harissa).
Another favorite chicken marinade this year was my spin on this jerk chicken recipe by Serious Eats' resident mad scientist, J. Kenji López-Alt. I use halved whole chickens here. I smoke the bird with my Weber Smokey Mountain using lump charcoal and cherry wood (pimento wood would be authentic. López-Alt's complicated things by placing bay leaves and allspice berries directly on the coals, but I skip this). I smoke at a relatively high heat (as I prefer for chicken) 260-275 for about two hours. And I reduce all the leftover marinade into a high octane dipping sauce. Lord have mercy!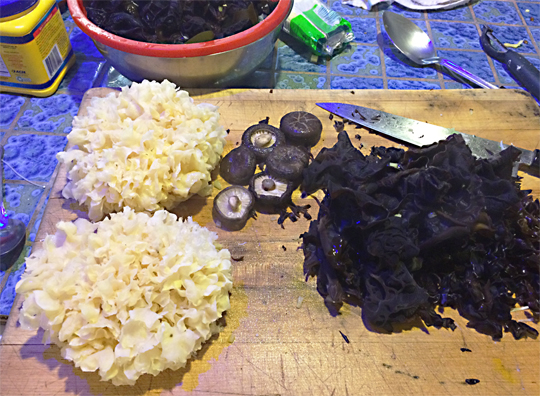 My creative cooking practices have taken a back seat with my new juggle, though I was able to conceptualize a few meals with kindred spirits. In August I worked with Roots & Culture's first curatorial resident, Risa Puleo on a healing themed dinner. I contributed a Traditional Chinese Medicine-inspired soup featuring dried Chinese cloud ear and black funguses. I have a newfound appreciation for these mild-flavored, yet gelatinously crunchy ingredients, a textural thing prized by East Asian cuisine that hasn't quite yet translated to Western palates.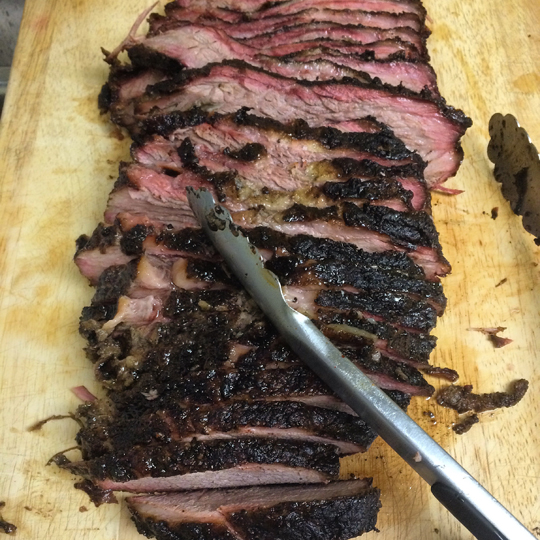 My catering side hustle also kept me busy. I must have smoked over 100 pounds of brisket this year, mostly served Texas BBQ style, but also snuck into flaky emapanadas oozing with Chihuahua cheese. While I had my smoker out, I'd smoke portabella shrooms as a vegetarian alternative, though I found they really shine when employed as a filling for fluffy corn-y tamales. I'm big on corn season, so esquites was a staple on the menu for caters and entertaining on our deck in the summer months. How I do: roast corn and poblano peppers (maybe 1 pepper per 3-4 cobs), cut the corn off the cob and finely dice the peeled peppers, dress with mayo and a little lime, with a couple of glugs of Tapatio and a good sprinkle of pungent cotija cheese.
New to the 'burban rotation
I was pretty stoked to find a breadth of diverse eating options when we first moved out west. I was really on the beat last year, but fell off, again due to less time (sick of hearing this yet?). And after exhausting many mediocre options, we've fallen into a rotation, though there have been a few promising additions this year.
A nice supplement for weekend brunch is dim sum at the Naperville outpost of MingHin Cuisine. The food is fine to good, nothing earth-shattering. Occasionally the dumpling wrappers bottom out. Though there can be on dishes like dead simple smoky fried sticky rice popping with little dried shrimpies or unctuous brisket and rice noodle rolls replete with gelatinous tendon bits. Its all about the vibe though– the space is downright palatial, all hardwood and polished stone, I even like the art. Seated at one of their private booths, it has an almost spa-like feel that transports worlds away from the harsh strip mall sprawl of Naperville.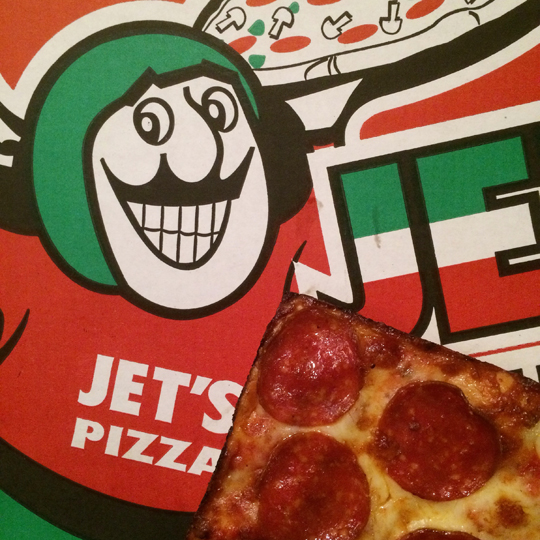 While I might not be proud to admit this, we've found a place for certain chains in our mix. Of course there's the two-piece spicy with those goddamned-good rice and beans from Popeye's for my often-boozy late night Metra rides home. The big discovery was Jet's Pizza. I was clued in by the ever-erudite Mike Sula during his round up of the recent Detroit-style pizza fetish spreading around Chicago. Damn though, that greasy, well-leavened crust with a corona of well-caramelized cheese. This chain has a leg up on about 90% of any Chicago style deep dish.
And finally, speaking of the commute, I have my spots that I hit to and from the city when I drive. My true love is Katy's Dumpling House in Westmont, which should need no introduction. So it pains me a little to get off the Midwest Road exit to visit a new mistress. I was tipped off to Hanbun by the Trib's Nick Kindelsperger (mad respect for the legwork this guy puts in on a story) where a fine dining vet was cooking elevated Korean-classics in a dusky food court. He and his wife also serve a tasting menu after-hours with a modernist spin on traditional ingredients, though I have yet to check this out. But the daytime menu also speaks to chef Dave Park's attention to technique– balancing warm, rich flavors with cool, crisp compliments, all well-dressed with garnishes. Their black bean noodles are first rate, homey comfort food with complex depth. Their pork belly buns rival Momofuku's with a coffee glaze and house kimchi. This place truly is a diamond in the rough and I'm curious to see if they stick it out at the obscure location (which makes me feel like an initiate in a secret club that, sometimes, we suburban gastronomes deserve.)
Return to the food court
One of the most hyped openings in Chicago this year was Revival Food Hall located downtown on Clark Street. The line up is a who's who of hip, casual, cheffy eateries from around town, though frankly it's easier for me to get to each of their neighborhood flagship spots. So, I haven't actually made it there yet, though one of the best things I ate all year was a sandwich from Danke, a spin off of Logan Square's Table, Donkey, & Stick, that happens to be managed by my buddy (and one of my favorite artists in town) Tegan Brace. She was kind enough to treat me to a doggy bag of a few of their sandwiches constructed from all house-made ingredients from the charcuterie down to the bread. The standout was the "Secret Sandwich", topped with (among other things): creamy duck liver mousse, smoky German bacon, and lily-gilding smoked pickled onions.
Ogilvie Transportation Center offers more than late night Popeye's. Their French Market makes for a pretty convenient stop to grab lunch to-go when I'm commuting inbound. Fumare is destination-worthy for their unique-to-Chicago Montreal smoked meat (pastrami)– succulent, fatty, smoky meat on perfect rye bread. Poke, in this case, a sort of Hawaiian chirashi, was a big trend this year and Aloha Poke Company led the charge at Ogilvie (they also have a location in Revival). The Chipotle-esque format doesn't quite make for a dish that's more than the sum of its parts, but those parts offer a healthful and flavor-packed lunch of rice, raw fish and vegetal toppings.
Food courts have their place in the bustle of a commuter lifestyle. Though I think Chicago needs a proper high energy hawker market with start up businesses offering unrestrained international street food. The Richland Center in China town might come the closest. Maybe the success of Hanbun will attract other promising stalls to the "International Mall", which has the 80s throw- back look to match the concept.
South in the North Vs. the South
I have truly mixed feelings about the South, but what do you expect from a Northern urban elite type? I love Southern food, though, and apparently plenty of Northern urban elites do too. I believe that the essence, or for lack of a better word, the soul of Southern cuisine is indebted to Black culture– its about making the best out of scrappy ingredients with roots in African flavors and technique, the legacy of inventive slave cooks. Characteristically, all the food I'll be writing about here, on both sides of the Mason-Dixon, is sold by white people.
Two Nashville imports hit Chicago this year: meat-n-three (a la the fabled Arnold's) and proper hot chicken. I thought the grub was pretty damn good at the 1970's-vibed meat-n-three St. Lou's Assembly in their first few months. The concept works like this: grab a tray and hit the cafeteria line– order a main protein and then three sides. I've heard reports that St. Lou couldn't quite manage the format, so I haven't been back. We also happened to dine at Arnold's a few months ago on a road trip through Tennessee. The line was dozens-deep, though it moved at an efficient clip, leave it to the experts. Did the food stack up? It was good, though maybe a hair below expectations. I might have preferred the thicker cut of roast beef at St. Lou's. Jessica ordered wiser than I with a crusty, creamy cauliflower casserole and the gooiest mac n cheese possible. We both agreed that the fudge-y dense, kissed-with-cayenne hot chocolate pie was the best part of the meal.
We should have stopped at (Black owned) Prince's, originator of hot chicken, on our brief stop through Nashville. The main excuse was that we were in a hurry to get to our next destination. But also, after sampling a few versions around Chicago, I'm not sure how obsessed I am with this style– the heat is delivered by an application of cayenne-fortified lard or oil, which just adds more grease. I prefer cutting the richness of the breading with vinegar-y hot sauce. But after a few disappointing versions in Chicago, I tried at the bird The Budlong (currently with two locations– including Revival, notice a pattern here?) and despite my uncertainty of the hot style, the baseline fried chicken at Budlong is absolutely some of the best in town.
I had a second great plate of fried chicken up in my old stomping grounds of Saugatuck, MI. Area veteran chef Matthew Millar opened The Southerner last year in a space that used to house a geriatric brunch spot (which I kind of loved) with spectacular views of the Kalamazoo River. I might have had one too many excellent house bloodies, because I can't quite remember everything we ate, though I can recall some respectable collards. But I was mostly distracted by the juicy-as-all-get-out bird with crackly crust.
Speaking of greens. I ate a lot of them this year and my favorite batch was made in my very own kitchen for a cater by the talented Brian Gallagher, a North Carolina native and chef at ACRE. Common procedure with collards is to remove the tough inner stem from the leaves. Brian saves the stems and throws them back in the pot as he gently simmers them in their "pot likker". Apparently the stems are high in glutamate, aka MSG and add a savory depth to the likker. You'll hardly miss those ham hocks if you keep the collard "bones" in the pot.
Finally, the best food we ate down south represented a corner of Southern cooking I have yet to see catch on in the North, Northern Kentucky fare, stuff like burgoo (also big in Indiana) and BBQ mutton. I had my first tastes of both dishes in Owensboro, KY at Old Hickory. Burgoo is typically a community affair, folks contribute any sorts of meat they may have on hand (perhaps hunted game in its origins) to the stew pot which cooks down with veggies, sometimes for days on end. The rendition I sampled was thick and nearly homogeneously textured, meaty-rich with a little tang. It was delicious. And the mutton was even better, my favorite type of gamy meat, slow-cooked to fork-tender with a subtle smoke and a Worchestershire-spiked jus (they call it dip). Some Yankee elite should hop on this bandwagon for the next trend.
Indianapolis
We traveled to Indy four times this year! Our dear friends Michael Milano & Elisabeth Smith moved down there, who are brilliant curators and included Jessica and I into a project each, so we've had a few excuses to head down I-65. I already knew Indy as a foodie destination. My buddy Matt Zatkoff is from the area and his hometown buddies have tirelessly sought out all the best mom-and-pop ethnic spots. In my top 10 from 2014, I lovingly sang the praises of Jamaican Jerk, who moved to roomier digs this year, where they're jamming out harder than ever on their meaty, smoky jerk ribs and chicken with zippy allspice-heavy jerk sauce. Bombay Bazaar is rumored to be moving too, but on my last visit they were still serving up the best biryani and deepest spiced palak gosht out of to-go containers in the back of the grocery surrounded by Bollywood DVDs.
I had two of my best meals of the year at new-to-me spots in Indy. Asian Snack came hugely recommended by Matt and Co. The place screams E-style, a cluttered stall in a sprawling international grocery store with various snacks out on the counter. The owners hail from Tianjin in northeast China and one of their specialties is jiangbing, a famous breakfast food, a crepe with an omelet and a savory crueler folded into it (the turduken of the breakfast world) wrapped with scallions, hoisin, and hot sauce, adding up to a far tastier concoction than you would imagine. Asian Snack also excels at fiery stir fries, their "spicy chicken" and "spicy tofu" would not be unfamiliar to fans of dry chili preps at Sichuan spots, though their rough hewn chunks of bone-in chicken are so meaty and succulent compared to the more typical chewy little dry nugs that commonly plague the dish. Another standout complex dish, the oddly named "Chicken with spiced salt", is a stew-like affair including tripe and soy sprouts and apparently fortified with baiju.
One of my favorite meals of the year was at the well-buzzed brunch spot, Milktooth. But dude, don't I hate brunch at places with gross sounding names like that? On a return trip the place, we did experience all the worst brunch has to offer: we waited an hour beyond our quoted 45 minutes, plenty of time to witness all the bad white people attitudes, only to be seated to a menu with a breakfast sandwich as the most interesting option. The space is hipster cute, you know a little tatted up and punk, but that kind of overlaps with Cracker Barrel these days, no? Okay, on to that outstanding meal– the first visit yielded a menu stacked with seasonal, Southern-inflected choices– we had very good collards and a tomato and house cottage cheese salad. My main, though– expertly fried smelt served atop a generous pool of African peanut curry, which was bonkers complex and a combination I would have never dreamed of. That fish cray!
Shout Outs:
Sauce & Bread Kitchen's Catering
Roots & Culture hosts a huge gala shindig every spring. Until 2016, I had catered the party myself, as if I don't have enough to worry about. My board insisted that I outsource for our 10th anniversary and my kindred spirits Mike Bancroft & Anne Kostroski at SBK were the first people I thought of. And they killed it. I was too busy to eat, but the food looked beautiful and the compliments flowed. There were a couple of leftover quarts of one dish that was one of my absolute favorite things I ate all year, an Italian beef salpicón which was simply thinly-sliced rare beef dressed with giardiniera. After the party I headed back to the gallery for a celebratory nightcap and I ate about a pound of this stuff straight from the deli container blasting Drake's "Views". I had orange oil stains all over my white linen suit pants the next morning.
Pittsburgh
Jessica did a show this summer at the wonderful photography-focused nonprofit, Silver Eye. Firstly, Pittsburgh is a gorgeous city, the Paris of Appalachia. And the art scene there seems tight knit and supportive. I could totally live there. We mostly hit up the famous touristy eateries, so my brief glimpse of their food scene was perfunctory. Like other modestly-scaled rust belt cities, the delicacies of the 'Burgh are big, cheap, meaty sandwiches built for working people. I was appropriately half-drunk when I dug into my first Primanti, but I thought the thing worked better than it should have. Fluffy bread stacked with spicy capicola, fresh cut fries, and cool slaw, I was a fan. The dog at the Big O was a snappy, smoky one, though they could perhaps use a signature topping, it was pretty plain to my Chi-dog tastes. The biggest sleeper was the fish sandwich at Wholey's, a ginormous, flaky cod filet clad in well seasoned batter, simply stuffed in a pillowy roll.
Mikro's Takoyaki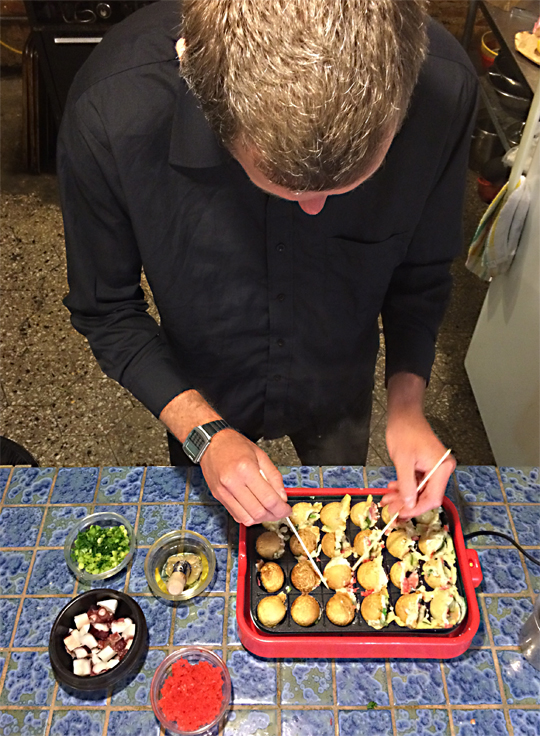 My old buddy, Mikronaut is a quite the vagabond, bouncing around the country throughout the year (though home-based in New Orleans.) Its been real sweet since he's been spending more time in the Chicago area these days, hitting up lunches and going on weird adventures like looting sound equipment from a decrepit karaoke bar in a sleezy hotel next to the Chicago Executive Airport. Anyway, Mikro also frequently travels to Japan. He asked me to help him record a demo video for a Japanese reality show that features foreign Nipponophiles who obsess over particular facets of Japanese culture. For Mikro, its takoyaki, little octopus fritters that are cooked in a special cast iron pan that has spherical molds to shape the octo-balls. The balls are then topped with yummy stuff like Kewpie mayo, pickled ginger, and katsuobushi. I can't speak to my videographer skills, but Mikro's takoyaki were the best I've ever had– piping hot, light, and ever so custardy.
"Little Palestine"
At least that's what Instagram wanted to location-tag the strip mall at 103rd and Harlem around my home turf in Palos Hills. I knew a lot of Arabic kids growing up. But over the course of the past decade, long after I left for the city, the areas near Harlem Ave. from Bridgeview south all the way to Palos Heights have teemed with Arabic-owned businesses. And some damn tasty food can be found, almost Dearborn, Michigan-level and definitely surpassing the Middle Eastern enclave on Kedzie in Albany Park these days. A new spot caught my eye on the interwebs, Al Sufara Grills, an unassuming deli-like storefront that grills kebabs to a wonderful smoky finish over live charcoal while the call of the muezzin blare from a TV. America 2016, folks.