I was invited by my dear friends Michael Milano & Elisabeth Smith to participate in their Syntax Season project, hosting language-based art exhibitions at the PRINTtEXT periodical shop in Indianapolis. My show aligned with election week (though a few days after the big day) so I thought it would be appropriate to address issues of the campaign.
Here's the press release (written on 11/1):
The notion of greatness in America has been was hijacked as an empty campaign slogan in the 2016 election cycle. For me, one of our greatest strengths as a country is our openness to folks from beyond our borders. Though portrayed by a certain presidential candidate president elect as criminals, rapists, and terrorists, an overwhelming majority of immigrants seek the same opportunities that were afforded to other generations of once-outsiders—a chance to make a decent wage or run their own business; raise their children in a safe neighborhood with good schools. And in turn, what makes us even greater is the awesome blend and variety of cultures that has come to be the face of contemporary America.
As a food writer and chef, I believe that a good way to find understanding and appreciation for other cultures is by exploring their culinary traditions. And from big cities to not-as-big cities to small farming communities, the tastes of America are expanding. By seeking out different foods, we can connect with neighbors and folks living on roads-less-traveled (to us) alike. This is a simple step, but it could help us find some cultural unity and healing that, frankly, we need in light of the turmoil of this current political climate.
I am fortunate to have a network of like-minded foodies with a strong base in Indianapolis. These friends have introduced me to Asian Snack, Bombay Bazaar, and Jamaican Jerk: three remarkable eateries run by immigrants, new and not-so-new to the city, serving mind-expanding-ly delicious food to their communities with true hospitality towards newcomers.
For the Greatness project, I asked the owners of these businesses—Wen Hua, Ejaz Abidi, and Kahni Harris, respectively—what they thought was great about America, and their answers will be publically visible in the storefront windows of PRINTtEXT. I encourage all to go sample a plate of Gelashen-style chicken, Biryani, or Jerk ribs at their respective businesses, and taste the Greatness of the cultural mosaic that is America.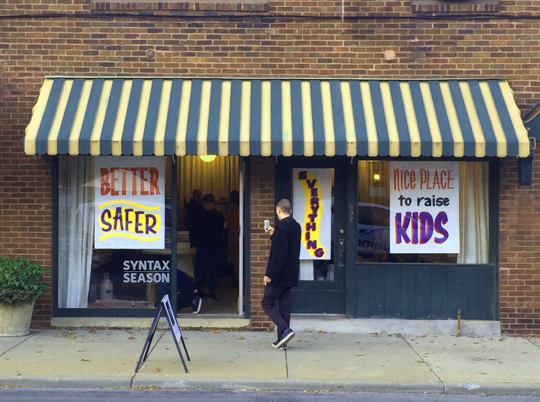 I had originally planned to host a dinner at Asian Snack after the opening, but as it turned out, a Trump Resistance Rally was being staged at the state capitol building that evening. It seemed appropriate to offer the opening as a space to gather and make protest signs before the demonstration, to which many of us headed afterwards.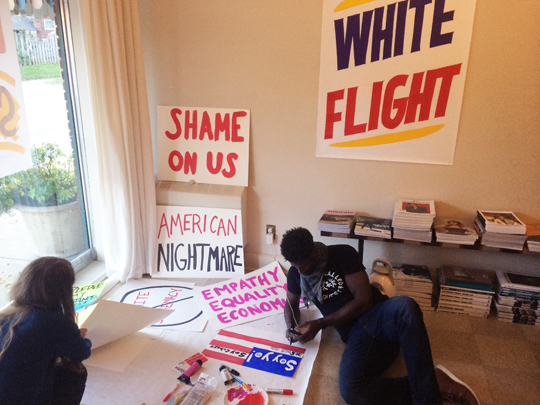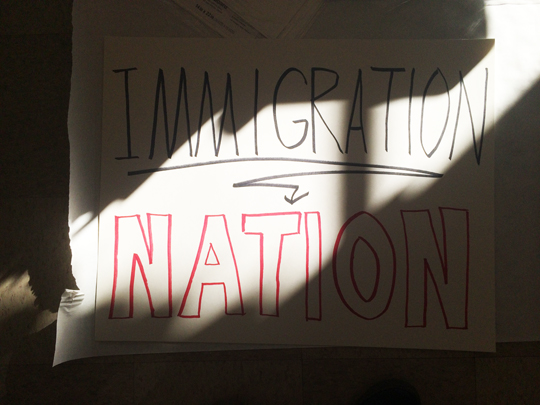 Sorry to turn your friendly neighborhood food blog away from culinary conversation + I'm sure you're all over-saturated in political think pieces, but a quick note on protesting/ refusal of Trump:
I was fairly committed to activism in my early 20s during the post- 9/11 Bush/Cheney hellscape. However on the night of March 20th, 2003, I was too depressed to march. The enormity of the invasion of Iraq weighed me down into a state of catatonia. A numbness for politics was my survival mechanism for the next six years. And then came the great "Hope", followed by a veer towards political cynicism (though my life has certainly felt happy and on track for the past eight years.)
Are protests effective? The lesson I learned in the Bush years was not so much in their direct political influence. Optimistically, maybe by relentlessly banging down the doors of every elected official all the way up the gilded tower, the voice of the (disenfranchised) people will be heard. But at the very least, demonstrating gives people a moment of power, community, and catharsis. And it's a right and tradition in this country protected by the first amendment.
And should I remind the right that their boy incited a reaction from the "2nd amendment people" if Clinton won and made a spectacle around his commitment to concede the election? I just can't imagine the other side acting any more civil had the table been set the other way. And we all know how accepting much of the right was of the previous administration…
It felt good to be back in the streets. I'm charged up. Until the day Trump denounces, calls down, and enforces against the culture of hate that he has stirred up (I'm sorry, that 60 Minutes throne room spot wasn't enough), which seems unlikely considering the swamp-dwelling bigots he's surrounding himself with, I will not be silenced in my dissent.