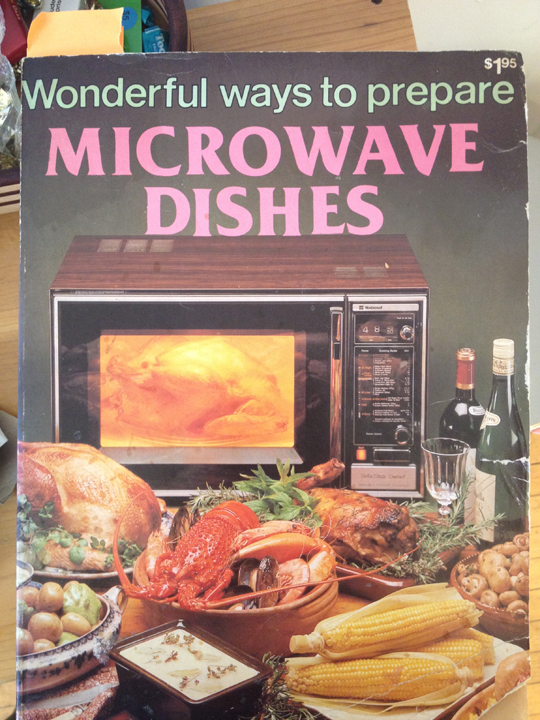 More like Adven­tures in Elec­tronic Cook­ing. Per­son­ally, I swore off the microwave right after the instant ramen years of early col­lege (1998). I hon­estly never touched one of the things until Jes­sica moved in with hers four years ago. It cer­tainly was an indis­pens­able mem­ber of our kitchen appli­ance team in my house­hold grow­ing up, which was just about right on the microwave pop­u­lar­ity time­line (got big in the mid to late 70s). Reheat­ing left­overs, of course (and my pri­mary use for the one we've got at the house); after school nachos, you bet; I even cooked my first dish ever in the micro… dan­de­lion soup (the unsus­pect­ing neigh­bor girl got to enjoy that one). And at some point mom started to nuke all of our veg­gies, which it turns out actu­ally does pre­serve their nutri­ents bet­ter than other meth­ods of cooking.
But you see, as soon as I fan­cied myself a seri­ous cook, who pre­pared every­thing from scratch– no short­cuts for me– I denounced cook­ing with elec­tro­mag­netic radi­a­tion as ama­teur­ish and too easy. So when my bud and prior PClub col­lab­o­ra­tor, Matt Zatkoff pitched the idea to pre­pare a sev­eral course meal ~actual gas­tron­omy~ using noth­ing but the microwave, it sounded absurd enough to be worth a shot. Plus he had all these groovy old school cook­books with soft lit 1970's food porn and destined-to-become-hip-again retro recipes like Turkey Divan and Noo­dles Romanoff. Turns out it was not such a con­ve­nient and time effi­cient method to cook com­pli­cated recipes for a crowd, but chal­leng­ing is the Piranha Club trip, so let's have at it…
We sautéed, sim­mered, deep fried, roasted, and baked using three microwaves for each and every ele­ment of the meal (except for one emer­gency assist from the micro's older cousin, the toaster oven (leav­ing it up to you to fig­ure out how we used it)). For one of the apps, cur­ried meat­balls, we fol­lowed a recipe ver­ba­tim from the cook­book at the top of this post. The sec­ond course, $5000 Fiesta Chicken Kiev was inter­preted from an "award win­ning" recipe in this lovely vol­ume above, the Hot­point Coun­ter­top Microwave Oven Cook­book. We kept the cheese cracker crust (Cheez­its, of course), but subbed in real minced onions rather than dehy­drated and (microwave) roasted poblanos, sub­bing for canned green chiles. Matt applied expert tech­niques from this tome writ­ten by the fore­most author­ity on the sub­ject to his favorite recipes for stuffed mush­room caps (with a Thanks­giv­ing stuff­ing pro­file) and Fet­tucine Gam­beretti, for which he hand made pasta and tossed it in vodka cream sauce with gulf shrimp and his home­made guan­ciale. A side of Toma­toes au Gratin and the dessert, Pineap­ple Upside Down Cake were made fol­low­ing recipes from, again, the Hot­point cookbook.
As I've alluded to, cook­ing this many com­plex dishes was not a breeze. Some reflec­tions on cook­ing (pretty much) only using the microwave oven:
* Nuk­ing veg­eta­bles, until just cooked, not only pre­serves nutri­ents, but also fla­vor. Our in-season corn that we zapped for about 2 min­utes for a salsa cruda we served with the 5K chicken was per­fectly crisp and as sweet as can be. The mush­rooms and in-season toma­toes also sang true to their inher­ent savorinesses.
* While its hard to get any caramelized color on meat, if you cook it, again, for the right length of time, it retains mois­ture and has a great tex­ture. Worth not­ing: Matt has a small col­lec­tion of old fan­gled microwave cook­ing sup­plies like Miro­crisp brand brown­ing wrap, which didn't prove to be very effec­tive. A brown­ing pan with a built in heat­ing coil, really did heat up faster and retained heat. We used this to sauté veg­gies and deep fry the chicken.
* Some­how, the roux in a flour thick­ened sauce binds to the liq­uid with barely any babysit­ting. For the curry sauce, I merely stirred the sauce with a spoon once in the mid­dle of its cook­ing time. It came out vel­vety smooth.
* When cook­ing in liq­uids, its tricky to get the water or oil back up to temp as fast as you can with a scream­ing hot burner, after you've sub­merged the ingre­di­ents. This is what fucked us the most, par­tic­u­larly since at this vol­ume, we were adding too much cold chicken to the oil. So, if you're going to deep fry (and we sug­gest the brown­ing pan for this) use the oil with the high­est smoke point pos­si­ble and mon­i­tor its temp. 350 degree oil will drop con­sid­er­ably when you add 40 degree chicken and the micro takes a few min­utes to regain the heat. We also lost a batch of pasta to water that had not reached a boil, water­log­ging the noo­dles. Also, we really crowded our pans, this is a sim­ple les­son in cook­ing, give your ingre­di­ents space to be enveloped in heat. Maybe we should have used 5 micros.
* A 9″ X 9″ pan of cake cooked unevenly, pretty clas­sic– cooked edges, gooey center.
* Finally, and this may have been a thread amongst all our woes jug­gling 3 dif­fer­ent microwave ovens– not all microwaves are built the same, they range in power from 700 to 1600 watts and older mod­els, like the ones used in our fancy old cook­books could have been as low as 600 watts. Learn your power set­tings (I let Matt do this), you can adjust them at sev­eral lev­els on most microwaves.
Despite a har­ried ser­vice, every­one seemed stoked on the meal. Basi­cally 100% clean plates. I even received the high­est com­pli­ment a chef can receive these days, Amaze­balls.