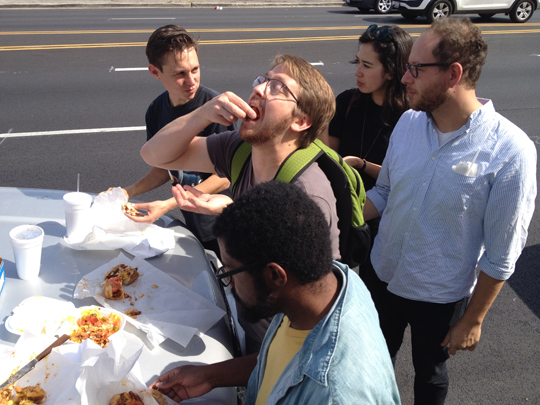 Truth be told, I eat a lot of chicken sal­ads. How else do you think I keep my girl­ish fig­ure after those all day food tours of far flung neigh­bor­hoods eat­ing Jim Shoe after Jim Shoe? That's the thing about year end lists, they tend to focus on the thrills rather than the day-to-day. I like to see these lists as a way to look back at my year and see what I've learned, over­all pat­terns in taste and cul­ture. Of course, I'll cover a few indul­gences– great things I ate at a new restau­rant or two and fun new drinks I got into. But hope­fully you'll get a snap­shot of how I view the world through a food lens.
10. Ses­sion IPAs
Not to get on an aging rant, but I just can't deal any­more with the wal­lop hang­over dealt by a six pack of Bell's Two Hearted Ale (my favorite IPA). A few years ago I would have scoffed at the thought of an IPA with an ABV lower than 6 per­cent– I'd actu­ally had one out in Salt Lake City where the state's arcane liquor laws pro­hibit beers over 3.2 per­cent in most estab­lish­ments. Need­less to say, that beer was thin and one dimen­sional. A lot of my brewer buds have been singing the mer­its of "ses­sion beers" that are easy to drink in bulk, but most of those guys were talk­ing about sour ales, a style that is often low in alco­hol to begin with. Call me behind-the-times, but I still like the hops, so with some skep­ti­cism I approached these new lower alco­hol brews like Lagu­ni­tas Day Time and Founder's All Day IPA. For­tu­nately these beers were much more fla­vor­ful than my expe­ri­ence in Utah. My favorite is prob­a­bly Stone Brewing's Go To IPA, which employs a tech­nique called "hop-bursting" bulks up on the fin­ish­ing hops which results in a cit­rusy char­ac­ter with a piney fin­ish, great stuff. I def­i­nitely most fre­quently drink the Founder's All Day, which at about $17 for a 15 pack of cans is easy on the wal­let, as well as the waist­line and the next day. This is the light beer for the craft beer gen­er­a­tion– 70 less calo­ries per 12 oz. serv­ing than my 2 Hearted. Even though these beers are designed to drink more of, I actu­ally don't. They're fla­vor­ful enough to sus­tain my inter­est with­out chugging.
9. The Gene & Jude's, Johnnie's 1–2 Punch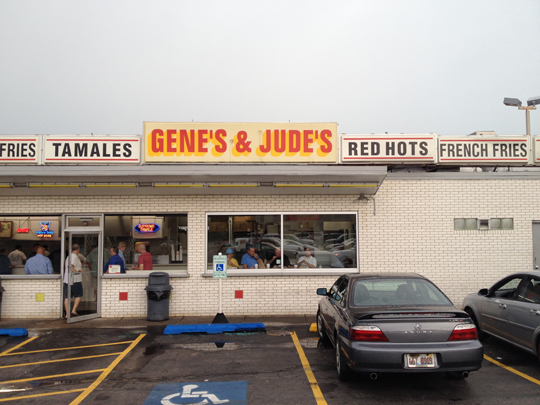 There is no greater Chicago street food twofer than hit­ting up these two old-school-as-all-get-out stands in the near west burbs. Oddly it took me until this year to get to the cel­e­brated Gene & Judes. And, the one time I hit up John­nies a few years back, I'd not quite ordered to the best of their strengths. Leave it to the august Rob "PIGMON" Lopata to point me in the direc­tion of this lit­tle jaunt up Grand. Of course, com­ing with the ter­ri­tory of clas­sic pro­le­tariat eats, alle­giances and pref­er­ences are fierce for both Chicago dogs and Ital­ian beefs. I grew up on the south­west side and for dogs, my arche­type was set by my old man and his favorite red hots at Snyder's in Bev­er­ley, who adhered to the dragged-through-the-garden/ Vienna Beef/ Fluky's/ depres­sion sand­wich for­mat that is more widely observed. The his­tory of this stuff gets murky as do def­i­n­i­tions, as there is another ren­di­tion of the Chi dog, a min­i­mal­ist ver­sion if you will, that I have actu­ally come to pre­fer: reg­u­lar hot dog bun, nat­ural cas­ing beef frank, mus­tard, neon rel­ish (not for me), onion, sport pep­per, period. This is the style that Gene & Jude's serves, though I would argue that the superb hand cut fries become another top­ping on the sand­wich as they are tightly packed with the dog and com­pul­sory with every hot­dog ordered. A few stray fries seem to always nes­tle into the hot­dog (the pros will add a few fries regard­less) and I also love how the fries pick up the per­fume of the mus­tard and onions. It's a sum of its parts and G&J's nails it. What gets me about the place is that no mat­ter when, 24–7, you will receive a per­fect dog. At other spots, even pre­vi­ous favorites, if you hit them at the wrong time of day you might get a gray­ing, water­logged, or mushy dog. But G&J's is so pop­u­lar, noth­ing sits around, ever. Dat­ing back to 1950 (they started at Polk & West­ern 4 years ear­lier), the place is bare bones, I love the old school sig­nage and the no non­sense ser­vice. It's in and out here, folks.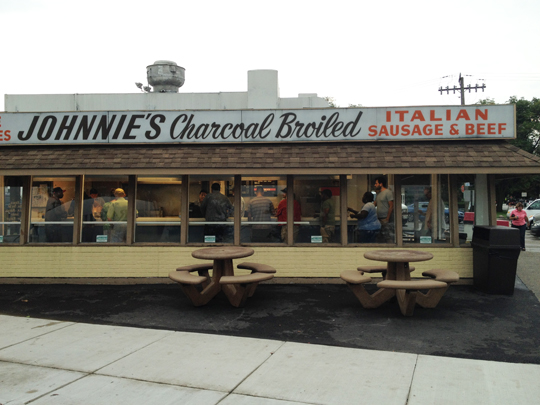 Then on down River Road to our next stop: Johnnie's, which is sim­i­larly always crowded, free of frills, and pre­served in amber. Their Ital­ian beef is very good, but I don't love their gia­r­diniera and with such few com­po­nents to this ele­men­tal sand­wich, it can be a make or break deal for a beef. But you don't eat at Johnnie's for the gia­r­diniera. (As an aside, they prob­a­bly serve the tasti­est sweet pep­pers in town, which are chopped and sea­soned.) You eat at Johnnie's for their Ital­ian sausage, which they grill over live char­coal. It comes out smoky, gar­licky, and very juicy. Might as well throw that in the mid­dle of an Ital­ian beef sand­wich, for a combo, and you've got one of the best, essen­tial sand­wiches in Chicagoland. You've just treated your­self to Chicago's finest and should prob­a­bly take your lipitor.
8. Cortez Mullet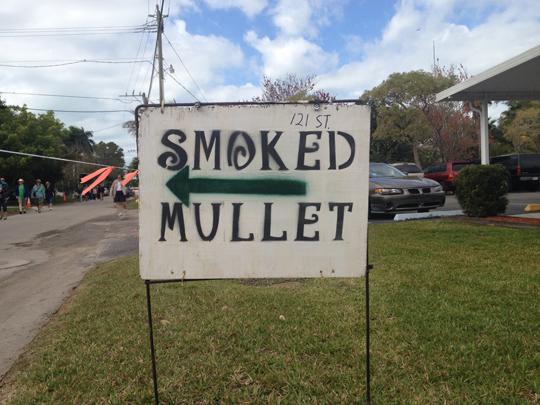 The oceans seem to be dying. There are many envi­ron­men­tal fac­tors, but irre­spon­si­ble fish­ing prac­tices are a major issue for many fish species. Imper­a­tively, we must look at sus­tain­able alter­na­tives to over­fish­ing, which will require us to make sac­ri­fices and look at other types of fish ~if any at all~ to help turn this impend­ing cri­sis around. You know I'm a cham­pion of find­ing the nutri­tious and deli­cious in unde­sir­able sources. Ever eat mul­let before? They're a bit lean and a bit bony, but abun­dant, fished sus­tain­ably (in the gulf of Mex­ico), and enjoyed since Roman times. I hadn't thought too much about mul­let until I read last year's top ten list by John T. Edge, the direc­tor of the South­ern Food­ways Alliance and one of my favorite food writ­ers. What caught my eye was not mul­let as an ingre­di­ent specif­i­cally, but the loca­tion where he dis­cov­ered it. A pizza shop in Cortez, Florida was serv­ing a grilled Cae­sar salad with mul­let roe. My par­ents win­ter in Anna Maria Island Florida, a sun­drenched place of infi­nite oceanic views with a fairly redun­dant food scene. I like a grouper reuben as much as the next guy, but after night five, you crave stuff like, well, pizza.
The story doesn't stop with Vil­lage Idiot Pizza. After a bit of Googling, I dis­cov­ered a piece in the New York Times about a cool dude named Seth Cripe, who sup­plies Vil­lage Idiot Pizza with their mul­let roe. Mr. Cripe salts and sun dries the roe sacs, pro­duc­ing a prod­uct called bot­targa, which you might know as an Ital­ian del­i­cacy, typ­i­cally used spar­ingly as a gar­nish due to its intense fla­vor and high price tag. Mul­let is the pri­mary catch in the fish­ing town of Cortez, which is just east of my par­ents place, where we fre­quent fish shacks for not-so-local grouper and cheap beers. I got to try that salad at Vil­lage Idiot and it was fan­tas­tic, the bot­targa sub­bing not only the brini­ness of tra­di­tional anchovy, but also the cheesi­ness of the parmesan.
Lit­tle did I know my mul­let quest had just begun? We also hap­pened to be in town the week­end of the Cortez Mul­let Fes­ti­val. This event looked like a typ­i­cal flea market/ coun­try fair type of event, with cheap crafts for sale, expen­sive shitty drinks, and a fairly decent vari­ety of food ven­dors both local and from the big city, Sara­sota. We had a few bites of decent food, but I needed to know where the mul­let was at, find­ing it strange that the name­sake fish was sorta under­rep­re­sented. Not wil­ing to throw in the towel, my unstop­pable appetite led me to the mul­let cul­ture. Fairly cen­tral to the fest, I had mis­in­ter­preted a cou­ple of extra wide smoker rigs for a BBQ set up. These old dudes were stok­ing the wood fire and duti­fully man­ning their smoker. Once I started pok­ing around with my cam­era phone they waved me over to check out the rows of small golden, but­ter­flied fish enveloped in the caress of smoke. Awe­some. I ordered a whole one. It was smoky, oily, and assertive, driz­zled with a mild BBQ type sauce. Hell, why can't fish be BBQ, because that's exactly what was going down. Next, I strolled over to the pier and found a group of mul­let fish­er­men engag­ing with the crowd about their work and hawk­ing what was called a "Cortez hot­dog", a corn meal encrusted, per­fectly fried skinny filet of mul­let on a cheap bun with tar­tar sauce and a scat­ter­ing of diced onion. A deli­cious les­son in mak­ing due with what you've got.
7. – Amer­i­can Cuisine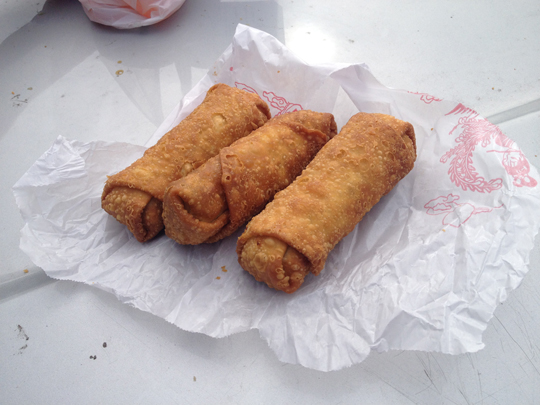 I'm an advo­cate for a culi­nary recon­sid­er­a­tion of the low brow, hyphen­ated Amer­i­can cuisines: eth­nic cook­ing tra­di­tions catered towards Amer­i­can palates and ingre­di­ents that began to pro­lif­er­ate in the sec­ond half of the 20th cen­tury. Mexican-American, Chinese-American, and Italian-American. A few years back I wrote a trea­tise on my love for the Mexican-American fare of my child­hood and then joined forces with Chef Jonathan Zaragoza to re-imagine clas­sics like queso, bur­ri­tos suizos, and crispy tacos. This year I reac­quainted myself with red sauce Ital­ian as night after night of binge-watching the Soprano's, I craved baked ziti (or mostac­ci­oli, pro­nounced musk-a-cho-lee where I come from). These types of recipes and the restau­rants that serve them have been abuzz in the food under­ground this year. My bud Rob Lopata dragged us around for a tour of old school Can­tonese egg rolls in his native north­west sub­urbs this fall and the con­cept took off in an expo­nen­tial way on LTH­Fo­rum. The ever intre­pid, Titus Rus­citti, has been archiv­ing the best deep fried tacos (and all other sorts of tacos at that) around the Mid­west on his blog, Chicago Taco Tour. While it might take some time for egg foo young, chimichangas, and lasagna to cap­ture the restau­rant world's imag­i­na­tion, it seems like a log­i­cal exten­sion of the American/ comfort/ fast food trend of the past decade. You can't deny that this food scratches a nos­tal­gic itch and is deeply sat­is­fy­ing in a rib-sticking, big calo­rie Amer­i­can eat­ing type of way. And screw the authen­tic­ity hang up, this is legit­i­mate cui­sine born of cul­tural cross pol­li­na­tion. Its big, bold, and, beau­ti­ful, blan­keted in bub­bling cheese.
6. Beef Noo­dle Soup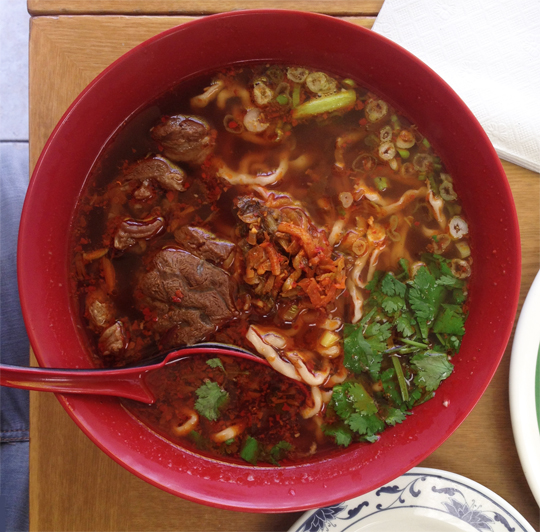 I'm sick of ramen. Not just the hype, but the soup itself. Sure, it is an intri­cate art form, broths sim­mered at a tedious pace, noo­dles per­fectly cut into uni­form rib­bons. I like the stuff, but I get exhausted by its fatty broth and dou­bly heavy addi­tions of pork belly and egg. Pho, while not quite as dorked over, has a pretty cultish fol­low­ing too. I pre­fer its nuanced, lightly spice broth and super bright and fresh herbal gar­nishes to ramen, but the damned rice noo­dles get all soggy and seem to be a pretty low rent ingre­di­ent to begin with. Enter my new favorite one meal Asian noo­dle soup– Chi­nese beef noo­dle soup, or niu rou mian. Cre­ated by the Mus­lim Hui peo­ple in the Tang Dynasty, its mod­ern recipe was per­fected in Tai­wan where it remains the national dish. The basic for­mula is a deep beef broth sea­soned with spices such as star anise and gin­ger; ten­der braised cuts of beef, either shank or brisket; greens such as bok choy or spinach; and req­ui­sitely hand pulled wheat noo­dles. Some ver­sions are topped with piquant pick­led cab­bage and most ver­sions I've sam­pled are fin­ished with chile paste, com­mon to North­ern China. If you're read­ing this from Chicago, a good rea­son why you've prob­a­bly never had (or enjoyed) this soup is because there isn't a good ver­sion in the city proper. The short-lived Sing's Noo­dles in Chi­na­town deliv­ered on the chewy, pulled fresh noo­dles, but fell short on a thin broth. You've gotta head west to the burbs to Katy's Dumpling House– the orig­i­nal dingy store­front in West­mont is your best bet, but there's another out­post in off-the-Green-line Oak Park. They are mas­ters at all things dough– sturdy noo­dles, chewy pan­cakes, and ten­sile dumpling skins. I can't veer from the beef noo­dle soup, though, my favorite one meal soup in the met­ro­pol­i­tan area with its fra­grant and fiery broth, tart pickle, and sup­ple beef slices. I know there are supe­rior ver­sions– I've had bet­ter at a hole in the wall noodle-and-dumpling spot in Manhattan's Lower East Side Chi­na­town called Super Taste. Recently I struck out mak­ing a pil­grim­age to a highly rec­om­mended bowl in sub­ur­ban Toronto, show­ing up on their closed Tues­day. We had an unre­mark­able, yet sat­is­fy­ing bowl next door at another shop. Until I get to Tai­wan or niu rou mian fever catches on, I'm enjoy­ing what­ever bowl I can get my hands on!
5. Ana­logue
Ana­logue is a spot that seems to be about three dudes doing them. Its not high con­cept, hell on paper the for­mula might seem incon­gru­ous: fancy cock­tails + New Orleans cui­sine + DJs. These guys kinda fear­lessly opened a place where they and their friends would like to hang every night. And that's the imme­di­ate charm of Ana­logue, its low key. The room is, for sure, urban cool, but not overly designed, the space recedes into an ambi­ent chill. Friends from all walks of life feel comfy there– food­ies, artists, and indus­try folks alike. And you can always get out of there stuffed, with a buzz on for around $50 per per­son. But, okay okay, I'm not get­ting to my main point. The food here was some of the best things I ate all year and we have Chef Alfredo Nogu­iera to thank for this. I know Fredo through my good buddy Danny Z and we've devel­oped good rap­port over the years– I'd count him a kin­dred spirit in terms of ideas about good eat­ing. I'd always felt like a heel for not check­ing out Fredo's pre­vi­ous spot at the sea­sonal bak­ery cum café, Flip­side that oper­ated in the win­ter months in a Hum­boldt Park Ital­ian Ice shack. I did not make the same mis­take with Ana­logue. At this point, I just have to have Fredo's stuff if I let a month or two slide by. There's no pre­tense to his cook­ing, its unre­strained, bold, and full of soul. I have loved every sin­gle bite I've eaten there: silky smoked white­fish dip served with Zesta saltines (did I men­tion unpre­ten­tious) with piquant house hot sauce; bis­cuits to beat the finest pas­try; lus­cious char­cu­terie; 2X crunchy chicken sand­wich; all-pigs-go-to-heaven cochon au lait po boy; ten­der smoky greens; juicy, juicy BBQ shrimp; the best fried chicken out­side my own kitchen (Tues­days only, get there early).
Hold up, hold my phone! I a'int done with the hyper­bole. One of my very favorite things I ate all year was Fredo's gumbo, dark as delta mud, yet light on the lips. This shit is edu­ca­tional– turns out that the starches in flour break down as you toast them, so a roux the color of dark choco­late does not have the same thick­en­ing abil­i­ties as a light roux. I always likened the gumbo expe­ri­ence to eat­ing a big bowl of gravy. Well I don't look at it like this no more and when I make gumbo at home now I go dark. Fredo's roux gives the stuff a pleas­ant tobacco-like toasty depth. Built from the broth up, it starts with a very rich can­vas to which you might find sen­sa­tional pro­teins like duck and house made andouille sausage. Danny Z had been swear­ing to me for years that the potato salad Fredo scoops into his gumbo beats the more ortho­dox rice. He was right for a change, the creamy cool– but yes, bacon stud­ded– salad makes the per­fect foil to the deep savory soul of the bowl. My #1 favorite dish of the year is Fredo's dirty rice, which I believe is described on the menu as "seri­ously filthy". A'int no lie– chock full of the nasty chicken bit­sand ground pork, this stuff is funky, rich, and salty, Get some hot sauce up in there and we're talk­ing cash money. I didn't think my favorite restau­rant of the year would be a cock­tail bar in Logan Square, but the laid back cool and unapolo­getic stuntin in the kitchen at Ana­logue would fit right in New Orleans.
4. Virtue Cider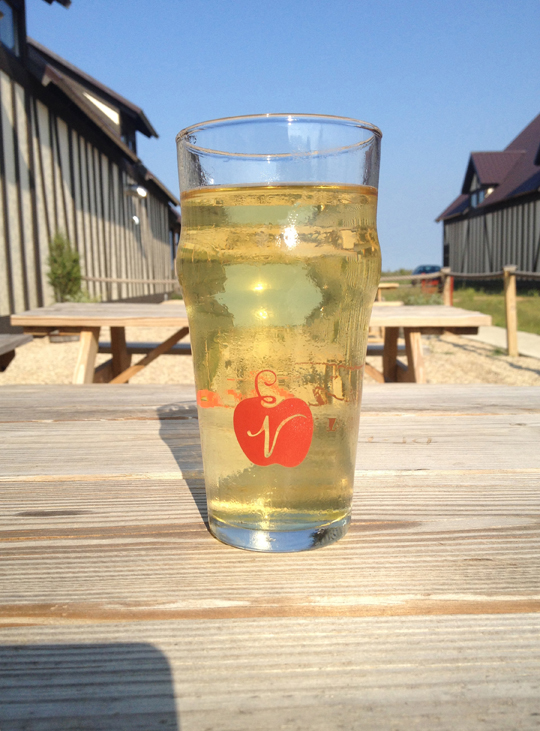 I got hip to dry cider in Basque Coun­try a year ago and a whole world of fla­vor opened up to me. Con­ve­niently, there is a cider pro­ducer about 10 miles away from Ox-Bow, in pic­turesque Fen­nville, Michi­gan called Virtue, which opened up a few years ago by for­mer Goose Island head brewer, Greg Hall. This past year they opened up a tast­ing room at their farm and bot­tle shop. On a lark I stopped in on a rainy day off as I hap­pened to be dri­ving around the area. And so began the love affair. The place has a great vibe– the tap room is small, but cozy and the boys at the counter and their gre­gar­i­ous kitty, Pip­pin make great com­pany for an after­noon of imbib­ing. I love whiling away the after­noon on their pic­nic tables with unob­structed sun­shine and breezy views of the orchards as a back drop. With a cold, crisp pint of cider, this is my happy place.
I've tried all their vari­etals, at least the ones avail­able through the end of the sum­mer. Its sea­sonal stuff, obvi­ously dic­tated by the apple har­vest, so new vin­tages hit the shelves late fall. Sum­mer is quiet time for them as the fruit matures on the tree and the last year's offer­ings alchem­i­cally mature in the bot­tle. They're not all to my taste, I find the flag­ship Red Streak a bit one dimen­sional, the Basque style Sidra de Nava lands on the vine­gary end of kom­bucha, and their top sell­ing "The Mit­ten" is too sweet for me (though barely sweet com­pared to the crap I drank in col­lege, I've been trained well). First, I loved Cidre Nou­veau, which drinks like cham­pagne. This makes sense, since it is a French style and like Beau­jo­lais nou­veau, employs the youngest mature fruit early in the sea­son. I then grad­u­ated to Led­bury, which still might be my favorite– a medium Eng­lish style, which is a bit less dry with a rounded juici­ness and a pleas­ant light funk­i­ness from the wild yeast they use to fer­ment it. This cider is super apple-y as is my other fave, Lap­inette, a Nor­man style cider aged in oak bar­rels. This one is a bit on the assertive side with a pro­nounced unfil­tered funk. Virtue sources local apples, which is part of the huge appeal. The West­ern coast of Michi­gan is known as a fruit belt and one of the country's top pro­duc­ers of tree fruit. It makes per­fect sense that this region should host the best cider mak­ing in the coun­try. Virtue ele­vates the best of the region by apply­ing hand crafted, old school tech­niques to the local bounty.
3. Asian Street Food Comes to Chicago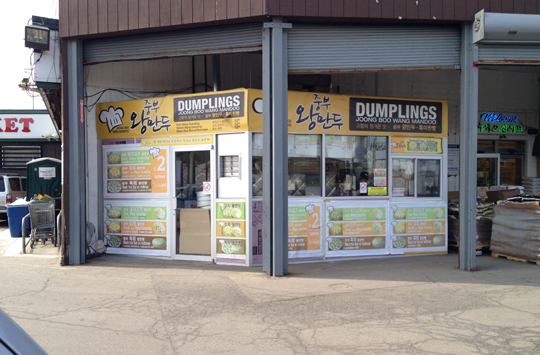 A few years ago I wrote about the emerg­ing (and dubi­ously legal) Mex­i­can street food scene in the West Pilsen & Lit­tle Vil­lage neigh­bor­hoods. You can still find tacos de cabeza or huaraches hecho a mano if you poke around at the right times of day on the right street cor­ners, but these spots are (under­stand­ably) illu­sive. ~Insert rant about Chicago's con­vo­luted, sys­tem­i­cally inac­ces­si­ble, and expen­sive rules and regs about street food licens­ing here~ The bat­tle for a legit­i­mate street food scene in Chicago, in my eyes, is lost. So it was with great sur­prise and delight that I started to dis­cover East Asian street foods in unex­pected places around town this year. I've been fol­low­ing the some­what mar­ginal, half empty food court in the Rich­land Cen­ter on the far east side of Chi­na­town for a few years now. The sprawl­ing menu at stal­wart, Snack Planet is pretty hit or miss, though reli­able for plastic-clam-shelled cold North­ern Chi­nese appe­tiz­ers. Fast for­ward to early 2014 and some very promis­ing devel­op­ments have been pop­ping up down there and with them, an invig­o­rated cus­tomer base. The first, and my favorite open­ing down there this year was Lao Pi, which I was tipped off to by a tweet of a pic of a trans­lated menu by the Trib's Kevin Pang. They spe­cial­ize in skew­ers grilled-to-order over live char­coal, a Mus­lim North­ern Chi­nese tra­di­tion. Heavy on pro­teins, they offer lamb, beef short rib, chicken wings, whole pom­fret fish, and a smat­ter­ing of offal. Veg­gie friendly options include pizza-dough-like man­tou, tofu skin, and long mild chiles. It seems as though the sea­son­ing sprin­kled on the skew­ers is con­sis­tent for each type of skewer– an aggres­sively aro­matic mix of cumin, chile, and sesame. The lamb are my favorite and highly addic­tive, I find rea­son to pop down there for one or two when­ever I'm nearby. A recently opened stall right next door to them seems to be steal­ing much of their open­ing buzz with hand-rolled to order dumplings. In my one– off expe­ri­ence, the boiled dumplings were some­what bland, but com­fort­ingly satisfying.
So clearly, the indoor food mall con­cept fits within the city's codes. I was tipped off in March about the "pork burg­ers" served at a food stall in the sim­i­larly named Rich­well Mar­ket. This place is owned and staffed by a very sweet woman who explained to me that there's been a recent wave of North­ern Chi­nese busi­ness­men mov­ing to Chicago and that many of them are unmar­ried and look for food from back home that they can carry out or eat at a restau­rant. Con­sid­er­ing the recent open­ings of two Dong­bei restau­rants in Bridge­port, the Northern-leaning offer­ings at Rich­land, her stall, and the open­ing of Xi'an Cui­sine in Chi­na­town, this all makes sense. Her pork burger, a five spice-y shred­ded pulled-pork-like affair served in a split crunchy-on-the-outside flat­bread scat­tered with sesame seeds, very much resem­bles the burg­ers from the famed Xi'an Famous Foods in New York. She also offers cold to-go appe­tiz­ers such as my favorite, chile-oil dressed, pli­ant slices of pig ear, five spiced peanuts and tofu, cold noo­dles, all sorts of guts, and great big old joints, knuck­les, and trot­ters of red braised pork. While we're talk­ing North­ern Chi­nese burg­ers, although the place is a proper brick and mor­tar sit down, Xi'an Cui­sine in Chi­na­town, with its lim­ited menu, offers many of these dishes at sim­i­larly rock bot­tom prices. Fan­tas­tic lamb and cumin flat­breads cost $3, cou­pled with a refresh­ingly tart salad-like dish of thinly sliced cel­ery and springy tofu skins for $2 makes my new favorite $5 lunch in the city.
A big­ger sur­prise was the appear­ance of an open air food stand in the park­ing lot of Joong Boo Mar­ket, which needs lit­tle intro­duc­tion to many as the city's pre­mier Korean gro­cery store (which also has a small food stall in the back). This stand spe­cial­izes in one thing, wang man­doo– pillow-y, yeasty steamed dumplings not unlike Chi­nese pork buns. I have eaten prob­a­bly a dozen of these things by now, mak­ing spe­cial trips up the Kennedy (and sub­se­quently cook­ing a lot more Korean lunches at home these days). They offer three fill­ings– sweet black bean, pork, and kim­chi pork, the last of which I have not yet devi­ated from. So sat­is­fy­ingly pep­pery, tex­tural from cel­lo­phane noo­dles, and savory, this is my favorite, fill­ing break­fast in town for $2. Cheap food, on the go, just the way it should be.
2. Mid­west Melt­ing Pot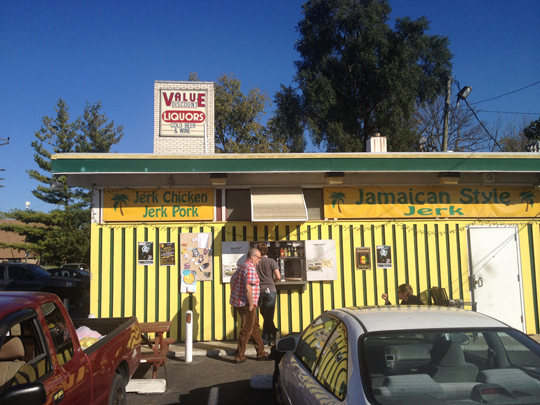 I did not travel very far this year besides a few trips to visit friends and fam­ily. I filled in the gaps with a cou­ple of day and overnight trips to nearby cities with some of my buds. Clearly, Chicago has one of the best food scenes in the world. But as I get around the cities of the greater Mid­west, I am increas­ingly stoked to eat amaz­ingly across the board no mat­ter where I am. I mean, you can get a decent bowl of bun cha in tiny Hol­land Michi­gan at a pool hall attached to a gro­cer that sells durian and frozen giant water bugs. I know that dining-wise, fancy chefs are open­ing up spots in fly­overs across the coun­try, but you know me, I'm look­ing for the home­spun tra­di­tions and the cuisines of recently trans­planted cul­tures, the down home and the cheap. I've done Detroit a few times in the past few years. You've got the clas­sic, work­ing class chow of the Coney's, slid­ers, and Mike's ham place. Travel into the burbs to Dear­born and you'll find the country's largest Mid­dle East­ern pop­u­la­tion with the bak­eries and kebab shops to prove it. The lit­tle ham­let of Ham­tramck, nes­tled inside the city's bor­ders is a patch­work of immi­grant pop­u­la­tions as dis­parate as Pol­ish and Bangladeshi.
Mil­wau­kee, just an hour and a half north up the lake has a killer food scene. Of course there's the brats, tav­ern style thin crust piz­zas, and but­ter burg­ers, but also old school Jew­ish deli. Jake's on North Divi­sion is almost sixty years old and has remained a stal­wart of the neigh­bor­hood offer­ing stacked hand cut corned beef sand­wiches to the shift­ing pop­u­la­tions of the neigh­bor­hood. Just up the street at another corned beef spot, House of Corned Beef you can taste the old world cohab­i­tat­ing with the new in a Jim Shoe sand­wich, over­flow­ing with hand cut corned beef, Ital­ian beef, and gyros. Did you know Mil­wau­kee has a South­east Asian Hmong pop­u­la­tion? There's a gro­cery store called Phongsa­van to prove it where you can buy frozen beef bile, drag­on­fruit, black chick­ens, and locally pro­duced Hmong bacon. After shop­ping, take a load off at their food court and enjoy freshly pounded papaya salad in your choice of styles: Lao, Hmong, or Thai with a side of salty Hmong sausage. My favorite spot in the Mil­wau­kee area has got to be Ono Kine Grinz in Wauwatosa, which is proudly gay owned and serves the native Hawai­ian cui­sine of one of the own­ers. His mom does the cook­ing in the back of this very charm­ing (if not some­what clut­tered with tchotchkes) con­verted house turn­ing out soul and belly fill­ing plate lunches piled with kahlua pork, mango chicken, yes more corned beef, and poke with sides of mac­a­roni salad, pur­ple rice, and kimchi.
I had the plea­sure of join­ing Matt Zatkoff for a tour of his home­town of Indi­anapo­lis, which also, very sur­pris­ingly offered an incred­i­ble range of grub. There's stuff you'd expect to find in the Mid­west, like south­ern style bar­be­cue at Hank's Smoked Briskets, deli, you bet, at Shapiro's, old school Ger­man at the Rathskeller. But there are also spots in out­ly­ing neigh­bor­hoods serv­ing more recent immi­grant com­mu­ni­ties like a Pak­istani owned gro­cery called Bom­bay Bazaar with an attached cater­ing busi­ness and like 3 greasy tables squeezed in amongst stacks of Bol­ly­wood DVDs in the back. Here we were treated to lus­cious goat biryani, siz­zling lamb chops, and deeply aro­matic spinach and goat curry. Matt's buds recently dis­cov­ered a North­ern Thai spot mas­querad­ing as an aver­age Ameri-Thai restau­rant in a con­verted Siz­zler, where I sam­pled many new-to-me fla­vors like fer­mented chicken wings, stuffed bit­ter melon soup, and a coconut rice dessert sprin­kled with shaved, salty, dried shrimp. My favorite Mid­west bites this year were served to me from a take out win­dow in the park­ing lot behind a liquor store– the best jerk I've ever had at Jamaican Jerk. Around the pic­nic table, we didn't talk much, grunt­ing our way with greasy hands through Sty­ro­foam trays of smoky, aggres­sively spicy jerk chicken and ribs served atop the best peas and rice and deep, deeply savory stewed oxtail or curry goat. On a sunny day with some Mavado test­ing the lim­its of a set of com­puter speak­ers, you'll for­get you're in Indi­ana. Next stop, St. Louis.
1. I See You Chicago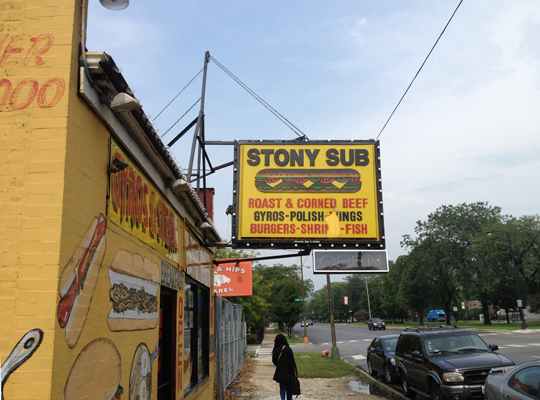 White peo­ple like me gen­er­ally don't ven­ture to the West­side or the South­side. Sure, we're all used to tak­ing over Pilsen by now. But for real, giant, I mean giant swaths of the West and South sides of the city are inac­ces­si­ble to the imag­i­na­tions of those con­fined to the comfy con­ve­niences of their North­side neigh­bor­hoods. Over 90% of these neigh­bor­hoods are black. I'm not the best per­son to give you a his­tory les­son here, but a cen­tury ago real­tors set hor­ri­bly racist, restric­tive poli­cies to not rent or sell to black peo­ple in white neigh­bor­hoods, not to men­tion the straight up vio­lence met by blacks mov­ing into white neigh­bor­hoods. Then mid­cen­tury came strate­gi­cally placed, oppres­sive hous­ing projects. Over­pop­u­la­tion, unem­ploy­ment, poverty, race riots, "shoot to kill" orders, a vicious cycle ensued. Unfor­tu­nately these con­di­tions have not changed much, con­cen­trated poverty plus eco­nomic decline plus the sys­temic lock up of black men plus a steady sup­ply of guns plus plus plus has put Chicago back in the news the past few years with spik­ing mur­der rates.
These con­di­tions are abstract to most well off white folks.
I believe that by vis­it­ing these neigh­bor­hoods and actu­ally get­ting out of the car and look­ing peo­ple in the eye, this is the first step to under­stand­ing seg­re­ga­tion and where racism lies within yourself.
I found the ker­nel of racism in myself this year. I found myself in Austin, one of the most fabled bad neigh­bor­hoods on the West­side. I knew kids in high school that used to cop their heroin there. You can see the cor­ner boys, the junkies, the under­cover cops, they are there. I was there to try this jerk chicken taco that I'd heard my friends rave about. We pulled up on a fairly busy stretch of Cicero, the place was jump­ing. I was ner­vous to go in, my inner­most racist fears were quak­ing. I caught myself about to tell Jes­sica– who was wait­ing in the car while we were dou­ble parked– to lock the doors. But I refrained. There it was. The clas­sic "lock your doors, this is a bad neigh­bor­hood" hang up. The cus­tomers inside were really nice peo­ple. One guy advised me to order an extra shell, since the tacos were so over­stuffed with chicken. Another dude, rub­bing his hands in antic­i­pa­tion, exclaimed that I was in for a treat. Sure, as I ordered, I was too soft spo­ken and got hollered at by the counter lady about what I wanted on my taco and my wrist got slammed in the revolv­ing door of the bul­let proof glass as I picked up my order. But I sur­vived. But you know what? Fuck that, order­ing tacos is not even some­thing I should have to feel proud of sur­viv­ing. Sur­vival? Please. I ordered tacos. I had pleas­ant encoun­ters with other folks order­ing tacos. End of story.
I don't care if you want to call my approach touris­tic. You are not going to see the world if you do not get out there. You are not going to first­hand con­front your sub­jec­tive judg­ments and prej­u­dices if you do not get face to face with real peo­ple. And I could go on and on about how the expe­ri­ence of food con­nects peo­ple cul­tur­ally, which I believe it does. This is sim­pler than that– its about see­ing, look­ing fel­low human beings in the eye.
Hit me up, I know where the good hand formed burger spot is in the South Shore; the real deal Belizean Gar­i­funa cui­sine in Mar­quette Park (and yes a Jim Shoe too); best jerk chicken in the city in Chatham; don't even tell me you haven't tried the apple frit­ter at Old Fash­ioned Donuts in Rose­land; real Chicago BBQ? gotta get to Greater Grand Cross­ing! You'll eat well and see what Chicago really looks like. And you'll meet some real nice peo­ple while you're there.