By
EMAY
|
Published:
July 6, 2015
By
EMAY
|
Published:
June 22, 2015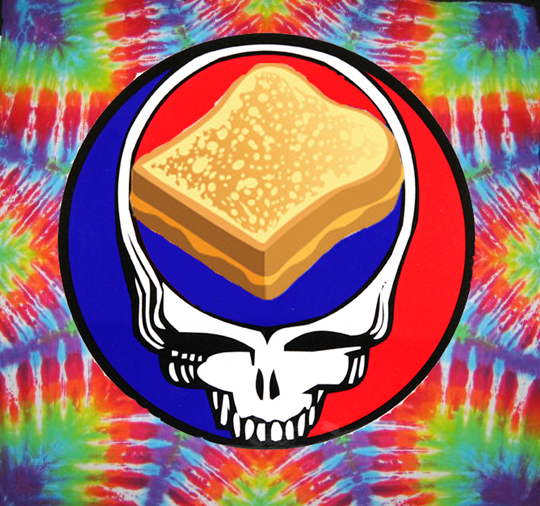 Sat­ur­day, July 4th. 1–4 PM
@ Roots & Cul­ture, 1034 N Mil­wau­kee Ave.
Before I devel­oped a taste for Jerry's end­less mean­der­ing riffs, Bobby's good old boy (not always in tune) har­mo­niz­ing, and Phil's psych the­atrics, I was drawn to the idea of the park­ing lot. An unreg­u­lated open air mar­ket, where con­cert venues seem­ingly turned a blind eye toward the ped­dling of illicit sub­stances, hip­pie crafts, expen­sive beer, and a cer­tain genre of veg­gie stoner junk food. I found my call­ing in the hawk­ing of the more whole­some lat­ter cat­e­gory, my spe­cialty: the grilled cheese.
Before I got into the hand­painted PVC didgeri­doo game, I'd hap­pily pocket hun­dreds of dol­lars a day sling­ing but­tery, gooey grilled cheese sand­wiches con­structed the way most of our moms made them out of cheap squishy white bread and Amer­i­can cheese sin­gles. That would set you back a buck back in '95. Look­ing for a more gour­mand expe­ri­ence? Add tomato for 50¢. What really lured in the munchie– addled hordes of patch­work clad, patchouli stink­ing col­lege kids was a lit­tle trick I dis­cov­ered smok­ing my way through my family's spice rack– a sprin­kle of oregano would not only add a classy touch to the sand­wich, but the over-spill off the sand­wich would inevitably burn on the hot pan, releas­ing a musky herbal scent in the vicin­ity, entic­ing more and more hippies.
So to cel­e­brate the Dead's "final" shows this 4th of July hol­i­day at Sol­dier Field as well as the spirit of hip­pie entre­pre­neur­ship, I'm dust­ing off the old Cole­man camp stove and The Piranha Club will host a grilled cheese party. $5 for a grilled cheese, chips, & a drink. Your choice of the "junkie" made the way mom would on squishy white bread with sin­gles or the "crusty" made on a crusty sour­dough with a pro­pri­etary arti­sanal cheese blend. $1 add ons include tomato, avo­cado, ham, or bacon. There will prob­a­bly be some Sierra Nevadas and Sammy Smiths on hand as well. Ven­dors wel­come, so bring your cus­tom devil sticks, hemp neck­laces, and patch­work pipe totes on down! It'll be a reg­u­lar shake down street!
By
EMAY
|
Published:
June 16, 2015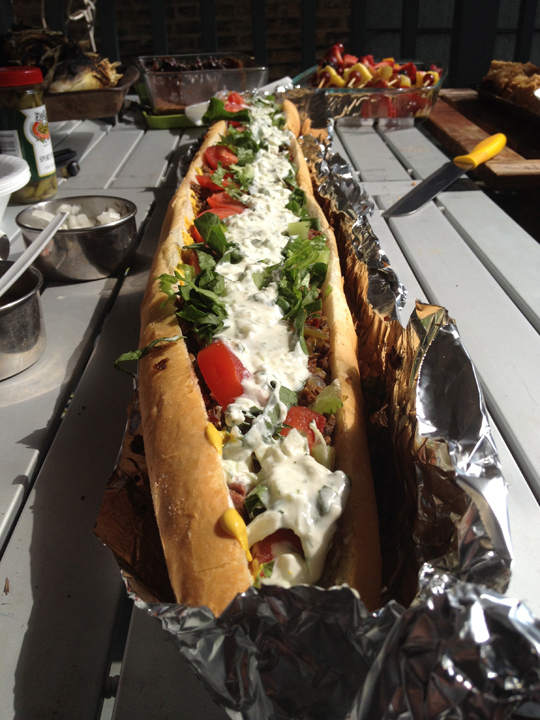 Fre­quent read­ers of this blog will rec­og­nize my fix­a­tion with the Jim Shoe sand­wich. This sand­wich could be described as a culi­nary abom­i­na­tion, a wrong idea in most every sense, a prank that could have been con­cocted by any num­ber of ~stoned~ caloric thrill seek­ers, not too far astray from the street food fan­tasies of its booze-sopping Latin Amer­i­can cousins. A sub roll + grid­dled "corn" beef, roast beef, AND gyros + mayo and mus­tard + let­tuce and tomato, gilded with guy-ro sauce (aka tzatziki), some­times with optional cheese, grilled onions, and requisite-for-me giardiniera.
But its pure Chicago– born behind the bul­let proof glass of South­side sub shops, ubiq­ui­tous spots that seem to do more of their busi­ness in low rent grease (gyros, burg­ers, deep fried stuff) than their name­sake sand­wiches. The his­tory of the thing is dubi­ous, likely born out of some sort of mani­a­cal hunger-distorted vision that became the stuff of urban leg­end that sub­se­quently went viral over the past few decades. Like most northside-dwelling inter­net food hounds, I was turned on to them by Dr. Peter Engler, a Chicago food his­to­rian and a true leg­end of the food inter­net under­ground. I'd heard whis­pers about this sand­wich from mutual friends, but patiently waited for Peter to unleash this decade-in-the-making trea­tise on the subject.
Bad idea or not, it turned out I actu­ally quite like these mon­strosi­ties. Best in mea­sured doses– shared amongst friends, this is a true exam­ple of the sum-equals-more-than-its-parts the­ory. I've sam­pled them across the south and west sides, in all of their forms: meats sliced or chopped on the grid­dle; spilling out of a pita; wrapped in a bur­rito shell and deep fried; and even made with higher qual­ity ingre­di­ents up in Milwaukee.
This last form sparked a con­ver­sa­tion amongst a few of my food pals on a day trip up to Chicago's north­ern­most neigh­bor­hood. What would a truly arti­sanal Shoe taste like? Made with the best ingre­di­ents of their class: a proper Ital­ian sub roll stuffed with home made meats and gia­r­diniera. The per­fect oppor­tu­nity arose last week­end when my bud Matt "laikom" Zatkoff hosted a Chicago themed potluck BBQ. I was mak­ing 7 lbs. of my famous Ital­ian beef any­how and also had to make a stop at the cor­ner of Grand and May for a 1–2 punch of D'Amatos crusty 3 ft. extra long Ital­ian rolls and Bari's deeply mar­i­nated hot gia­r­diniere. Ital­ian beef is not typ­i­cal on Chicago shoes, but had fea­tured in that ren­di­tion at Milwaukee's House of Corned beef, upping the Chicago ter­roir of this sand­wich a notch. So my Ital­ian beef would fill in for the roast beef. Mark "fro­pones" Sie­gal painstak­ingly crafted a house-cured corned beef and PIGMON and trixie-pea were kind enough to cruise up the Edens to grab a few pounds of the favored house made gyros (and tztaziki) from Psis­tria on Touhy in Lin­col­nwood. And while, there are some pretty mas­sive Jim Shoes already on the mar­ket, since we had a 3 foot long sub roll we could dub this the "world's largest Jim Shoe", I'll insert "arti­sanal" as a descrip­tor before folks start call­ing afoul.
I'm a huge fan of the chopped style of Jim Shoe, for which the meats are chopped on the grid­dle as they brown, often with onions and gia­rdiera. Watch­ing a true grid­dle mas­ter at a sub shop offers quite the show, a brisk and aggres­sive, yet finessed dance. A term that comes up in Jim Shoe lore is kat-a-kat, the name of a Pak­istani dish of offal that is fried and chopped, the word an ono­matopoeia for the sound of two blades hit­ting the grid­dle as they cut up the meat. Since many of the grid­dle men at these sub shops are Pak­istani natives, this makes sense.
I've noticed that the cook­ing imple­ments often employed look like (or prob­a­bly are) spackle knives, so I chipped any resid­ual joint com­pound off a cou­ple of spat­u­las from my paint­ing toolkit and proudly wielded them as my kat-a-kat weaponry. Our slow cooked meats broke down into an almost hash-like con­sis­tency and as I let the meat crisp up real nice, a good hash might be a fair anal­ogy. You can see my spackle knife in the photo below.
So how was this? Deli­cious of course, the sum-of-its-parts as a true Shoe should be. But was it as good as the real thing? I might argue no, at least not as good as the best ren­di­tions from Super Sub in Mar­quette Park or Stony Sub down on Stony Island. An authen­tic Jim Shoe takes hum­ble, mass pro­duced, (and impor­tant here) sodium-laden prod­ucts that on their own have lit­tle merit to a dis­cern­ing palate and ele­vate them into some­thing wor­thy. We took prod­ucts that were deli­cious in their own right and while Voltron-ed together were still delec­table, they lost their own inherit qual­i­ties a bit in the mix. A lack of salt whal­lop was the most dis­cernible dif­fer­ence, par­tic­u­larly in the gyros, which sev­eral BBQ-goers were quick to note. Even the Bari gia­r­diniere had a cer­tain dain­ti­ness com­pared to its more processed coun­ter­parts. Sat­is­fy­ing, but not quite on that down 'n dirty.
By
EMAY
|
Published:
May 21, 2015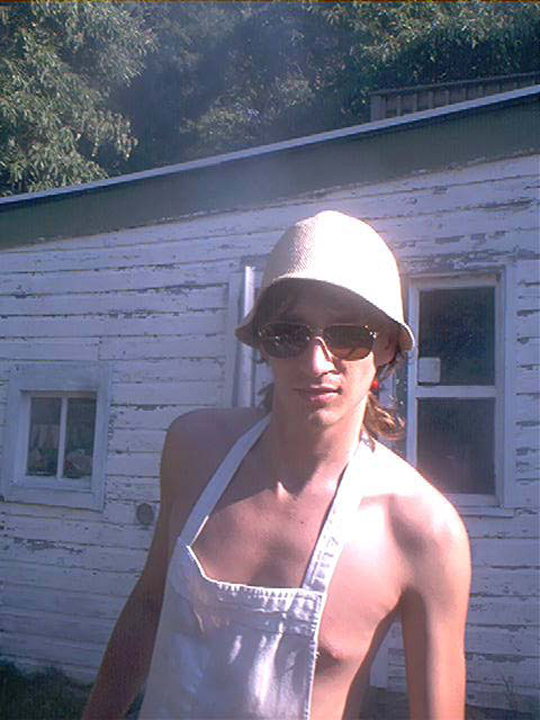 Photo c/o Skip Bal­lou
I'm from Ox-Bow.
I've been say­ing this a lot lately. I'm okay with some bugs in the house, spi­ders, a wel­come vis­i­tor. That hole in the screen? It can wait a few weeks. The old, the rot­ting– famil­iar and com­fort­ing. Just give it a fly paint job.
Jes­sica & I bought a house a few months ago, which sig­naled a major shift in my lifestyle. After 15 full sum­mers of work­ing at Ox-Bow, it's finally time to hang up my chef's hat. If you could see our house though, its more than a lit­tle rem­i­nis­cent of the quirky, over­grown, vibrantly painted col­lec­tion of shacks on the lagoon~ with prob­a­bly a few less bugs inside. Though I can't say that I con­sciously chose the house because of its campy-ness, Jes­sica says that she knew imme­di­ately that it was going to be our house because it felt like Ox-Bow. It felt like home.
Home.
There was a time when I con­sid­ered Ox-Bow my home. I was in my early 20s and oth­er­wise itin­er­ant in where I laid my head. I was still in the needing-to-feel-as-far-away-from-my-parent's-nest phase. That moment I first set eyes on the lagoon on that balmy after­noon in late July of 1998 is the sin­gu­lar most strik­ing mem­ory I have of the place. Expe­ri­enc­ing that view for 100 days straight is prob­a­bly the one thing I'll miss most. The place felt totally famil­iar, I had spent a chunk of every sum­mer of my child­hood and ado­les­cence in the sandy dunes and lakeshore of West Michi­gan. But there was a cer­tain sense of grandeur– the vista of the mean­der­ing lagoon set against a dra­matic back­drop of tow­er­ing, densely wooded dunes. A pal­pa­ble spirit quak­ing in the wind.
And those funny cab­ins, I got to live in four of them and had count­less laughs, beers, and weird sleep­overs in just about the rest of them. The buzz of campers in the old inn, entic­ing food smells, humid lazy lunches on the side porch. Cool grown ups. All those crazy artists everywhere.
I'm going to keep the sen­ti­men­tal­ity in check. The place is fueled by it. You're liv­ing in your best mem­o­ries in real time. Every­one feels like, well, your broth­ers and sis­ters. Time both flies by and feels like it's last­ing for­ever at once. You yearn for the place Sep­tem­ber through May, count­ing down the days. The magic, blah, blah, blah.
I think that for a lot of us (and I mean every­one who falls in love with the place), Ox-Bow pro­vides us with what we strug­gle to find else­where in life. A con­nec­tion to nature, belief in the unseen, magic. A feel­ing of com­mu­nity, fam­ily, home. Noth­ing wrong with that. I think for me, it was just that my par­ents never sent me away to sum­mer camp. It was my place to be the me I felt unsafe being in the real world– to wear a dress and make up, to run around naked, to get wasted every night. A per­pet­ual state of ado­les­cent rebel­lion. But I swear I grew up at Ox-Bow, I really did…
I fell in love at Ox-Bow for the first time and maybe a cou­ple more times. I met about ¾ of my best friends there. I got mar­ried at Ox-Bow! I felt a sense of com­mu­nity that has inspired and dri­ven all of the work in my life since. I learned to work at Ox-Bow. I was a lazy kid, always look­ing for short­cuts, averse to hard work. As a work study dish­washer at Ox-Bow, for the first time in my life, I felt pride in labor– my sweat, a con­tri­bu­tion to the col­lec­tive endeavor. I learned that ser­vice and work­ing with food were my life's work.
But I also had my heart bro­ken there. I fought with friends. Friend­ships col­lapsed. I buried pets there. My friend drowned.
Life in sharp focus.
I watched Ox-Bow grow up with me. The days of drum cir­cles, day­time skinny dip­ping, and day drink­ing gave way to a more but­toned up pro­fes­sion­al­ism. I was there, man, but shortly came ren­o­va­tion and expan­sion. And oh boy, did we not like it. How dare they bull­doze our sacred ground. What do you mean we can't smoke joints when­ever and wher­ever we want? But alas, the rebel­lion was short­sighted. We were lifted up out of hippy provin­cial­ism and became a world class insti­tu­tion. It was good that a hand­ful of us old timers car­ried some of the old spirit into the new era, shar­ing our com­mu­nal­ism and funky old ways. And I like to think that we passed down some of our knowl­edge to a new gen­er­a­tion. That's the thing, even though we had new big shiny build­ings and dozens more campers, the vibe didn't change all that much. But some of that sense of com­mu­nity was lost, things just got geo­graph­i­cally spread out more, it was harder to get to know all those new faces.
There were big­ger per­sonal shifts going on as I grew up at Ox-Bow. As I was pro­moted to a man­age­ment posi­tion and then wit­nessed the pro­fes­sion­al­iz­ing of the ser­vices we offered, some of my roman­tic rela­tion­ship with the place and feel­ings of "home" and "fam­ily" started to wane. But this was all okay. I was there to serve. Serve the mis­sion of Ox-Bow. I took great pride in my job. The cush­est ser­vice indus­try gig ever– a free place to live, sur­rounded by nature, free access to world class ped­a­gogy, feed­ing and mak­ing happy friends and respected col­leagues. In the end of the day, I came to terms with the fact that Ox-Bow was just a job, best gig in the world or not.
Back to that home and fam­ily thing. As I grew up I real­ized that Ox-Bow was only 3 months of my life and the other ¾ of the year inevitably had to take pri­or­ity. I found a new home and fam­ily. Back at camp I started to crave pri­vacy, nor­malcy, a good wifi con­nec­tion. I missed my wifey.
Speak­ing of pri­vacy, the hard­est part of the job is sort­ing out the inevitably blurry bound­aries between pri­vate and pub­lic. Where work begins and ends and really doesn't. This is where all the trou­ble hap­pens. My fatal flaw with my job was try­ing to keep every­one happy. Kinda fucked up to have to man­age your friends– your broth­ers and sis­ters– though. My only regret is not telling my friends that they were bad work­ers some­times and not telling my work­ers that they were bad friends other times. I could have been more forth­right, less con­fronta­tion– averse and it could have saved me a lot of grief.
But all I ever wanted was to keep the peace. Seri­ously folks, lis­ten up haters. Even though you can blame me for walk­ing around with too much swag­ger for my own good and inces­santly turn­ing the vol­ume up, some­times at the expense of the peace of my neigh­bors, every­thing I did at Ox-Bow on the clock, ever, I did for the realm.
I grew up at Ox-Bow. And many other wily young artists will for gen­er­a­tions to come. Some­how the place takes care of it self, it's about regen­er­a­tion. My best pal, Car­men said this at a sum­mer end bur­ial. My other best pal Sarah Workneh shared a ker­nal of wis­dom passed down to her as she was part­ing with the place, by the astute elder, Ellen Lanyon, "Ox-Bow will always be okay." As I walk away from this cush­est of jobs, I remind myself this. After spend­ing every sum­mer of my adult life at the place, it's hard to not get a lit­tle hung up on legacy or fret what will hap­pen in my absence. But I know its gonna be great. The place takes care of itself.
Okay, I'll end with sen­ti­men­tal­ity. Of course I'll miss the damned place. I love Ox-Bow like a liv­ing, breath­ing per­son. This is not good­bye. I will be back time and time again through­out my life to enjoy the caress of the warm sum­mer breeze com­ing in off the lagoon. I know she'll wel­come me back. After­all, I am from Ox-Bow.
I'd like to thank all you beau­ti­ful campers, who I had a beer or a thou­sand with:
George Liebert, Jakub Kuchar­czyk, Rafael Vera, James Schnei­der, Olivia Petrides, Molly Muste, Mar­garet Her­bert, Karl "Ze Moon Belongs to Ze Peo­ple", John Rossi, Heather Mac­in­tyre, Lani John­son, Rachel Fenker (Vera), Beylka Krupp, Mikey Hen­der­berg, Spe­cial K, Hank Adams, Maryann Lipaj, Chain­saw Dave, Andrew Win­ship, Scott Win­ship, Linda Char­vat, Winslow & Gus Liebert, Mike Noise, Janel Rouge, Yoh, Draga Susanj, Matt Fed­erico, Cather­ine Sky, David Baker, Kath­leen Mark­land, Sally & Liz, Lind­say Mad­den, Alex Her­zog, Shari Doyel, Becky Wehmer, Dawn Stafford, Bill Pad­nos, Tim Straub­ing, Matt Helander, Rick Malette, Liz Wheeler, Ken Burak, Nick Hig­bee, Zack Peavler, Katie Her­zog, Erin Zona, Jess Bohus, Jerry Cata­nia, Rob McClurg, EW Ross & fam­ily, Sheila O'Donnell, Mark Pas­cale, Jea­nine Coupe– Ryd­ing, Holly Green­berg, Michael Ryan, Mar­ion Kryczka & fam­ily, Andrea Peter­son & fam­ily, Colin Browne, Mike Wolf, Liz Nielsen, Dan Mackessy, Peter Bar­rett, Ted­ders Nathanson, Matt "Skip" Bal­lou, Lind­sey Brash­ler, Pam Zim­mer­man, Reid Thomp­son, Amanda Cohen, Amy Buc­ci­ferro, Sarah, Lisa Wain­wright, John Cor­bett, Lane Relyea, Mikro­naut, Matt Mars­den, Siebren Ver­steeg, Joe Klee­man, Dahlia Tulett, Jesse Baker, Luba Hal­icki, Mon­ica Marin, Jeremy Holden, Steamer Sea­mons, Ryan Fenchel, Andy Mal­one, Melissa Hogan, Shan­non Mustipher, Liz Nuren­burg, Leslie Vega, Maria Stubbs, Sarah Workneh, Lau­rie Price, Anna Mayer, Shara Hughes, Katie Ham­mond (Hal­ton), Lau­ren Cas­teel, Stacy Shier­holz, Jamisen Ogg, Rob Bell, Eric Mirabito, Al Hal­ton, Pauly Lukachin­ski Men­doza, Rachel Clark, Rich Fos­hay, Michelle Grab­ner & fam­ily, Tom Bar­tel, Cas­san­dra Cham­bers, Chresten Sorensen, Kate Gron­ner, Phil Han­son, Alex Han­son, Deirdre McConnell, Jes­sica Williams, Lon­nie Pot­ter, Shanna Shearer, Stacy Hol­loway, Caleb Lyons, CJ Math­erne, Nate Wolf, Pat Rios, Kelly Reeves, John Phillips, Israel Davis, Jeff Blan­ford, Kevin Puta­lik, Andrea Oleniczak, Steve & Bobbi Meier & fam­ily, Betsy Rup­precht & Jan Cun­ning­ham, Todd Warnock, Norm & Con­nie Deam, Phil & Cindy Visser & Fam­ily, Scott & Nancy Bru­ursema, The Sev­er­ances, The Leutzingers, The Suarez Fam­ily, Pete Pala­zollo, Dave Sei­del, Emily Wal­lace, Todd Knight & Michael Leonard, Mike Rossi, Car­men Price, Michelle Froh, Lakela Brown, Ram­bler, Tyler Poni, Grandma, Mar­i­anne McGrath, Danny Z, Miles Votek, Lau­ren Ander­son, Vanesa Zen­de­jas, Megan Reilly, Oli Watt, Aline Cautis, Piper Brett, Daniel Petraitis, Frog, Mus­tache Phil, Tay­lor Kur­rle, Tony Amato, Kelsey, Chris & Sam Fer­ris, Jason Kala­jainen, Richard Deutsch, Jimmy Wright, Eliz­a­beth Cho­dos, Brian McN­ear­ney, George Git­tens, Ji, Erin Cun­ning­ham, Alex who was into house music, Julianne Shi­bata, Jerry Saltz, Scott Reeder, Tyson Reeder, Jim Lutes, Carl Baratta, Rut Baratta, Kate Naka­mura, Kara Hall, Sara Cof­fin, Trash­ley, Efren Arcoiris, Geof­frey Hamer­linck, Teena McCle­land, Dan John­son, Tony & Tina Lar­son & fam­ily, Melanie Schiff, Erin Chapla, Dempsey, Katie Scan­lan, Ash­leigh Burskey, Car­o­line Woolard, Kari Rinn, Nate Doro­tiak, Amy Stibich, Stu­art Snoddy, Teruko Nimura, Vic­tor Sun, Mike Andrews, Alex Chitty, Rachel Nif­f­eneg­ger, Justin Swin­burne, Dan Ose­di­acz, John Parot, Justin Goodall, Andrew Svec, Nick John­ston, Chris Pow­ers, Julia Ash­er­man, Nate Ton­ning, Mari Miller, Kathy Leisen, Becca Bald­win, Rob Doran, Gor­don Hall, Hugh Zei­gler, Caiti Hack­ett, Chris Mrozik, Sarah Faux, Anja, Beau & Lily, Alec Appl, Met­als tech John, Joel Dean, Craig Doty, Aspen Mays, Michael Thibault, Sara Condo, Stephanie Nadeau, Max Hege­dus, Mar­tin Basher, Arlen Austin, Kelly Kaczyn­ski, John Bart­lang, Adam Eck­strom, Lau­ren Was, Tim Roby, Lisa Rybovich– Crallé, , Kari Rear­don, Andy Pomylka­ski, Tommy Cole­man, Daniel Lane, Chris Bost­wick, Kate Clark, Ben Love, Eric Steen, Sarah Rabeda, Mac Kat­ter, Evan Jenk­ins, Moira O'Neil. Casey McG­o­na­gle, Mark Ben­son, Jonah Groeneboer, Kate Rug­geri, Car­son Fisk– Vit­tori, Arend deGruyter– Helfer, McK­eever Dono­van, Sofia Leiby, Tiana Tucker, Betsy O'Brien, Mickey Pom­frey, Blake, Oliver Apte, Ben Medan­ski, Ben McCarthy, Natalie Edwards, Stephanie Brooks, Isak Applin, Lone Wolf & Cub, Han­nah Tarr, Priya Wittman, Ye Qin Zhu, Henry Criss­man, Ginny Tor­rance, Dul­cee Boehm, James Payne, Jonas Sebura, Jill Mason, Jovan­nah Nichol­son, Theaster Gates, Bill O'Brien, Chris Johansen & Jo Jack­son, Erin Nel­son, Sally Jerome, Peter Lin­den, David Schmitt, Scott Carter, Joven­cio De La Paz, Anthony Cree­den, Sophie Roessler, Alex Gartel­man, Har­rell Fletcher, Crys­tal Bax­ley, Rimas Simaitis, Tre Reis­ing, Neal Van­den­bergh, Andrew Mausert– Mooney, Biff Bolen, Danny Giles, Mar­i­anne Fair­banks, Jessie Edel­man, Sam Davis, Jamie Steele, Eileen Mueller, Jenny Drum­goole, Patrick Sarmiento, Miah Jones, Kirk Faber, Eli­jah Burgher, Rebecca Walz, Ryan Pfeif­fer, Jesse Har­rod, Rebecca Rin­quist, Ector Gar­cia, Amanda Wong, Rachel Brown­ing, Kendell Harbin, Nate Ellef­son, Carol Hu, Stephen Kent, Will Sieruta, Olivia Blan­chard, Molly Hewitt, Lau­ren Tay­lor, Mar­cel Alcala, Dana Carter, Paula Wil­son, Jo Dery, Car­rie Vinarsky, Lori Felker, Jesse McLean, Andy Hall, Andy Yang, Mac Akin, Woo­bie Bogus, Susan­nah Dot­son, Crys­tal Hei­den, Jackie Fur­tado, Andy Jor­dan, Sara Green­berger Raf­ferty, Jon Bru­mit, Judith Roden­bach, Eric Fleis­chauer, Aline Cautis, Heather Mekkel­son, Chris Kerr, Cauleen Smth, Ali Chit­saz, Dan Con­way, Lind­say Cashews, David Tor­res, Ryan Shrum, Lau­rel Shear, Diana Lozano, David Alekhougie, Moe Beitiks, Rachel Ger­vais, Bran­don Mathis, Kim­ber Shaw, Paul Warfield, MC Richard­son, JR Magsaysay Stan­ley, Andy Roche, Jason Lazarus, Noah Singer, Richard Hull, Shan­non Strat­ton, Michael Milano, Etta Sandry, Tegan Brace, Jesse Malmed, Raven Mun­sell, Anthony Stepter, Julie Ault, Zach Cahill, Abby Satin­sky, Andrew Doty, Krzysztof Lower, Emma Pryde, John Elio Reit­man, Nick Grasso, Osiris Zuniga, Carly Conel­ley, Winslow Funaki, Annie Miller, Sofia McDou­gal, Howard Fonda, Claire Ash­ley, Erin Wash­ing­ton, Ben Fain, Car­rie Schnei­der, Jayne Glick, Nate Large, Alyx Harch, Anthony Renda, Dash Sheffield, Rebecca Parker, Chris Ren­ton, Aay Pre­ston– Myint, Alex Valen­tine, Dan Gunn, Karolina Gna­towski, Meg, Lupe Ros­ales, and finally to the love of my life, who put up with this for six sum­mers and will be by my side, finally, for the rest of the sum­mers of my life, Jes­sica Labatte.
By
EMAY
|
Published:
March 31, 2015
Wow, where to begin? The NY debut of the Piranha Club was fit­tingly, the most intense din­ner we've ever done.
Our trip up the Hud­son to pro­cure beaver meat is most likely the best entry point into this story…
I'm a big fan of of Baron Ambrosia, the self-styled "Quaf­fer of Culi­nary Con­scious­ness" and "Culi­nary Ambas­sador to the Bronx". I first stum­bled across the fine Baron in this 2012 Seri­ous Eats piece about his leg­endary Bronx Pipe Smok­ing Society's Annual Small Game Din­ner for which (in its 2nd iter­a­tion of the annual event) he assem­bled a crack team of local chefs to tackle a range of wild game meats for an invite only secret society-like mas­quer­ade ball. I've fol­lowed his exploits ever since from his Cook­ing Chan­nel show, The Culi­nary Adven­tures of Baron Ambrosia, to his pro­duc­tions and col­lab­o­ra­tions with Hip-hop roy­alty like Grand­mas­ter Melle Melle and the Ultra­m­ag­netic MCs to his recent spot on Anthony Bourdain's Parts Unknown Bronx episode. Weird meats, rap lore, and neigh­bor­hood rep­ping– you can see how I find this guy to be a kin­dred spirit. So how excited was I when I received an e-mail from the man him­self after I tweeted to him about sourc­ing beaver meat in NY for our Queens/Xaymaca din­ner with Paul Anthony Smith~ I guess social media can actu­ally lead to mean­ing­ful IRL expe­ri­ences. And even bet­ter a per­sonal invi­ta­tion to his home to pick up our loins of largest-rodent-in-America…
My respect for this guy was val­i­dated emphat­i­cally when we vis­ited his home. While his schtick may seem pretty thick on cam­era, the line between his art and life is all but invis­i­ble. Intense and excited, but drip­ping with an almost for­mal social grace and gen­uine charm, the Baron was the finest of hosts, open­ing the doors of his world to us. His Vic­to­rian man­sion was stun­ning– gothic, sur­real, with New Orleans-y vibe– every sur­face treated with fan­ci­ful adorn­ment. He escorted us into the par­lor and on a table adja­cent to a crushed vel­vet couch, omi­nously sat three empty wine glasses. In our cor­re­spon­dence before the trip, I'd been aware of his exper­i­ments with beaver gland vodka and ner­vously antic­i­pated the fact that he might serve us one of his potions. As he pulled a spec­i­men jar from behind his bar, he pro­claimed that he'd start us off with the begin­ner stuff. I could see two omi­nous furry shapes rolling about in the jar filled up with about three inches of liq­uid. Bear paws. Baron ran to the kitchen to grab a turkey baster and his adorable ginger-haired daugh­ter in an entirely casual tone after peep­ing at the scary-to-us busi­ness pro­claimed "oh, its grown up stuff" and cheer­fully skipped away into another room with her stuffed bunny.
Paul, Jes­sica (thanks for being such a trooper, baby), and I were all game. The just slightly cloudy liq­uid, inspired by a tonic Baron had wit­nessed in Viet­nam, had an aroma and after­taste of nutty Jamón Ibérico, a lit­tle sweet up front and less musty than you might think. We sur­vived the first round. I knew what was com­ing next. The Baron pro­duced a bell jar with a snotty look­ing node bob­bling around. The beaver gland vodka. This one had a med­i­c­i­nal, though quite aro­matic, vibe. If you peruse the linked arti­cle above, you'll learn that the extrac­tions from beaver cas­tor gland– used by the ani­mal to mark its turf– is FDA approved and has been used in arti­fi­cial fla­vor­ings and per­fumes for a real long time. I thought it had a menthol-y after­taste. So then we were ready to sam­ple the real "grown up stuff" but unfor­tu­nately I can­not recount the expe­ri­ence here, since this last tinc­ture fea­tures as the grand finalé of this year's Small Game Din­ner to be held in a few weeks. Let's just say, other than the Baron, none of us tried this one…
We then took care of busi­ness in Baron's office, which was even denser full of visual eccen­tric­i­ties– equal parts the Wizard's cham­ber, shrine to Kali, and film noir detective's desk. We got to sam­ple deli­cious birch sap wine, made with noth­ing but the flo­ral, early spring nec­tar of the birch tree. I wasn't shocked when the Baron spon­ta­neously pre­sented us with a frozen por­cu­pine. And by the time he fetched a cru­cible filled to the brim with beaver hams, the exotic meat looked down­right scrump­tious. Its impor­tant to note that Baron shared the story of how his prac­tice of cham­pi­oning wild meats came to be. He met a trap­per named Bill Guiles, a back-to-the-lander who traps ani­mals for pelts in the old school way in the deep woods of the Adiron­dacks. Baron met him at a party and invited him­self along for a hunt. He saw an oppor­tu­nity in the meat often-times dis­carded in the process of skin­ning these ani­mals. Baron reminded us that we also had Trap­per Bill to thank for our six beau­ti­ful crim­son beaver hams. Baron sent us off with a part­ing gift of a beaver's tail and a pint of cas­toreum vodka for the party and we were on our way. The whole thing still feels like a dream.
I was respect­ful of the Baron not to shoot pic­tures of his home with my iPhone, but Jes­sica snuck in one of the beaver meat in his office: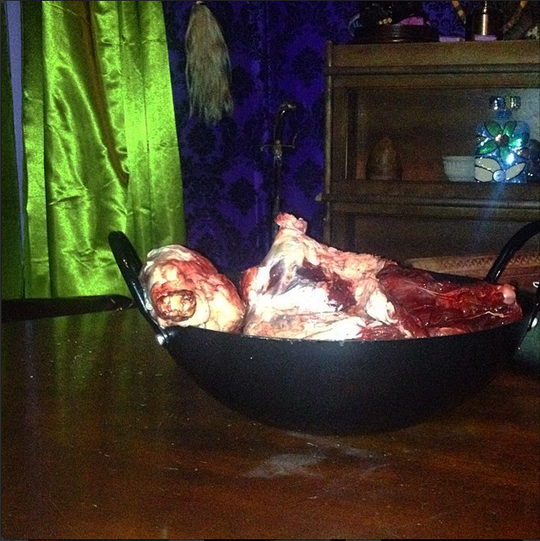 And down to Queens: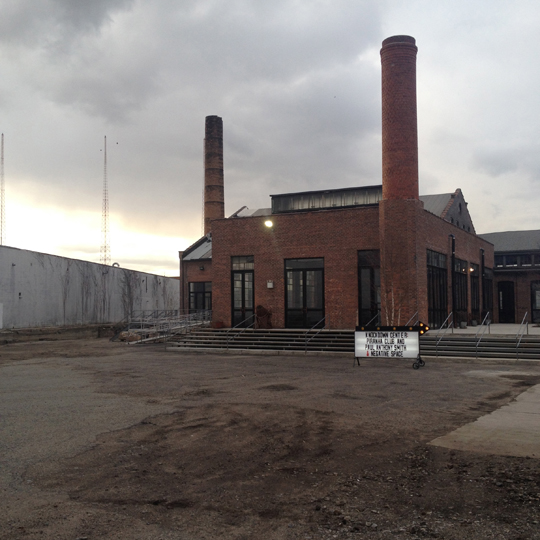 The Knock­down Cen­ter. This place is a for­mer dec­o­ra­tive glass, turned door fac­tory. 50,000 square feet in Maspeth, Queens, though basi­cally right across the street from rapidly-gentrifying Bush­wick, Brook­lyn . It was ren­o­vated and opened as a multi-purpose event space about two years ago. It is owned by a jovial, but no-bullshit, New York answer to "The Dude" and his fam­ily. And it is man­aged by my best bud from grad school, Tyler Myers. Tyler's wife, Sta­cie John­son with Gabrielle Gar­land– who I should note have both worked with me at Roots & Cul­ture– invited me to be a part of their cura­to­r­ial project, Neg­a­tive Space, which explores art that ref­er­ences aspects of domes­tic­ity. I guess we can call my project domes­tic, since at least now we know that beaver is reg­u­larly on the menu at someone's house.
Knock­down Cen­ter is badass, a gor­geous win­dowed post-industrial cathe­dral with sur­prises around every cor­ner, like a seri­ously well equipped kitchen with an adja­cent spa­cious, but cozy din­ing space. It had a nicely lived in vibe and quite reminded me of the Piranha Club's home base at R&C.
My part­ner in crime for this Piranha Club was Paul Anthony Smith, who I met at a bar in Kansas City in 2012 while I was down there for my Mid­west­ern BBQ Migra­tion project at Char­lotte St. Foun­da­tion. I'd already known about this guy, though, from mutual friends in both KC and Chicago. Our paths had not really crossed that often since. He'd done a killer show of paint­ings in Chicago called "Man­gos and Crabs", but mostly we've com­mu­ni­cated from afar as mutual fans of each other's food obsessed Insta­gram feeds. There's that social media con­nect­ing peo­ple in real ways again.
You prob­a­bly know that I'm a Jamaica-phile, or per­haps a recov­er­ing one. The stony one-two of reg­gae music has long been at the heart of my record col­lec­tion and I have a deep rev­er­ence for its ances­try to my other favorite rhythm of hip hop. I also love the slow cooked, deeply spiced fla­vors of the English-colonized, African-cultured Caribbean. Chicago is not the spot for that food though. And I've never been to Jamaica. I have come to real­ize that the Amer­i­can roman­ti­ciza­tion of trop­i­cal par­adises in colo­nial places + the col­lege escapism of Bob Mar­ley "Leg­end" sing-a-longs and the real­ity of life on the island is not some­thing that I can reconcile.
Paul was a great trav­el­ing com­pan­ion for West Indian Brook­lyn. He pointed out Jamaican ladies with their faces bleached. I knew about Man­nish waters but not much about ackee. Jamaicans cook with a lot of ketchup. We cured our hang­overs with sub­lime roti at Rama's Roti House and I won­dered about their Hindu shrine. As we cruised up Flat­bush Ave. we watched the demo­graph­ics quickly go hip­ster. Brook­lyn is a lit­tle more inte­grated than Chicago at least.
The premise of the menu riffed on the ety­mol­ogy of the word Jamaica. To quote the press release "Just down Queens Blvd from the Knock­down Cen­ter (which at one point was actu­ally named "Jamaica Estates"), there hap­pens to be a neigh­bor­hood called Jamaica, which many Jamaican peo­ple call home. The name how­ever, is not derived from the native-to-Caribbean-Jamaica Arawak peo­ple, who named their land Xay­maca, "land of wood and water", but from the native-to-Jamaica-Queens Lenape peo­ple who called their land Yameco, which trans­lates to "beaver". Join us for a Caribbean– inflected feast fea­tur­ing Arawak and Lenape tech­niques and ingredients."
Cook­ing with Paul was pro­found. Kendrick Lamar's "To Pimp a But­ter­fly" was our sound­track, which not only under­lined the urban real­i­ties that are in such sharp focus in gen­tri­fy­ing Brook­lyn, but brought up the idea of flow, which we deter­mined was a praxis of wis­dom and knowl­edge. Paul's got flow in the kitchen. I hope maybe I do too. But its a grace of move­ments and an intu­ition of know­ing how to trans­form raw mate­r­ial into some­thing aes­thet­i­cally tran­scen­dent. That whole thing of curry pow­der? That much all­spice? Dude, Paul's sauces were off the hook.
But of course the big deal was the crazy meat no one had eaten before. Some­times I do won­der why I choose to cook things I've never cooked let alone eaten for these rel­a­tively high pro­file pub­lic meals. Per­haps its a humil­ity, a need to feel as vul­ner­a­ble as the din­ers about to put some­thing in their mouths maybe they never even con­sid­ered could be food. The beaver meat was pretty easy going actu­ally. The fat had a waxy fla­vor to it, but the flesh was kinda beefy, kinda gamy (what­ever that means, can we really define the fla­vor of gamy? Iron-rich blood tast­ing like veni­son or duck? Musky like goat?). At any rate, it wasn't chal­leng­ing by my stan­dards. It cooked really well, brais­ing in Paul's "brown stew" style of gravy for about five hours. Even though we worked with 1″ cubed veni­son for the curry, that lean­est of meats actu­ally took a few more hours to become fork ten­der than the com­par­a­tively fatty beaver.
Regard­less of the shock/ courage fac­tor of our ingre­di­ents, what this is about is dia­logue about food, around food, and a com­ing together of dif­fer­ent folks. Thanks to all the beau­ti­ful peo­ple that made this happen.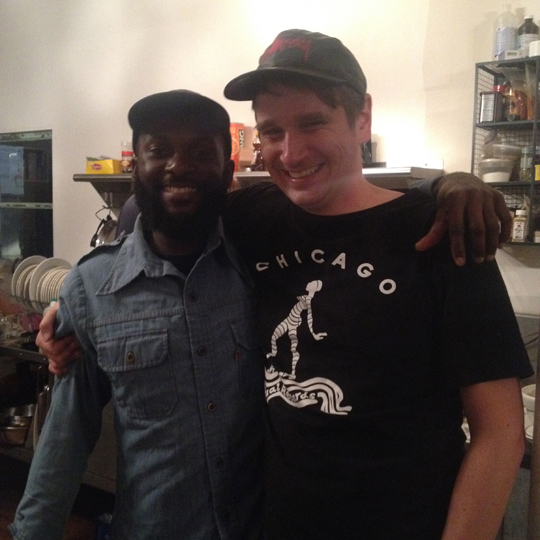 By
EMAY
|
Published:
February 22, 2015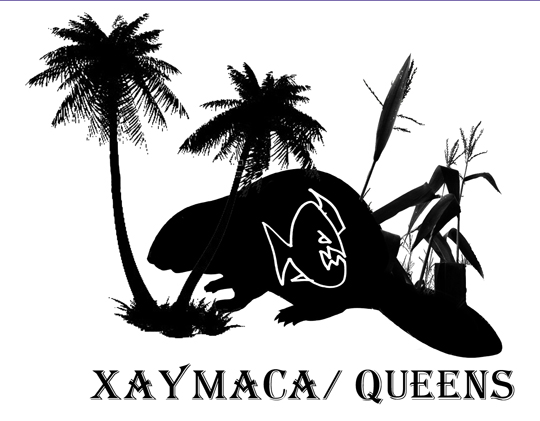 Sat­ur­day March 28th
At Knock­down Center
52–19 Flush­ing Ave, Queens, New York 11378
Tick­ets on sale Feb­ru­ary 28th.

BUY

TICKETS

HERE
On March 28th, Chef Eric will team up with artist Paul Anthony Smith, who is a tremen­dous cook and intre­pid eater. The duo have been chal­leng­ing each other to a culi­nary throw down for quite some time, com­ment­ing back and forth on each other's food porn on Insta­gram. Paul is of Jamaican decent and Eric is a bit of a Jamaica-phile, so obvi­ously the fla­vors of the Caribbean pro­vided a great start­ing point for their col­lab­o­ra­tion. Just down Queens Blvd from the Knock­down Cen­ter (which at one point was actu­ally named "Jamaica Estates"), there hap­pens to be a neigh­bor­hood called Jamaica, which many Jamaican peo­ple call home. The name how­ever, is not derived from the native-to-Caribbean-Jamaica Arawak peo­ple, who named their land Xay­maca, "land of wood and water", but from the native-to-Jamaica-Queens Lenape peo­ple who called their land Yameco, which trans­lates to "beaver". Join Eric
&
Paul on March 28th at Knock­down Cen­ter as part of the "Neg­a­tive Space" exhi­bi­tion for a Caribbean– inflected feast fea­tur­ing Arawak and Lenape tech­niques and ingredients.
By
EMAY
|
Published:
February 4, 2015
By
EMAY
|
Published:
December 31, 2014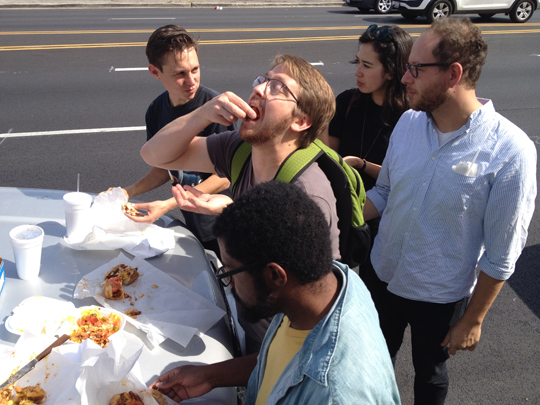 Truth be told, I eat a lot of chicken sal­ads. How else do you think I keep my girl­ish fig­ure after those all day food tours of far flung neigh­bor­hoods eat­ing Jim Shoe after Jim Shoe? That's the thing about year end lists, they tend to focus on the thrills rather than the day-to-day. I like to see these lists as a way to look back at my year and see what I've learned, over­all pat­terns in taste and cul­ture. Of course, I'll cover a few indul­gences– great things I ate at a new restau­rant or two and fun new drinks I got into. But hope­fully you'll get a snap­shot of how I view the world through a food lens.
10. Ses­sion IPAs
Not to get on an aging rant, but I just can't deal any­more with the wal­lop hang­over dealt by a six pack of Bell's Two Hearted Ale (my favorite IPA). A few years ago I would have scoffed at the thought of an IPA with an ABV lower than 6 per­cent– I'd actu­ally had one out in Salt Lake City where the state's arcane liquor laws pro­hibit beers over 3.2 per­cent in most estab­lish­ments. Need­less to say, that beer was thin and one dimen­sional. A lot of my brewer buds have been singing the mer­its of "ses­sion beers" that are easy to drink in bulk, but most of those guys were talk­ing about sour ales, a style that is often low in alco­hol to begin with. Call me behind-the-times, but I still like the hops, so with some skep­ti­cism I approached these new lower alco­hol brews like Lagu­ni­tas Day Time and Founder's All Day IPA. For­tu­nately these beers were much more fla­vor­ful than my expe­ri­ence in Utah. My favorite is prob­a­bly Stone Brewing's Go To IPA, which employs a tech­nique called "hop-bursting" bulks up on the fin­ish­ing hops which results in a cit­rusy char­ac­ter with a piney fin­ish, great stuff. I def­i­nitely most fre­quently drink the Founder's All Day, which at about $17 for a 15 pack of cans is easy on the wal­let, as well as the waist­line and the next day. This is the light beer for the craft beer gen­er­a­tion– 70 less calo­ries per 12 oz. serv­ing than my 2 Hearted. Even though these beers are designed to drink more of, I actu­ally don't. They're fla­vor­ful enough to sus­tain my inter­est with­out chugging.
9. The Gene & Jude's, Johnnie's 1–2 Punch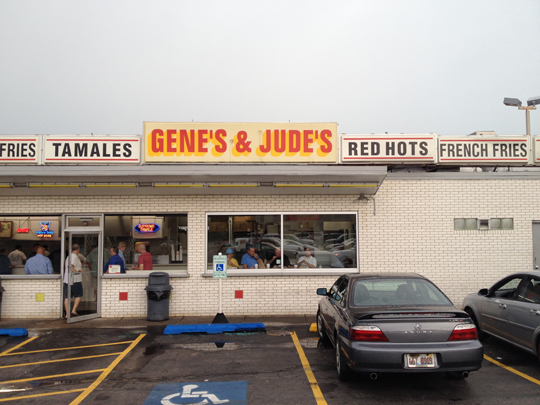 There is no greater Chicago street food twofer than hit­ting up these two old-school-as-all-get-out stands in the near west burbs. Oddly it took me until this year to get to the cel­e­brated Gene & Judes. And, the one time I hit up John­nies a few years back, I'd not quite ordered to the best of their strengths. Leave it to the august Rob "PIGMON" Lopata to point me in the direc­tion of this lit­tle jaunt up Grand. Of course, com­ing with the ter­ri­tory of clas­sic pro­le­tariat eats, alle­giances and pref­er­ences are fierce for both Chicago dogs and Ital­ian beefs. I grew up on the south­west side and for dogs, my arche­type was set by my old man and his favorite red hots at Snyder's in Bev­er­ley, who adhered to the dragged-through-the-garden/ Vienna Beef/ Fluky's/ depres­sion sand­wich for­mat that is more widely observed. The his­tory of this stuff gets murky as do def­i­n­i­tions, as there is another ren­di­tion of the Chi dog, a min­i­mal­ist ver­sion if you will, that I have actu­ally come to pre­fer: reg­u­lar hot dog bun, nat­ural cas­ing beef frank, mus­tard, neon rel­ish (not for me), onion, sport pep­per, period. This is the style that Gene & Jude's serves, though I would argue that the superb hand cut fries become another top­ping on the sand­wich as they are tightly packed with the dog and com­pul­sory with every hot­dog ordered. A few stray fries seem to always nes­tle into the hot­dog (the pros will add a few fries regard­less) and I also love how the fries pick up the per­fume of the mus­tard and onions. It's a sum of its parts and G&J's nails it. What gets me about the place is that no mat­ter when, 24–7, you will receive a per­fect dog. At other spots, even pre­vi­ous favorites, if you hit them at the wrong time of day you might get a gray­ing, water­logged, or mushy dog. But G&J's is so pop­u­lar, noth­ing sits around, ever. Dat­ing back to 1950 (they started at Polk & West­ern 4 years ear­lier), the place is bare bones, I love the old school sig­nage and the no non­sense ser­vice. It's in and out here, folks.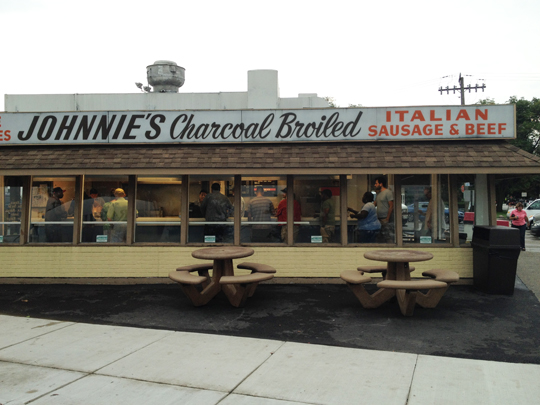 Then on down River Road to our next stop: Johnnie's, which is sim­i­larly always crowded, free of frills, and pre­served in amber. Their Ital­ian beef is very good, but I don't love their gia­r­diniera and with such few com­po­nents to this ele­men­tal sand­wich, it can be a make or break deal for a beef. But you don't eat at Johnnie's for the gia­r­diniera. (As an aside, they prob­a­bly serve the tasti­est sweet pep­pers in town, which are chopped and sea­soned.) You eat at Johnnie's for their Ital­ian sausage, which they grill over live char­coal. It comes out smoky, gar­licky, and very juicy. Might as well throw that in the mid­dle of an Ital­ian beef sand­wich, for a combo, and you've got one of the best, essen­tial sand­wiches in Chicagoland. You've just treated your­self to Chicago's finest and should prob­a­bly take your lipitor.
8. Cortez Mullet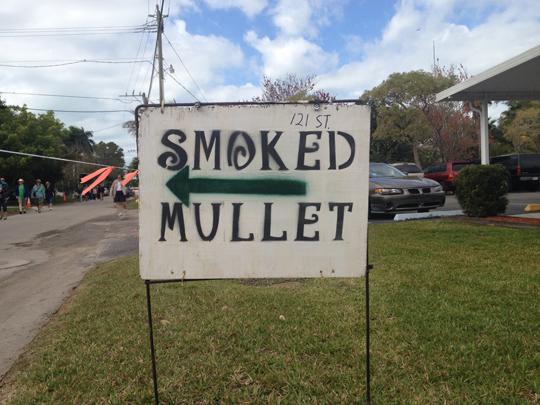 The oceans seem to be dying. There are many envi­ron­men­tal fac­tors, but irre­spon­si­ble fish­ing prac­tices are a major issue for many fish species. Imper­a­tively, we must look at sus­tain­able alter­na­tives to over­fish­ing, which will require us to make sac­ri­fices and look at other types of fish ~if any at all~ to help turn this impend­ing cri­sis around. You know I'm a cham­pion of find­ing the nutri­tious and deli­cious in unde­sir­able sources. Ever eat mul­let before? They're a bit lean and a bit bony, but abun­dant, fished sus­tain­ably (in the gulf of Mex­ico), and enjoyed since Roman times. I hadn't thought too much about mul­let until I read last year's top ten list by John T. Edge, the direc­tor of the South­ern Food­ways Alliance and one of my favorite food writ­ers. What caught my eye was not mul­let as an ingre­di­ent specif­i­cally, but the loca­tion where he dis­cov­ered it. A pizza shop in Cortez, Florida was serv­ing a grilled Cae­sar salad with mul­let roe. My par­ents win­ter in Anna Maria Island Florida, a sun­drenched place of infi­nite oceanic views with a fairly redun­dant food scene. I like a grouper reuben as much as the next guy, but after night five, you crave stuff like, well, pizza.
The story doesn't stop with Vil­lage Idiot Pizza. After a bit of Googling, I dis­cov­ered a piece in the New York Times about a cool dude named Seth Cripe, who sup­plies Vil­lage Idiot Pizza with their mul­let roe. Mr. Cripe salts and sun dries the roe sacs, pro­duc­ing a prod­uct called bot­targa, which you might know as an Ital­ian del­i­cacy, typ­i­cally used spar­ingly as a gar­nish due to its intense fla­vor and high price tag. Mul­let is the pri­mary catch in the fish­ing town of Cortez, which is just east of my par­ents place, where we fre­quent fish shacks for not-so-local grouper and cheap beers. I got to try that salad at Vil­lage Idiot and it was fan­tas­tic, the bot­targa sub­bing not only the brini­ness of tra­di­tional anchovy, but also the cheesi­ness of the parmesan.
Lit­tle did I know my mul­let quest had just begun? We also hap­pened to be in town the week­end of the Cortez Mul­let Fes­ti­val. This event looked like a typ­i­cal flea market/ coun­try fair type of event, with cheap crafts for sale, expen­sive shitty drinks, and a fairly decent vari­ety of food ven­dors both local and from the big city, Sara­sota. We had a few bites of decent food, but I needed to know where the mul­let was at, find­ing it strange that the name­sake fish was sorta under­rep­re­sented. Not wil­ing to throw in the towel, my unstop­pable appetite led me to the mul­let cul­ture. Fairly cen­tral to the fest, I had mis­in­ter­preted a cou­ple of extra wide smoker rigs for a BBQ set up. These old dudes were stok­ing the wood fire and duti­fully man­ning their smoker. Once I started pok­ing around with my cam­era phone they waved me over to check out the rows of small golden, but­ter­flied fish enveloped in the caress of smoke. Awe­some. I ordered a whole one. It was smoky, oily, and assertive, driz­zled with a mild BBQ type sauce. Hell, why can't fish be BBQ, because that's exactly what was going down. Next, I strolled over to the pier and found a group of mul­let fish­er­men engag­ing with the crowd about their work and hawk­ing what was called a "Cortez hot­dog", a corn meal encrusted, per­fectly fried skinny filet of mul­let on a cheap bun with tar­tar sauce and a scat­ter­ing of diced onion. A deli­cious les­son in mak­ing due with what you've got.
7. – Amer­i­can Cuisine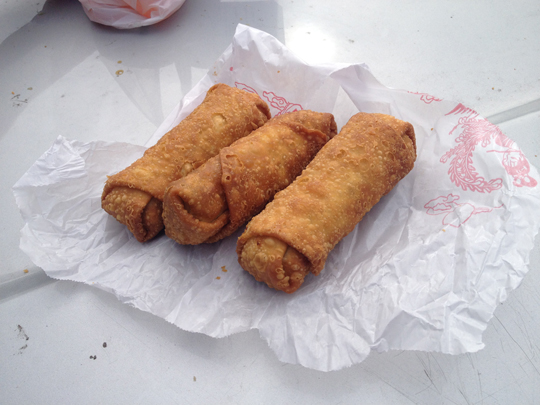 I'm an advo­cate for a culi­nary recon­sid­er­a­tion of the low brow, hyphen­ated Amer­i­can cuisines: eth­nic cook­ing tra­di­tions catered towards Amer­i­can palates and ingre­di­ents that began to pro­lif­er­ate in the sec­ond half of the 20th cen­tury. Mexican-American, Chinese-American, and Italian-American. A few years back I wrote a trea­tise on my love for the Mexican-American fare of my child­hood and then joined forces with Chef Jonathan Zaragoza to re-imagine clas­sics like queso, bur­ri­tos suizos, and crispy tacos. This year I reac­quainted myself with red sauce Ital­ian as night after night of binge-watching the Soprano's, I craved baked ziti (or mostac­ci­oli, pro­nounced musk-a-cho-lee where I come from). These types of recipes and the restau­rants that serve them have been abuzz in the food under­ground this year. My bud Rob Lopata dragged us around for a tour of old school Can­tonese egg rolls in his native north­west sub­urbs this fall and the con­cept took off in an expo­nen­tial way on LTH­Fo­rum. The ever intre­pid, Titus Rus­citti, has been archiv­ing the best deep fried tacos (and all other sorts of tacos at that) around the Mid­west on his blog, Chicago Taco Tour. While it might take some time for egg foo young, chimichangas, and lasagna to cap­ture the restau­rant world's imag­i­na­tion, it seems like a log­i­cal exten­sion of the American/ comfort/ fast food trend of the past decade. You can't deny that this food scratches a nos­tal­gic itch and is deeply sat­is­fy­ing in a rib-sticking, big calo­rie Amer­i­can eat­ing type of way. And screw the authen­tic­ity hang up, this is legit­i­mate cui­sine born of cul­tural cross pol­li­na­tion. Its big, bold, and, beau­ti­ful, blan­keted in bub­bling cheese.
6. Beef Noo­dle Soup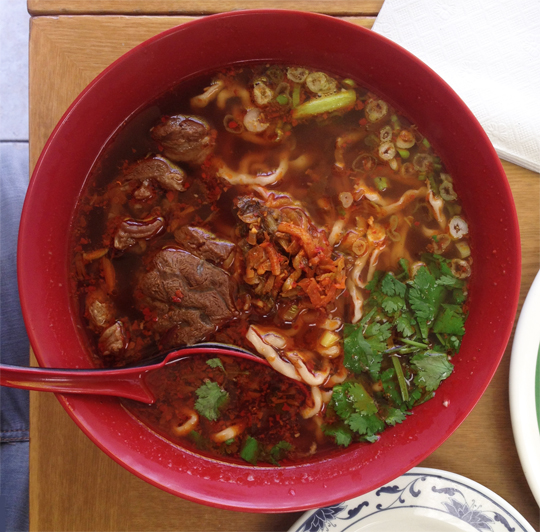 I'm sick of ramen. Not just the hype, but the soup itself. Sure, it is an intri­cate art form, broths sim­mered at a tedious pace, noo­dles per­fectly cut into uni­form rib­bons. I like the stuff, but I get exhausted by its fatty broth and dou­bly heavy addi­tions of pork belly and egg. Pho, while not quite as dorked over, has a pretty cultish fol­low­ing too. I pre­fer its nuanced, lightly spice broth and super bright and fresh herbal gar­nishes to ramen, but the damned rice noo­dles get all soggy and seem to be a pretty low rent ingre­di­ent to begin with. Enter my new favorite one meal Asian noo­dle soup– Chi­nese beef noo­dle soup, or niu rou mian. Cre­ated by the Mus­lim Hui peo­ple in the Tang Dynasty, its mod­ern recipe was per­fected in Tai­wan where it remains the national dish. The basic for­mula is a deep beef broth sea­soned with spices such as star anise and gin­ger; ten­der braised cuts of beef, either shank or brisket; greens such as bok choy or spinach; and req­ui­sitely hand pulled wheat noo­dles. Some ver­sions are topped with piquant pick­led cab­bage and most ver­sions I've sam­pled are fin­ished with chile paste, com­mon to North­ern China. If you're read­ing this from Chicago, a good rea­son why you've prob­a­bly never had (or enjoyed) this soup is because there isn't a good ver­sion in the city proper. The short-lived Sing's Noo­dles in Chi­na­town deliv­ered on the chewy, pulled fresh noo­dles, but fell short on a thin broth. You've gotta head west to the burbs to Katy's Dumpling House– the orig­i­nal dingy store­front in West­mont is your best bet, but there's another out­post in off-the-Green-line Oak Park. They are mas­ters at all things dough– sturdy noo­dles, chewy pan­cakes, and ten­sile dumpling skins. I can't veer from the beef noo­dle soup, though, my favorite one meal soup in the met­ro­pol­i­tan area with its fra­grant and fiery broth, tart pickle, and sup­ple beef slices. I know there are supe­rior ver­sions– I've had bet­ter at a hole in the wall noodle-and-dumpling spot in Manhattan's Lower East Side Chi­na­town called Super Taste. Recently I struck out mak­ing a pil­grim­age to a highly rec­om­mended bowl in sub­ur­ban Toronto, show­ing up on their closed Tues­day. We had an unre­mark­able, yet sat­is­fy­ing bowl next door at another shop. Until I get to Tai­wan or niu rou mian fever catches on, I'm enjoy­ing what­ever bowl I can get my hands on!
5. Ana­logue
Ana­logue is a spot that seems to be about three dudes doing them. Its not high con­cept, hell on paper the for­mula might seem incon­gru­ous: fancy cock­tails + New Orleans cui­sine + DJs. These guys kinda fear­lessly opened a place where they and their friends would like to hang every night. And that's the imme­di­ate charm of Ana­logue, its low key. The room is, for sure, urban cool, but not overly designed, the space recedes into an ambi­ent chill. Friends from all walks of life feel comfy there– food­ies, artists, and indus­try folks alike. And you can always get out of there stuffed, with a buzz on for around $50 per per­son. But, okay okay, I'm not get­ting to my main point. The food here was some of the best things I ate all year and we have Chef Alfredo Nogu­iera to thank for this. I know Fredo through my good buddy Danny Z and we've devel­oped good rap­port over the years– I'd count him a kin­dred spirit in terms of ideas about good eat­ing. I'd always felt like a heel for not check­ing out Fredo's pre­vi­ous spot at the sea­sonal bak­ery cum café, Flip­side that oper­ated in the win­ter months in a Hum­boldt Park Ital­ian Ice shack. I did not make the same mis­take with Ana­logue. At this point, I just have to have Fredo's stuff if I let a month or two slide by. There's no pre­tense to his cook­ing, its unre­strained, bold, and full of soul. I have loved every sin­gle bite I've eaten there: silky smoked white­fish dip served with Zesta saltines (did I men­tion unpre­ten­tious) with piquant house hot sauce; bis­cuits to beat the finest pas­try; lus­cious char­cu­terie; 2X crunchy chicken sand­wich; all-pigs-go-to-heaven cochon au lait po boy; ten­der smoky greens; juicy, juicy BBQ shrimp; the best fried chicken out­side my own kitchen (Tues­days only, get there early).
Hold up, hold my phone! I a'int done with the hyper­bole. One of my very favorite things I ate all year was Fredo's gumbo, dark as delta mud, yet light on the lips. This shit is edu­ca­tional– turns out that the starches in flour break down as you toast them, so a roux the color of dark choco­late does not have the same thick­en­ing abil­i­ties as a light roux. I always likened the gumbo expe­ri­ence to eat­ing a big bowl of gravy. Well I don't look at it like this no more and when I make gumbo at home now I go dark. Fredo's roux gives the stuff a pleas­ant tobacco-like toasty depth. Built from the broth up, it starts with a very rich can­vas to which you might find sen­sa­tional pro­teins like duck and house made andouille sausage. Danny Z had been swear­ing to me for years that the potato salad Fredo scoops into his gumbo beats the more ortho­dox rice. He was right for a change, the creamy cool– but yes, bacon stud­ded– salad makes the per­fect foil to the deep savory soul of the bowl. My #1 favorite dish of the year is Fredo's dirty rice, which I believe is described on the menu as "seri­ously filthy". A'int no lie– chock full of the nasty chicken bit­sand ground pork, this stuff is funky, rich, and salty, Get some hot sauce up in there and we're talk­ing cash money. I didn't think my favorite restau­rant of the year would be a cock­tail bar in Logan Square, but the laid back cool and unapolo­getic stuntin in the kitchen at Ana­logue would fit right in New Orleans.
4. Virtue Cider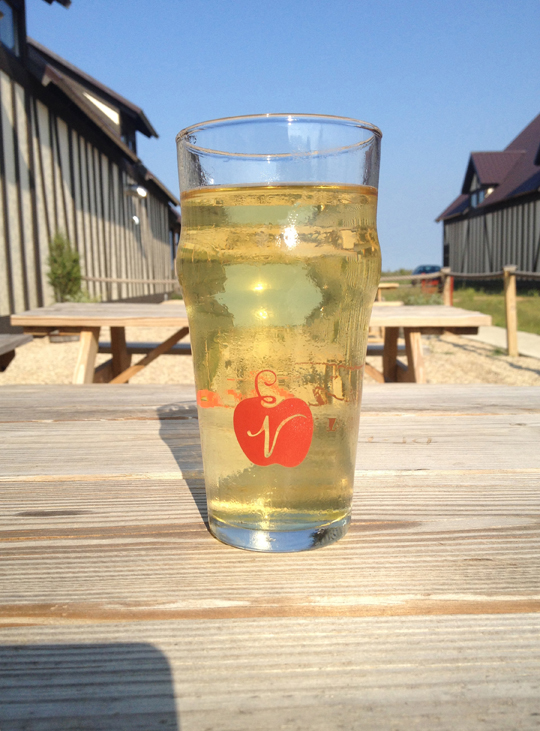 I got hip to dry cider in Basque Coun­try a year ago and a whole world of fla­vor opened up to me. Con­ve­niently, there is a cider pro­ducer about 10 miles away from Ox-Bow, in pic­turesque Fen­nville, Michi­gan called Virtue, which opened up a few years ago by for­mer Goose Island head brewer, Greg Hall. This past year they opened up a tast­ing room at their farm and bot­tle shop. On a lark I stopped in on a rainy day off as I hap­pened to be dri­ving around the area. And so began the love affair. The place has a great vibe– the tap room is small, but cozy and the boys at the counter and their gre­gar­i­ous kitty, Pip­pin make great com­pany for an after­noon of imbib­ing. I love whiling away the after­noon on their pic­nic tables with unob­structed sun­shine and breezy views of the orchards as a back drop. With a cold, crisp pint of cider, this is my happy place.
I've tried all their vari­etals, at least the ones avail­able through the end of the sum­mer. Its sea­sonal stuff, obvi­ously dic­tated by the apple har­vest, so new vin­tages hit the shelves late fall. Sum­mer is quiet time for them as the fruit matures on the tree and the last year's offer­ings alchem­i­cally mature in the bot­tle. They're not all to my taste, I find the flag­ship Red Streak a bit one dimen­sional, the Basque style Sidra de Nava lands on the vine­gary end of kom­bucha, and their top sell­ing "The Mit­ten" is too sweet for me (though barely sweet com­pared to the crap I drank in col­lege, I've been trained well). First, I loved Cidre Nou­veau, which drinks like cham­pagne. This makes sense, since it is a French style and like Beau­jo­lais nou­veau, employs the youngest mature fruit early in the sea­son. I then grad­u­ated to Led­bury, which still might be my favorite– a medium Eng­lish style, which is a bit less dry with a rounded juici­ness and a pleas­ant light funk­i­ness from the wild yeast they use to fer­ment it. This cider is super apple-y as is my other fave, Lap­inette, a Nor­man style cider aged in oak bar­rels. This one is a bit on the assertive side with a pro­nounced unfil­tered funk. Virtue sources local apples, which is part of the huge appeal. The West­ern coast of Michi­gan is known as a fruit belt and one of the country's top pro­duc­ers of tree fruit. It makes per­fect sense that this region should host the best cider mak­ing in the coun­try. Virtue ele­vates the best of the region by apply­ing hand crafted, old school tech­niques to the local bounty.
3. Asian Street Food Comes to Chicago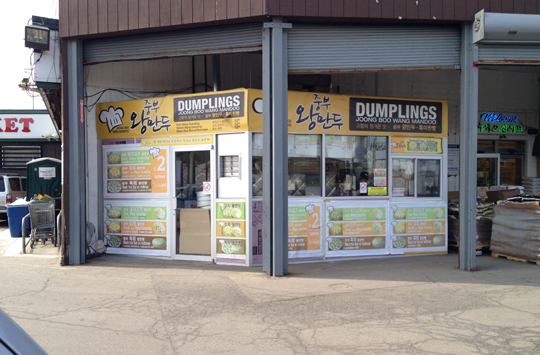 A few years ago I wrote about the emerg­ing (and dubi­ously legal) Mex­i­can street food scene in the West Pilsen & Lit­tle Vil­lage neigh­bor­hoods. You can still find tacos de cabeza or huaraches hecho a mano if you poke around at the right times of day on the right street cor­ners, but these spots are (under­stand­ably) illu­sive. ~Insert rant about Chicago's con­vo­luted, sys­tem­i­cally inac­ces­si­ble, and expen­sive rules and regs about street food licens­ing here~ The bat­tle for a legit­i­mate street food scene in Chicago, in my eyes, is lost. So it was with great sur­prise and delight that I started to dis­cover East Asian street foods in unex­pected places around town this year. I've been fol­low­ing the some­what mar­ginal, half empty food court in the Rich­land Cen­ter on the far east side of Chi­na­town for a few years now. The sprawl­ing menu at stal­wart, Snack Planet is pretty hit or miss, though reli­able for plastic-clam-shelled cold North­ern Chi­nese appe­tiz­ers. Fast for­ward to early 2014 and some very promis­ing devel­op­ments have been pop­ping up down there and with them, an invig­o­rated cus­tomer base. The first, and my favorite open­ing down there this year was Lao Pi, which I was tipped off to by a tweet of a pic of a trans­lated menu by the Trib's Kevin Pang. They spe­cial­ize in skew­ers grilled-to-order over live char­coal, a Mus­lim North­ern Chi­nese tra­di­tion. Heavy on pro­teins, they offer lamb, beef short rib, chicken wings, whole pom­fret fish, and a smat­ter­ing of offal. Veg­gie friendly options include pizza-dough-like man­tou, tofu skin, and long mild chiles. It seems as though the sea­son­ing sprin­kled on the skew­ers is con­sis­tent for each type of skewer– an aggres­sively aro­matic mix of cumin, chile, and sesame. The lamb are my favorite and highly addic­tive, I find rea­son to pop down there for one or two when­ever I'm nearby. A recently opened stall right next door to them seems to be steal­ing much of their open­ing buzz with hand-rolled to order dumplings. In my one– off expe­ri­ence, the boiled dumplings were some­what bland, but com­fort­ingly satisfying.
So clearly, the indoor food mall con­cept fits within the city's codes. I was tipped off in March about the "pork burg­ers" served at a food stall in the sim­i­larly named Rich­well Mar­ket. This place is owned and staffed by a very sweet woman who explained to me that there's been a recent wave of North­ern Chi­nese busi­ness­men mov­ing to Chicago and that many of them are unmar­ried and look for food from back home that they can carry out or eat at a restau­rant. Con­sid­er­ing the recent open­ings of two Dong­bei restau­rants in Bridge­port, the Northern-leaning offer­ings at Rich­land, her stall, and the open­ing of Xi'an Cui­sine in Chi­na­town, this all makes sense. Her pork burger, a five spice-y shred­ded pulled-pork-like affair served in a split crunchy-on-the-outside flat­bread scat­tered with sesame seeds, very much resem­bles the burg­ers from the famed Xi'an Famous Foods in New York. She also offers cold to-go appe­tiz­ers such as my favorite, chile-oil dressed, pli­ant slices of pig ear, five spiced peanuts and tofu, cold noo­dles, all sorts of guts, and great big old joints, knuck­les, and trot­ters of red braised pork. While we're talk­ing North­ern Chi­nese burg­ers, although the place is a proper brick and mor­tar sit down, Xi'an Cui­sine in Chi­na­town, with its lim­ited menu, offers many of these dishes at sim­i­larly rock bot­tom prices. Fan­tas­tic lamb and cumin flat­breads cost $3, cou­pled with a refresh­ingly tart salad-like dish of thinly sliced cel­ery and springy tofu skins for $2 makes my new favorite $5 lunch in the city.
A big­ger sur­prise was the appear­ance of an open air food stand in the park­ing lot of Joong Boo Mar­ket, which needs lit­tle intro­duc­tion to many as the city's pre­mier Korean gro­cery store (which also has a small food stall in the back). This stand spe­cial­izes in one thing, wang man­doo– pillow-y, yeasty steamed dumplings not unlike Chi­nese pork buns. I have eaten prob­a­bly a dozen of these things by now, mak­ing spe­cial trips up the Kennedy (and sub­se­quently cook­ing a lot more Korean lunches at home these days). They offer three fill­ings– sweet black bean, pork, and kim­chi pork, the last of which I have not yet devi­ated from. So sat­is­fy­ingly pep­pery, tex­tural from cel­lo­phane noo­dles, and savory, this is my favorite, fill­ing break­fast in town for $2. Cheap food, on the go, just the way it should be.
2. Mid­west Melt­ing Pot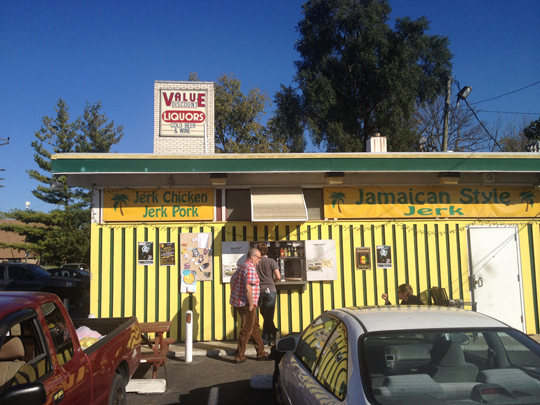 I did not travel very far this year besides a few trips to visit friends and fam­ily. I filled in the gaps with a cou­ple of day and overnight trips to nearby cities with some of my buds. Clearly, Chicago has one of the best food scenes in the world. But as I get around the cities of the greater Mid­west, I am increas­ingly stoked to eat amaz­ingly across the board no mat­ter where I am. I mean, you can get a decent bowl of bun cha in tiny Hol­land Michi­gan at a pool hall attached to a gro­cer that sells durian and frozen giant water bugs. I know that dining-wise, fancy chefs are open­ing up spots in fly­overs across the coun­try, but you know me, I'm look­ing for the home­spun tra­di­tions and the cuisines of recently trans­planted cul­tures, the down home and the cheap. I've done Detroit a few times in the past few years. You've got the clas­sic, work­ing class chow of the Coney's, slid­ers, and Mike's ham place. Travel into the burbs to Dear­born and you'll find the country's largest Mid­dle East­ern pop­u­la­tion with the bak­eries and kebab shops to prove it. The lit­tle ham­let of Ham­tramck, nes­tled inside the city's bor­ders is a patch­work of immi­grant pop­u­la­tions as dis­parate as Pol­ish and Bangladeshi.
Mil­wau­kee, just an hour and a half north up the lake has a killer food scene. Of course there's the brats, tav­ern style thin crust piz­zas, and but­ter burg­ers, but also old school Jew­ish deli. Jake's on North Divi­sion is almost sixty years old and has remained a stal­wart of the neigh­bor­hood offer­ing stacked hand cut corned beef sand­wiches to the shift­ing pop­u­la­tions of the neigh­bor­hood. Just up the street at another corned beef spot, House of Corned Beef you can taste the old world cohab­i­tat­ing with the new in a Jim Shoe sand­wich, over­flow­ing with hand cut corned beef, Ital­ian beef, and gyros. Did you know Mil­wau­kee has a South­east Asian Hmong pop­u­la­tion? There's a gro­cery store called Phongsa­van to prove it where you can buy frozen beef bile, drag­on­fruit, black chick­ens, and locally pro­duced Hmong bacon. After shop­ping, take a load off at their food court and enjoy freshly pounded papaya salad in your choice of styles: Lao, Hmong, or Thai with a side of salty Hmong sausage. My favorite spot in the Mil­wau­kee area has got to be Ono Kine Grinz in Wauwatosa, which is proudly gay owned and serves the native Hawai­ian cui­sine of one of the own­ers. His mom does the cook­ing in the back of this very charm­ing (if not some­what clut­tered with tchotchkes) con­verted house turn­ing out soul and belly fill­ing plate lunches piled with kahlua pork, mango chicken, yes more corned beef, and poke with sides of mac­a­roni salad, pur­ple rice, and kimchi.
I had the plea­sure of join­ing Matt Zatkoff for a tour of his home­town of Indi­anapo­lis, which also, very sur­pris­ingly offered an incred­i­ble range of grub. There's stuff you'd expect to find in the Mid­west, like south­ern style bar­be­cue at Hank's Smoked Briskets, deli, you bet, at Shapiro's, old school Ger­man at the Rathskeller. But there are also spots in out­ly­ing neigh­bor­hoods serv­ing more recent immi­grant com­mu­ni­ties like a Pak­istani owned gro­cery called Bom­bay Bazaar with an attached cater­ing busi­ness and like 3 greasy tables squeezed in amongst stacks of Bol­ly­wood DVDs in the back. Here we were treated to lus­cious goat biryani, siz­zling lamb chops, and deeply aro­matic spinach and goat curry. Matt's buds recently dis­cov­ered a North­ern Thai spot mas­querad­ing as an aver­age Ameri-Thai restau­rant in a con­verted Siz­zler, where I sam­pled many new-to-me fla­vors like fer­mented chicken wings, stuffed bit­ter melon soup, and a coconut rice dessert sprin­kled with shaved, salty, dried shrimp. My favorite Mid­west bites this year were served to me from a take out win­dow in the park­ing lot behind a liquor store– the best jerk I've ever had at Jamaican Jerk. Around the pic­nic table, we didn't talk much, grunt­ing our way with greasy hands through Sty­ro­foam trays of smoky, aggres­sively spicy jerk chicken and ribs served atop the best peas and rice and deep, deeply savory stewed oxtail or curry goat. On a sunny day with some Mavado test­ing the lim­its of a set of com­puter speak­ers, you'll for­get you're in Indi­ana. Next stop, St. Louis.
1. I See You Chicago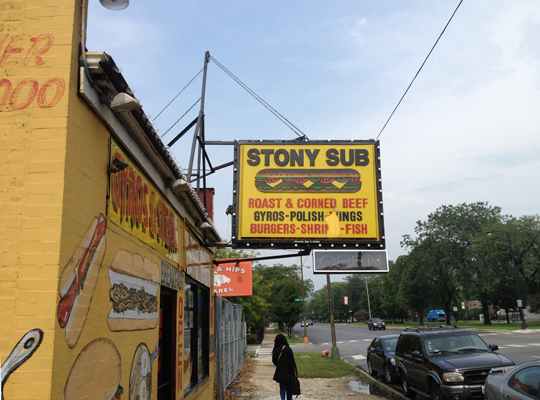 White peo­ple like me gen­er­ally don't ven­ture to the West­side or the South­side. Sure, we're all used to tak­ing over Pilsen by now. But for real, giant, I mean giant swaths of the West and South sides of the city are inac­ces­si­ble to the imag­i­na­tions of those con­fined to the comfy con­ve­niences of their North­side neigh­bor­hoods. Over 90% of these neigh­bor­hoods are black. I'm not the best per­son to give you a his­tory les­son here, but a cen­tury ago real­tors set hor­ri­bly racist, restric­tive poli­cies to not rent or sell to black peo­ple in white neigh­bor­hoods, not to men­tion the straight up vio­lence met by blacks mov­ing into white neigh­bor­hoods. Then mid­cen­tury came strate­gi­cally placed, oppres­sive hous­ing projects. Over­pop­u­la­tion, unem­ploy­ment, poverty, race riots, "shoot to kill" orders, a vicious cycle ensued. Unfor­tu­nately these con­di­tions have not changed much, con­cen­trated poverty plus eco­nomic decline plus the sys­temic lock up of black men plus a steady sup­ply of guns plus plus plus has put Chicago back in the news the past few years with spik­ing mur­der rates.
These con­di­tions are abstract to most well off white folks.
I believe that by vis­it­ing these neigh­bor­hoods and actu­ally get­ting out of the car and look­ing peo­ple in the eye, this is the first step to under­stand­ing seg­re­ga­tion and where racism lies within yourself.
I found the ker­nel of racism in myself this year. I found myself in Austin, one of the most fabled bad neigh­bor­hoods on the West­side. I knew kids in high school that used to cop their heroin there. You can see the cor­ner boys, the junkies, the under­cover cops, they are there. I was there to try this jerk chicken taco that I'd heard my friends rave about. We pulled up on a fairly busy stretch of Cicero, the place was jump­ing. I was ner­vous to go in, my inner­most racist fears were quak­ing. I caught myself about to tell Jes­sica– who was wait­ing in the car while we were dou­ble parked– to lock the doors. But I refrained. There it was. The clas­sic "lock your doors, this is a bad neigh­bor­hood" hang up. The cus­tomers inside were really nice peo­ple. One guy advised me to order an extra shell, since the tacos were so over­stuffed with chicken. Another dude, rub­bing his hands in antic­i­pa­tion, exclaimed that I was in for a treat. Sure, as I ordered, I was too soft spo­ken and got hollered at by the counter lady about what I wanted on my taco and my wrist got slammed in the revolv­ing door of the bul­let proof glass as I picked up my order. But I sur­vived. But you know what? Fuck that, order­ing tacos is not even some­thing I should have to feel proud of sur­viv­ing. Sur­vival? Please. I ordered tacos. I had pleas­ant encoun­ters with other folks order­ing tacos. End of story.
I don't care if you want to call my approach touris­tic. You are not going to see the world if you do not get out there. You are not going to first­hand con­front your sub­jec­tive judg­ments and prej­u­dices if you do not get face to face with real peo­ple. And I could go on and on about how the expe­ri­ence of food con­nects peo­ple cul­tur­ally, which I believe it does. This is sim­pler than that– its about see­ing, look­ing fel­low human beings in the eye.
Hit me up, I know where the good hand formed burger spot is in the South Shore; the real deal Belizean Gar­i­funa cui­sine in Mar­quette Park (and yes a Jim Shoe too); best jerk chicken in the city in Chatham; don't even tell me you haven't tried the apple frit­ter at Old Fash­ioned Donuts in Rose­land; real Chicago BBQ? gotta get to Greater Grand Cross­ing! You'll eat well and see what Chicago really looks like. And you'll meet some real nice peo­ple while you're there.
By
EMAY
|
Published:
December 26, 2014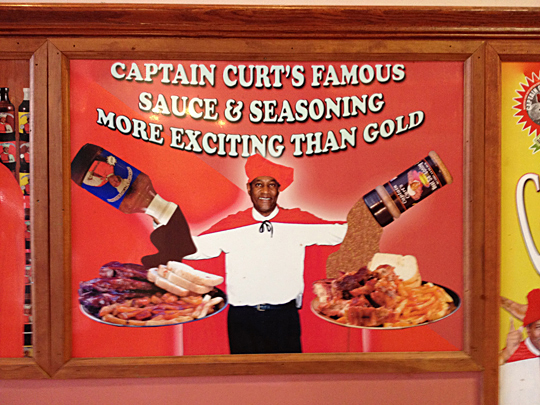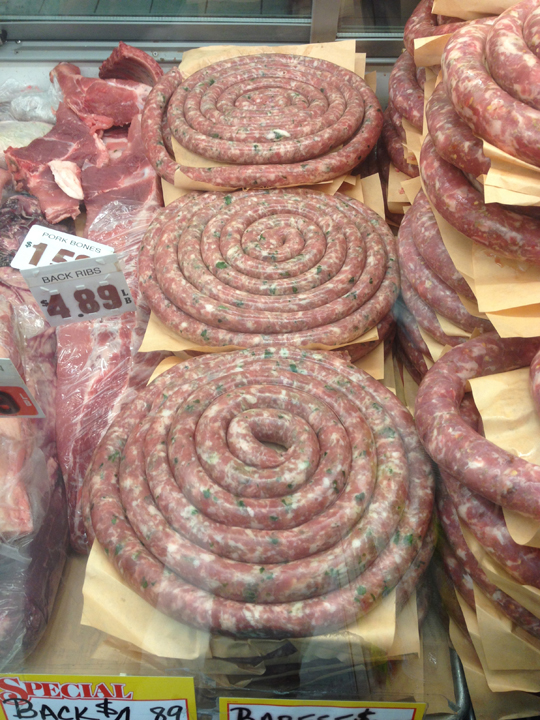 For those that fol­low me on Insta­gram, many of these pics will look famil­iar. I do love IG. How­ever, its really chang­ing the way I shoot food, for bet­ter or worse. Pri­mar­ily, the issue is com­po­si­tion, the square for­mat. Typ­i­cally, I shoot with my iPhone's cam­era and then edit in IG, which results in a slop­pier approach to fram­ing the orig­i­nal shot. Then of course there is the shrunken-down expe­ri­ence of view­ing images on one's phone– its not the best for­mat to cap­ture detail. One solu­tion is a cue I've taken from the IG feeds of food mag­a­zines such as Bon Appetit and Saveur, which is to take over­head shots which rather than focus­ing on the gooey, sexy details of food, reduce the images into emblems or sym­bols. I like that, though with­out a tri­pod, its a tricky van­tage to shoot clean, sharp images. They might look okay on one's phone, but even on a blog post, the images can get blurry. And lastly, there is this grow­ing stigma that food shots, like baby and pet pho­tos, are basic and passé. This has led me to shoot more of the con­text, scenery, etc. of what and where I am eat­ing rather than the food itself. I like this chal­lenge, though actual pho­tos of food always get the most likes. Insta­gram may or may not be killing food porn, but is has def­i­nitely changed the game.
By
EMAY
|
Published:
December 17, 2014
Eric & Mike are out here to reassess how we look an invader in the eye, find a com­pro­mise, and recu­per­ate their bad name. That name is carp and Mike's peo­ple grilled it up on the shores of the Tigris River and my peo­ple fried it up for a Christ­mas feast. But this is Amer­ica, and for one thing we don't eat bot­tom feed­ers, nor do we ~often enough~ revere our own cul­tural tra­di­tions. Hold up, let's cor­rect that. For our Christ­mas Carp Migra­tion we spun a loose culi­nary nar­ra­tive that cel­e­brated the move­ment of the lowly carp, both geo­graphic and cultural.
There are at least a half a dozen species of carp that are har­vested, cul­ti­vated, and cooked from Dong­bei to Vienna. And those species have been shuf­fled around– intro­duced, by us, as food and as aquatic jan­i­tors only to be scorned as an alien pest. The com­mon carp– which we got our hands on for this meal– is ances­tor of the gold­fish and inva­sive in this coun­try since 1831. It is native to water­ways tra­vers­ing all of Eura­sia, but con­ve­niently for our nar­ra­tive, first popped up in human his­tory in the Danube, the heart of Christ­mas carp coun­try. But you know what, fried fish has its place and all, but let's look the sucker in the eye before we eat it and infuse deep aro­mat­ics like they would in Guangzhou. So we stuffed our piscine friends with scal­lions and coins of gin­ger that we tucked into slits in its torso. Michael astutely pointed out that these rhi­zomatic coins mimic the real thing hid­den in Pol­ish Christ­mas carp scales. Good luck, indeed, and for­tu­nately in our new tra­di­tion there were enough coins for everyone.
Through­out this meal, we hop­scotch­ing through a culi­nar­ily poly­glot patch­work of cul­tural tra­di­tions. For an appe­tizer we took a cue from the Greek play­book, the culi­nary gate­keep­ers of the Mediter­ranean. That creamy tart fish dip tara­masalata, it turns out, is made with carp roe! The grand Pol­ish tra­di­tion of the 12 course carp din­ner lent us piero­gies and mush­room soup made with for­aged mush­rooms and fin­ished with sour cream and dill. Michael worked his alchem­i­cal magic on an Iraqi rice dish stud­ded with pine nuts, almonds, and raisins which was the per­fect foil to a com­fort­ing Armen­ian dish of chick peas and greens that rep­re­sented a Christ­mas tra­di­tion from the Mid­dle East. Finally, our own two cul­tures met serendip­i­tously for dessert, which in a stroke of carp-inspired luck was a per­fect pair­ing of spicy, cit­ron infused, choco­late– dipped Ger­man liebekuchen co-habitating with kay­mak clot­ted cream driz­zled in Michael's fabled Iraqi date syrup served on repli­cas of Sad­dam Hussein's per­sonal china.
عيد ميلاد مجيد