Where we're at
If there was one thing I ingested a lot of this year, it was media. Unfortunately, not enough of it was about food. In the sea of political hysteria, a culinary 140 characters here and there was often enough to take my mind off of environmental crisis, nuclear threat, the dissolution of truth, and roiling social hostility, if for just a sec.
Food is a great diversion and a soothing comfort.
On the other hand, food writing seems kind of indulgent to me with so many bigger issues to talk about. But everything is political. Including food. So while I won't go full on think piece-y on you, this here food blog can't help itself but address the mess we're in.
Nation of Immigrants
Right out of the gates, business mixed with politics– my first catering gig of the year focused on a menu featuring foods of the predominantly Muslim countries on DT's travel ban list– Iraqi kebabs, Yemeni braised lamb shanks, Iranian roasted eggplant spread, Syrian semolina cake, etc.
At the bottom of the post, I've included my version of Mirza Ghasemi, that aforementioned Iranian eggplant dish.
Cultural appropriation be damned, I say we learn the customs of these so-called enemies. I am for an America of immigrants, a cultural brew of diverse peoples, most of whom came to this country seeking the same basic liberties as many of our ancestors, whether German, Mexican, or Pakistani.
In April, I published a little guide book to Chicago's rich tapestry of immigrant eateries which, I hope in its small way, encourages its readers to leave their comfort zones and embrace unfamiliar cultures. I make the case for cultural understanding through food over and over again, but there's another wholly American motivation for patronizing immigrant-owned eateries– spending money to bolster small businesses. Putting money into local economies and supporting families trying to make the dream work for them, some of whom might have people back home in Yemen or Myanmar that need their help.
Here's a handful of new (to me) immigrant-owned spots that can be addenda to my book: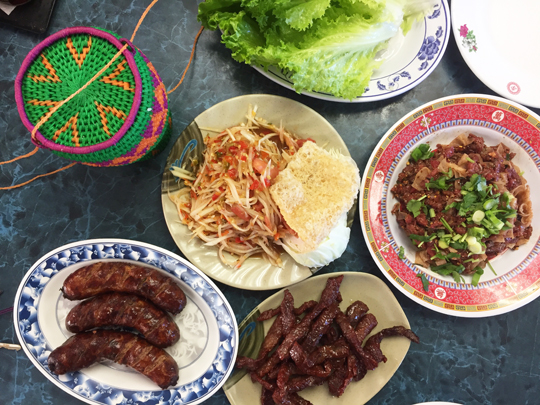 White Pearl
Shout outs to Leela "SheSimmers" Punyaratabandhu, the internet's consummate English language Thai food blogger and cookbook author who keeps an awesome Instagram account. She eats everywhere from Bangkok to Wheaton. It turns out she's got family out near where we live in the west burbs, so I'm always paying attention to where she eats out this way. White Pearl in Elgin, one of the area's only Lao restaurants, had been on my radar for years, but a post by Leela helped motivate me to finally get there. They offer a menu of Ameri- Thai staples which seem plenty popular with the locals. But, of course, we're there for the real deal and order extra funky and tomato-y Lao style papaya salad, salty sweet beef jerky, garlicky Lao sausages, and a rather challenging salad– rare beef lap seasoned with beef bile. It's bracingly bitter, but also complexly herbaceous, sour, and hot. Thank you Elgin, taste buds blown.
265 S McLean Blvd, Elgin, IL 60123
Hong Ning
I spied this strip mall spot opening up last year across from the pretty great supermarket I shop at, Angelo Caputo's in Carol Stream. Perhaps slower to catch on to the American imagination than say Thai, Filipino food can be hard to approach, even though a lot of it is meat centric with familiar flavors that skew pretty mild, influenced by the island's history of both Spanish colonizing and American occupation (just check out the fervor over the Jollibee fast food chain famous for middle-of-the-road fried chicken and sweet red sauced spaghetti.) Hong Ning, on the other hand, offers some of the bolder flavors I've had from Pinoy cuisine– many dishes seasoned with Cameo-level funky shrimp paste and grilled meats heavily marinated in fragrant calamansi juice. The portions are huge and the menu is vast, but fortunately this gem is on my weekly path.
598 E North Avenue, Carol Stream, IL 60188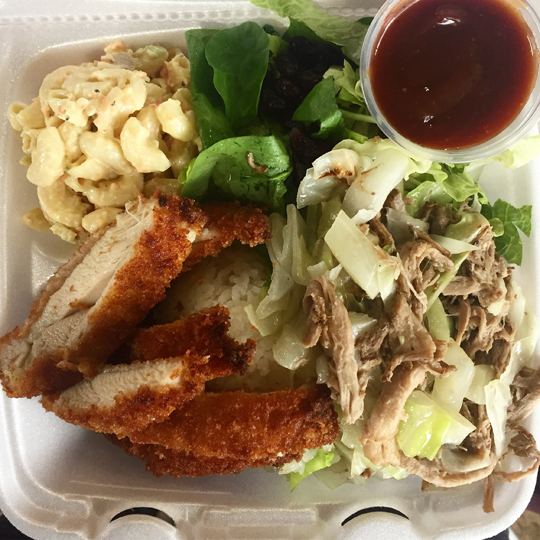 Aloha Wagon
A tip of the hat here to my bud Titus Ruscitti, aka King T, aka chibbqking, a man who I can say with certainty, gets to more places than anyone else writing about food in Chicago. The affable owners of this place relocated their Honolulu food truck to a cute octagonal shop at the low key, yet conspicuous location of Western at Ogden (not immigrants, though geographically & culturally Hawaii is smack dab in the middle of America & Asia.) Hawaiian food might be on the cusp of a moment, ushered in by the poké trend of the past few years. However, there's much more to explore, Hawaiian's a mashup of native staples like poi, pork, and fish; Japanese, Korean, and Filipino flavors; and a way with remixing mainland staples like Spam into nigiri (called musubi), burger patties piled on rice covered in gravy (called loco moco), and macaroni salad served next to rice with just about everything. Aloha Wagon takes their fusion a step further by appealing to the locals with tacos and sandwiches featuring island fillings. I've stuck with their more traditional offerings like kahlua pork which is super tender and surprisingly smoky and the undoubtedly Japanese chicken katsu, fried brittle- crisp, while juicy af inside. Fortunately, the very Hawaiian format of "plate lunch" lends itself to combos stacked up in traditional Styrofoam to-go containers, so you can sample a few things with each visit.
1247 S Western Ave, Chicago, IL 60608
Bonci
I will lament the impending death of the West Loop in a sec, but there was at least one good thing that happened there this year, the opening of an outpost of the Roman pizza shop, Bonci. True to its zipcode, the media has been all about this place and the lines wrap along the building. I'm a big fan of the oily, crisp-on-the-bottom, thick, rectangular cut, sheet pan cooked, Roman style pizza. My go-to in Chi has always been the underrated rendition at D'Amatos. Bonci elevates the form though– uncharacteristically ethereal crust, crisp, and light as air, literally a matrix of super leavened air pockets. I love the organic nature of the ordering process, you never know what you're going to get– they offer hundreds of topping variations, which seem to be prepared almost improvisational-ly, so European! Some are topped with fancy charcuterie and you'll find combos with unusual (to us) toppings like scrambled eggs and bean purees. I gotta say though, my fave is the pomodoro, bright tomato sauce with a pinch of nutmeg, a judicious sprinkle of cheese, some herbs, and that celestial crust!
161 N Sangamon St, Chicago, IL 60607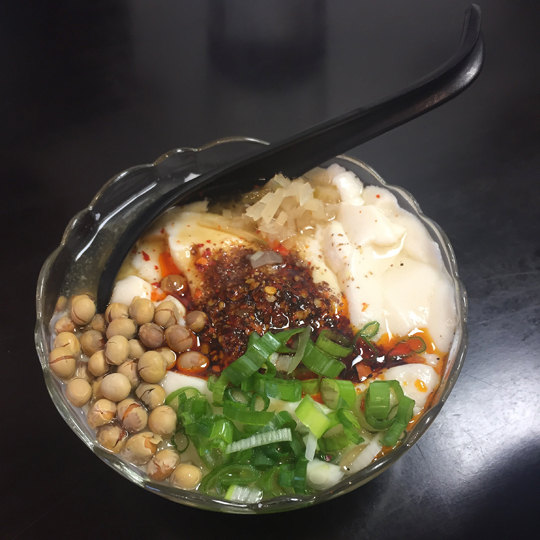 A Place by Damao
This was an Instagram find, a post by strangefoodschicago, an "influencer", whose taste I don't always agree with (though who deserves much credit for his championing of Asian mom-and-pops.) Bridgeport is increasingly becoming a new Chinatown, with new eateries popping up and down Halsted. Unlike the OG dive in the hood, Ed's Potsticker House, APbD is very millennial in its aesthetic (though still kinda divey) with cute design and a young clientele. This was the favorite new food I ate this year. They offer Chengdu- style street food, with an emphasis on bony, gelatinous off cuts of chicken, pig, and duck dressed in fiery Sichuan seasonings. I fucks with duck tongue, tho I didn't think I fucks'ed with pig feet. But hot damn– those joints encased in jiggly skin and cartilage encasing meaty bits. So much gelatin that napkins are embarrassingly decimated by sticky fingers, though on my last trip they were served with plastic gloves! Damao also offers much more poised offerings such as spicy soft bean curd, as dainty as a good Japanese chawanmushi (but with chile oil and crispy soybeans.) And the best thing– the ambiguously named "wantons in hot soup"– supple dumplings filled with pork and veg bobbling beneath the surface of volcanic liquor electrified with Sichuan peppercorn. The future is Chinese. The future is Bridgeport.
2621 S Halsted St, Chicago, IL 60608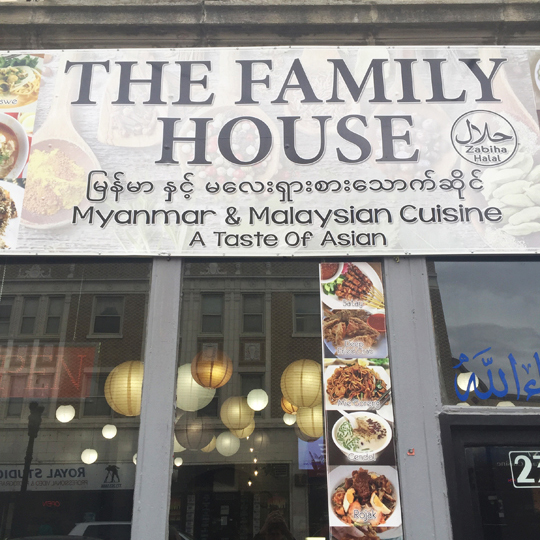 The Family House
Burmese cuisine is one of those holy grails to foodies (especially in Chicago, which up until now lacked a restaurant.) I've been thinking hard on that since I wrote about a pilgrimage we took to Fort Wayne, IN, where there is a Burmese population, on my top ten of 2015. The stuff is the definition of peasant food– it's noodles and beans, not much meat, fresh vegetables. Not exactly cosmopolitan restaurant cuisine. Which brings me to Burma Superstar in San Francisco (where I first ate Burmese ten years ago.) I'm pretty sure we can blame their two hour waits for the fetishization of this food. Okay, all that off my chest, it is delicious stuff, with huge fermented flavors and intriguing creamy textures to make the most out of humble ingredients.
The Family House is a young, Muslim owned storefront, in the midst of the thick Desi economy on Devon. They live up to their best name ever, often full of families, cutie little ones running around. The owners hail from Myanmar and Malaysia, so they serve both cuisines. Malaysian is also under-represented in Chi, so double yay. Prices are eyebrow-raising-ly cheap (so much so, I hope they can stay open), everything is $5 or less! Their food is brightly flavored and eye-opening from the funky/rich fish noodle stew, mohinga, to a heavily sour version of the classic tea leaf salad, to paradigm-shifting, moist charred chicken satay with a rustic, aromatic peanut sauce that yup, will realign your opinion of this cliché 90s catering staple. Anyway, I really want this place to succeed, foodie fetishes be damned, so please make the trip to Devon and check them out!
2305 W Devon Ave, Chicago, IL 60659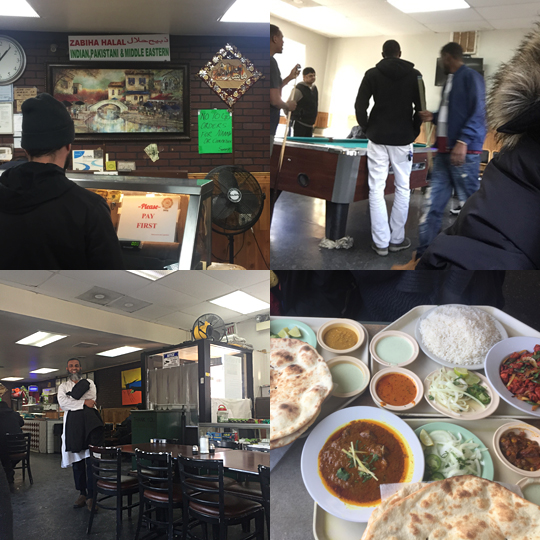 Pakeeza
Like Family House, I discovered this place on my old stomping grounds, LTHForum.com, which has seen a bit of a drop off in traffic in the past few years, but surged with a handful of excellent discoveries later in the year. A long time poster, Habibi, shined the light of day on this hole in the wall. With its drab exterior and faded signage, Pakeeza has been hiding in plain sight on a windswept stretch of Orleans north of Chicago populated by a host of dingy eateries serving the multicultural coalition of the city's cab drivers.
If not my very favorite tastes of the year, this certainly ranks as the best eating experience. They serve a limited menu of rotating Northern Indian/ Pakistani classics. Orders are placed by the whole or the half, though the main difference seems to be how high the platter is stacked with their best-in-city crackly-in-spots, chewy-in-others naan bread, each of which is about the size of a medium pizza. The cooking can be inconsistent. Frontier chicken, a Pakistani BBQ classic, chile-dyed-red morsels of chicken thigh, is succulent with slightly charred edges when cooked fresh, though sometimes you get a dry, likely-reheated batch. The bhindi might be heavily spiced with cinnamon on one outing, but under seasoned the next. It doesn't make sense why the palak gosht would hardly taste like curry one day, but a similar goat stew would be popping with fresh ginger and mundu chiles the next.
Whether the food is excellent on your visit or merely pretty good, you will find the experience of eating at Pakeeza transporting. The place serves as a community center, of sorts, for Chicago's Muslim cab drivers (seemingly hailing from the entirety of the Middle Eastern/ North African Diasporas.) One glaring thing you will notice is the absence of women. I'm not going to make guesses to answer why, but I've brought women friends who are greeted warmly and made to feel welcome. Its not just a place for fueling up, the guys post up in this place, settling in for games of checkers, reading Arab language newspapers over rounds of creamy chai, or shooting pool. There is even a mosque in the basement– if you happen to be there at prayer times, most of the clientele head downstairs. The sink is separated from the toilets at a station in the dining room. I make sure to respect the custom of washing my hands before I eat. This might all sound intimidating. Though in my visits, every exchange of words or eyes with staff and patrons alike (especially the staff), have been incredibly warm. This place helped me feel grounded in dark times this year and renewed my faith in transcending cultural differences.
1011 N Orleans St, Chicago, IL 60610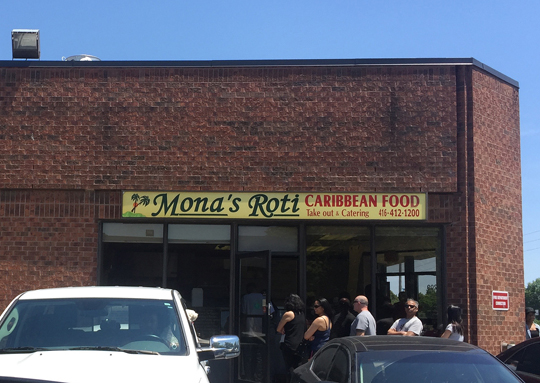 Running Through the 6
Nothing takes the edge off the anxiety of looming xenophobia like a trip up to our friendly, liberal neighbors to the north. Especially the melting pot that is Toronto. We have family up there and in June we packed up the car with the windows down, Comey hearing blasting. I've been three times now and while family obligations typically dominate our short trips, we always take a (much needed) day to ourselves to explore and indulge my global eating checklist. As is increasingly the case everywhere, the burbs are where newer waves of immigrants are settling, so we often brave traffic to head to far flung hamlets name dropped in Drake songs like Markham or Missausauga for Taiwanese beef noodle soup or Pakistani BBQ (the latter of which was one of the best meals I've had in my life in a run-down converted fast food hut called Bar B Q Tonite).
This summer, we stayed in a charming af artsy/hippie Air Bnb in the St Clair West neighborhood. We got in late and perused the handy neighborhood guide that the hosts had provided. Within a two block walk we had a chicken piri piri spot, a Persian place, a jerk chicken spot, and the common sight of Northern Chinese dumplings rolled to order in the front window of a store front. Decisions, I love all of those things! But the piri piri spot looked so real deal with its sooty rotisserie and Portuguese football regalia. The bird was just okay, but cheap and satisfying for our road-worn souls.
On our one free day, we fought the 401 out to Scarborough to check out roti at a joint I'd read good things about called Mona's, a bustling storefront in a totally nondescript industrial court park off the highway. Trini food, which is under represented in Chicago, has complex creole lineage blending native Caribbean, African, Indian, and Chinese traditions. The patrons, snaking in a line around the tiny storefront reflected this multi-cultural pedigree, beautiful faces of all sorts. There was an army of women running the place, rolling out roti, tending to bubbling cauldrons of spicy brews, and taking orders. I love this food when I can get my hands on it– spicy, aromatic, and addictive. Goat roti and doubles (fried roti wrapped around curried chick peas) were on order. We took the food to go and ate it at a lovely park surrounded by families from all over the place.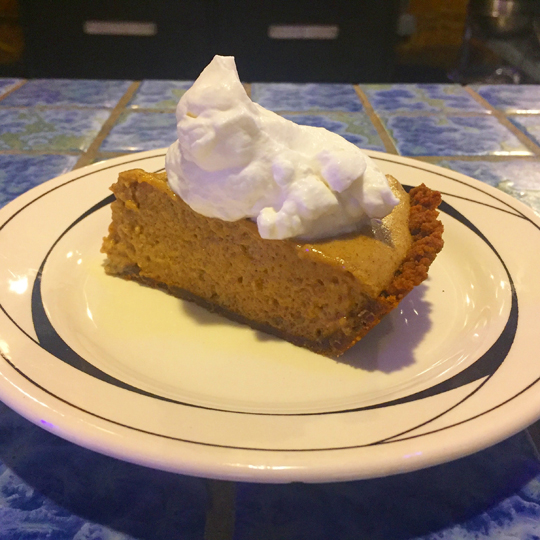 What Would Grandma Do?
I've been learning to loosen up with the always from scratch/seasonal/farm-to-table ethos. I do like to put the best things on the table for the fam on the day-to-day. But when its party time, indulgence transcends righteousness. Salt, sugar, and fat all have their place and even mass produced ingredients can be integral to party foods.
In my Ox-Bow days we had a saying "What Would Grandma Do?" and for those of us with grandmas of the Great Depression & post-war eras, that often meant employing cheap convenience foods like canned mushroom soup. Following the "WWGD" credo over the years, I've learned that even great soul food mac-and-cheese recipes often use Velveeta. Spanish rice? Not the same without MSG-laden Goya Sazón. Liquid smoke, Pillsbury crescent roll tubes, Crisco, all of this stuff is integral, authentic even, to party food.
One of our biggest catering hits this year was definitely not something my grandma would make– Thai fish cakes, Tod mun pla. The inimitable SheSimmers has a great recipe that features two mass-produced ingredients, this crazy packaged fish paste and canned red curry paste, vouched for as the most authentic-tasting substitutes to hard- to-find Thai ingredients. The canned paste has that restaurant-authentic sweet heat and the bizarro smooth fish slurry, full of stabilizers and binders, gave it that appropriate squeaky/bouncy texture. Not stuff I would cook at home on a weeknight, but when its time to party, we will party hard!
Speaking of what grandma would do– my Grandma Tillie was a tremendous cook and she made this pumpkin pie that was unlike any that I've ever eaten then or since. Light as air, a chiffon to be exact, ethereally poised upon a dense buttery substrate of crushed ginger snap crust. And that simple crust always led me to believe it must have been one of those convenient 50s-y recipes. But no, this is no easy pie. There's gelatin to bloom, meringue to fold in. After some failed attempts in the past, I did her legacy right for a dinner party in November. Jump to the bottom of the post for the recipe.
Generally, I overcame my aversion to baking this year, especially honing my pastry skills. I'd always dismissed baking as too methodical for my preferred intuitive ways of working, but there is a sense of touch that is essential to good pastry, a tactical knowledge beyond measures and scales. Getting your hands on the dough, you can feel for consistency. It's easy to over mix with a machine. I like to pinch that butter in, but not too much, gotta have those pockets of butter for that flaky good good. This biscuit recipe was a go-to for a perfect application of the feel-for-it method.
RIP
A handful of dear-to-me institutions have closed this year:
Lucky Peach
My favorite food mag called it a day this year after a whirlwind, but content-rich six years. There was a lot to love, long form food writing from some of the best in the biz. Each issue had a theme, which would cover big issue stuff like gender equity & environmental impact alongside goofy things like frozen chicken nugget taste offs. The Gender, Apocalypse, & Gender & All You Can Eat issues were my faves. There was fiction. And A+ art direction. The occasional drift into bro-chef culture, but often sharing page time with some of my favorite women cookbook authors like Andrea Nguyen and Fuchsia Dunlop (that dick soup piece!)
Here's a quick list of my other favorite things they did: Kevin Pang held it down for Chi-town with shout outs to tips & links, a piece about my favorite nearby suburban food mall Korean stall, hanbun, and an incredible long form about prison food at Westville prison in NW Indiana; cyanotypes of the foods of LA; learning the difference between southern & northern styles of phở; the in-depth international guides to stuff like breakfast, fried chicken, & sausages; phatty eggrolls on Dead lot; bunny chow; the quest for more easily digestible pizza; those old Korean lady shellfish divers; Mark Ibold from Pavement writing about Lancaster PA in every issue; eating at swinger parties; hermaphrodite sea creatures; cooking invasive species; interview with Martin Yan "Can Cook"; and Jonathan Gold & Robert Sietsema rapping what makes American food.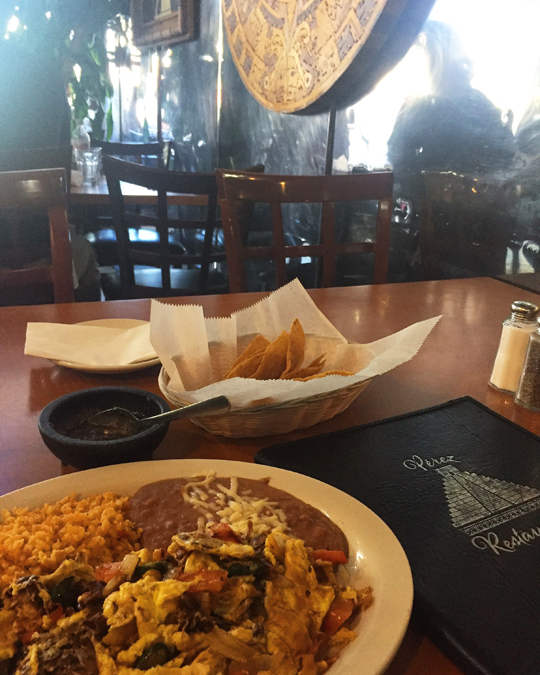 Perez
I started working in the West Loop in 1999 as an apprentice mosaic maker. The area was then in its nascent stage as a hot spot for restaurants and art galleries. Our studio was based out of my boss's apartment on the second floor of 119 N Peoria, a building that a few years later would become a major art world hub where many friends ran, worked for, and showed at galleries. The studio I worked for made a bunch of mosaics for Red Light, which was probably the 2nd fancy restaurant on Randolph (after Marché.) As poor, young art students, we couldn't afford to eat at those places. There were two spots we frequented, a dingy grill called S&S at Green on Randolph and a cheery Mexican spot at Peoria, Perez.
At that point in my budding foodie-ism, Perez was about as good as it got. On the table with chips, they offered this salsa negra, which to this day I've never been able to reverse engineer (La Pasadita makes a similar version.) Just a kiss of smoke, it was really rather bright and fresh tasting, just the best. I've always loved huevos dishes and Perez made my favorite in town, machacado con huevo, which is common in Mexico but not so much in taquerias in Chicago. Most versions employ a chewy, reconstituted beef jerky, which is tasty, but Perez used a pleasantly stringy but tender beef, almost like a ropa vieja. And big old chunks of hot jalapeño. It was my go-to order for 18 years! They did a few other things well– I ate my first goat birria tacos there, which still tasted pretty good on a recent visit to my now birria-sophisticated palate. Seafood was always fresh, shrimp in particular in ceviche or a big bowl of caldo.
Mostly, though, they were a serviceable gringo-type spot slinging big plates of cheesy enchiladas and burritos suizos and margs galore. The perfect post gallery-hopping haunt. As I got around more, I knew there was better stuff out there, but Perez remained a convenient stalwart. Even after prices jacked up, it was still the cheapest spot around there to grab a bite and a drink.
Alas, development took hold of the neighborhood. Every restaurateur with the capital opens there. Google, the fancy hotels. Many of the galleries my friends ran were edged out for tenants paying higher rents. At this point, I can't even handle parking around there. RIP West Loop.
Perez was there 33 years. I tried to chitchat with the owner on my last visit and he seemed more than ready to go. He told me "never get into this business." Sage advice from a veteran of the hottest restaurant neighborhood in the city.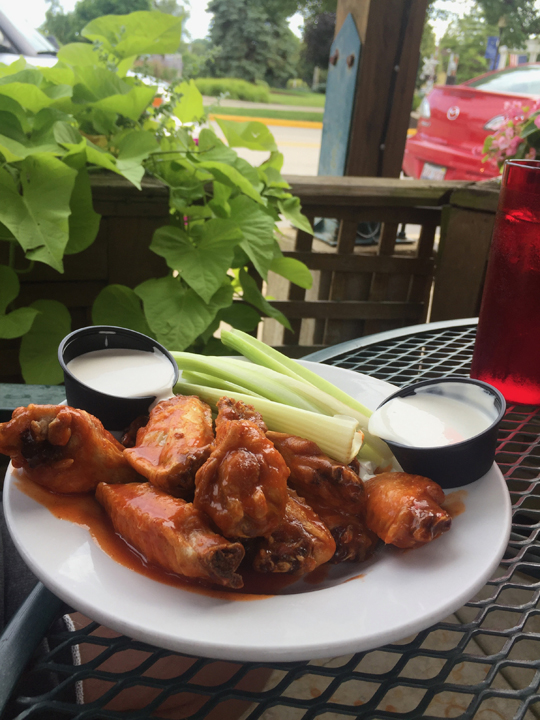 John's Buffet
John's was originally going to be on my list for the-thing-I-ate-the-most this year– their Buffalo wings. It was really the only good thing they made (some decent 80s style bar nachos too) and rivaled the best versions in the city (though terrible blue cheese, Hidden Valley was the move.)
So I got a devastating text a few weeks back– this 96 year old institution in my adopted home town was closing its doors by Christmas. The land was bought by the neighboring hospital, known to the locals as a land-grabbing behemoth.
If you check out the Wikipedia page for Winfield, IL, this, the oldest tavern in DuPage County, is mentioned in the 2nd paragraph. John Karwoski, the first of three generations of namesakes, "was instrumental in the political and economic development of Winfield, and it was his guidance and leadership that took a fledgling prairie town clinging to existence after the railroad boom went bust, and turned it into a viable and livable village." He was literally a founding father of the town.
When we were touring our future-house for the first time, our realtor mentioned a charming pub downtown with a great patio. So after a day of house hunting, we returned to Winfield to cruise past the cute mint green ranch one more time and have a beer at John's to mull things over. We were pretty charmed by the divey old tavern that anchored the cute downtown. It was a factor, we bought the house.
John's was a beer place with a rotating list of over a dozen drafts going. Quite an amazing tap for a village of 9000. The always-friendly bartender Jon typically had the new wave Pandora station playing and was great to banter with about records over woozy late night rounds of Underberg.
Their patio was a highlight of my summers. Craft beer in hand, looking out on our cute downtown with the Smiths playing, paradise. And two blocks from the house! And kid friendly! An added bonus, the patio had a great view of the traintracks for my train-obsessed toddler. The place was indispensible to cut the cabin fever after a long day with the tyke.
Our small town life will be a bit less idyllic without John's.
RECIPES!
Mirza Ghasemi
I learned how to make this from the partner of an Iranian artist, Ali Chitsaz, who I worked with at Roots & Culture. It is traditionally made with eggs, though I often skip this to make a vegan meze. I also add roasted red peppers, which I am not sure are traditional.
Olive oil
1 eggplant
1 large tomato
2 cloves garlic
1 red pepper (optional)
1 egg, beaten (optional)
Slather oil over all the veg and roast at 425 for 20-30 minutes, or until the eggplant has charred on both sides. Peel everything. Mash with a fork until chunky smooth. You might want to finely chop the pepper. A food processor works too. Depending on how long you roasted things, you might want to cook it down some more to make it thicker. Add a bit of oil to a shallow pot and simmer on low until you've reached a thick consistency. If adding eggs, you will want the mix in a pan on low heat. Make shallow pits in the surface of the mix with a spoon or your fingers. Pour in the eggs, put a lid on the pot. Without stirring, cook until the eggs are set.
Serve with crusty bread.
Grandma Tillie's pumpkin chiffon pie
1 tbsp knox gelatin
¼ cup cold water
Mix these two and set aside.
Pumpkin filling:
¾ cup brown sugar
½ tsp salt
2 tsp. cinnamon
½ tsp ginger
½ tsp allspice
1 1/3 cups mashed pumpkin
½ cup milk
3 large egg yolks
Cook the filling ingredients over low heat until the mixture boils. Boil 1 minute. Stir in the gelatin mixture and cool. You can stick it in the fridge to hasten cooling.
Make meringue with:
3 egg whites, 6 tbsp sugar, and ¼ tsp cream of tartar. Beat together until stiff peaks form. Carefully fold into the cooled pumpkin mixture. Refrigerate.
Crust:
1 ¼ cups of fine ginger snap crumbs
¼ cup melted butter (1/2 stick)
Mix together, spread evenly in a pie tin. Bake the crust at 325 for 10 minutes and cool. Then fill the pie. Refrigerate until served.