Wow, where to begin? The NY debut of the Piranha Club was fit­tingly, the most intense din­ner we've ever done.
Our trip up the Hud­son to pro­cure beaver meat is most likely the best entry point into this story…
I'm a big fan of of Baron Ambrosia, the self-styled "Quaf­fer of Culi­nary Con­scious­ness" and "Culi­nary Ambas­sador to the Bronx". I first stum­bled across the fine Baron in this 2012 Seri­ous Eats piece about his leg­endary Bronx Pipe Smok­ing Society's Annual Small Game Din­ner for which (in its 2nd iter­a­tion of the annual event) he assem­bled a crack team of local chefs to tackle a range of wild game meats for an invite only secret society-like mas­quer­ade ball. I've fol­lowed his exploits ever since from his Cook­ing Chan­nel show, The Culi­nary Adven­tures of Baron Ambrosia, to his pro­duc­tions and col­lab­o­ra­tions with Hip-hop roy­alty like Grand­mas­ter Melle Melle and the Ultra­m­ag­netic MCs to his recent spot on Anthony Bourdain's Parts Unknown Bronx episode. Weird meats, rap lore, and neigh­bor­hood rep­ping– you can see how I find this guy to be a kin­dred spirit. So how excited was I when I received an e-mail from the man him­self after I tweeted to him about sourc­ing beaver meat in NY for our Queens/Xaymaca din­ner with Paul Anthony Smith~ I guess social media can actu­ally lead to mean­ing­ful IRL expe­ri­ences. And even bet­ter a per­sonal invi­ta­tion to his home to pick up our loins of largest-rodent-in-America…
My respect for this guy was val­i­dated emphat­i­cally when we vis­ited his home. While his schtick may seem pretty thick on cam­era, the line between his art and life is all but invis­i­ble. Intense and excited, but drip­ping with an almost for­mal social grace and gen­uine charm, the Baron was the finest of hosts, open­ing the doors of his world to us. His Vic­to­rian man­sion was stun­ning– gothic, sur­real, with New Orleans-y vibe– every sur­face treated with fan­ci­ful adorn­ment. He escorted us into the par­lor and on a table adja­cent to a crushed vel­vet couch, omi­nously sat three empty wine glasses. In our cor­re­spon­dence before the trip, I'd been aware of his exper­i­ments with beaver gland vodka and ner­vously antic­i­pated the fact that he might serve us one of his potions. As he pulled a spec­i­men jar from behind his bar, he pro­claimed that he'd start us off with the begin­ner stuff. I could see two omi­nous furry shapes rolling about in the jar filled up with about three inches of liq­uid. Bear paws. Baron ran to the kitchen to grab a turkey baster and his adorable ginger-haired daugh­ter in an entirely casual tone after peep­ing at the scary-to-us busi­ness pro­claimed "oh, its grown up stuff" and cheer­fully skipped away into another room with her stuffed bunny.
Paul, Jes­sica (thanks for being such a trooper, baby), and I were all game. The just slightly cloudy liq­uid, inspired by a tonic Baron had wit­nessed in Viet­nam, had an aroma and after­taste of nutty Jamón Ibérico, a lit­tle sweet up front and less musty than you might think. We sur­vived the first round. I knew what was com­ing next. The Baron pro­duced a bell jar with a snotty look­ing node bob­bling around. The beaver gland vodka. This one had a med­i­c­i­nal, though quite aro­matic, vibe. If you peruse the linked arti­cle above, you'll learn that the extrac­tions from beaver cas­tor gland– used by the ani­mal to mark its turf– is FDA approved and has been used in arti­fi­cial fla­vor­ings and per­fumes for a real long time. I thought it had a menthol-y after­taste. So then we were ready to sam­ple the real "grown up stuff" but unfor­tu­nately I can­not recount the expe­ri­ence here, since this last tinc­ture fea­tures as the grand finalé of this year's Small Game Din­ner to be held in a few weeks. Let's just say, other than the Baron, none of us tried this one…
We then took care of busi­ness in Baron's office, which was even denser full of visual eccen­tric­i­ties– equal parts the Wizard's cham­ber, shrine to Kali, and film noir detective's desk. We got to sam­ple deli­cious birch sap wine, made with noth­ing but the flo­ral, early spring nec­tar of the birch tree. I wasn't shocked when the Baron spon­ta­neously pre­sented us with a frozen por­cu­pine. And by the time he fetched a cru­cible filled to the brim with beaver hams, the exotic meat looked down­right scrump­tious. Its impor­tant to note that Baron shared the story of how his prac­tice of cham­pi­oning wild meats came to be. He met a trap­per named Bill Guiles, a back-to-the-lander who traps ani­mals for pelts in the old school way in the deep woods of the Adiron­dacks. Baron met him at a party and invited him­self along for a hunt. He saw an oppor­tu­nity in the meat often-times dis­carded in the process of skin­ning these ani­mals. Baron reminded us that we also had Trap­per Bill to thank for our six beau­ti­ful crim­son beaver hams. Baron sent us off with a part­ing gift of a beaver's tail and a pint of cas­toreum vodka for the party and we were on our way. The whole thing still feels like a dream.
I was respect­ful of the Baron not to shoot pic­tures of his home with my iPhone, but Jes­sica snuck in one of the beaver meat in his office: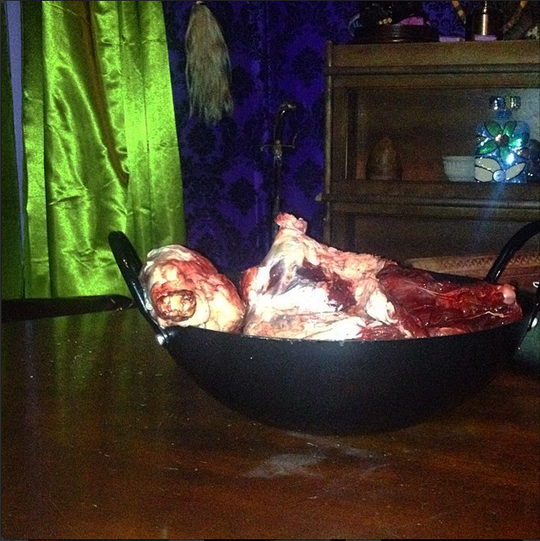 And down to Queens: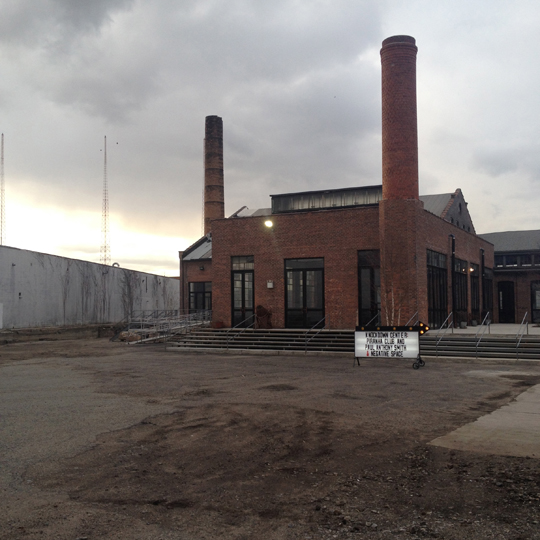 The Knock­down Cen­ter. This place is a for­mer dec­o­ra­tive glass, turned door fac­tory. 50,000 square feet in Maspeth, Queens, though basi­cally right across the street from rapidly-gentrifying Bush­wick, Brook­lyn . It was ren­o­vated and opened as a multi-purpose event space about two years ago. It is owned by a jovial, but no-bullshit, New York answer to "The Dude" and his fam­ily. And it is man­aged by my best bud from grad school, Tyler Myers. Tyler's wife, Sta­cie John­son with Gabrielle Gar­land– who I should note have both worked with me at Roots & Cul­ture– invited me to be a part of their cura­to­r­ial project, Neg­a­tive Space, which explores art that ref­er­ences aspects of domes­tic­ity. I guess we can call my project domes­tic, since at least now we know that beaver is reg­u­larly on the menu at someone's house.
Knock­down Cen­ter is badass, a gor­geous win­dowed post-industrial cathe­dral with sur­prises around every cor­ner, like a seri­ously well equipped kitchen with an adja­cent spa­cious, but cozy din­ing space. It had a nicely lived in vibe and quite reminded me of the Piranha Club's home base at R&C.
My part­ner in crime for this Piranha Club was Paul Anthony Smith, who I met at a bar in Kansas City in 2012 while I was down there for my Mid­west­ern BBQ Migra­tion project at Char­lotte St. Foun­da­tion. I'd already known about this guy, though, from mutual friends in both KC and Chicago. Our paths had not really crossed that often since. He'd done a killer show of paint­ings in Chicago called "Man­gos and Crabs", but mostly we've com­mu­ni­cated from afar as mutual fans of each other's food obsessed Insta­gram feeds. There's that social media con­nect­ing peo­ple in real ways again.
You prob­a­bly know that I'm a Jamaica-phile, or per­haps a recov­er­ing one. The stony one-two of reg­gae music has long been at the heart of my record col­lec­tion and I have a deep rev­er­ence for its ances­try to my other favorite rhythm of hip hop. I also love the slow cooked, deeply spiced fla­vors of the English-colonized, African-cultured Caribbean. Chicago is not the spot for that food though. And I've never been to Jamaica. I have come to real­ize that the Amer­i­can roman­ti­ciza­tion of trop­i­cal par­adises in colo­nial places + the col­lege escapism of Bob Mar­ley "Leg­end" sing-a-longs and the real­ity of life on the island is not some­thing that I can reconcile.
Paul was a great trav­el­ing com­pan­ion for West Indian Brook­lyn. He pointed out Jamaican ladies with their faces bleached. I knew about Man­nish waters but not much about ackee. Jamaicans cook with a lot of ketchup. We cured our hang­overs with sub­lime roti at Rama's Roti House and I won­dered about their Hindu shrine. As we cruised up Flat­bush Ave. we watched the demo­graph­ics quickly go hip­ster. Brook­lyn is a lit­tle more inte­grated than Chicago at least.
The premise of the menu riffed on the ety­mol­ogy of the word Jamaica. To quote the press release "Just down Queens Blvd from the Knock­down Cen­ter (which at one point was actu­ally named "Jamaica Estates"), there hap­pens to be a neigh­bor­hood called Jamaica, which many Jamaican peo­ple call home. The name how­ever, is not derived from the native-to-Caribbean-Jamaica Arawak peo­ple, who named their land Xay­maca, "land of wood and water", but from the native-to-Jamaica-Queens Lenape peo­ple who called their land Yameco, which trans­lates to "beaver". Join us for a Caribbean– inflected feast fea­tur­ing Arawak and Lenape tech­niques and ingredients."
Cook­ing with Paul was pro­found. Kendrick Lamar's "To Pimp a But­ter­fly" was our sound­track, which not only under­lined the urban real­i­ties that are in such sharp focus in gen­tri­fy­ing Brook­lyn, but brought up the idea of flow, which we deter­mined was a praxis of wis­dom and knowl­edge. Paul's got flow in the kitchen. I hope maybe I do too. But its a grace of move­ments and an intu­ition of know­ing how to trans­form raw mate­r­ial into some­thing aes­thet­i­cally tran­scen­dent. That whole thing of curry pow­der? That much all­spice? Dude, Paul's sauces were off the hook.
But of course the big deal was the crazy meat no one had eaten before. Some­times I do won­der why I choose to cook things I've never cooked let alone eaten for these rel­a­tively high pro­file pub­lic meals. Per­haps its a humil­ity, a need to feel as vul­ner­a­ble as the din­ers about to put some­thing in their mouths maybe they never even con­sid­ered could be food. The beaver meat was pretty easy going actu­ally. The fat had a waxy fla­vor to it, but the flesh was kinda beefy, kinda gamy (what­ever that means, can we really define the fla­vor of gamy? Iron-rich blood tast­ing like veni­son or duck? Musky like goat?). At any rate, it wasn't chal­leng­ing by my stan­dards. It cooked really well, brais­ing in Paul's "brown stew" style of gravy for about five hours. Even though we worked with 1″ cubed veni­son for the curry, that lean­est of meats actu­ally took a few more hours to become fork ten­der than the com­par­a­tively fatty beaver.
Regard­less of the shock/ courage fac­tor of our ingre­di­ents, what this is about is dia­logue about food, around food, and a com­ing together of dif­fer­ent folks. Thanks to all the beau­ti­ful peo­ple that made this happen.