This may have been the most elab­o­rate Piranha Club yet, I mean we did gather 75% of the ingre­di­ents our­selves! Jenny Kendler and I had been mutual admir­ers of each other's work, but it was pics of her for­ag­ing adven­tures on Insta­gram ~that social media thing once again~ that led me to finally approach her about work­ing together. The col­lab­o­ra­tive for­ag­ing began in early August at ACRE res­i­dency in West­ern Wis­con­sin where Jenny and I both served as vis­it­ing artists (she is also a board mem­ber). I joined her for a group for­ag­ing walk around ACRE's cam­pus and I was pretty damned impressed by her knowl­edge of nearly every plant we encoun­tered, latin names and all! I am no expert, I would call myself an enthu­si­ast– with a cov­etous drive to col­lect exotic ingre­di­ents, pri­mar­ily mush­rooms. My approach begins from a culi­nary per­spec­tive– I've learned how to iden­tify mush­rooms that I like to eat first and fore­most and then I brush up on the tax­on­omy of dif­fer­ent species. Jenny takes a more empir­i­cal approach, though is also more prag­matic in what she col­lects. She sees the value in weeds, stuff like lamb's quar­ters or oxalis that grow in "dis­turbed" areas (devel­oped land), but equally knows her way around the deep dank cor­ners of the woods where I usu­ally like to hang out. So she's helped me pay a lit­tle bit more atten­tion to lit­tle hum­ble side-of-the-road stuff that I might oth­er­wise just tram­ple right over in pur­suit of the big score.
Nature can be unpre­dictable, of course. And also fickle in terms of tim­ing. So it was good we got an early start to find a breadth of ingre­di­ents as they made their appear­ances through­out the sea­son. And this meant that we had to find cre­ative ways to pre­serve cer­tain ingre­di­ents. The remark­ably spicy water­cress above was pureed with olive oil and a bit of oxalis for acid­ity, yield­ing a chimichurri of sorts, that main­tained its emer­ald glow for two months. This worked its way into an aioli for dip­ping puff­ball mush­room fries and a driz­zle gar­nish­ing the bisque. Del­i­cate oys­ter mush­rooms gath­ered in mid-August were both pick­led and sautéed, then frozen and employed in a cros­tini appe­tizer. The gor­geous young chicken-of-the-woods below were also frozen, which altered the tex­ture of the flesh mak­ing it more ten­der, ideal for the bisque they pro­duced. In one instance pre­serv­ing meth­ods failed– an attempt at lacto-fermenting grape leaves des­tined for dolma came out just slightly alco­holic and prickly on the tongue. Later con­sult­ing edi­ble plants guide­books, we real­ized that the leaves were too old on the vine to be suit­ably edi­ble at that point in the sea­son. We should have known by how tough they were.
The bulk of the mush­rooms for the din­ner were found in the woods around my home in west­ern DuPage county, where I am enjoy­ing my first for­ag­ing sea­son (we moved here in Feb). The area is remark­ably boun­ti­ful– we came across almost all of the major sus­pects in terms of late summer/ autumn edi­ble mush­rooms. Even the wooded back end of our prop­erty turned up honey mush­rooms and a few suc­cu­lent wood ble­wits (both of these mush­rooms did not make it to the din­ing table that evening, I cooked them up with pasta them up for our "staff meal").
Three tow­er­ing black wal­nut trees have been thun­der­ously bom­bard­ing the house with their lime-looking fruit since late August. Despite their abun­dance, they're a huge pain in the ass to har­vest– after tor­tur­ing my hands first with their tobacco-colored stain­ing pig­ment, then their arthritis-inducing armor-like shells, 80 fruits only yielded about a cup and a half of frag­ments of nut meat. Heav­ily per­fumed, gor­geously rich nut meat. This made its way into a deca­dent paté and as a lily-gilding gar­nish for the dessert.
Speak­ing of trees and dessert, we stum­bled across a feral apple orchard in the mid­dle of the woods. For a few weeks, I'd been try­ing to scale this tall gnarly old tree just off the main road to pluck its apples. After a few aborted climb­ing attempts with scraped up fore­arms and a head full of falling fears, I resorted to glean­ing around on the ground with the chip­munks, sort­ing out fruit not too badly rid­den with worms. On our sec­ond walk through those woods Jenny spot­ted, hid­ing in plain sight (from me), three more man­age­able trees chock full of apples, the fruit from each tast­ing dif­fer­ently than the next from bright and crisp to deeply sweet. We found plenty of untouched fruit in the soft grass and shook some pris­tine spec­i­mens from the trees. We stuffed our tote with over 40 apples and left behind so many more. I see a cider project in the cards for fall '16.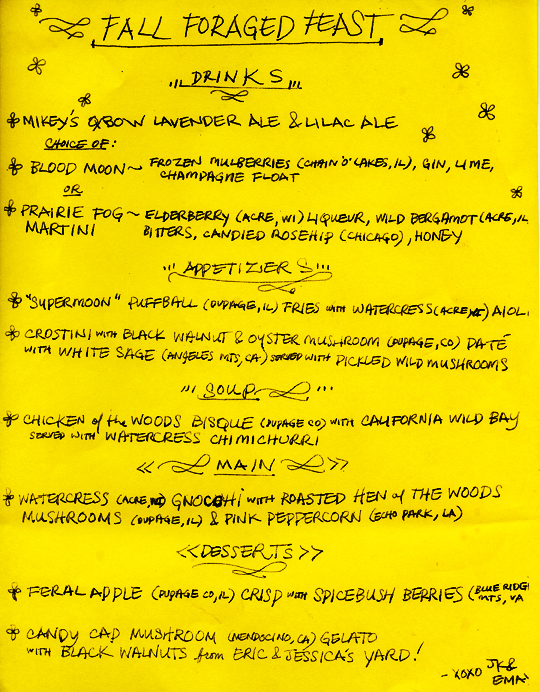 This was the first Piranha Club for which the procur­ing of the ingre­di­ents, both time­wise and expe­ri­en­tially, eclipsed the cook­ing and the meal itself. It was freak­ing deli­cious, of course, but by the time we got to the day of, it felt like the bulk of the labor was behind us. Some of the ingre­di­ents had been gath­ered way before the din­ner was even planned– Jenny was gen­er­ous enough to open up her larder of wild good­ies col­lected through­out her trav­els, which pro­vided the aro­matic fla­vors for her wildly deli­cious cock­tails. I pinched a bit of wild white sage (the stuff you typ­i­cally smudge with) for the cros­tini and pleas­antly astrin­gent spice­bush berries added a new world sweet spice note to the crisp.
The eye-opening show stop­per of the meal was the candy cap mush­room gelato that Jenny made for the dessert. I knew these shrooms sup­pos­edly tasted of maple syrup, but even I couldn't believe that their seri­ous French toast-y whal­lop was fun­gal in ori­gin. The inter­play of the sweet and sour from the wild apple vari­etals mar­ried with the rich maple-y sump­tu­ous­ness of the gelato made for a quin­tes­sen­tially com­fort­ing fall dessert.
In many ways this could have been the essen­tial Piranha Club. For­aged ingre­di­ents have crept their way into past meals– this was the third time I've served that chicken-of-the-woods bisque. My very first grad school project was an all for­aged mush­room din­ner (tasty was the food, def­i­nitely not was the cri­tique). Jenny and I talked at length about our rela­tion­ships to for­ag­ing and we both agreed that while the activ­ity informs the parts of our art that speak to rela­tion­ships with the land and its ecolo­gies, this really is more of an every­day prac­tice for us. After two months of this, I thought I'd need a break, but I'm still find­ing myself col­lect­ing those labo­ri­ous wal­nuts and can't help myself but peer around the stumps of old oak trees on my morn­ing jog hop­ing to score another hen-of-the-woods. This is cer­tainly about con­nect­ing to that basic hunter-gatherer instinct of under­stand­ing how to fend for one­self off the land, though it doesn't have to be that roman­tic nor zeal­ous. Notice we used con­ve­nient pantry sta­ples like flour, but­ter, and sugar for this meal. We mean to sug­gest a com­mon sense approach to learn­ing about and incor­po­rat­ing wild foods into one's life. We hope that by serv­ing deli­cious, unfussy dishes pre­pared with for­aged ingre­di­ents that it might demys­tify the idea that there is deli­cious food to be found all around us. Just remem­ber kids, get the book, read it, and don't go stick­ing ran­dom berries and toad­stools into your mouth!