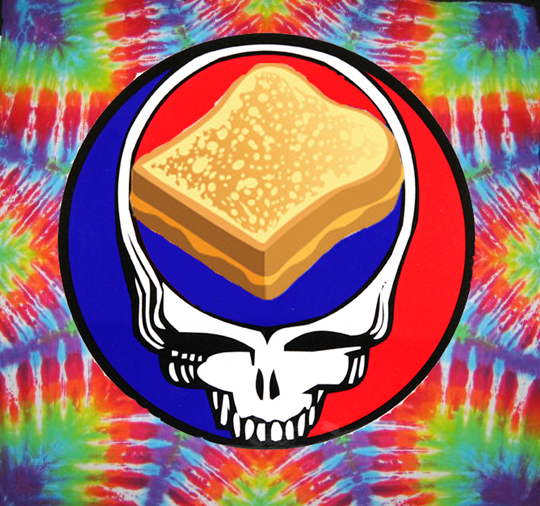 Sat­ur­day, July 4th. 1–4 PM
@ Roots & Cul­ture, 1034 N Mil­wau­kee Ave.
Before I devel­oped a taste for Jerry's end­less mean­der­ing riffs, Bobby's good old boy (not always in tune) har­mo­niz­ing, and Phil's psych the­atrics, I was drawn to the idea of the park­ing lot. An unreg­u­lated open air mar­ket, where con­cert venues seem­ingly turned a blind eye toward the ped­dling of illicit sub­stances, hip­pie crafts, expen­sive beer, and a cer­tain genre of veg­gie stoner junk food. I found my call­ing in the hawk­ing of the more whole­some lat­ter cat­e­gory, my spe­cialty: the grilled cheese.
Before I got into the hand­painted PVC didgeri­doo game, I'd hap­pily pocket hun­dreds of dol­lars a day sling­ing but­tery, gooey grilled cheese sand­wiches con­structed the way most of our moms made them out of cheap squishy white bread and Amer­i­can cheese sin­gles. That would set you back a buck back in '95. Look­ing for a more gour­mand expe­ri­ence? Add tomato for 50¢. What really lured in the munchie– addled hordes of patch­work clad, patchouli stink­ing col­lege kids was a lit­tle trick I dis­cov­ered smok­ing my way through my family's spice rack– a sprin­kle of oregano would not only add a classy touch to the sand­wich, but the over-spill off the sand­wich would inevitably burn on the hot pan, releas­ing a musky herbal scent in the vicin­ity, entic­ing more and more hippies.
So to cel­e­brate the Dead's "final" shows this 4th of July hol­i­day at Sol­dier Field as well as the spirit of hip­pie entre­pre­neur­ship, I'm dust­ing off the old Cole­man camp stove and The Piranha Club will host a grilled cheese party. $5 for a grilled cheese, chips, & a drink. Your choice of the "junkie" made the way mom would on squishy white bread with sin­gles or the "crusty" made on a crusty sour­dough with a pro­pri­etary arti­sanal cheese blend. $1 add ons include tomato, avo­cado, ham, or bacon. There will prob­a­bly be some Sierra Nevadas and Sammy Smiths on hand as well. Ven­dors wel­come, so bring your cus­tom devil sticks, hemp neck­laces, and patch­work pipe totes on down! It'll be a reg­u­lar shake down street!