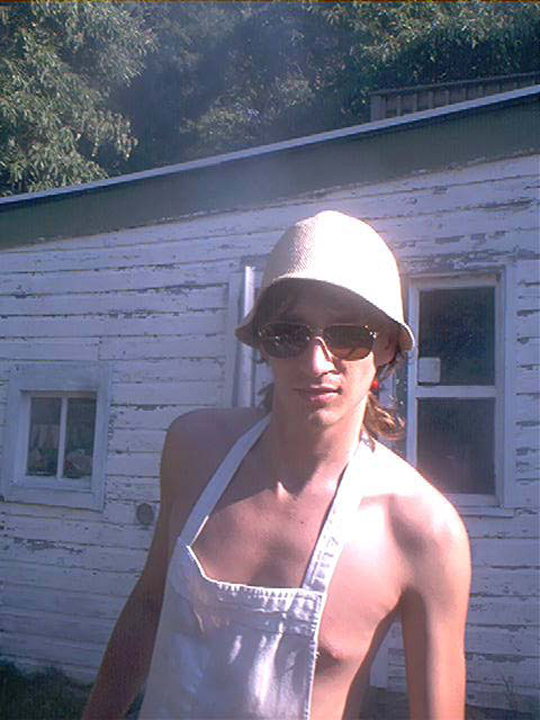 Photo c/o Skip Bal­lou
I'm from Ox-Bow.
I've been say­ing this a lot lately. I'm okay with some bugs in the house, spi­ders, a wel­come vis­i­tor. That hole in the screen? It can wait a few weeks. The old, the rot­ting– famil­iar and com­fort­ing. Just give it a fly paint job.
Jes­sica & I bought a house a few months ago, which sig­naled a major shift in my lifestyle. After 15 full sum­mers of work­ing at Ox-Bow, it's finally time to hang up my chef's hat. If you could see our house though, its more than a lit­tle rem­i­nis­cent of the quirky, over­grown, vibrantly painted col­lec­tion of shacks on the lagoon~ with prob­a­bly a few less bugs inside. Though I can't say that I con­sciously chose the house because of its campy-ness, Jes­sica says that she knew imme­di­ately that it was going to be our house because it felt like Ox-Bow. It felt like home.
Home.
There was a time when I con­sid­ered Ox-Bow my home. I was in my early 20s and oth­er­wise itin­er­ant in where I laid my head. I was still in the needing-to-feel-as-far-away-from-my-parent's-nest phase. That moment I first set eyes on the lagoon on that balmy after­noon in late July of 1998 is the sin­gu­lar most strik­ing mem­ory I have of the place. Expe­ri­enc­ing that view for 100 days straight is prob­a­bly the one thing I'll miss most. The place felt totally famil­iar, I had spent a chunk of every sum­mer of my child­hood and ado­les­cence in the sandy dunes and lakeshore of West Michi­gan. But there was a cer­tain sense of grandeur– the vista of the mean­der­ing lagoon set against a dra­matic back­drop of tow­er­ing, densely wooded dunes. A pal­pa­ble spirit quak­ing in the wind.
And those funny cab­ins, I got to live in four of them and had count­less laughs, beers, and weird sleep­overs in just about the rest of them. The buzz of campers in the old inn, entic­ing food smells, humid lazy lunches on the side porch. Cool grown ups. All those crazy artists everywhere.
I'm going to keep the sen­ti­men­tal­ity in check. The place is fueled by it. You're liv­ing in your best mem­o­ries in real time. Every­one feels like, well, your broth­ers and sis­ters. Time both flies by and feels like it's last­ing for­ever at once. You yearn for the place Sep­tem­ber through May, count­ing down the days. The magic, blah, blah, blah.
I think that for a lot of us (and I mean every­one who falls in love with the place), Ox-Bow pro­vides us with what we strug­gle to find else­where in life. A con­nec­tion to nature, belief in the unseen, magic. A feel­ing of com­mu­nity, fam­ily, home. Noth­ing wrong with that. I think for me, it was just that my par­ents never sent me away to sum­mer camp. It was my place to be the me I felt unsafe being in the real world– to wear a dress and make up, to run around naked, to get wasted every night. A per­pet­ual state of ado­les­cent rebel­lion. But I swear I grew up at Ox-Bow, I really did…
I fell in love at Ox-Bow for the first time and maybe a cou­ple more times. I met about ¾ of my best friends there. I got mar­ried at Ox-Bow! I felt a sense of com­mu­nity that has inspired and dri­ven all of the work in my life since. I learned to work at Ox-Bow. I was a lazy kid, always look­ing for short­cuts, averse to hard work. As a work study dish­washer at Ox-Bow, for the first time in my life, I felt pride in labor– my sweat, a con­tri­bu­tion to the col­lec­tive endeavor. I learned that ser­vice and work­ing with food were my life's work.
But I also had my heart bro­ken there. I fought with friends. Friend­ships col­lapsed. I buried pets there. My friend drowned.
Life in sharp focus.
I watched Ox-Bow grow up with me. The days of drum cir­cles, day­time skinny dip­ping, and day drink­ing gave way to a more but­toned up pro­fes­sion­al­ism. I was there, man, but shortly came ren­o­va­tion and expan­sion. And oh boy, did we not like it. How dare they bull­doze our sacred ground. What do you mean we can't smoke joints when­ever and wher­ever we want? But alas, the rebel­lion was short­sighted. We were lifted up out of hippy provin­cial­ism and became a world class insti­tu­tion. It was good that a hand­ful of us old timers car­ried some of the old spirit into the new era, shar­ing our com­mu­nal­ism and funky old ways. And I like to think that we passed down some of our knowl­edge to a new gen­er­a­tion. That's the thing, even though we had new big shiny build­ings and dozens more campers, the vibe didn't change all that much. But some of that sense of com­mu­nity was lost, things just got geo­graph­i­cally spread out more, it was harder to get to know all those new faces.
There were big­ger per­sonal shifts going on as I grew up at Ox-Bow. As I was pro­moted to a man­age­ment posi­tion and then wit­nessed the pro­fes­sion­al­iz­ing of the ser­vices we offered, some of my roman­tic rela­tion­ship with the place and feel­ings of "home" and "fam­ily" started to wane. But this was all okay. I was there to serve. Serve the mis­sion of Ox-Bow. I took great pride in my job. The cush­est ser­vice indus­try gig ever– a free place to live, sur­rounded by nature, free access to world class ped­a­gogy, feed­ing and mak­ing happy friends and respected col­leagues. In the end of the day, I came to terms with the fact that Ox-Bow was just a job, best gig in the world or not.
Back to that home and fam­ily thing. As I grew up I real­ized that Ox-Bow was only 3 months of my life and the other ¾ of the year inevitably had to take pri­or­ity. I found a new home and fam­ily. Back at camp I started to crave pri­vacy, nor­malcy, a good wifi con­nec­tion. I missed my wifey.
Speak­ing of pri­vacy, the hard­est part of the job is sort­ing out the inevitably blurry bound­aries between pri­vate and pub­lic. Where work begins and ends and really doesn't. This is where all the trou­ble hap­pens. My fatal flaw with my job was try­ing to keep every­one happy. Kinda fucked up to have to man­age your friends– your broth­ers and sis­ters– though. My only regret is not telling my friends that they were bad work­ers some­times and not telling my work­ers that they were bad friends other times. I could have been more forth­right, less con­fronta­tion– averse and it could have saved me a lot of grief.
But all I ever wanted was to keep the peace. Seri­ously folks, lis­ten up haters. Even though you can blame me for walk­ing around with too much swag­ger for my own good and inces­santly turn­ing the vol­ume up, some­times at the expense of the peace of my neigh­bors, every­thing I did at Ox-Bow on the clock, ever, I did for the realm.
I grew up at Ox-Bow. And many other wily young artists will for gen­er­a­tions to come. Some­how the place takes care of it self, it's about regen­er­a­tion. My best pal, Car­men said this at a sum­mer end bur­ial. My other best pal Sarah Workneh shared a ker­nal of wis­dom passed down to her as she was part­ing with the place, by the astute elder, Ellen Lanyon, "Ox-Bow will always be okay." As I walk away from this cush­est of jobs, I remind myself this. After spend­ing every sum­mer of my adult life at the place, it's hard to not get a lit­tle hung up on legacy or fret what will hap­pen in my absence. But I know its gonna be great. The place takes care of itself.
Okay, I'll end with sen­ti­men­tal­ity. Of course I'll miss the damned place. I love Ox-Bow like a liv­ing, breath­ing per­son. This is not good­bye. I will be back time and time again through­out my life to enjoy the caress of the warm sum­mer breeze com­ing in off the lagoon. I know she'll wel­come me back. After­all, I am from Ox-Bow.
I'd like to thank all you beau­ti­ful campers, who I had a beer or a thou­sand with:
George Liebert, Jakub Kuchar­czyk, Rafael Vera, James Schnei­der, Olivia Petrides, Molly Muste, Mar­garet Her­bert, Karl "Ze Moon Belongs to Ze Peo­ple", John Rossi, Heather Mac­in­tyre, Lani John­son, Rachel Fenker (Vera), Beylka Krupp, Mikey Hen­der­berg, Spe­cial K, Hank Adams, Maryann Lipaj, Chain­saw Dave, Andrew Win­ship, Linda Char­vat, Winslow & Gus Liebert, Mike Noise, Janel Rouge, Yoh, Draga Susanj, Matt Fed­erico, Cather­ine Sky, David Baker, Kath­leen Mark­land, Sally & Liz, Lind­say Mad­den, Alex Her­zog, Shari Doyel, Becky Wehmer, Dawn Stafford, Bill Pad­nos, Tim Straub­ing, Matt Helander, Rick Malette, Liz Wheeler, Ken Burak, Nick Hig­bee, Zack Peavler, Katie Her­zog, Erin Zona, Jess Bohus, Jerry Cata­nia, Rob McClurg, EW Ross & fam­ily, Sheila O'Donnell, Mark Pas­cale, Jea­nine Coupe– Ryd­ing, Holly Green­berg, Michael Ryan, Mar­ion Kryczka & fam­ily, Andrea Peter­son & fam­ily, Colin Browne, Mike Wolf, Liz Nielsen, Dan Mackessy, Peter Bar­rett, Ted­ders Nathanson, Matt "Skip" Bal­lou, Lind­sey Brash­ler, Pam Zim­mer­man, Reid Thomp­son, Amanda Cohen, Amy Buc­ci­ferro, Sarah, Lisa Wain­wright, John Cor­bett, Lane Relyea, Mikro­naut, Matt Mars­den, Siebren Ver­steeg, Joe Klee­man, Dahlia Tulett, Jesse Baker, Luba Hal­icki, Mon­ica Marin, Jeremy Holden, Steamer Sea­mons, Ryan Fenchel, Andy Mal­one, Melissa Hogan, Shan­non Mustipher, Liz Nuren­burg, Leslie Vega, Maria Stubbs, Sarah Workneh, Lau­rie Price, Anna Mayer, Shara Hughes, Katie Ham­mond (Hal­ton), Lau­ren Cas­teel, Stacy Shier­holz, Jamisen Ogg, Rob Bell, Eric Mirabito, Al Hal­ton, Pauly Lukachin­ski Men­doza, Rachel Clark, Rich Fos­hay, Michelle Grab­ner & fam­ily, Tom Bar­tel, Cas­san­dra Cham­bers, Chresten Sorensen, Kate Gron­ner, Phil Han­son, Alex Han­son, Deirdre McConnell, Jes­sica Williams, Lon­nie Pot­ter, Shanna Shearer, Stacy Hol­loway, Caleb Lyons, CJ Math­erne, Nate Wolf, Pat Rios, Kelly Reeves, John Phillips, Israel Davis, Jeff Blan­ford, Kevin Puta­lik, Andrea Oleniczak, Steve & Bobbi Meier & fam­ily, Betsy Rup­precht & Jan Cun­ning­ham, Todd Warnock, Norm & Con­nie Deam, Phil & Cindy Visser & Fam­ily, Scott & Nancy Bru­ursema, The Sev­er­ances, The Leutzingers, The Suarez Fam­ily, Pete Pala­zollo, Dave Sei­del, Emily Wal­lace, Todd Knight & Michael Leonard, Mike Rossi, Car­men Price, Michelle Froh, Lakela Brown, Ram­bler, Tyler Poni, Grandma, Mar­i­anne McGrath, Danny Z, Miles Votek, Lau­ren Ander­son, Vanesa Zen­de­jas, Megan Reilly, Oli Watt, Aline Cautis, Piper Brett, Daniel Petraitis, Frog, Mus­tache Phil, Tay­lor Kur­rle, Tony Amato, Kelsey, Chris & Sam Fer­ris, Jason Kala­jainen, Richard Deutsch, Jimmy Wright, Eliz­a­beth Cho­dos, Brian McN­ear­ney, George Git­tens, Ji, Erin Cun­ning­ham, Alex who was into house music, Julianne Shi­bata, Jerry Saltz, Scott Reeder, Tyson Reeder, Jim Lutes, Carl Baratta, Rut Baratta, Kate Naka­mura, Kara Hall, Sara Cof­fin, Trash­ley, Efren Arcoiris, Geof­frey Hamer­linck, Teena McCle­land, Dan John­son, Tony & Tina Lar­son & fam­ily, Melanie Schiff, Erin Chapla, Dempsey, Katie Scan­lan, Ash­leigh Burskey, Car­o­line Woolard, Kari Rinn, Nate Doro­tiak, Amy Stibich, Stu­art Snoddy, Teruko Nimura, Vic­tor Sun, Mike Andrews, Alex Chitty, Rachel Nif­f­eneg­ger, Justin Swin­burne, Dan Ose­di­acz, John Parot, Justin Goodall, Andrew Svec, Nick John­ston, Chris Pow­ers, Julia Ash­er­man, Nate Ton­ning, Mari Miller, Kathy Leisen, Becca Bald­win, Rob Doran, Gor­don Hall, Hugh Zei­gler, Caiti Hack­ett, Chris Mrozik, Sarah Faux, Anja, Beau & Lily, Alec Appl, Met­als tech John, Joel Dean, Craig Doty, Aspen Mays, Michael Thibault, Sara Condo, Stephanie Nadeau, Max Hege­dus, Mar­tin Basher, Arlen Austin, Kelly Kaczyn­ski, John Bart­lang, Adam Eck­strom, Lau­ren Was, Tim Roby, Lisa Rybovich– Crallé, , Kari Rear­don, Andy Pomylka­ski, Tommy Cole­man, Daniel Lane, Chris Bost­wick, Kate Clark, Ben Love, Eric Steen, Sarah Rabeda, Mac Kat­ter, Evan Jenk­ins, Moira O'Neil. Casey McG­o­na­gle, Mark Ben­son, Jonah Groeneboer, Kate Rug­geri, Car­son Fisk– Vit­tori, Arend deGruyter– Helfer, McK­eever Dono­van, Sofia Leiby, Tiana Tucker, Betsy O'Brien, Mickey Pom­frey, Blake, Oliver Apte, Ben Medan­ski, Ben McCarthy, Natalie Edwards, Stephanie Brooks, Isak Applin, Lone Wolf & Cub, Han­nah Tarr, Priya Wittman, Ye Qin Zhu, Henry Criss­man, Ginny Tor­rance, Dul­cee Boehm, James Payne, Jonas Sebura, Jill Mason, Jovan­nah Nichol­son, Theaster Gates, Bill O'Brien, Chris Johansen & Jo Jack­son, Erin Nel­son, Sally Jerome, Peter Lin­den, David Schmitt, Scott Carter, Joven­cio De La Paz, Anthony Cree­den, Sophie Roessler, Alex Gartel­man, Har­rell Fletcher, Crys­tal Bax­ley, Rimas Simaitis, Tre Reis­ing, Neal Van­den­bergh, Andrew Mausert– Mooney, Biff Bolen, Danny Giles, Mar­i­anne Fair­banks, Jessie Edel­man, Sam Davis, Jamie Steele, Eileen Mueller, Jenny Drum­goole, Patrick Sarmiento, Miah Jones, Kirk Faber, Eli­jah Burgher, Rebecca Walz, Ryan Pfeif­fer, Jesse Har­rod, Rebecca Rin­quist, Ector Gar­cia, Amanda Wong, Rachel Brown­ing, Kendell Harbin, Nate Ellef­son, Carol Hu, Stephen Kent, Will Sieruta, Olivia Blan­chard, Molly Hewitt, Lau­ren Tay­lor, Mar­cel Alcala, Dana Carter, Paula Wil­son, Jo Dery, Car­rie Vinarsky, Lori Felker, Jesse McLean, Andy Hall, Andy Yang, Mac Akin, Woo­bie Bogus, Susan­nah Dot­son, Crys­tal Hei­den, Jackie Fur­tado, Andy Jor­dan, Sara Green­berger Raf­ferty, Jon Bru­mit, Judith Roden­bach, Eric Fleis­chauer, Aline Cautis, Heather Mekkel­son, Chris Kerr, Cauleen Smth, Ali Chit­saz, Dan Con­way, Lind­say Cashews, David Tor­res, Ryan Shrum, Lau­rel Shear, Diana Lozano, David Alekhougie, Moe Beitiks, Rachel Ger­vais, Bran­don Mathis, Kim­ber Shaw, Paul Warfield, MC Richard­son, JR Magsaysay Stan­ley, Andy Roche, Jason Lazarus, Noah Singer, Richard Hull, Shan­non Strat­ton, Michael Milano, Etta Sandry, Tegan Brace, Jesse Malmed, Raven Mun­sell, Anthony Stepter, Julie Ault, Zach Cahill, Abby Satin­sky, Andrew Doty, Krzysztof Lower, Emma Pryde, John Elio Reit­man, Nick Grasso, Osiris Zuniga, Carly Conel­ley, Winslow Funaki, Annie Miller, Sofia McDou­gal, Howard Fonda, Claire Ash­ley, Erin Wash­ing­ton, Ben Fain, Car­rie Schnei­der, Jayne Glick, Nate Large, Alyx Harch, Anthony Renda, Dash Sheffield, Rebecca Parker, Chris Ren­ton, Aay Pre­ston– Myint, Alex Valen­tine, Dan Gunn, Karolina Gna­towski, Meg, Lupe Ros­ales, and finally to the love of my life, who put up with this for six sum­mers and will be by my side, finally, for the rest of the sum­mers of my life, Jes­sica Labatte.