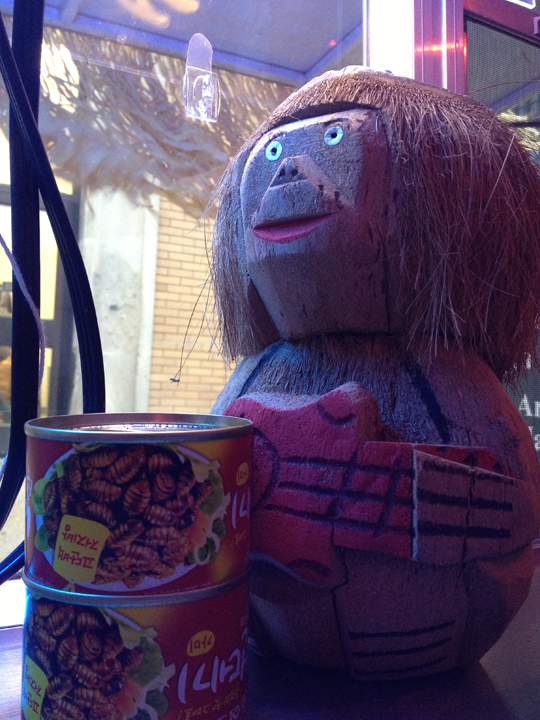 This was a weird one! I was asked to respond to the work of the HALFLIFERS (the col­lab­o­ra­tive team of Torsten Zenas Burns and Anthony Dis­cenza) whose show recently opened at Gallery 400. I hadn't been super famil­iar with their work, but as I delved into their cat­a­log of videos, I was imme­di­ately attracted to their par­o­dic, ridicu­lous zom­bie flicks. I guess I am kind of a zom­bie guy. "Night of the Liv­ing Dead", the orig­i­nal, scared the bajeezus out of me as a child and I have more recently suc­cumbed to late night view­ings of my-least-favorite-show-that-I-watch, "The Walk­ing Dead". Zom­bies are in for sure. I love the idea that there are the­o­ries explain­ing the cur­rent cul­tural obses­sion with them– reflect­ing our mor­bid fan­tasies of the apoc­a­lypse in the late Cap­i­tal­ist moment, mind­less con­sumers end­lessly wan­der­ing to the brink…
HALFLIFERS do a good job at pok­ing fun of this. I like jokes, but so often my ideas come forth from more earnest places. I have been think­ing about sur­vival lately (and for awhile for that mat­ter). My buddy Mikey Hen­der­berg, my right hand man in the Ox-Bow kitchen, has been a down-right pre­parer for years and more than a few of his ideas have rubbed off on me– pre­serv­ing food and for­ag­ing, for instance. Flung into the chaos of a real apoc­a­lypse, would I have the cajones to sur­vive through my own resource­ful­ness? I do have a taste for bugs… So, I have been teach­ing a class called "You Art What You Eat" to fresh­man at the School of the Art Insti­tute and have a gag­gle of young Korean women in my class. I won them over when they learned that I make my own kim­chi and we opened up a very inter­est­ing dia­logue about the ori­gins of cer­tain food tra­di­tions in the Pacific. Kore­ans love Spam, as do Hawai­ians. How the heck did this oft-maligned processed ham loaf migrate across the Pacific? Amer­i­cans brought it dur­ing the wars as rations. And speak­ing of rations, do any of you watch Super­siz­ers Go? I just watched the wartime Britain episode and rationing has been on my mind, a sort of man­dated sur­vival­ism. So, Spam and sur­vival would be on the menu.
This project had to have a tongue-in-cheek aspect– come on, zom­bies are funny! Eat­ing bugs and Spam is kinda funny too, but I wanted the project to have some visual pizazz. Serendip­i­tously, one of my favorite peer artists, Rimas Simaitis, was on his way into town to open a two per­son show at Roots & Cul­ture. Rimas' themes of marooned-ness, Macgyver-esque inge­nu­ity, and island cul­tures seemed like a good wheel­house to throw into the mix. Plus the guy has a pretty good sense of humor and bring­ing on a part­ner added another layer of col­lab­o­ra­tion intrin­sic to the HALFLIFERS project. So I shot him a text and for­tu­nately he was down. And it turns out he'd been inter­ested in zom­bies for some time too after a visit to the Caribbean where he learned of the ori­gins of zom­bie leg­end, Hait­ian witch­doc­tors would keep them as body­guards of sorts. We swapped out the Caribbean for the Pacific though and went with a Tiki theme. Ever heard of the zom­bie cocktail?
So, on a chilly apocalypse-like day on Peo­ria Street, we launched the E-Dogz Zom­bie Apoc­a­lypse Refuge Cen­ter serv­ing a menu of for­aged items (local dan­de­lion greens) and pre­served items (Spam, Korean fer­mented chile paste, sea­weed, and canned silk­worm pupae). Rimas made his sig­na­ture "Painkiller" cock­tail which he first tried in the Caribbean. He decked out E-Dogz with Tiki flair and also manned the sound­waves, live DJing a set of short­wave fre­quen­cies. The dan­de­lion green Korean-style pan­cakes were the biggest hit, the Spam Musubi (Hawai­ian nigiri sushi) was sur­pris­ingly scar­fa­ble. I shot myself in the foot, though, with this exer­cise in ento­mophagy. This not being abun­dant bug sea­son I had to out­source– I had ordered fried bam­boo cater­pil­lars (which I've had and are deli­cious) from Thai­land, but they did not show up in time (and still haven't!). I knew of a few local pur­vey­ors of pre­served insect prod­ucts and after decid­ing that the pub­lic might not be ready for giant water bugs I went with canned Korean silk­worm pupae (which have a rep­u­ta­tion). All the gochu­jang in the world couldn't mask the dirty socks meets dog breath aroma and fla­vor of these lit­tle fuck­ers. So, sorry y'all, I will con­vert you to bug eat­ing next time!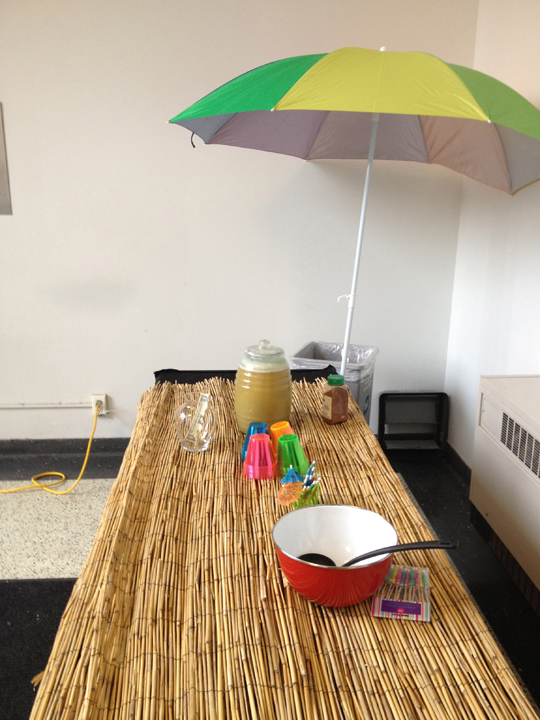 The bar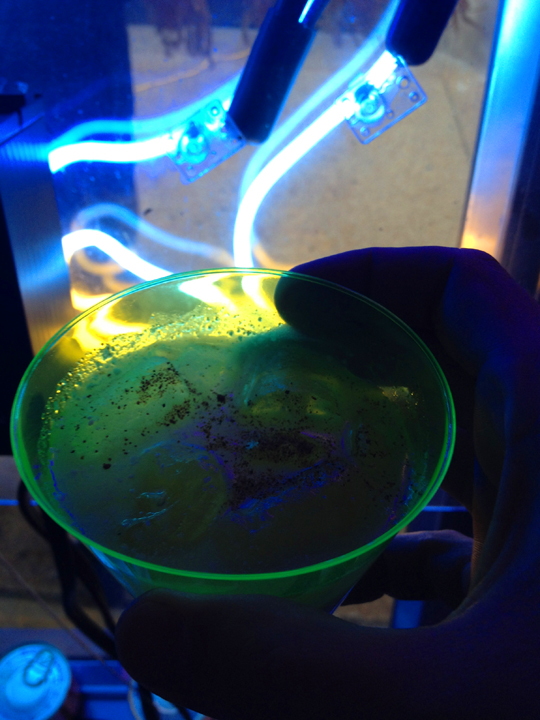 A trailer side Painkiller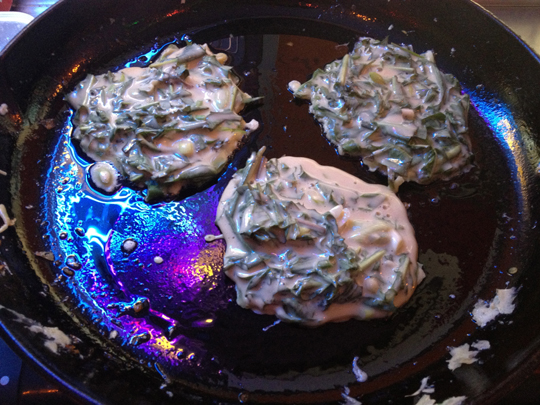 Dan­de­lion pajeon in the skillet.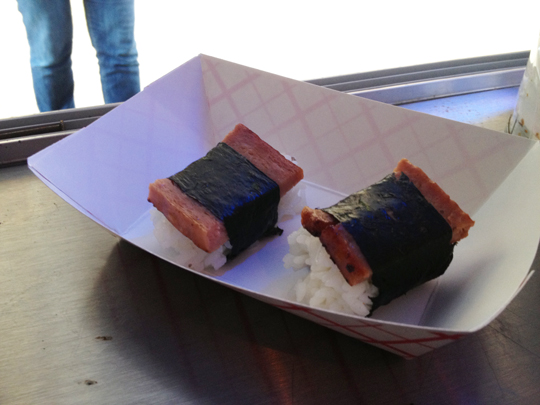 Spam musubi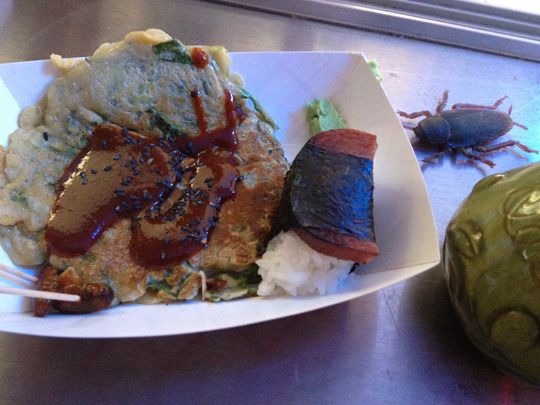 A combo platter
Yuck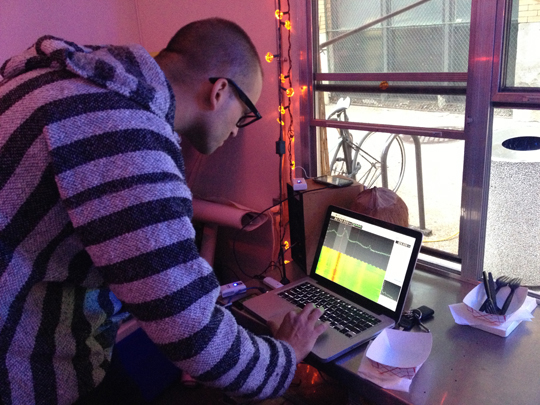 Rimas on the decks