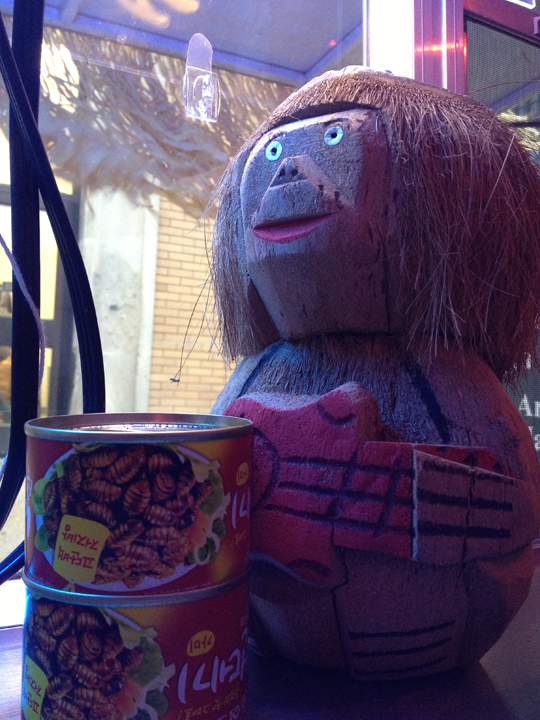 This was a weird one! I was asked to respond to the work of the HALFLIFERS (the collaborative team of Torsten Zenas Burns and Anthony Discenza) whose show recently opened at Gallery 400. I hadn't been super familiar with their work, but as I delved into their catalog of videos, I was immediately attracted to their parodic, ridiculous zombie flicks. I guess I am kind of a zombie guy. "Night of the Living Dead", the original, scared the bajeezus out of me as a child and I have more recently succumbed to late night viewings of my-least-favorite-show-that-I-watch, "The Walking Dead". Zombies are in for sure. I love the idea that there are theories explaining the current cultural obsession with them– reflecting our morbid fantasies of the apocalypse in the late Capitalist moment, mindless consumers endlessly wandering to the brink…
HALFLIFERS do a good job at poking fun of this. I like jokes, but so often my ideas come forth from more earnest places. I have been thinking about survival lately (and for awhile for that matter). My buddy Mikey Henderberg, my right hand man in the Ox-Bow kitchen, has been a down-right preparer for years and more than a few of his ideas have rubbed off on me- preserving food and foraging, for instance. Flung into the chaos of a real apocalypse, would I have the cajones to survive through my own resourcefulness? I do have a taste for bugs… So, I have been teaching a class called "You Art What You Eat" to freshman at the School of the Art Institute and have a gaggle of young Korean women in my class. I won them over when they learned that I make my own kimchi and we opened up a very interesting dialogue about the origins of certain food traditions in the Pacific. Koreans love Spam, as do Hawaiians. How the heck did this oft-maligned processed ham loaf migrate across the Pacific? Americans brought it during the wars as rations. And speaking of rations, do any of you watch Supersizers Go? I just watched the wartime Britain episode and rationing has been on my mind, a sort of mandated survivalism. So, Spam and survival would be on the menu.
This project had to have a tongue-in-cheek aspect– come on, zombies are funny! Eating bugs and Spam is kinda funny too, but I wanted the project to have some visual pizazz. Serendipitously, one of my favorite peer artists, Rimas Simaitis, was on his way into town to open a two person show at Roots & Culture. Rimas' themes of marooned-ness, Macgyver-esque ingenuity, and island cultures seemed like a good wheelhouse to throw into the mix. Plus the guy has a pretty good sense of humor and bringing on a partner added another layer of collaboration intrinsic to the HALFLIFERS project. So I shot him a text and fortunately he was down. And it turns out he'd been interested in zombies for some time too after a visit to the Caribbean where he learned of the origins of zombie legend, Haitian witchdoctors would keep them as bodyguards of sorts. We swapped out the Caribbean for the Pacific though and went with a Tiki theme. Ever heard of the zombie cocktail?
So, on a chilly apocalypse-like day on Peoria Street, we launched the E-Dogz Zombie Apocalypse Refuge Center serving a menu of foraged items (local dandelion greens) and preserved items (Spam, Korean fermented chile paste, seaweed, and canned silkworm pupae). Rimas made his signature "Painkiller" cocktail which he first tried in the Caribbean. He decked out E-Dogz with Tiki flair and also manned the soundwaves, live DJing a set of shortwave frequencies. The dandelion green Korean-style pancakes were the biggest hit, the Spam Musubi (Hawaiian nigiri sushi) was surprisingly scarfable. I shot myself in the foot, though, with this exercise in entomophagy. This not being abundant bug season I had to outsource– I had ordered fried bamboo caterpillars (which I've had and are delicious) from Thailand, but they did not show up in time (and still haven't!). I knew of a few local purveyors of preserved insect products and after deciding that the public might not be ready for giant water bugs I went with canned Korean silkworm pupae (which have a reputation). All the gochujang in the world couldn't mask the dirty socks meets dog breath aroma and flavor of these little fuckers. So, sorry y'all, I will convert you to bug eating next time!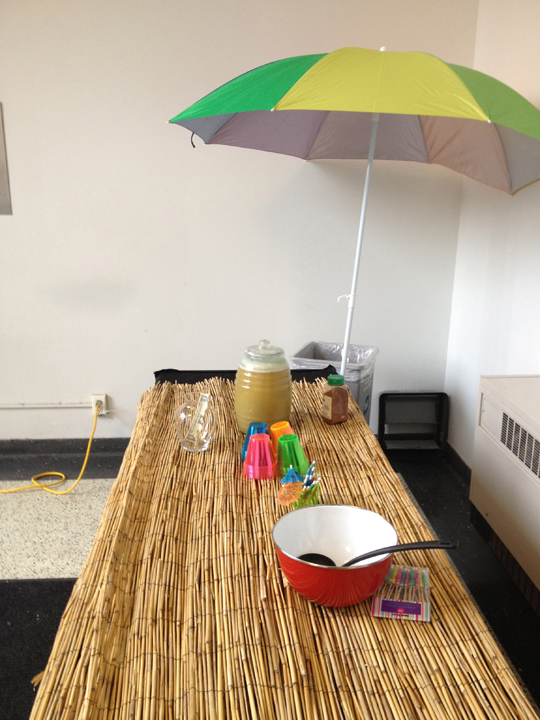 The bar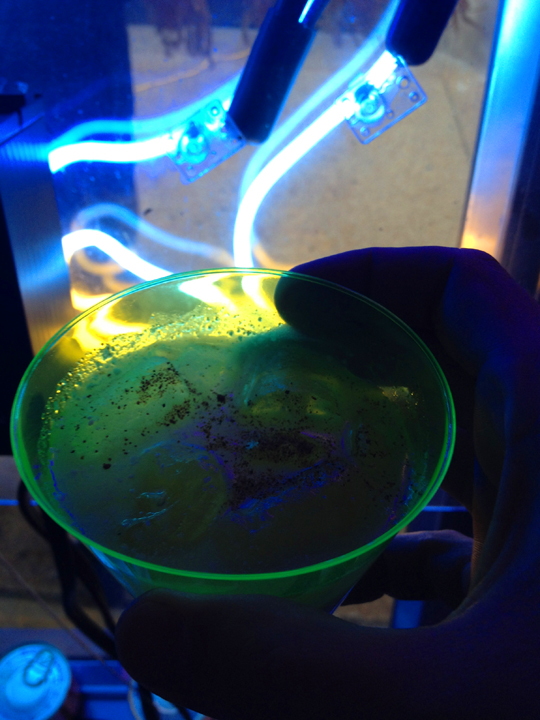 A trailer side Painkiller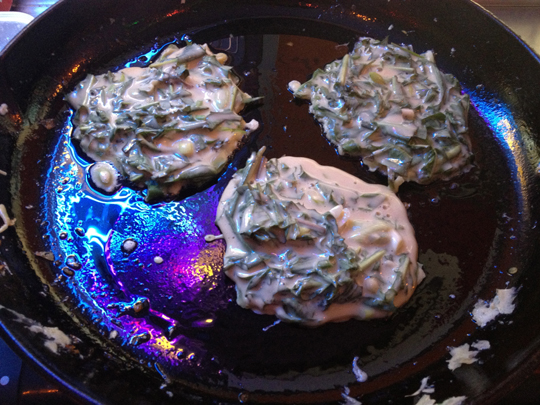 Dandelion pajeon in the skillet.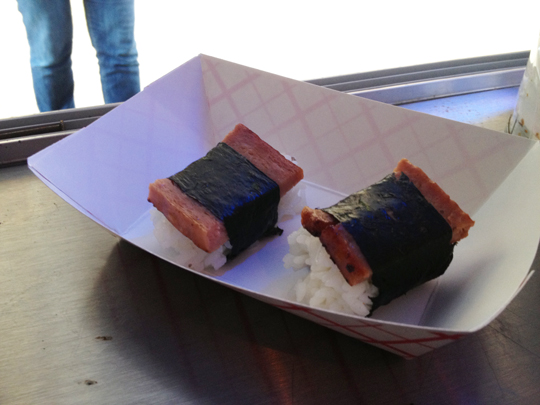 Spam musubi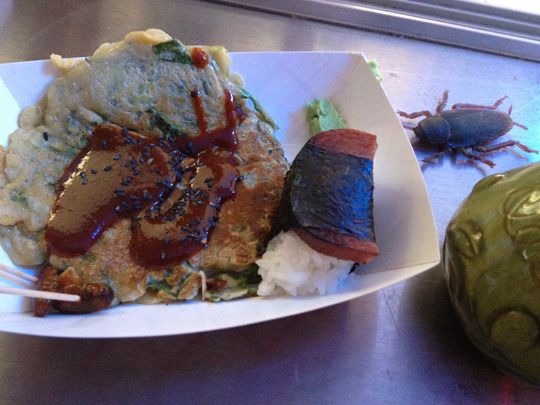 A combo platter
Yuck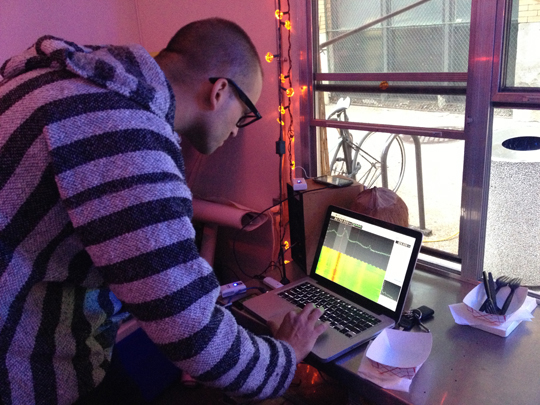 Rimas on the decks